Deuter Kid Comfort Pro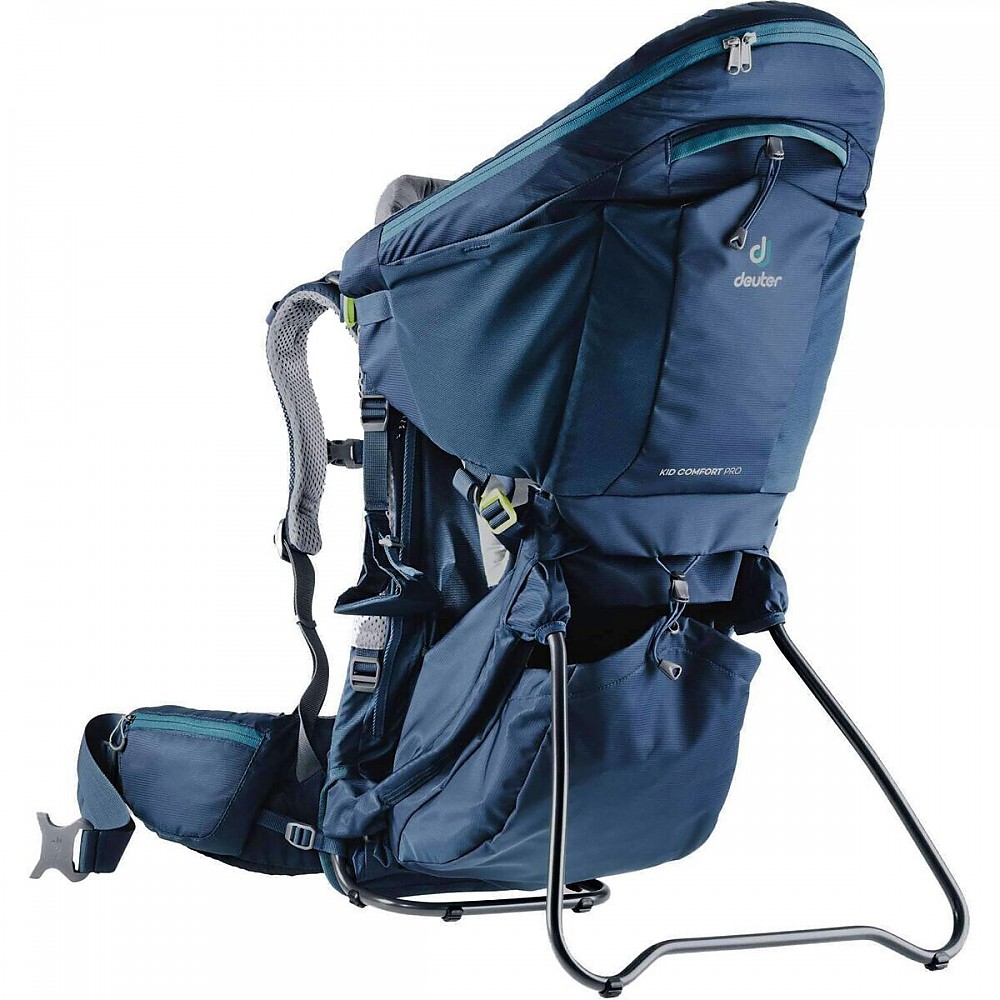 Loaded with features, the Deuter Kid Comfort Pro is both luxurious and practical. Highly adjustable for both the wearer and the child, this pack has very few limitations. With pockets galore, there is easy access to the many items needed when hiking with a little one (i.e. snacks, change of clothes, wipes, diapers, and the list goes on and on) and the integrated sunshade makes for a more comfortable child.
Pros
Highly adjustable for both wearer and child
Comfortable shoulder straps and waist belt
Generous storage space
Integrated sunshade
Removable daypack
Soft, washable chin guard for kiddo
Color-coordinated buckles for child harness
Cons
Weight shifts on uphill and downhill
Torso adjustment system (Varislide) requires nimble fingers
UPDATE (June 2021): I am now the parent of a 21-pound (9.5kg) 9-month-old and have taken this pack on several additional trips since the initial review. The latest trip was a 3-mile riverside loop that included some steep sunken-log steps.  
Conditions: 
This initial review of the Deuter Kid Comfort Pro will be updated over the coming months after more use. So far, I've only carried a friend's kid in the pack, but with a recent newborn myself, my wife and I will be taking our own kiddo for strolls in this pack once she is old enough to safely do so.
I've carried a 7-month old who is about 18 lbs (8.2kg) on three separate trips, two that were fairly flat and leisurely, the other being more rocky, rugged terrain. Trips ranged from approximately 70-80°F (21.1-26.7°C).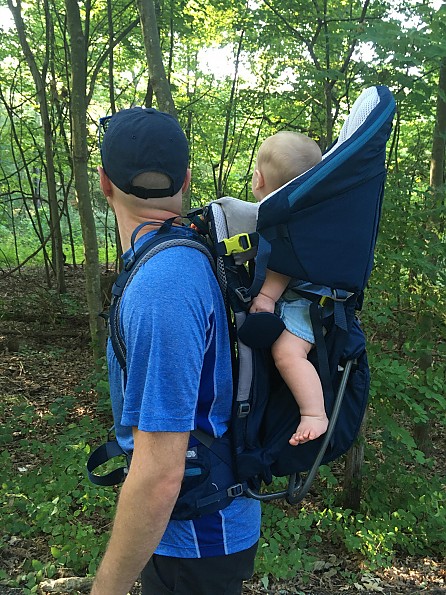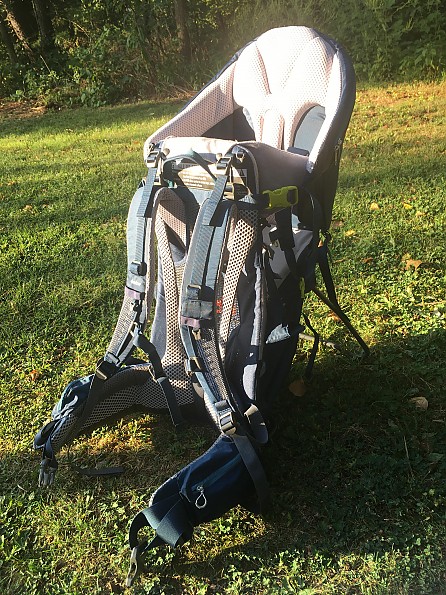 Weight, Size and Capacity: 
Model: Deuter Kid Comfort Pro—Deuter makes a couple other options of child carriers, including the Kid Comfort (the base model, 3230g and 14L), the Kid Comfort Active (lighter weight, less capacity, 2680g and 12L) and the Kid Comfort Active SL (women's-specific version of the Active, 2650g and 12L). The Kid Comfort Pro is the most features-rich pack, which comes with some added weight. 
Pack's base weight (no rider): 3550g (7.8 lbs)
Max rated weight: 40 lb. child (18.1 kg), which equates to 48 lbs, not including contents in pockets. 
Capacity: 22L, divided up between the 12L mainframe pockets and 10L removable daypack. Most of the time manufacturers overestimate storage capacity, but I have two 22L packs and neither of them fit the amount of stuff this pack does. I think the pack can carry more like 25-30L of gear, especially if the daypack is removed and carried as a standalone.
The Kid Comfort Pro works just as well whether you overstuff all the pockets (7 total, not including the removable daypack) and have it weighted to the max or you simply want to take the kid and nothing else. Going ultralight isn't really an option with youngins, but the 8 lb (3.6 kg) pack isn't difficult to lug around or toss in the back of the car. Because the kickstand is collapsible and there are no stiff horizontal supports, the pack is easy to compress, saving valuable space in the back of the car for other baby gear, groceries, diaper changing space, etc.
In terms of what can fit in the carrier, there's really no need to worry about whether or not that extra change of clothes or that special toy will fit...it will. All the essentials for hiking with a child will easily fit into the Kid Comfort Pro's generous pockets (diapers, clothes, wipes, extra clothes, toys, snacks, even more clothes) and the stuff that adults need too (lunch, water bottles, first aid kit, etc).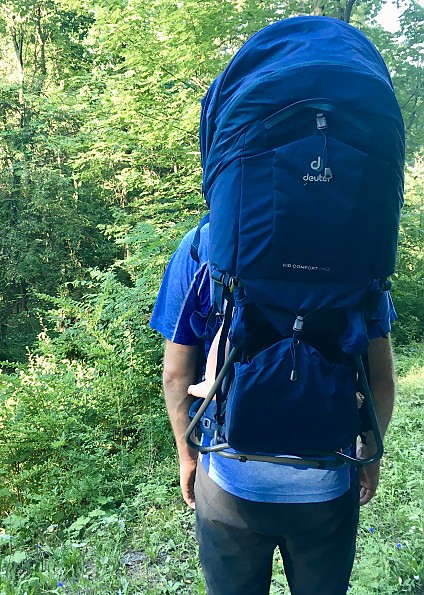 Fit and Comfort:
I'll break down the fit and comfort into two sections; one for the wearer and one for the child. Of course, I couldn't exactly get the 7-month old rider to explain in detail what her comfort level was during these hikes, so that section is based on observations I made and discussions with her parents, who were hiking with me. 
Wearer's Fit and Comfort: 
The Deuter Kid Comfort Pro is as close to a one-size-fits-all pack that I've ever worn. With a high degree of adjustability in the torso length (ranges from 15"-21" or 38-53cm), sternum strap, and load adjustment straps, as well as wide, pivoting hip fins, it's quick and easy to get a dialed in fit...with one caveat...understand how all these adjustments work before going on your first hike.
Prior to loading your kiddo, play with each and every strap, snap, and adjustment feature, understanding what it is for and how it can impact the fit. Read the instruction manual that comes with the pack...seriously, do read it. Even for those who have used standard hiking packs for many years, a child carrier pack works a little differently and the cargo is far more precious than normal gear, so get to know the pack's features before going out.
After figuring out the features and getting a dialed in fit, I found the pack to be very comfortable to wear, as well as breathable during the hot-weather hikes. I haven't maxed out either end of the range yet, and I've comfortable worn the pack (I'm 6'2" / 1.9m) and my friend borrowed it and comfortably wore it too (she's 5'4" / 1.6m). This is a great pack for sharing the carrying duties between parents.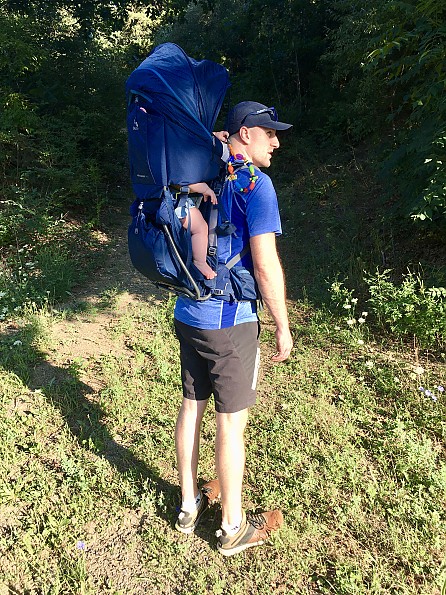 Child's Fit and Comfort:
This part is based on my observations of the child I was carrying (a friend's 7-month old) and my subsequent conversations with the parents. We first attempted a hike when the child was 5 months old, but she didn't take too well to the pack, crying and fussing when we put her in it. This is likely due to her having some gastrointestinal issues at the time, so we waited until she outgrew those issues and tried again at the 7-month mark. She took right to the pack, seeming to enjoy the ride very much.
Getting her fitted took a minute or two, adjusting the child's shoulder straps and seat to fit her little frame. She didn't seem to like the foot loops, kicking out of them pretty early, so we let that go. (Note: it is suggested to use the foot loops to help increase blood flow to the legs and feet. If the child doesn't use them, take more frequent breaks, removing the child from the pack when doing so.)
During hikes, the child never fussed or jostled around. She was comfortable and at ease while riding in the pack. In fact, I attached one of her toys to the pack on the first hike so it was within her reach, in case she needed something to occupy her, and not once did she even reach for it. She was totally at peace looking out over the world from her perch. 
UPDATE (June 2021):  Nearly every single time my daughter is in the pack she falls asleep, even in hot humid weather, which I thought may be uncomfortable for her. The pack must be pretty comfortable for the kiddo.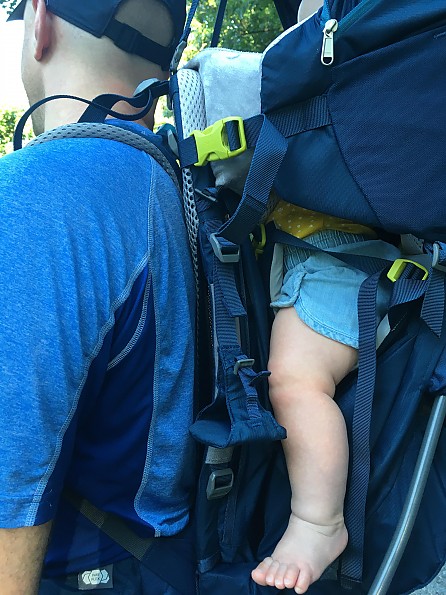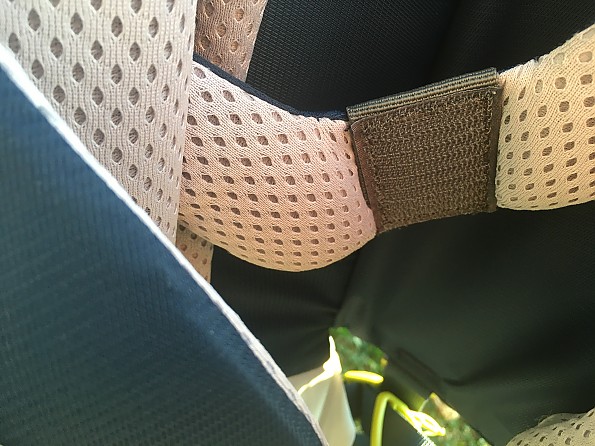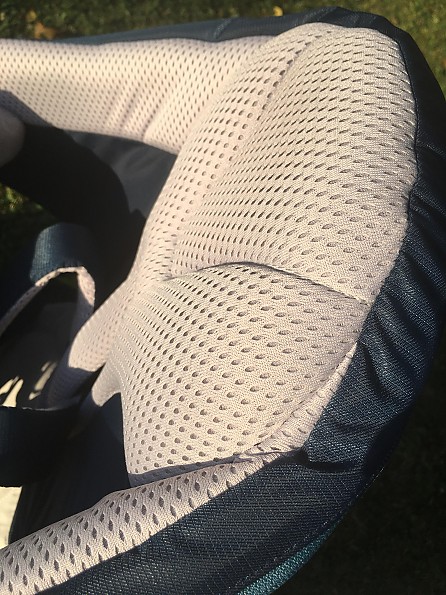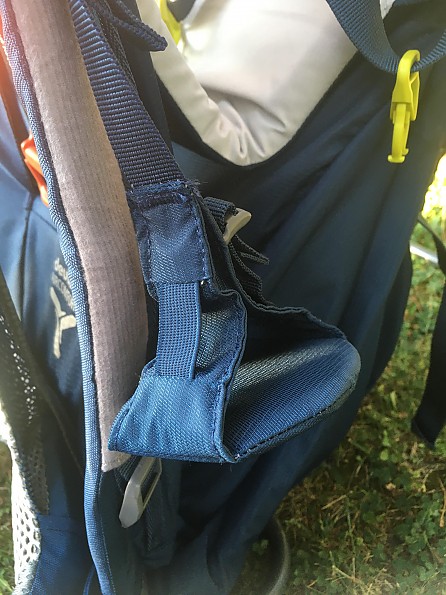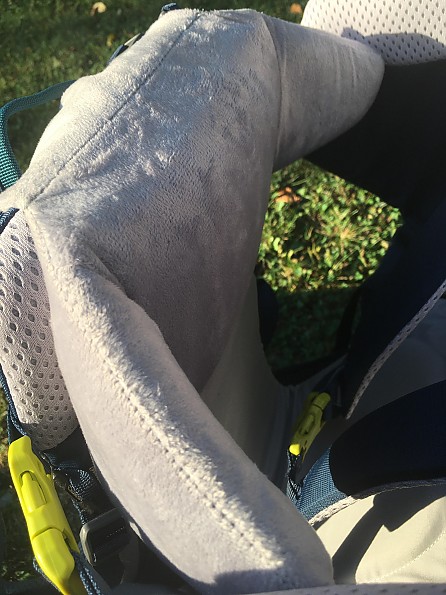 Organization and Accessibility: 
Everywhere you look, there seems to be a pocket or storage area on the Kid Comfort Pro. The two main rear-facing pockets offer ample space for the majority of items needed on a walk with a kiddo, and the removable daypack allows for additional storage, either left in the rear, where it nests, or clipped to the front (or a third option would be for someone else to carry the daypack, like an older sibling or a second adult).
Because the hipbelt is wider than your average pack's hipbelt, that means the two hipbelt pockets are also much larger than normal (maybe this is standard for women's packs, but I'm unfamiliar). This makes stashing and accessing things like phones, snacks, wallets, and keys in these front-facing hip pouches a breeze.
There is space for a hydration reservoir (reservoir not included), but I have yet to test that function out. From what I can tell, because of its location between the carrier's back and the child, loading the reservoir would be easiest to accomplish before the child is in the pack, as opposed to after.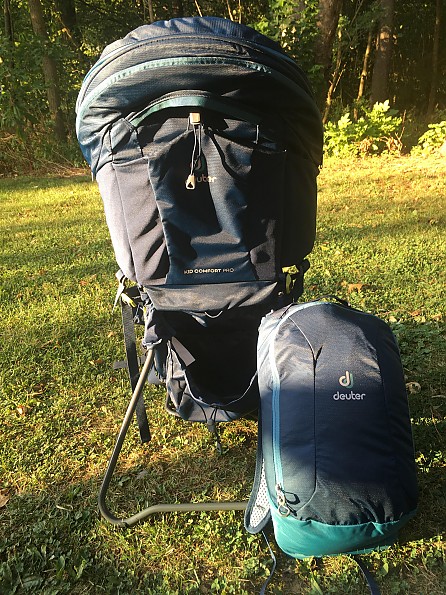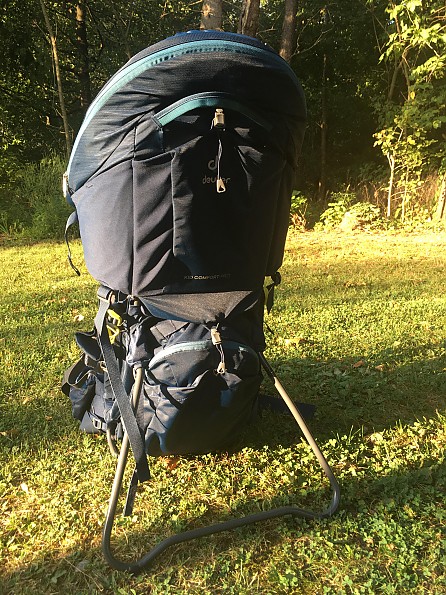 Ride: 
Before actually carrying a child in a pack like this, I assumed (wrongly) that it would be just like carrying a pack of hiking gear, which I was very familiar with. My largest hiking pack is a 65-liter, multi-day hauler that I've stashed 40+ pounds in before and hit the trail (although that was several years ago, and now my standard multi-day trip weight is closer to 25-30 pounds, I know that's a lot for you ultralighters), so I didn't think carrying a child would be much of an issue or learning curve.
Well, I was a wee bit wrong. Having a person on your back, no matter how small they are, feels differently than just carrying gear. They move around, whereas gear mostly stays still. This movement requires a little more focus on my balance and a slightly slower hiking pace. The weight itself isn't an issue (the kiddo is only 18 pounds at the time of testing), but how the weight moves is what can be tricky. My recommendation is to go slow at first, understand how the kid's movements affect your movements while on flat ground (the backyard is perfect for this), before hitting the trail.
It's pretty easy to get the hang of with a little practice. However, the one thing I still haven't got the hang of is how much the child's weight shifts when going uphill or downhill. This shift in weight was immediately noticeable to me and caused me to really slow down. I believe the shifting is a byproduct of not having a stiff horizontal support on the pack (which not having this kind of support actually makes it compress down much more when packing it away). I found myself overcompensating when going uphill or downhill by stretching my back in odd ways, thinking the child's shift in weight was uncomfortable for her, but I only made it more uncomfortable for myself. From observations, I don't think the child was even bothered by her weight shift.
Two things would probably help alleviate this discomfort, 1) slowing down and not overthinking how the child is doing (she's fine, really!) and 2) using trekking poles to support your own shifting weight. I've done the first and it worked. I haven't been able to try trekking poles yet because someone is currently borrowing my poles and hasn't returned them for over a year. (If you're reading this, give 'em back already!)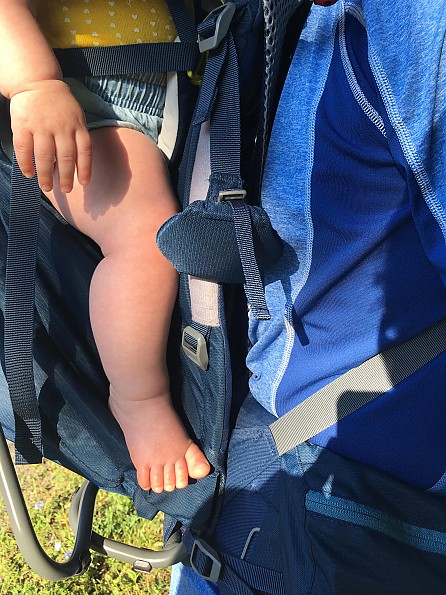 Features and Ease of Use:  
I've stated this already, but it's worth repeating...read the manual before using. This helps get a better understanding of the various features designed for both wearer and rider. This pack is loaded with features, so get to know them before strapping in the toddler and hitting the trail.
As for the many features, I have no qualms with any of them, with the exception of a minor dislike for the finger dexterity it requires to adjust the Varislide torso adjustment. Because it is located behind the mesh netting on the back, you have to do some wiggling to adjust the torso size.
With that said, that's a relatively minor knock on a pack that is loaded with features. The torso adjustment itself, aside from being tricky to adjust, is actually a wonderful feature that has allowed me (6'2" / 1.9m) to wear the pack comfortably, as well as a friend who borrowed it who is much shorter (5'4" / 1.6m). The hipbelt adjustment has a surprisingly large spectrum of fit, meaning it can clip around the waist of most users, regardless of size.
Some of my more favorite features include the hip pockets, which work great and are big enough for phones, keys, and wallet without maxing out and digging into the hips. The sunshade is easy to engage or stow away, whenever necessary. The various storage compartments are great for stashing everything needed and more, including the removable daypack, which can be carried within the pack, clipped onto the front for easier access, or removed entirely. I see this 10L removable daypack as being a go-to pack for a second hiking partner or a perfect little pack for an older sibling, while their little brother/sister rides in the pack.
The kickstand is sturdy when loading and unloading the kid, and I haven't worried about it tipping over. The first couple times after loading the kid and getting the pack to my back felt iffy. I had assistance to make sure I wasn't going to dump the kid, but that was more my irrational fear. After a few tries, now I can easily load the kid, pick up the pack by the handles, transfer it to my back, and reach around to pop the kickstand back in place (although this last part doesn't need to be done. You can easily hike with the kickstand still out). 
The kickstand also folds easily for fairly flat storage. Deuter even includes a mini mirror that you can attach to a shoulder strap, so the wearer can look back and see how the kid is doing. It seems like Deuter has really hit the mark on including a variety of highly functional and easy-to-use features. 
Deuter has some pack accessories available for purchase for its kid carriers, including the chin pad and kick loops (likely to wear out or lose first), a sun shade (not needed for the Pro version, since it is already integrated unlike other versions), and a rain cover.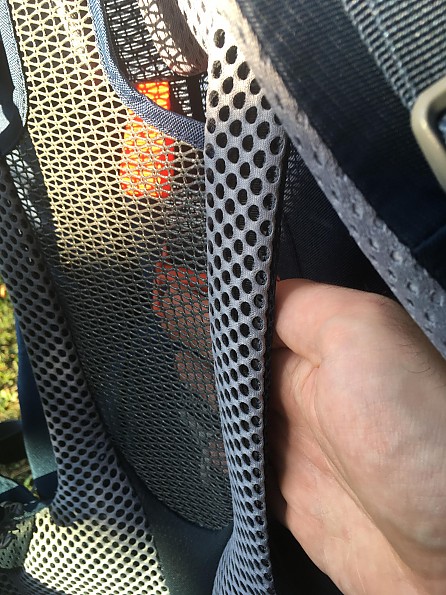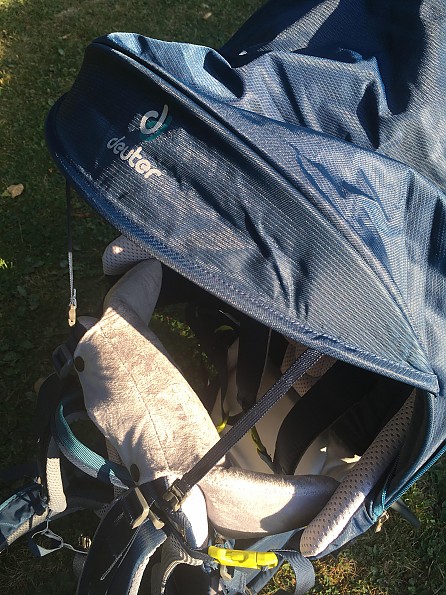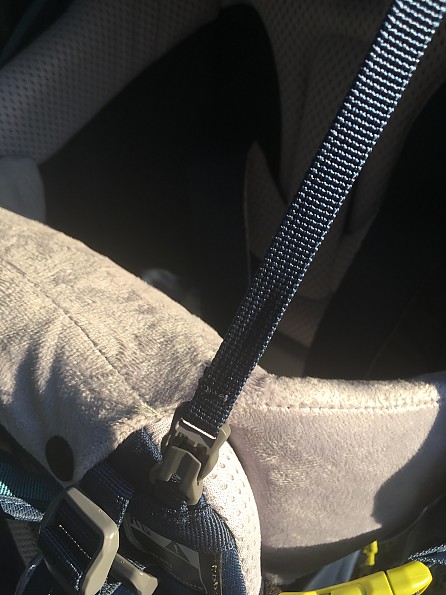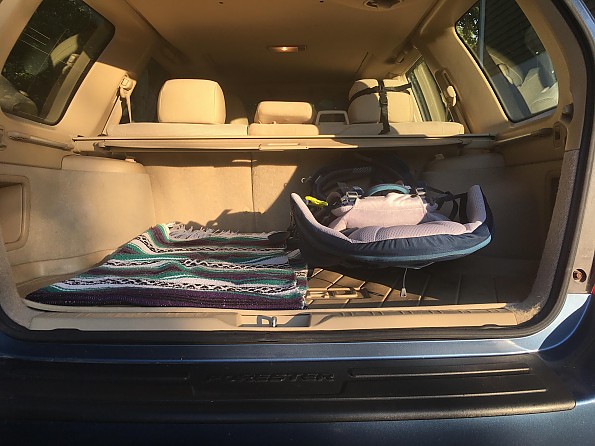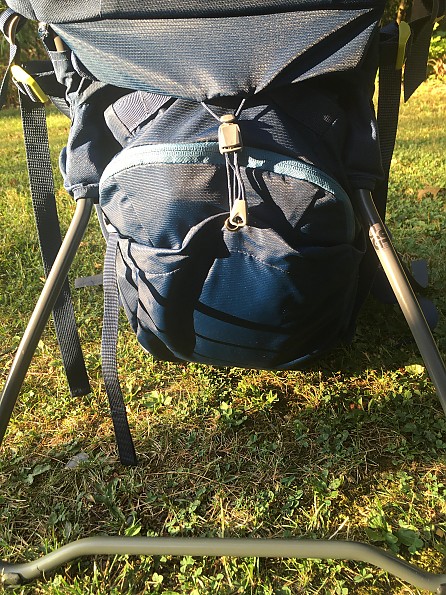 Construction and Durability: 
The Deuter Kid Comfort Pro is mostly made from a strong ripstop fabric, called 210D PA (210 denier polyamide), and polyurethane coated for added protection and longevity. There are other fabrics throughout the pack in smaller spots, like the soft plush chin guard for the rider and a breathable mesh around the hips and shoulders.
All clips and zippers work with ease, and I particularly like the bright green colored clips for harnessing the child in place. These brightly colored clips, as opposed to the gray ones throughout the rest of the pack, really stand out and make it intuitive to know what clips where for getting a secure ride for the child.
It's also good to know that Deuter is a bluesign member (sustainable textile manufacturing) and their fabrics are free of synthetic PFCs (per- and poly-fluorinated chemicals).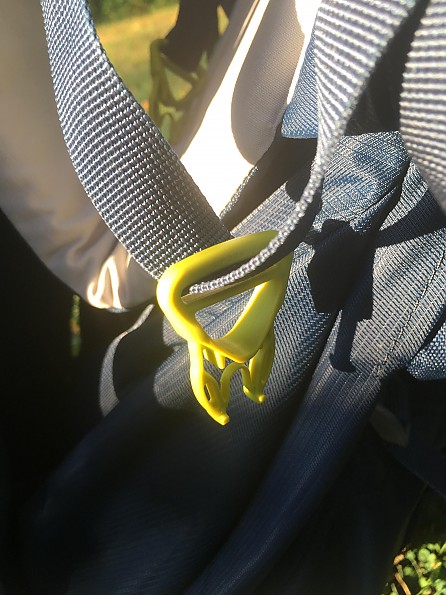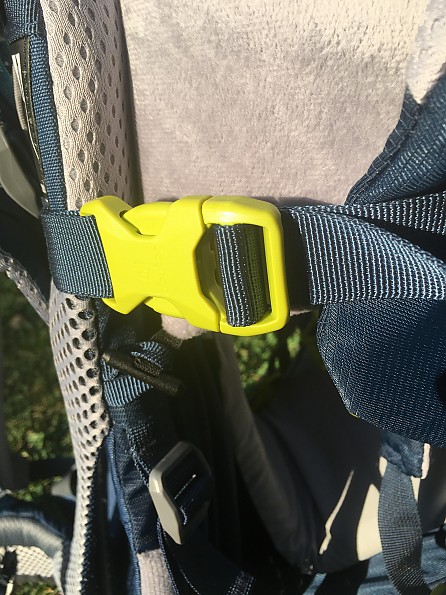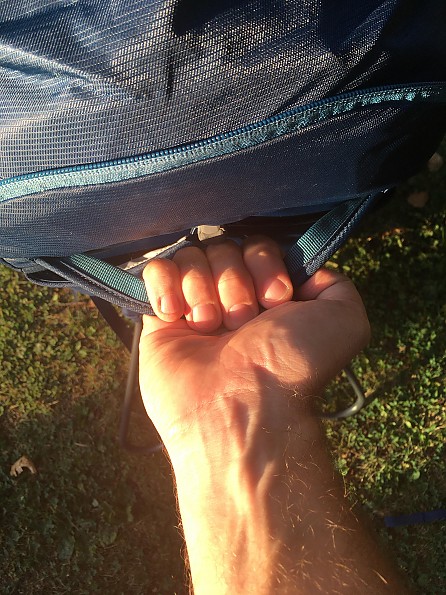 As for the long-term durability of the Kid Comfort Pro, it's still too early to tell, but I have very little reason to suspect any issues arising. Yes, kids can be hard on stuff, and dirt, grime, vomit, food, urine, and who knows what else will soil the pack over time, but I think Deuter thought through this when designing this pack. The areas of most concern are easily cleanable, and don't take a rocket scientist to take apart and put back together (unlike a lot of baby/toddler gear out there). 
Recommendation:
I highly recommend the Deuter Kid Comfort Pro for parents (or aunts/uncles, grandparents, etc), who want to get their little ones out on the trail, but don't want to sacrifice comfort, storage, or safety. 
UPDATE (June 2021): I updated a few sections of this review to incorporate new information now that I have additional experience with the pack and I've been able to observe another child in the pack. All in all, my high recommendation has not changed one bit. It's still a great pack! 
Background
I've used internal frame hiking packs for 15 years, but never a child-carrier pack. This is my first experience with a child-carrier pack, which I assume is normal for most first-time parents like myself.
Source: received for testing via the Trailspace Review Corps (Sample for testing and review provided by Deuter)

Your Review
Where to Buy
Help support this site by making your next gear purchase through one of the links above. Click a link, buy what you need, and the seller will contribute a portion of the purchase price to support Trailspace's independent gear reviews.
You May Like
Specs
Price
MSRP: $330.00
Current Retail: $308.00-$385.00
Historic Range: $288.75-$385.00

Weight
8 lbs 4 oz

Volume
22 L

Size
31 x 17 x 13 in

Fits Torso Length
15-21 in

Recently on Trailspace