DIY: Cuben Fiber DIY tarp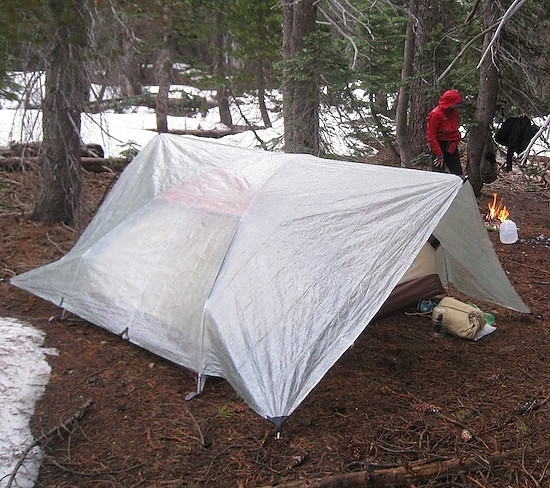 Incredibly light; packs crazy small.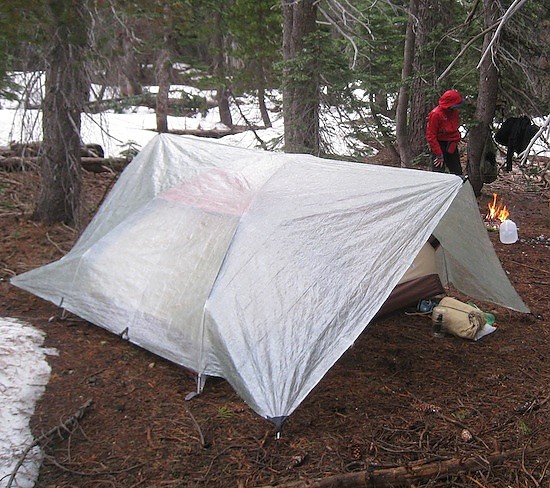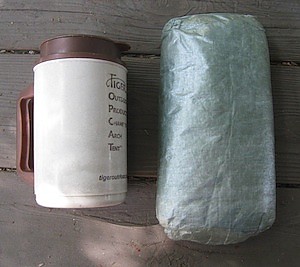 Specs:
Primary Material: 0.51 oz sq yd (17.4 g sq m) Cuben fiber

Secondary Materials: nylon taffeta, double-sided tape, thread, grommets

Cut length: 10 ft (3.05 m)

Cut width: 9 ft (2.74 m)

Finished weight: 7.6 oz (215 g)

Shown folded to: 9 x 4 1/2 x 2 in (23 x 11 x 5 cm)

Tools:
Sewing machine

Grommet kit

Scissors   

Cost:
Description:
This multi-purpose tarp was made to match the pole tips of the pictured tent, but is otherwise a standard tarp that can be strung length-wise or width-wise. It has 8 grommets; four at center points to clothesline the tarp; and 4 peg the corners. Twelve clam-bite taped-on loops using cuben fiber material 3/8 x 4 in provide additional stabilization points as may be needed for wind; and 4 of these anchor stretch loops to hook up with the tent's pole tips.
Cuben (now perhaps commonly known by the brand name Dyneema) is sold by the (vendor I got it from) roll yard (0.91 m) 54 in (137 cm) wide. The tarp has a 3/8 in (10 mm) seam running its length; sewn on the first fold of the French seam and double-side-taped on the second fold for additional strength and waterproofing the stitch holes. A sewn 3/8 in (10 mm) hem finishes the perimeter edge. Grommet points are reinforced in a triangular clam bite of nylon taffeta folded in and sewn with the hem.
This model of cuben fiber is waterproof, not breathable. It field-folds easily to about the size of a 1-liter (1 qt) flask. It could probably squeeze into a 22 oz (.65 L) mug (pictured), but I wouldn't want to roll it that tightly. The size dimensions equal the raw cut size, which seems consistent with the way polyethlene tarps are marketed.
DIY Impressions:
Cuben is very easy to work with, especially compared to materials like sil-nylon and uncoated nylon. It has no loose threads. Seams press flat and stay in place, though I did use cello tape holders sparingly. (Eventually I figured out that doubling one end back on the cello tape before sticking it on made the tape much easier to get off.) I used poly-cotton thread as recommended by the fabric vendor, and a #9 needle a size or so smaller than recommended but worked well.
I practiced on stuff sacks to get the tension correct and thereafter had no problems. I can figure out how to turn on the sewing machine, and that pretty well reaches the limit of my expertise. I'm satisfied with the result, so I would think anyone could do this.
Cuben comes with a margin of clear film and I couldn't find a sharp enough pair of scissors to trim it off cleanly, quickly or easily. As advised by the vendor, the tape used is unforgiving to say the least, yielding only great confidence that it will not soon forego its duty.
I wanted to see if I could make this simple project as a test whether to venture toward more difficult ones. Otherwise, given the necessity of buying more tape than necessary and requiring a grommet kit and scraps of nylon, it would make more sense to buy it already made. Of course a ready-made may not be customizable to match up with tent pole tips, a feature that makes the tarp much easier to set.
The weight shown does not include the clothesline or pegs, both of which I would be carrying anyway. It also does not include stretch cord loops to affix the tarp at the four pole tip points, and they add 0.4 oz (11 g).
Waterproof cuben comes in 3 weights. Though I haven't the other two for direct comparison, I think medium best for a tarp. The lighter choice would save about 1.7 oz (48 g) on this size tarp, but I gravitated toward stronger and more durable. The heaviest grade seemed overkill for this application. The vendor I bought from offered green and blue.
Field Conditions:
California central Sierras. In 7 years I've deployed the tarp 7 times in 206 nights of having it with me. Use conditions have included rain, sleet, hail, and light snow. I haven't bothered to deploy it until the fan is being hit. The first time I used it was in Tahoe National Forest in 2016 (pictured); and most recently in Emigrant Wilderness in 2021.The tarp seems most suitable to summer camping and I've not carried it in winter.
Field Impressions:
Not always do I carry weather defense. If it isn't supposed to rain, I don't care to load up on rain gear. The schizophrenic nature of Sierra weather does not comport well with my penchant for taking weather forecasts at face value. The advantage of such a light and functional tarp is to fill that gap between being unnecessarily cautious and proven foolish once again.
I like tarps. For many years I used a cheap tarp over a cheap tent and was happy enough until I had to get lighter at about the same time I started camping in granite where suitable anchors do not always grow near a flat spot. It hadn't previously occurred to me to modify the tarp to fit the tent pole tips. This tarp is light, stows small, and requires only two critical (clothesline) anchors. I find that in a pinch it's even possible to get by without those, so my full-fly days are pretty much reserved for expected weather. (And the old arthritis has been telling me that if you know it's going to rain, why are we going?)
The tarp is less convenient, but provides almost as much weather protection as a full fly at about a third of the weight and bulk of a coated polyester fly. I clothesline and pre-peg the tarp first, pitch the tent under it, and then fine-tune pegging to match up with tent placement. This works even better in the rain for a dry pitch than a loose fly slung over the pre-raised canopy.
Cuben likes to stay folded, and is so light it isn't easy to shake out in the wind and rain. (The slightest, tiniest bit of tape sticking out also inhibits deployment, a feature not escaped by even a big-name tent vendor's Dyneema fly.) It doesn't saturate, and stays taut when wet with no shrinking as it dries. I loop the clothesline through the grommets to put most pressure on the line and just enough on the tarp to keep it taut.
Tensioning nylon line, especially getting wet, can stretch patience. It would be easier to tie off at each side in separate pieces of line, but that puts a lot of pre-stress on the fabric (and seam) and leaves less margin for withstanding wind gusts.
The translucent material lets through a lot of light, which I find preferable on dark and stormy occasions.
I'm reluctant (to the point of refusing) to test the puncture resistance of the material, but my feeling is that it probably has less than coated nylon and more than polyethlene. Cuben folds easily, enough that I can fold it back to storage sack size without having to put it on the ground. Unlike poly, it doesn't seem to develop memory or "weaken" on crush lines. I'm thinking it needs to be handled as carefully as sil-nylon to avoid scuffing.
I won't know unless it happens whether mold can develop between the layers. I haven't noticed any odor of mildew or chemicals. If any part of the tarp has any indication of moisture when packing up, it gets aired out at the earliest opportunity. I am abundantly careful to make sure the tarp is upwind from fire and out of cinder range.
I cannot overlook that this DIY tarp shelters no better and costs 25 times polyethlene off the shelf. I rationalize it for the benefit of saving weight directly, and indirectly in contributing to being able to take a smaller volume (lighter) pack. In fact, I regard it as a small price to pay for helping me continue an activity that the aging body might like to see more in pictures.
I'm pleased to the point of considering my next Cuben project, a poncho to double as a tarp over a solo tent. I've made the poly proto, but am presently stifled in a couple of design issues. 
Experience
I've tarped hundreds of times, mostly with polyethlene. As tarps allow great ventilation, I find the best way to stay dry in a tent is with a tarp over it rather than a fly.
Source: DIY; materials purchased at retail from vendor

Cuben fiber is so light I carry one (same size as Wallace reviewed) to function as a dining fly to hang out under during sustained rain. Beats being pent up in a tiny tent for hours. Mine is the lightweight fabric option. Had no problems when used as a tarp. I also own a cuben pyramid tarp.
Pros
Very lightweight
Packs small
Strong
Does not stretch
Very easy to clean
Cons
Can puncture pretty easy, so not the best fabric for ground cloths or packs.
It doesn't tolerate chafing against rocks and such.
Experience
Cuben fiber tarps and tents pack away tightest when folded or rolled, versus just stuffed into a sack. Cuben does not take on an odor as long as you dry it before placing into storage.

Ed
Source: bought it new
Price Paid: $150

DIY,
Install small grommets.  
Get some cord, line, rope bigger than the grommets. 
Tie a large knot in both ends, cut to the length of a side. .
Place this on the inside of the tarp, loop ground tie cording from the outside, in, through the grommets, around this rope.  
This rope will spread the stress across the fabric, helping to stop tear outs at the grommets, the 2 knots keeps the rope/line from pulling out sideways under the end tie loops.
This is how the old navy ship canvas hammocks had the clew attached to the canvas.
It was designed to be able to replace and repair the hammock. The clew and canvas easily taken apart.
Yes adds a little weight, but a storm ripping out a tie down probably isn't something you want to deal with at 3 AM.
Experience
I'm older than dirt, have experience with DIY equipment like making my own hammock, tarp cover for, old school.
Source: DIY

Your Review
Where to Buy
Help support this site by making your next gear purchase through one of the links above. Click a link, buy what you need, and the seller will contribute a portion of the purchase price to support Trailspace's independent gear reviews.
You May Like
Specs
| | |
| --- | --- |
| Price | Reviewers Paid: $150.00 |
Recently on Trailspace