DIY: Snow Cave for Survival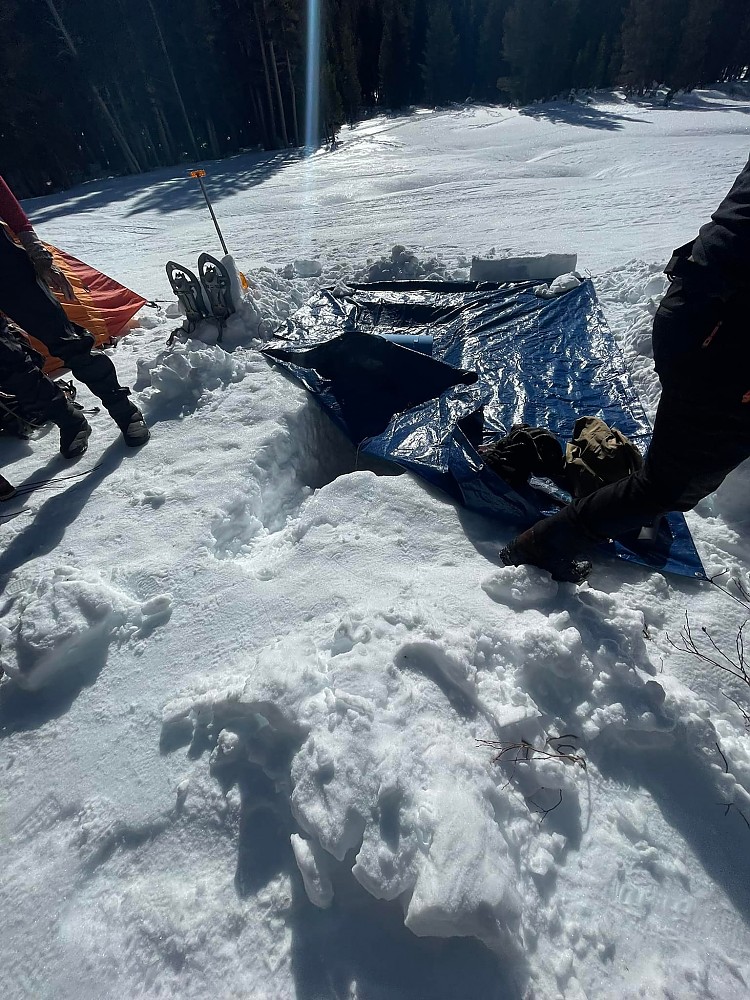 This is my take on digging a snow cave for backcountry survival.
Pros
Isolation and insulation from cold weather
Simple idea
Cons
Condensation challenges
Kind of cozy
SNOW CAVE
The Scouts had a "Klondike" event where we slept in snow caves. Seemed like a great opportunity to learn a survival skill one would need if stuck in the backcountry. Snow maintains approximately 32/0° temperature and is good insulation against surrounding weather and temperature. We have some experts at this craft.
I am not such an expert, but I thought I'd add the twist of using skis as the framework to see if that worked. I used the basic principles, but strongly advise doing your own research and practice. There is info on  YooToob about using pine boughs and tree branches in an emergency. Hopefully on your backcountry trips you have some overnight capable gear.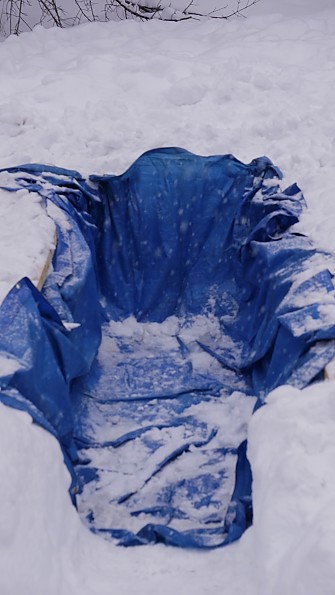 First, sketch out your space. This is for one person, but the Scouts had three per snow cave. I did about 8x3'. I used a couple 8' 2x2s to frame each side. Then dig, baby, dig to about 24-30" deep. Dig your entry about 4' long and ideally sloping down from the entrance.
Depending on the depth of the snow, try to get to the ground as it would be slightly warmer than the snow. We had some tarps to use so that made it easy. Line your trench with a 10x12 or so tarp. I laid it on the 2x2s. Make sure there is a level space at least 1' around your trench. Dump snow on the edge of the tarp to stabilize it.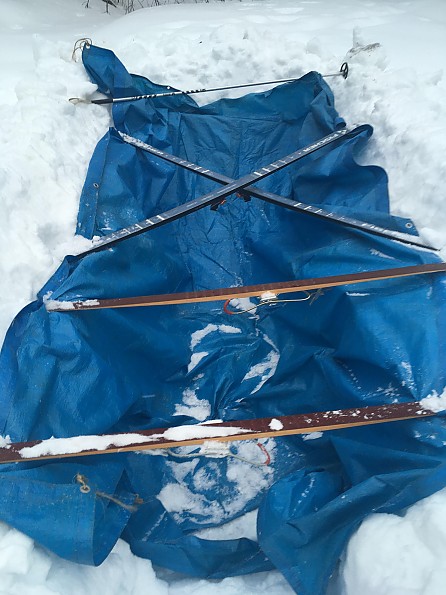 Then I put the skis and poles on with no more than 2' between. In the pix I used 215cm cross-country skis crossed and then shorter skis and some poles.
Lay another tarp over the framework and pile snow around the edges to hold it in place. Where we were the snow was perfect—compacted well and had some weight to it.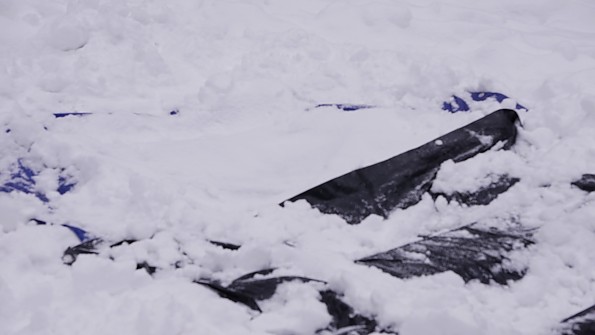 I then put my 9x6 tent ground cloth in for an extra layer and also had a sheet of high strength plastic as a backup (more about that later).
I put my wonderful Therm-a-Rest mattress in which is vital to insulate one from the ground temperature or use a closed cell foam mat. Laid out my good bag. It was tight as the roof didn't leave much room, but I could turn on my side and manouver reasonably well for the circumstances.
It was cramped but cozy.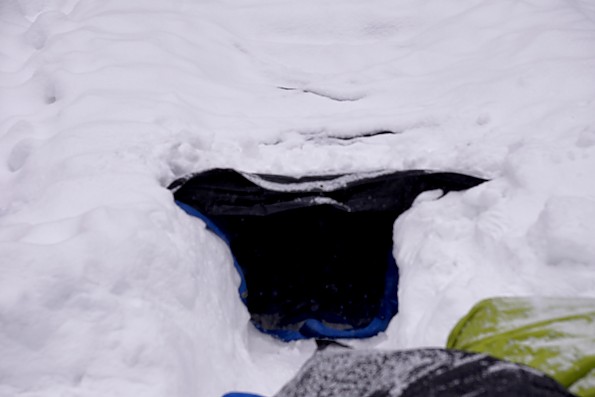 Now for condensation: we all know about tents, but the snow cave can be particularly wet because you are melting a little snow and breathe out about 1 pint of water. Uh, drip, drip, drip on my face. That is why I used that extra sheet of plastic over me. It did help, but still everything was somewhat damp. Before turning in I put on extra layers of fleece and my Polarguard bag held its temperature so I didn't get too cold.
After I got up to relieve myself, I decided to put my head at the entrance and that solved much of the condensation. The main fact is that in the snow cave the temperature was above freezing when outside was in the 20s. And it snowed lightly all night long and that added insulation on the roof.
So these are the basics. Again do your own research and make the opportunity to practice. A few years ago one of the Scouting families got marooned in the backcountry and used this skill to survive.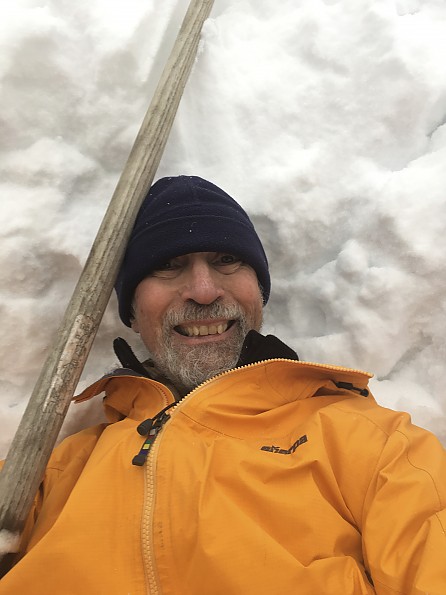 Experience
First time winter camping but good experience. Many nights in tents where it was in the 20s and this is warmer.
Source: Standard cheap tarps available worldwide

Claustrophobic
Pros
Protected from wind
It is warmer than a tent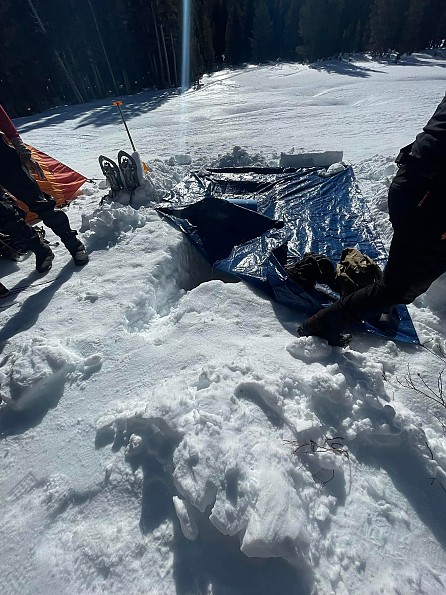 I went with Sierra Club and they insisted I build one of these. It was the same basic idea but no lining. The problem in a nutshell—to me it was like being buried alive. Like being in a tomb. Like that scene in "Kill Bill" where Uma has to punch her way out of the coffin. I could not handle it.
So I set up my tent. And was cold.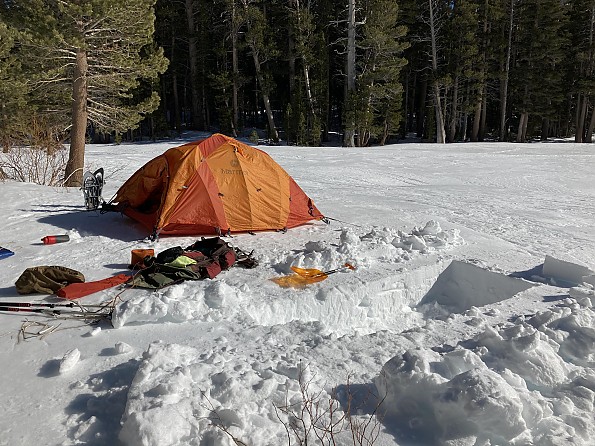 Experience
Once was enough.
Source:

A snow trench tarp shelter is quick and easy to make. But you must put ski poles or skis over the trench before laying down the tarp. Otherwise, you'll have to find some long branches.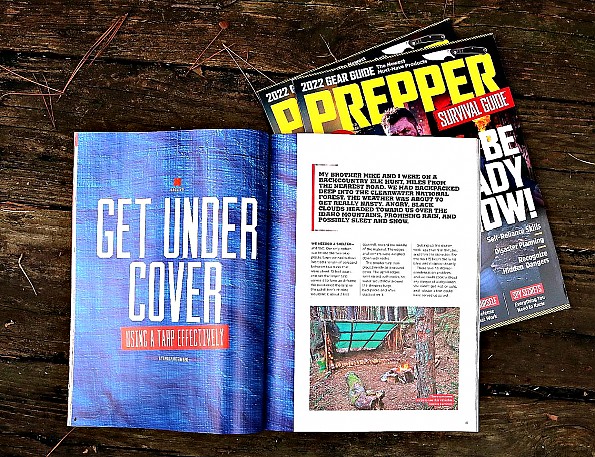 Experience
I use tarps to teach emergency shelter building in survival classes. I hiked the John Muir Trail, and the Thorofare Creek loop in Yellowstone.
Source: bought it new
Price Paid: under $10

I have not tried this method. It just doesn't appeal to me at all.
Cons
May make you wish you weren't alive.
Seems very iffy, and the use of plastic etc., without a vent pipe or hole could contribute to soaking condensation. I've overnighted in -25°c in both quinzhees and proper winter backpacking tents, both accommodating a small stove to warm things up before turning in. This just looks really painful. :)
Experience
Winter exercises in Canadian military staying in heated (but still cold) tents
Winter backpacking and camping in -25 and lower in Canada and staying in quinzhees. Ditto but staying in tents with a layer of insulation (sometimes just blankets rigged up over the roof and sides and good closed cell foam for base insulation.
Source: Have used other methods but not this one

Your Review
Where to Buy
Help support this site by making your next gear purchase through one of the links above. Click a link, buy what you need, and the seller will contribute a portion of the purchase price to support Trailspace's independent gear reviews.
You May Like