Dr. Bronner Tea Tree Liquid Soap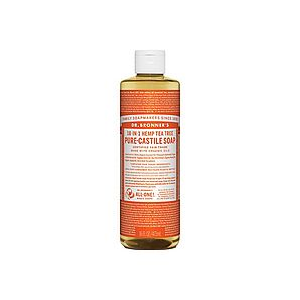 I saw the other guy's review, and I thought I'd add my 2 cents.
I love Dr. Bronner's.  I use it at home as well as the field when backpacking.  They also offer bar soaps that don't leak in your pack, but I prefer the liquid.
I'm also a mechanic.  My hands get greasy.   Nasty greasy.   Dr. Bronner's Liquid Peppermint soap works the best of any product I've found, including stuff like GoJo that was made for removing automotive grease.  The other 'natural' product that works well is Ivory liquid, but I'd bet there is petroleum in there somewhere, but I don't know for sure.  (note that Dawn dish-washing liquid does NOT lift automotive grease off your hands like Dr. Bronners or Ivory Liquid !!!) 
A palmful rubbed on the grease - no water - lifts it right out of your skin.  Then wash it off with water.  If you've been working on brake systems, the brake dust can get into your skin and be worse than grease to remove.  A second application of Dr. Bronner's (no water) along with a scrub brush gets that out.
I find it surprising that the other reviewer claims it didn't cut grease well.  Perhaps he had diluted it with water.  It doesn't work as well that way.  Use it straight - only a few drops if need be, then rinse it.
I find it interesting that the Peppermint seems to cut the grease better than the others.  Bathe with it and people may comment on how nice you smell.  And the product ingredients are listed as 'organic', and 'fair trade', and the bottle is 100% post consumer recycled plastic.  I quit using soap in high-school when I realized that my face had **less acne** (almost no acne) when I only showered in hot-hot water to open my pours and washed with only a washcloth (no soap), then rinsed in cold-cold water to close my pours to keep the dirt out; and soap always left me feeling a residue on my skin. 
Then I found Dr. Bronner's.  Love this stuff!!!  I still do the hot-cold thing, but I wash with Dr. Bronner's also.  Makes a poor shampoo, though, by the way.  Leaves your hair flat, with a slight lingering residue that will build in a few days (at least with my long hair - you shaved-heads may like it).  And don't wash your clothes with it.  If you dry them in the hot drier, you can smell a 'rancid vegetable oil' odor afterwards.
Other uses I've found include:
Put a drop or two on the sticky residue left from price tags or other stickers, and scratch with your finger-nail and wipe clean with a cloth or napkin.  Works better than most other stuff.   Alcohol will dissolve the sticky, but when it evaporates, the sticky is still left.
I also found this makes the best lubricant.   I inherited an old pair of pliers from my grandfather that barely would open and close from rust.  WD-40 got them to move, almost fully open, and then several days or weeks later they were stuck again.  I lubed the joint with a liberal amount of Dr. Bronners liquid soap, and worked it in by opening and closing the pliers.  The joint cleaned itself, rusty goop came out that I wiped away, the pliers opened and closed fully for the first time since I owned them, and stayed that way.  I lube squeaky door hinges with it, the bearings on caster-wheels on rolling chairs, etc., and it's completely non-toxic.
I recommend it. 
Price Paid: $11 / 32 oz

Organic, no nasty chemicals. Very concentrated, a small bottle lasts a long time.
I have used this soap for a couple of two and three week hikes for body wash, shampoo, shaving, clothes and dishes/cookware. After trying the eucalyptus soap once as toothpaste with a less than tasty result I didn't bother trying this one.
If used in a water bottle (I use my bottle for shaking pan cake batter and need to clean them) a very slight odor/taste can linger. After a few days I actually got to like it, though the peppermint one tasted even better. If used without more soap "added" the odor is completely gone.
The slightly antiseptic properties of the tea tree oil is good for scratched shins/calves after hiking through knee high brush wearing shorts. 
You end up smelling like tea tree after cleaning everything as well as yourself after a while, but there are a lot of things that smell worse.
My only wish is that it would cut grease a little bit better.
Price Paid: Can't remember

Your Review
Where to Buy
Help support this site by making your next gear purchase through one of the links above. Click a link, buy what you need, and the seller will contribute a portion of the purchase price to support Trailspace's independent gear reviews.
You May Like
Specs
Price
Current Retail: $12.95
Historic Range: $4.95-$14.95
Reviewers Paid: $11.00