Dunham Waffle Stomper Paramount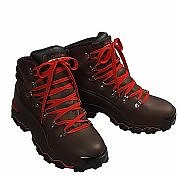 Specs
(no Gender)
Price
Reviewers Paid: $120.00-$125.00

Women's
Price
Historic Range: $59.95

Reviews
3

reviews

5-star:

0

4-star:

1

3-star:

2

2-star:

0

1-star:

0
Bought the boots about 2 years ago but have not put them through the paces as others have. So far I am very satisfied with the fit and performance. Wet trail hiking is a breeze and I find the tread clears well in the muck.
Done a bit of scrabbling and find good traction but it would nice to have more toe protection as the leather takes a beating on the rocks. The lace eyelets are a bit archaic. I find them hard on the laces and the uppers can get bent over and draw blood. Other than that not a bad boot.
Materials: Leather
Use: Backpacking
Break-in Period: A trip or Two
Price Paid: 220 CAD

At first glance, the Paramount looks like a solid leather boot. The red retro laces with alpine style grommets looks really cool and the wafflestomper sole leather uppers give great traction and support. After about 50 miles they started to break in very well and mold to my feet. They performed very well in any terrain and boy did I put these boots through hell on and off the trail out in Idaho.
Unfortunately, the soles began delaminating on both boots within a month of heavy daily use (5-10 mi/day). I glued them back together and kept hiking. By the end of the summer (bought them in May), both soles had delaminated to the ball of my foot and the toebox on the right boot had collapsed. I sent them back to Dunham and recieved a brand new pair within two weeks. Within a month of moderate to light use both soles began to delaminate. When I sent them back this time I demanded a different style so they sent me their top of the line $200+ Wafflestomper Premier. These are a bit more rugged and are completely waterproof. However the same design flaws exist.
I am now on my second (warranty for soles again) pair of Premiers. The Dunham customer service is great, but their R&D department sucks. Everytime I call to get a new pair I ask if anyone else has the same problem, to which they always say no (which is bullshit seeing as the other reviewer had the same problem). Granted I put over 500 miles on my first pair of Premiers, but they should still last at least one year, not nine months.
As you can tell I am quite bitter. But I guess I will keep wearing Dunham boots untill they stop sending me free warranty replacements. Their boots really perform well, they just don't hold up for long. So two stars for performance, one for cust service and 0 for durability.
Materials: Leather
Use: Heavy on and off trail wear
Break-in Period: 50 miles
Weight: 165 lbs
Price Paid: $125

I purchased these boots for the following specs: 1 )traditional support/durability, 2) at least water resistant leather, 3) very supportive traction sole, 4) ability to get sans gore-tex, and 4) available in large/wide sizes.
Good: Very supportive (I am still recovering a little from a broken foot), fit was excellent, break in was moderate for an all-leather boot as was weight. Uppers resisted incidental water.
Bad: Apparent mfr defect caused one sole to separate at the toe forcing me to use duct tape to cont. 74 mi. Grand Canyon hike (duct tape worked poorly in wet weather encountered). Waterproofness is overrated. Ample interior padding makes an excellent sponge, but the boots did protect my feet well without gargantuan weight of mtneering boots.
Materials: waterproof (per mfr) leather
Use: rough trail backpacking
Break-in Period: 30 miles
Weight: 4 lbs or so for 13EEs
Price Paid: $120

You May Like
Recently on Trailspace