Dunham Waffle Stomper Premier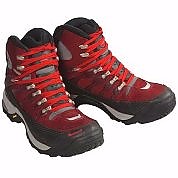 Known for their great fit and waterproofness, I was cautiously optimistic about the Dunham Waffle Stomper Premiers. With my flat, wide feet finding comfortable footwear is always a challenge.
Fitting these boots was interesting. I opted to go with the men's version as they were wider. Out of the box, the Dunham Waffle Stomper Premeirs are extremely stiff. I found it difficult to tell if they fit me or not. Walking around in them proved to be little help as that just made my feet hurt. So, in the end, I just measured my feet and ordered the boots..
I had a week-long backcountry trip coming up the following month so the next three weeks were dedicated to breaking the boots in. Most boots nowadays require little to no break-in, but these boots are old school. You must do your time.
I wore them around the house for a few days. They ranged from uncomfortable to painful, particularly around the ankles. I wondered if they would ever loosen up. For their inaugural hike, I took them most of the way up Cypress Peak. They were pretty good for the 2km logging road approach. A short bushwhack/traverse worked my ankles over pretty well but fortunately it didn't last long as soon we reached the talus slopes. The change in terrain took the pressure off and for the first time I noticed how comfortable the footbeds are in these boots. The soles have a lot of cushioning and are very sticky, a feature which I greatly appreciated as I scrambled over large, lose boulders for the next two hours. A tricky river crossing put them to the test and I was pleased to find that they provided good traction even on slippery wet rocks. The talus gave way to snow slopes which were sometimes icy and gave me a good opportunity to see how they fared in kicking steps. They performed brilliantly.
Boot testing was over by the time I made it to the ridge. I'd done about 3000 feet in elevation and I was ready to slip into my old boots. My ankles were very sore but my feet were happy. I noticed that my arches were aching a bit which was interesting. They seem to have more arch support than most boots I have tried.
I wasn't able to get the boots back on for a couple of days after that. My ankles were just too sore but by Wednesday I was wearing them on my elliptical trainer to work out.
Next weekend it was Rainbow Mountain. Again, I took my old boots along, expecting to need to change. 45 minutes into the muddy trail however, I suddenly realized that my ankles had stopped hurting. Just like that! They had finally broken in!
They continued to be comfortable save for some minor soreness in my ankles which was left over from the previous week. I was impressed with the support they provided my whole foot on a very steep snow slope where I was only able to get my toe in. I wore them for 12 hours that day including 5000 feet of elevation gain. Remarkably, I made it all the way DOWN those 5000 feet without my usual knee brace and orthodics setup. I suspect that the arch support is responsible for keeping my knees happy.
One more week of workout duty and it was time for the ultimate test -- six days in the Enchantments area of the Alpine Lakes Wilderness in Washington State. This trail made Backpacker magazine's 'Toughest trails in America' list earlier this year and I was doing it with 70lbs on my back between all my camping gear and climbing gear. I can't think of a better test for boots.
On this trip I experienced virtually every kind of terrain imaginable except for mud and snow. Dusty trails, talus slopes, steep gullies, bushwhacking, you name it! The first day was 10 hours including one stretch where we gained 2200 feet in ¾ of a mile. My feet were very happy all day long. I enjoyed the ankle support the Waffle Stompers provided, particularly when the terrain was loose and steep. The Polyurethane midsole provided all the cushioning I needed, even with my heavy pack. It wasn't until the last 45 minutes that my baby toes began to rub. I think I may have gotten them a little bit too big. Putting my orthodics in later in the trip solved the toe rubbing problem.
Scrambling on slab was a joy in these sticky boots. I felt as if I had suction cups on my feet and was able to move more confidently over sketchy terrain than ever before. The multi-directional lug on the Vibram outsole provides incredible traction that you can count on. The tough exterior was much appreciated when loosened rocks landed on my feet. The breathable uppers kept my feet cool and comfy even on the longest days. For such rugged, technical boots, they are surprisingly light (2.5lbs).
Our final day of the trip was an unexpected 23 hours with full packs on, dropping down 5600ft. I was definitely happy to take the boots off but didn't have any particular soreness or hotspots.
The Waffle Stompers and I enjoyed an easy day hike the following week (for a change!) up the 3 peaks of The Chief in Squamish. I think we were both happy to have a day without a heavy pack! I was able to walk down steep slab when my hiking companion could not thanks to those great sticky soles.
The final test came on Mount Baker. This was the first time I would use them with crampons. Again, my feet were comfortable and well supported as I made my way up and down Mount Baker, encountering everything from steep icy slopes, to soft sugary snow, to rocks & loose dirt. I particularly enjoyed the great support the boots give over the ankle twisting rocky terrain we had to cross with crampons on.
My only complaint about these boots is that the lace loops got caught on the lace hooks, tripping me up many times. I highly recommend tucking your lace loops under your tight laces to avoid this happening as it can be quite dangerous. On Baker I caught my crampons on the laces a few times. I think next time I would tape the laces down.
The Dunham Waffle Stomper Premiers have quickly become one of my favourite pieces of gear and I look forward to putting many more miles on them. I highly recommend these boots to anyone who plans to do any serious backpacking/hiking/scrambling and even light mountaineering. They will enhance your performance and make the whole experience more enjoyable. There's nothing quite like a good pair of boots.

Materials: Vibram®, Dryworks®, and ABZORB®
Use: Backpacking, scrambling, wet weather, snowshoeing, you name it!
Break-in Period: 8-10 hours
Price Paid: $180

Version reviewed: 2006
First off let me start off with my personal statistics, so you know were I am coming from.
27 year old male
190 pounds
6 feet tall
11.5 medium to narrow width foot.
Backpacks with an average pack weight of 50 pounds, I carry alot of weight as a large format photographer.
My trips are usaully on very rough terrain, on and off trail, for aroud 5-6 days on average.
Ok so got that over with.
First, the boot sizing is different with this boot than the older models. I had the same size and width boot in the 2005 model that fit like a dream. It hugged my foot and was very supportive on tough terrain, and it had very stiff sole. The newer model in the same size and width is sloppy on my feet compared to last year's model. Only when I seriously tighten the laces do I then get a better fit, but then the tung of the boot cuts into my ankle sometimes. I wish I would have got a narrow width.
Second, the boot is not as stiff or supportive as the older model. I can bend the boot in half with my hands. The sole is very flexible. That is fine for day hiking and hiking with a light pack, but for me it doesnt offer enough support for my feet. It's kinda a cross between a backpacking boot and a light day hiker. This would probably be a good boot for the ultralight packer who wants a littler more support than a trail shoe can offer.
Last you may be asking "Why the hell did this fool buy the boots, couldn't he tell they didn't fit at the store!" Well they were a warranty pair from Dunham. I bought two of the 2005 models last year and one of them had a problem so they sent me the same boot but in the 2006 model, and they felt ok in the house. But you never really know until you s;end a long day hiking in them.
J
Materials: man made
Use: backpacking
Break-in Period: none
Price Paid: warranty

Your Review
Where to Buy
Help support this site by making your next gear purchase through one of the links above. Click a link, buy what you need, and the seller will contribute a portion of the purchase price to support Trailspace's independent gear reviews.
You May Like
Specs
Price
Historic Range: $85.45
Reviewers Paid: $180.00

Recently on Trailspace