Easton Kilo 3P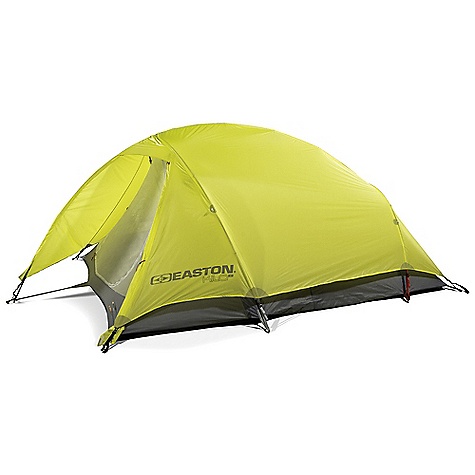 Specs
Price
Historic Range: $286.94-$498.95
Reviewers Paid: $239.00

Reviews
2

reviews

5-star:

0

4-star:

0

3-star:

0

2-star:

0

1-star:

2
Pros
Lightweight
Build quality
Cons
Difficult to set up/ Physically
Price (MSRP Price)
Front Entrance
Easton Mountain Products Kilo 3P Tent Review (2013 model)
This tent retails for $500 and my purchase price was $239.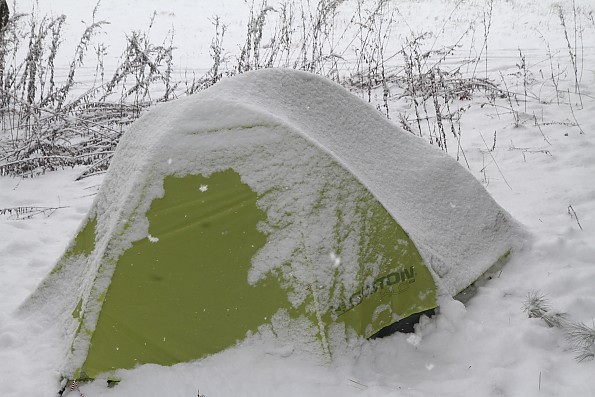 Now, before I review this tent, I wanted to point out that it is a three-season tent, so I did not review it based on its ability to stand up to snow and wind , although it fared well in this area.
I really wanted to love this tent.
I was not overly impressed with this tent comparing it to my Marmot Limelight 3-person tent. The only area this tent won out over the Limelight was in weight savings. 
Three pounds is hard to scoff at.
Setup is straight forward but a pain to actually setup.
Staking out is a bit tedious but fairly easy. It's the damn fly that's a pain. It's near impossible to get the velcro straps around the poles and trying to get the loops on the fly through the plastic clip is a pain.
The interior is roomy if staked out perfectly, the door is a PITA also. You need two hands to keep it taut to zip or unzip, but I guess that's to be expected for an UL tent.
The tent material feels pretty sturdy.
The fly sags even if guyed out and it sags enough to come in contact with the mesh.
This was setup in 25° weather and withstood a good 4" of snow.

There are three reasons I sent this tent back.

The sag: Even setup in perfect conditions, sag was unacceptable.

Setup: It is a PITA to setup. Like I said it's very straightforward, but more difficult to implement. 

If I had to set this up in the rain I would drown.

The advertised trail weight of the Kilo is impossible to achieve, even by removing the, repair kit, all the paper work, rubber bands, stuff sack for poles, and any misc. paperwork or packaging. It's not the advertised weight of 3 lbs. 4 oz.
The only way to get close to this weight is to remove all of the stakes and guy lines, but these are needed for setup and by adding a fly, the weight increases 11 oz. Apparently Easton kept the weights from the Air Lock pole system, but they switched to the heavier shock corded poles. The reason for switching from the airlock system to the shock corded poles was because of human error in the field, not because of a design flaw.
Update 2/12/14 received a letter from Easton on the pole design.
To Easton:
"I purchased a kilo 3p tent but It did not come with the carbon ion air lock poles.
The reason I purchased this tent was, I was intrigued by the air lock system.
The poles I have are shockcorded".
Can you explain why?

Easton developed the Airlock system to both save weight and to allow for a smaller diameter Carbon tent pole.  While the Airlock connection system is effective in saving weight, Easton has since developed a micro shock cord (Air Shock) that is lighter weight than traditional shock cord and is small enough to be used in the small diameter carbon poles.  Airlock was only a few grams lighter than the new Air Shock cord but the shock cord has proven to be more "user friendly".  The latest tents feature the new micro shock cord which offers the best balance of light weight, reliability, and usability.

Thank you for your patience in the delayed response.  Tech support is handling all inquiries and questions as quickly and effectively as possible.

Best regards,

Easton Mountain Products Tech Support
Key improvements needed:
Reduce sag

Firm up zipper

Better way to affix the fly to the poles

Clips to fasten the fly to the tent, the loops suck.

Post the actual weights (Easton still has the weights of the Air Lock poles even though the poles were replaced with the heavier shockcorded poles).
My overall rating for the Easton Mountain Products Kilo 3P (2013 MODEL) tent at the list price of $470 - 500 price is (*)
Overall rating for my purchase price of $239 price (***)
Performance: (*)
Value@ $470-$500 (*)
Value@ $239 (***)
Build Quality: (****)
Features: (*)
Setup, Ease of use: (*)
Wind Strength: (***)
Weather-Proofness: (****)
Adaptability:(*)
Weight to size: (*****)
Livability 3-person: (*)
Livability 2-person: (**)
I would have given three stars for features if the tent came with the Air Lock pole system.
In closing: I would not recommend this tent and expect more out of a tent in the listed price range, but for the price I paid, it's somewhat acceptable. 
Source: bought it new
Price Paid: $239

Pros
Maybe weight, if not actually a drawback
Nice stakes, relatively sturdy for their weight (visibly Easton-made)
Good habitability for this kind of product (for two AND a half, not JUST two in a 3-person tent, as too much often...)
Pleasant shape, visibly designed by good engineers (it's the manufacturing afterward, the main problem...)
Cons
(Very) Cheap Chinese carbon poles
ONE- (barely) season tent
Horrible neon color, unjustified (definitely NOT an expedition tent)
"Sticky" roof (poor coating)
Floor so thin that it requires an additional mat (so, the weight...)
Too much room between roof and ground (the rain "bounces" on ground and jumps blithely inside the tent through the mosquito net)
(Sorry I'm not English speaking, this must be horrible to read, just hope this is at least understandable) (sorry-sorry) :)
(NB: first model with Air Lock poles, brand new, not used)
The poles broke the first week of (light) snow, in the f#@&ing middle of Finnish Lapland, on TWO tents of the same model...and the "repair" muff provided was way too large for the poles, therefore they broke again (on both tents again...) at the end of the muffs, that have acted approximately like scissors.
Technical note: carbon poles are relatively sturdy in torsion, but (globally, not only these ones) they do not cope with even slight lateral compression (like when you secure them to your rucksack...). They split vertically on all their length, and after that they can't accept anymore the lesser torsion and NOTHING can repair them. They re-break at each and every reinforcement. Note that this can happen only with (very) cheap Chinese carbon poles with carbon fibers in only one direction, and not with technically decent carbon poles (crossed-fibers, like for instance the vast majority of fishing rods, even the cheapest of them).
Conclusion: It was actually some very cheap Chinese carbon poles with carbon fibers in only one direction. At 450 euros the thingamajig, is it really necessary to comment further... :) :)
Key improvements needed:
REAL Easton poles... (what I suspect has been done since, but — if I read well — with a consequent increasing of weight, rendering this tent almost equivalent of whatever else is on the market, for way less of expenses).

Other drawbacks (random):
Horrible color ("automotive reflective vest"), impossible to hide in natural environment (and this tent is unusable in expedition or high mountain environments, therefore this color is — in addition — totally unjustified).
The "mosquito net" inner tent is relatively pleasant in middle of summer, but "not so much" already in springtime or beginning of autumn... ONE-season tent, so...with a color of winter tent. We would have preferred a color "sand" for the beach, or "camo green" for the backcountry. Actually, generally speaking, we would prefer all tents of all brands to be delivered in various colors, and I believe we are far from alone to think that.
"Sticky" roof, doesn't bode well about the durability of its coating...
Conclusion: This product is absolutely pathetic for a brand of such a — deserved — reputation than Easton. This shame deserves to be castigated, and castigated, and castigated again until they well understand. This must have happened in 2011-2012, and I shall NEVER forgot.
Regards to all.
Source: bought it new
Price Paid: 450 euros (x2 = 900...)

You May Like
Recently on Trailspace