EcoVessel The Boulder Insulated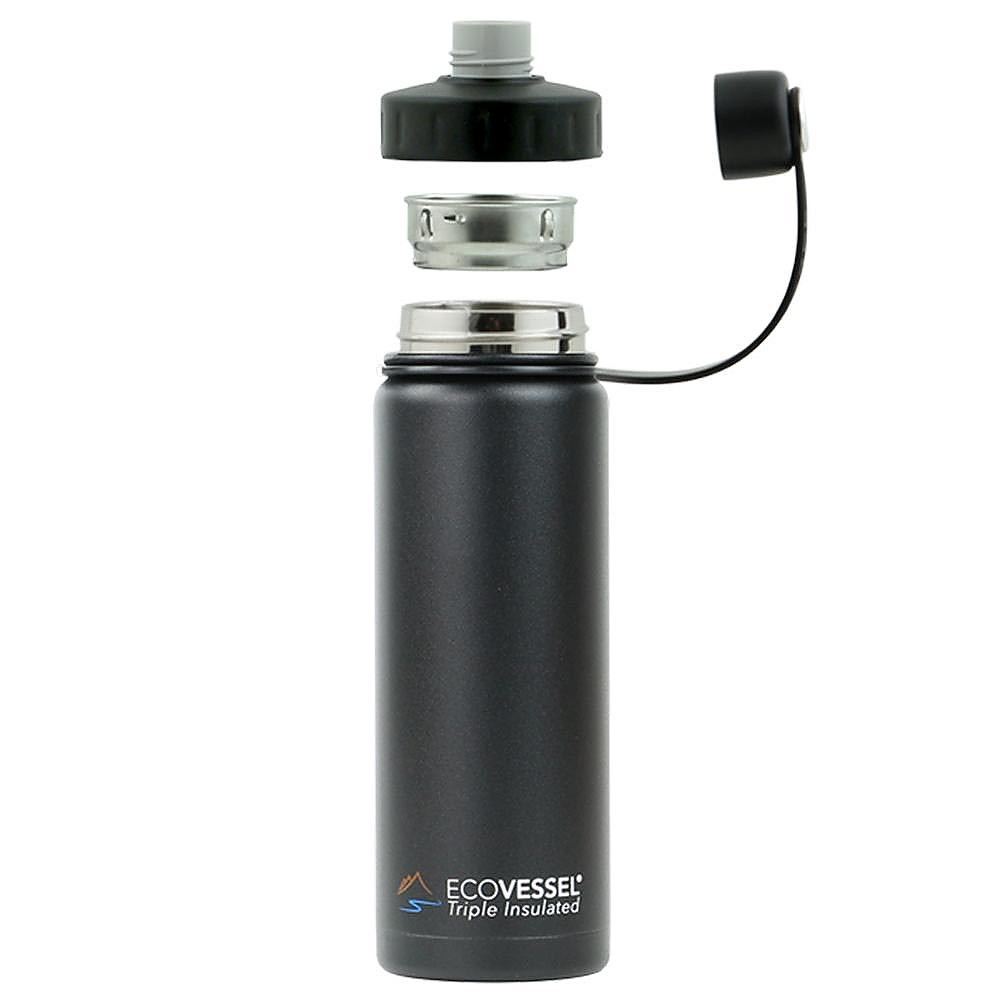 The EcoVessel is a well-designed, insulated container whose features give it a slight edge in a crowded market.
Pros
Diameter fits many cup holders
Smaller diameter fits hand
Ice/debris filter
Keeps things cold for an awful long time
Cons
Metal bottom is subject to denting/possible seal compromise (newer model solved this)
Added ounces for insulation tradeoff
Lid "sweats"
The 24 oz "Boulder" holds enough liquid to keep you hydrated on shorter day hike. The dimensions are 11.625" x 2.875" (29 cm x 7 cm). This allows the bottle to fit into most modern car carrier holders. Luckily, because of an air tight screw on lid, you can just throw it on your adjacent seat without fear of leaking if you don't have a cup holder. 
The container keeps ice for more than 24 hours in 70°F (21°C). It also keeps liquids hot for about 8 hours and warm up to 12 hours under the same conditions. I am guessing that the majority of energy transfer happens through the lid because I see water condensing on it often. On future models, this might be the one area in which to explore ways to further insulate it.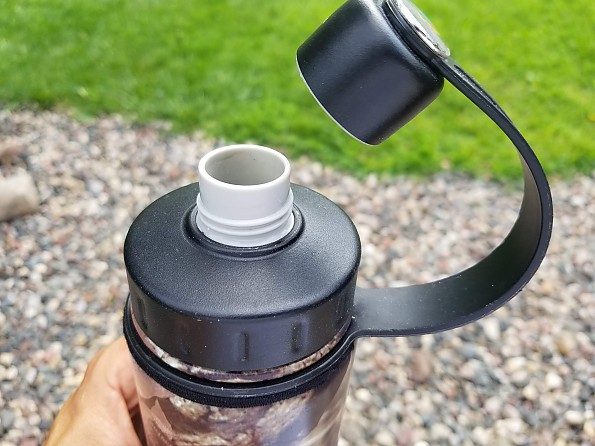 What I like about the Eco Vessel and most modern vacuum sealed mugs is that even darker colors (like camo) don't really affect the ability for the container to insulate since the radiant energy that is absorbed into the darker colors doesn't transfer through the vacuum. The thin space between layers also inhibits convection currents. Since the vacuum doesn't allow the transfer of energy by touching (there's nothing to touch), conduction is greatly reduced. Reducing convection, conduction, and radiation, slows down all three types of energy transfers. 
The key element that sets the EcoVessel apart from other insulated containers that I've used is the removable debris/ice filter that sets inside of the vessel. It's a very fine perforated metal bowl. It allows liquid to pass through it but not things like ice, lemon wedges, etc. It works well and makes a difference.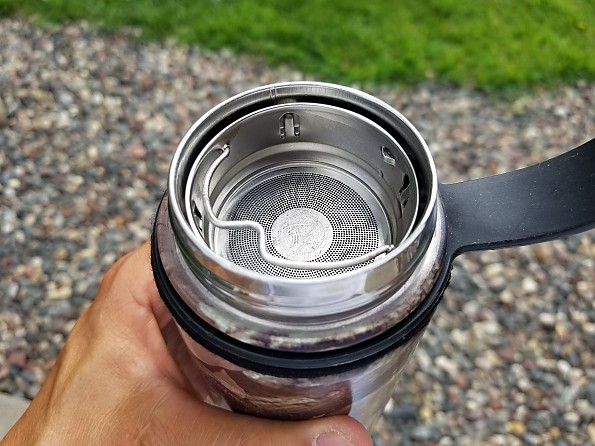 The secondary lid is smaller diameter which allows the drink to flow but keeps the filter in tact. It also ensures that I'm not spilling all over my clothes while moving and drinking. I really appreciate the smaller mouth hole.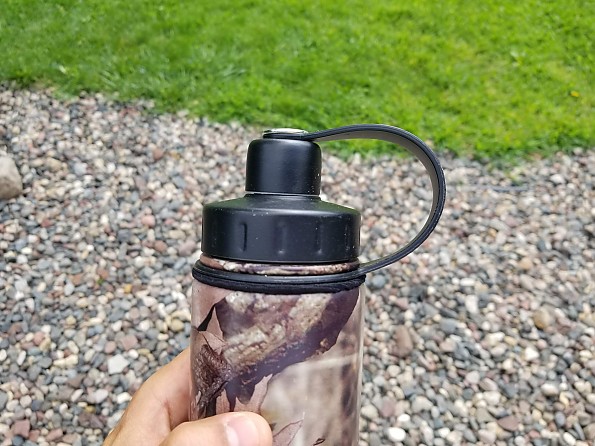 My model has a metal bottom as most insulated mugs from this era had. I've ruined a Yeti, two knock-off Yetis, and a Thermos by dropping them. Dents can either break the vacuum's seal at the seam or actually create a micro hole that compromises the seal. Think of it like dropping a can of soda from waist level, sometimes the can is fine, and sometimes the can starts spraying a fine mist of pressurized soda. These containers are no different in that respect. Sometimes the seal breaks and sometimes it doesn't. I've rendered four containers useless just by simple small drops. I've already dropped and dented the Eco Vessel but the seal has remained intact so far.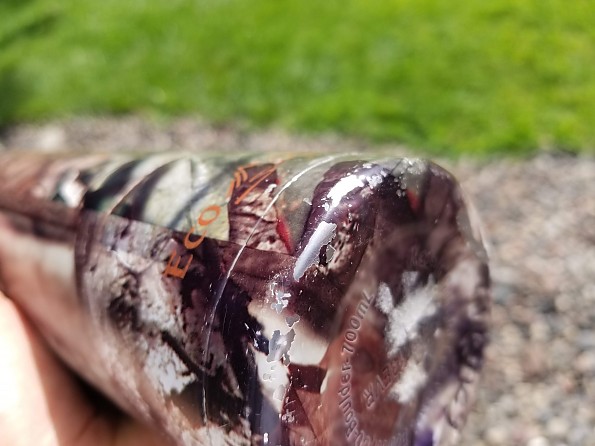 The newer model has mitigated this problem by coating the bottom with a rubberized polymer. 
Insulated containers are usually heavier than single walled containers because they are double walled. The Eco Vessel is no exception to this rule. I find that multi-day hikes don't merit the extra weight; I'll usually use a lightweight single walled container like a basic water bottle). If I'm just doing a day trip or an overnighter where weight is not as big of an issue, I love the Eco Vessel. Having an ice cold drink at the end of a grueling hike is a luxury.
In March, I left the Eco Vessel in my car overnight. The nighttime temps dropped to about  20°F (-7°C). In the morning, I went to unscrew the cap to take a drink and the plastic arm that held the cap on snapped in half. I learned that the plastic they use is susceptible to breaking in lower temps. This is an issue in Minnesota where I'm from. I contacted the company and explained what happened. I asked them how I might purchase another replacement lid. Within a day, a representative contacted me and told me that they were sending two replacement lids free of charge. Although this doesn't solve the problem of brittle plastic in cold weather, the customer service really won me over. 
I don't think I could ask for more out from an insulated drink container. The Eco Vessel keeps my drinks cold and hot, it fits in a cup holder, it filters ice, and the company has impeccable customer service. 
They've updated the current model with a dent resistant bottom. Now if they could exchange the current plastic with a plastic that functions in a wider temperature range and further insulates the lid, they'd have nearly the perfect container. 
I especially recommend the Eco Vessel in temperate climates. 
Background
I've used the Eco Vessel during the last winter, spring, summer and now entering into fall. I use it almost daily whether in my car, on the trail, or even around the house when I want to keep my drinks hot or cold.
Source: bought it used
Price Paid: $6

Trying to keep a drink warm for at least a day, try this. EcoVessel, Trimax insulated, bottle.
Pros
Sleek design
Keeps stuff warm for a long time
Most bottles will keep thing hot, or cold, depending on how you use them, for quite a while. I put hot coffee into my EcoVessel yesterday morning at 6 a.m., with the intention of drinking it later in the morning. It sat in my car all day, then overnight. High temp was 75°, low about 65°. At 10:30 the next morning (today), I opened it up on my way home and the coffee was still warm. Not piping hot, mind you, but pleasantly warm.  
Background
Good so far. Other experiences was with thermoses as a kid.
Source: bought via a "pro deal"

Your Review
Where to Buy
Help support this site by making your next gear purchase through one of the links above. Click a link, buy what you need, and the seller will contribute a portion of the purchase price to support Trailspace's independent gear reviews.
You May Like
Specs
| | |
| --- | --- |
| Price | Reviewers Paid: $6.00 |
Recently on Trailspace