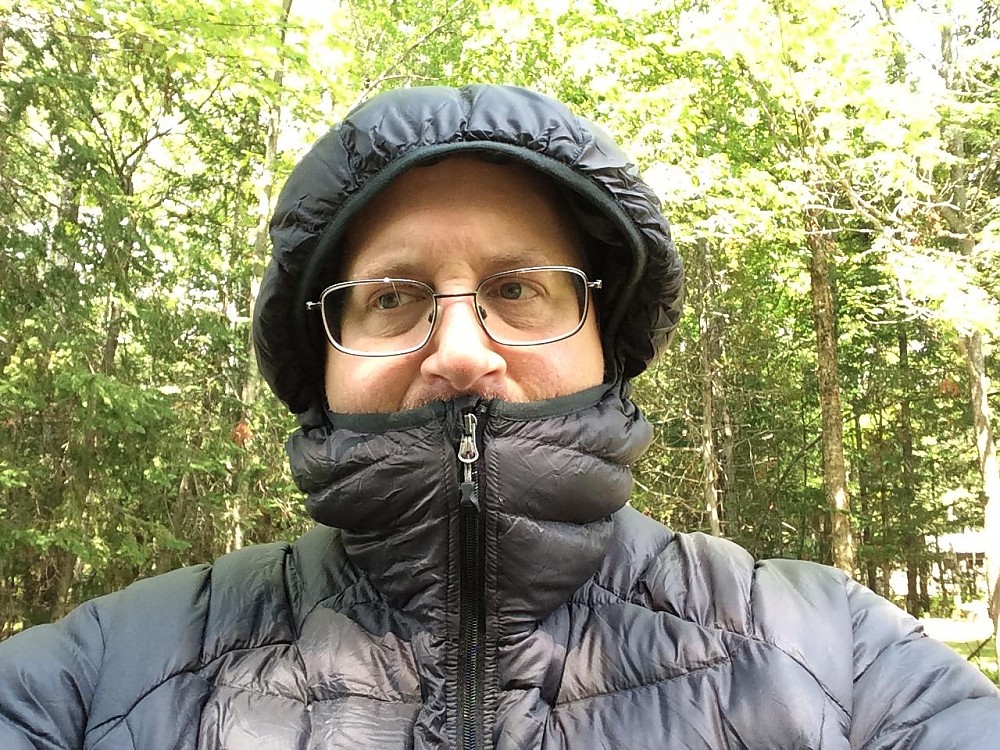 Specs
Men's
Price
Historic Range: $45.98-$171.75
Reviewers Paid: $104.00-$130.00

Weight
17.5 oz

Insulation
5 oz 800 fill 90/10 goose down

Women's
Price
Historic Range: $43.98-$89.98

Weight
14.5 oz

Insulation
4.5 oz 800 fill 90/10 goose down

Reviews
2

reviews

5-star:

0

4-star:

2

3-star:

0

2-star:

0

1-star:

0
The Eastern Mountain Sports Feather Pack hooded down jacket is a lightweight, warm jacket perfect for backcountry wear or around town. 5oz of Techdown-treated 800 fill power goose down keeps you warm and limits the effect of moisture on the insulation. A DWR-treated ripstop nylon shell helps keep the down dry.
Pros
Fill weight (warmth)
Comfort
Light weight
Layering fit
Water-resistant shell
Price
Cons
No interior stuff-it pockets
Handwarmer pockets aren't waist belt friendly
Packing pocket is redundant
A lightweight down jacket is one of the most useful pieces of gear in my opinion. They're perfect for three-season use on chilly mountain nights or even hanging out with friends in the backyard, can make the difference between sleeping warm and being chilly if the temps drop lower than expected, make great feet-warmers in a sleeping bag, and of course as an insulating layer in cold weather. 
About 4 years ago I was looking for a new lightweight down jacket to replace the Marmot Odin I'd had for a few years. I liked it, but it was really only warm down to maybe the mid 40s while sedentary and with a thin layer or two underneath. So many brands and models didn't include down fill weight in their specifications, which made it difficult to estimate warmth. 
When I saw that the Eastern Mountain Sports Feather Pack hooded down jacket had 5.5 ounces of 800 fill power DownTek hydrophobic down (5oz Techdown for current models according to EMS), I was pretty sure it was a typo. Still, there was an EMS 30 minutes from home, so I went to try one on. And went home with it.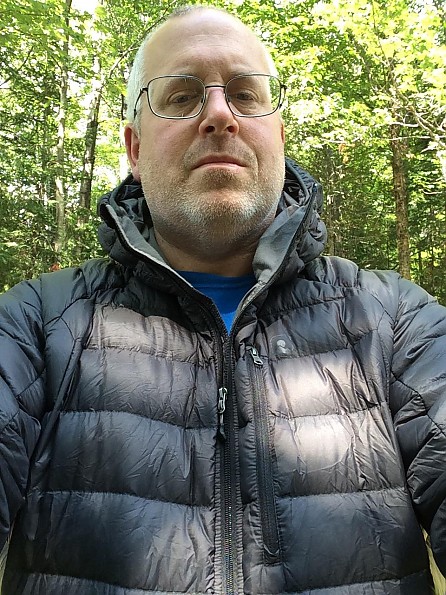 The Feather Pack has a ripstop nylon shell treated with DWR, denier rating isn't given but fabric weight is 32g/m2. The fabric is very light and you will want to be careful of what comes into contact with it—I have nightmares about one of my cats getting into the closet with it. No details are given about the lining but I assume it's nylon, very slick for slipping on over layers. Weight is given as 17.5oz, but for which size isn't said. 
There's a full-length, one-way zipper but no storm flap. There are two cord-locked hem adjustments and a single, horizontal adjustment at the back of the hood. Sleeve cuffs and hood perimeter are elastic with just the right amount of tension for me. There's a strip of soft, flannel-like fabric in the neck area and on the zipper garage.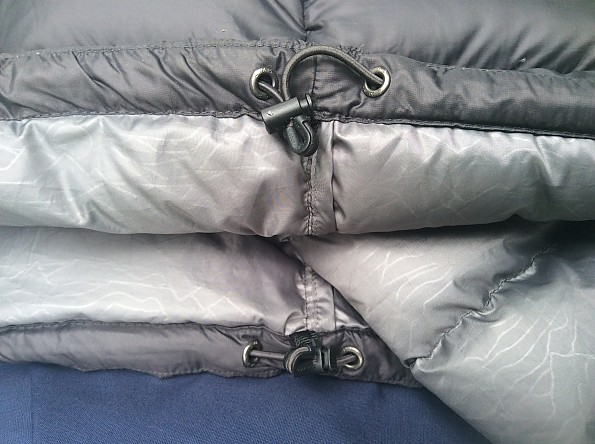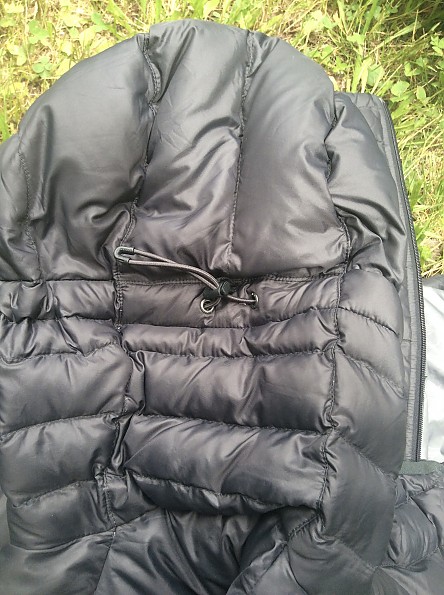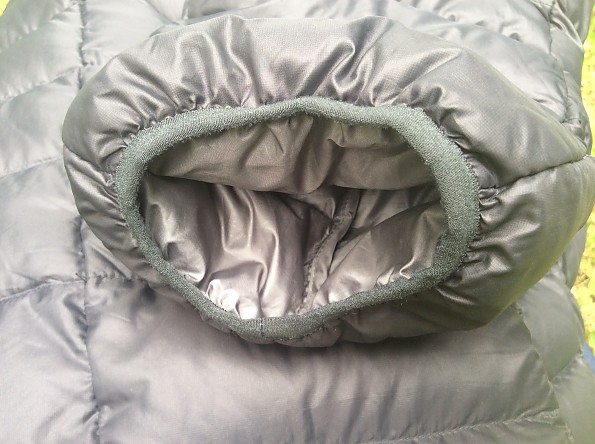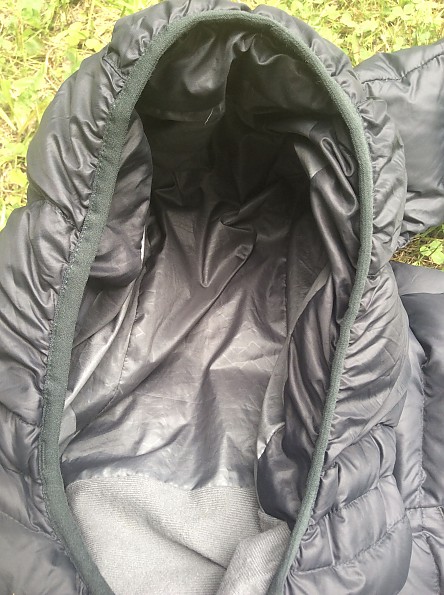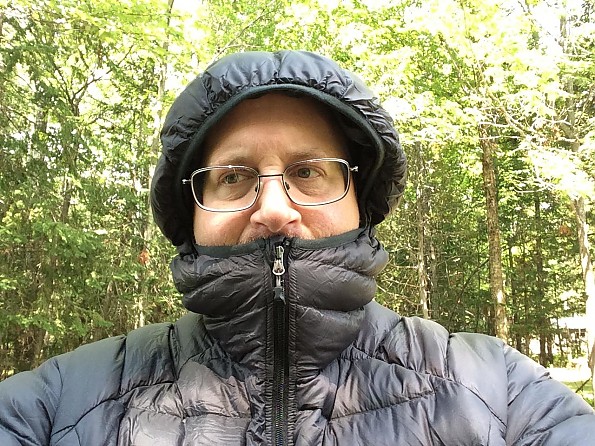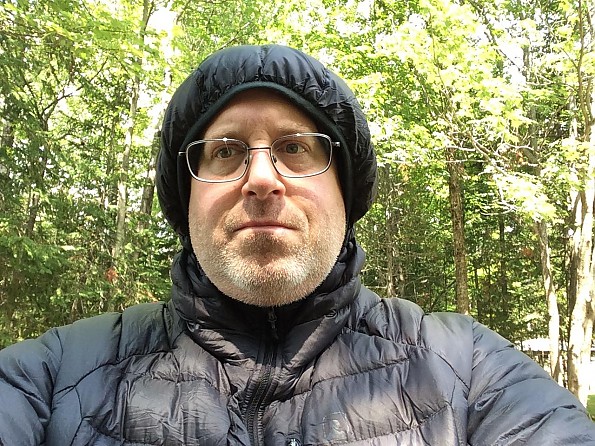 The jacket has two lined and zippered handwarmer pockets, a zippered chest pocket, and a zippered internal packing pocket. The handwarmer pockets are low and not accessible with a pack waist belt or climbing harness on. This is something EMS can easily address and should.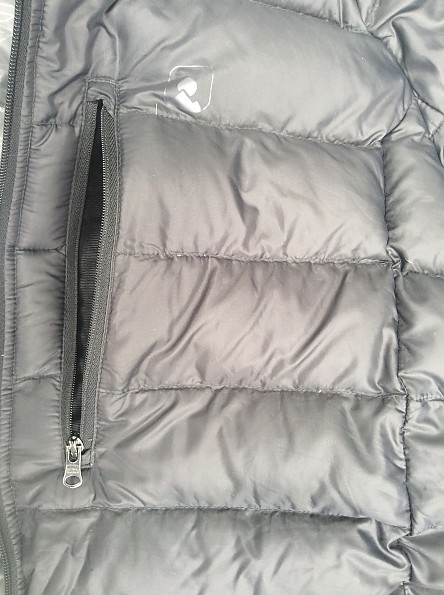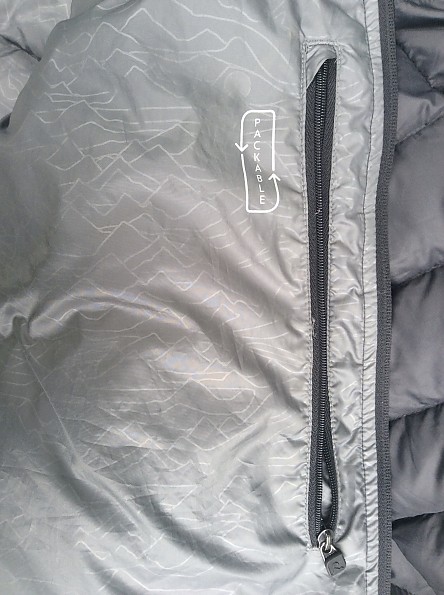 There are no internal stuff-it pockets, but the packing pocket is large enough for gloves, a water bottle, etc. Still, the packing pocket seems pretty pointless to me, being an extra zipper and 50-60 sq in of fabric. Using an existing handwarmer pocket to pack the jacket and using that fabric for at least 1 stuff-it pocket would make more sense to me. 
The packing pocket doesn't compress the jacket very much, it's more for situations where you want the jacket close at hand and quick to put on. I can get it much smaller in a stuff sack, but it takes longer to stuff it and take it out. I can clip the packed jacket to my pack and have it on in a minute during breaks in a winter hike, and back hanging on my pack in the same time.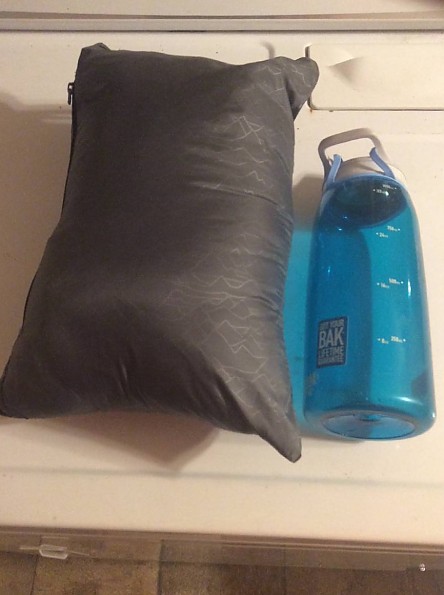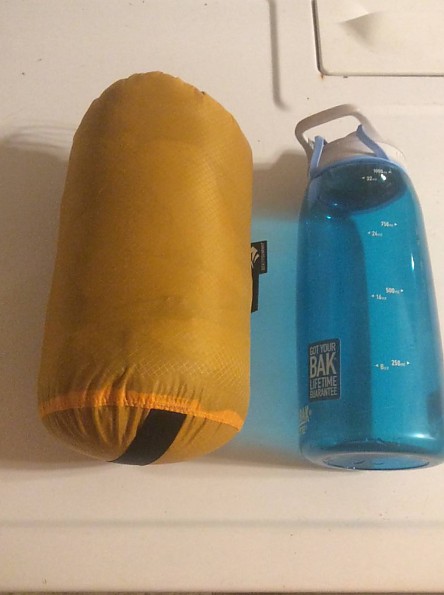 The Feather Pack is cut with a relaxed fit, perfect for layering. If you like a fitted or semi-fitted look you probably won't like the boxy fit of this jacket. It's available in 5 or 6 colors, and not just the drab grey and black that I have. My 2XLs seem to be out of stock in some of the more vibrant colors. 
In the four years I've had it, the Feather Pack has been in my pack on most of my hikes and all my overnighters. Even in the summer wind chills can drop into the 30s in the mountains here, and this jacket keeps me warm instead of shivering. It doesn't block the wind very well so I usually have a rain jacket over it while enjoying the view or stargazing before bed. 
On my last Boundary Bald overnight it was so windy that a few partially frayed lines snapped on my tent while I was setting it up, so I ended up sleeping under the stars. With wind chills forecast in the mid 30s I knew I'd need help in my 45°F sleeping bag, so I wore merino baselayer top and bottoms and my Feather Pack. With the hood on and the sleeping bag's top drawstring closed up around my neck it was almost like being in a mummy bag. I was toasty warm, plus I got to stargaze. 
As of right now I don't really have an opinion on the hydrophobic down. I've worn the jacket in light rain, but not for extended periods, and water was still beading up on the shell so I doubt the down got appreciably wet. The same goes for perspiration; if I'm sweating in the jacket it's warm enough not to need it.
In summary, I think the EMS Feather Pack hooded down jacket is a useful, quality piece of gear. I like it enough that I bought another one without the hood because it can get in the way of the brain on a couple of my packs. Given the fact that other jackets in this class typically have only 50-70% of the Feather Pack's fill weight (with similar fill power), and the price you can expect to pay for the Feather Pack, to me it seems to be an unbeatable buy. It weighs 3-5 ounces more than most of the competition, but about half that is the extra fill weight.
Update: 20 December 2021
I was actually wearing my non-hooded Feather Pack for the incident that prompted this update, but the hood is irrelevant in this situation. Except that I would have been a bit more comfortable with my hooded one!
The day after Thanksgiving I borrowed a friend's pickup to bring one of my cats to a vet appointment. The vet is about 65-70 miles away, and this cat gets carsick very badly in my Jeep due to the harsh, bumpy ride even on our "good" roads.
It was kind of a nasty day, temps in the low 30s with wet snow coming down. I was maybe 4 miles from his house, driving 35-40mph because he has fairly wide tires on the pickup, and on a mild downhill curve the back end just swung out. There was nothing I could do but hang on as it crossed the road to the left, spinning a little over 360 and hitting the ditch head-on almost perpendicular to the road. Momentum carried it on, spinning it again and flipping it so it came to rest on the roof with the bed out over the road.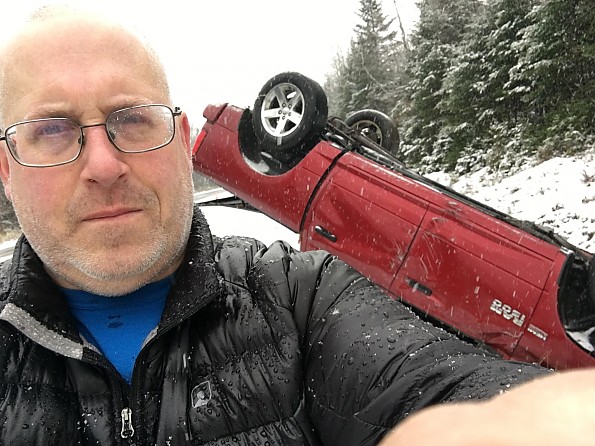 I checked the cat in the carrier, checked myself, then got myself out of the seatbelt. The side curtain airbag was still inflated and the only thing I could find to cut it so I could crawl out the window was broken glass from the window. While I was doing this, some guys who'd been working on a logging road a couple hundred yards away came out because they heard the crash. We got the cat out, it's an area with no cell service so one guy called his wife on his pickup radio and they stayed at the scene while she brought me to try and find a signal. We had no luck and headed back. 
When we got back a Border Patrol vehicle was parked to warn of the wreck, and someone had called Jackman VFD and the sheriff. ETA for the sheriff was a couple hours. The VFD guys had set up traffic control and were alternating vehicles through on the one lane that was clear. I knew some of the VFD guys so I stayed outside talking with them because sitting in a warm vehicle while they were out in the crap didn't seem right. 
It took almost 2 hours for the sheriff's deputy to arrive, and it was snowing the whole time. Fat, wet flakes that landed on you and melted. The jacket's DWR treatment and the hydrophobic down worked great, I had a couple small wet spots on my shoulders and upper back but the down was still insulating. Standing around in those temps, with just a T-shirt underneath the jacket, I was fairly warm. My gloves and hat were in my Jeep, obviously. The guy who originally came out to see what had happened drove to my friend's to tell him what happened and brought my cat along as well. (She's fine but likes me even less now, especially since we went to the vet in my Jeep last Monday.)
So, I can attest that this jacket does quite well in light-medium precipitation. If it had been raining I'm pretty it would have soaked through. Some spray-on waterproofing may be a good idea. But I know that wearing it hiking in light snow won't render it useless, and body heat should dry it out fairly quickly. 
Oh, and 3 years to the day earlier I rolled my Jeep on a slippery road coming back from a vet appointment. I'm not making any more appointments on Black Friday! 
Experience
Almost four years of four-season wear on the trail and in town.
Source: bought it new
Price Paid: $130-ish

Nice jacket, solid construction, good fill on the down.
Pros
Down-tek treated down
Light
Warm
Cons
Water resistant, not proof
Maybe needs more pockets?
Got mine on sale on a Black Friday doorbuster so the price can't be beat. Large inside vest pocket for self packing is nice for keeping largish items warm — I like to go out and get a burger at Five Guys when walking my dog and then take it home for dinner (dog and burger).
Also has a drawstring to keep air seal around waist/hips. I could quibble about lack of a drawstring on the hood, but many jacket doesn't have that either.
Haven't yet taken it up hiking in the mountains but this with a fleece shirt and a waterproof rain shell jacket feels like it will keep me comfortable down to under 20 degrees. It's too warm when active at 40-45+, but you can always walk around unzipped (joke intended).
It does the job for a good price with a good fit. Solid construction feels like it is going to last. I'm satisfied.
Source: bought it new
Price Paid: $104

You May Like
Recently on Trailspace