EMS Mountaineer Poles

The Mountaineer Poles has been discontinued. If you're looking for something new, check out the best antishock trekking poles for 2023.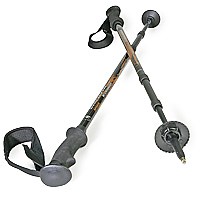 I wanted to love these, but I just don't have the trust in them that I need.
These poles do everything I want. They telescope down to a very compact shape and are easy to attach to a pack.  Oh, and I feel like the cool hiker when I got a pair attached to the pack.
I don't like these as they lock with a half twist causing a cam to provide tension. Adjusting one section always seems to loosen the other section so it takes longer to adjust the height and then lock and relock each section.
My biggest issue is that once in a while, really not that often, the length adjustment will slip an inch or so. This isn't bad but you tend to not trust the poles much when bracing yourself for a big jump down. Poles that work most of the time but you can't trust when you really need the are lacking.
Just in case you think I'm biased, when I put this pair and a set of Black Diamond trekking poles in the back of the car. The kids fight over who gets the Black Diamonds.
Source: borrowed it

I have some knee problems (patellar tendinitis and a touch of degenerative arthritis) and picked these up to help. They are marketed by EMS, but made by Komperdell, a solid name in trekking poles. I've used them for four seasons now and am very pleased with them.
The foam grips are comfortable, but sometimes on long days they do tend to chafe my hands a bit. I think natural cork would be less irritating, but I haven't compared them to be sure, so I'm just speculating. They are otherwise ergonomically correct and I have no complaints.
On the plus side, these poles may not be the lightest or have the latest gee-whiz features, but they have been absolutely reliable even under my 215+ lb. (sans pack) weight. They've seen some abuse, too--getting jammed between rocks, fording creeks, and just generally getting knocked around. None the worse for wear. The carbide tips are finally getting a bit dull, but that's to be expected.
In summary, these trekking poles are solid, reliable, and durable. They are a Godsend for my sore knees, especially going down steep grades. I also use them as shelter supports, which obviates the need for extra poles. I consider them an essential part of my kit and won't leave on a trip without them, and have never worried about their performance. Excellent product.
Price Paid: $65

Your Review
You May Like
Specs
Price
Historic Range: $85.00
Reviewers Paid: $65.00