Esbit 1100ml Solid Fuel Stove and Cookset

Top 25 in Solid Fuel Stoves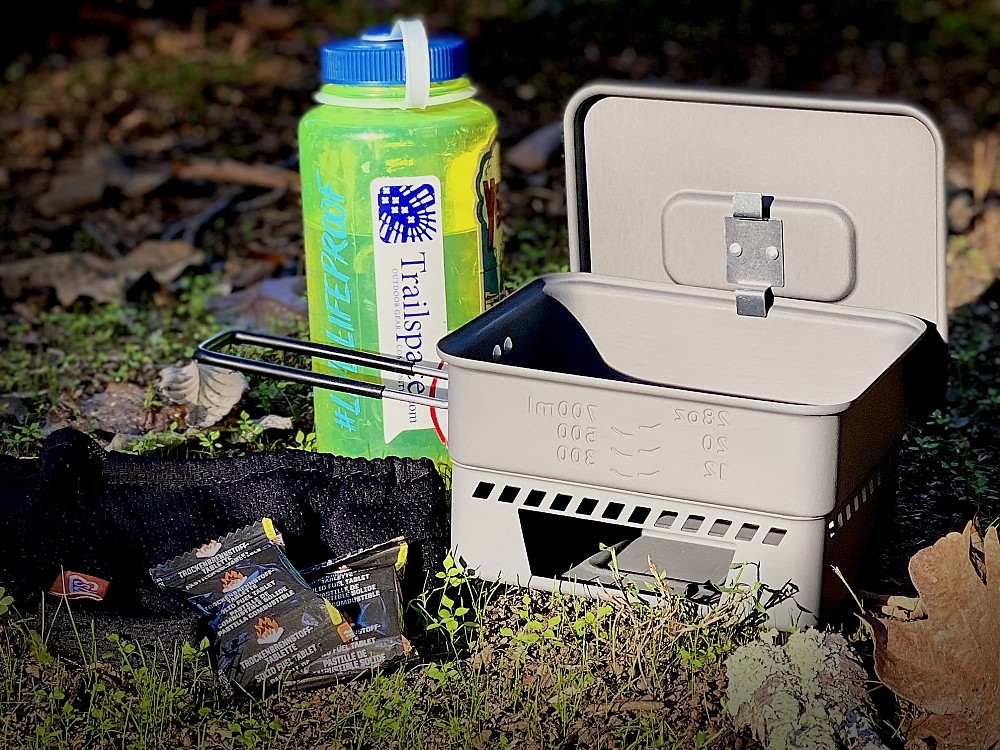 This 1100 ml pot and stove provide an easy, simple solution for boiling water for 1-2 people. One can do more than just boil water, but solid fuel offers no means of flame control. The kit is relatively compact and relatively light, with the stove base nesting in the pot, and it is well-made of anodized aluminum and stainless steel. The stove is susceptible to wind, though, and—while light and easy to use—solid fuel tablet cost can add up when boiling larger quantities of water. An easy-to-use combo recommended for those seeking a 1-2 person stove and cookset with lightweight fuel and who have few needs beyond boiling water.
Pros
lightweight and easy-to-use fuel
moderately priced, well-made stove and cookset
compact: stove stores in pot
unused fuel can be blown out and reused
Cons
stove is susceptible to wind
27 g fuel costs $1.62+/tablet
rectangular shape requires some getting used to when pouring
fuel leaves messy residue on pot
lid rest can get caught on edge of pot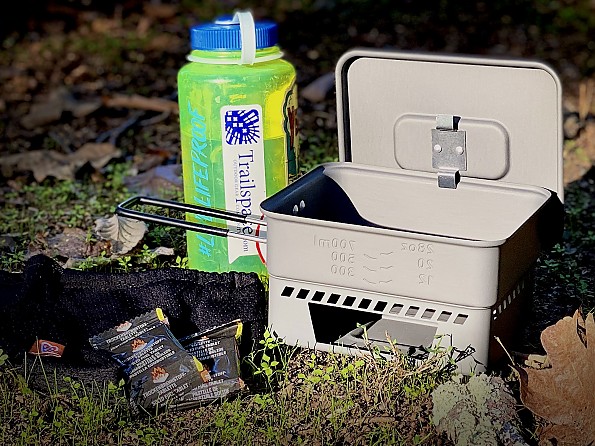 What One Gets
Billed by Esbit as a "featherlight," "ultra-compact" cookset, the 1100 ml stove and cookset is comprised of one 1100 ml rectangular pot, a matching lid, and a stove base—all of anodized aluminum–and all nested together to slip inside the provided mesh bag. Designed for Esbit's larger 27-gram solid fuel tablets, the 1100 is named for the pot's capacity–1.1L/4.6 c–and is intended for "two people traveling or backpacking light with boil-only needs." Esbit's fuel tablets are made of hexamine, a product that has a long, stable shelf-life.
The stove base rests on four feet. It is essentially a base to hold the fuel with four vertical walls that act as both something of a windscreen as well as a secure pot support: the pan nestles securely in the stove base, creating an exceptionally stable stove-pot combo. An indentation in the stove base accommodates the 27-gram solid fuel tablet, accessible via a sizable opening on one side should one need to replace the fuel tablet during cooking. Vents perforate the top rim of the stove base, allowing good airflow for the fuel and a place for flames to escape and curl up the side of the pot.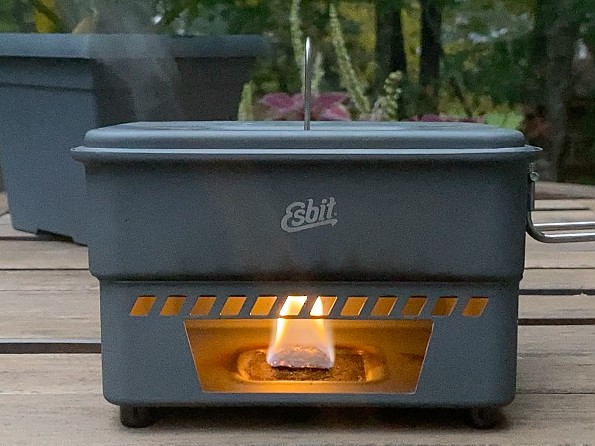 The pot is embossed with graduations in milliliters and ounces (the highest gradation is 700ml and 28 oz, respectively). A stainless loop on the lid permits one to lift the lid while also folding flat into an indentation when not in use. The lid features a stainless clip that allows one to hook the lid on the side of the pot when stirring the contents. The lid nestles securely within the lip of the pot.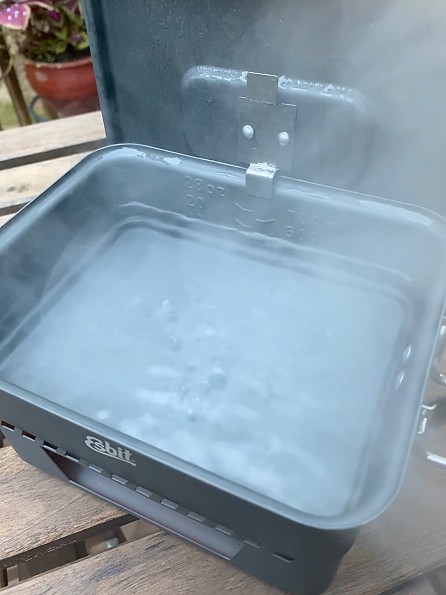 The handle snaps open or closed, locking the kit closed when folding over the top. An insulated coating on the handle begins a judicious distance from where flames might lick at its base, allowing safe and comfortable use.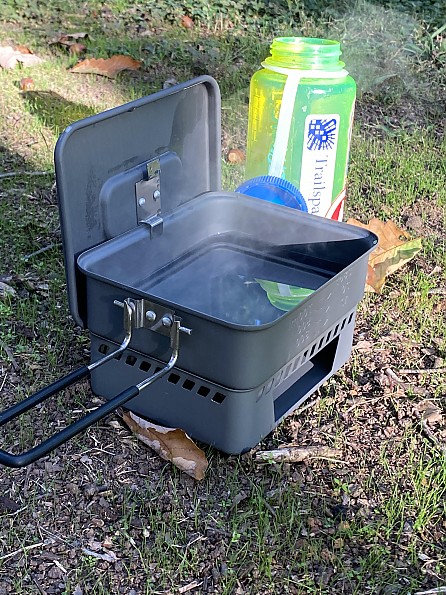 When not in use, the pot holds quite a lot given the compactness of the fuel the stove uses: Esbit claims that it is sufficiently spacious "with plenty of room for utensils, extra fuel, and more." The complete kit slips into a mesh drawstring bag, measuring 7.4 x 5.8 x 2.8 in/ 18.7 x 14.7 x 7.2 cm.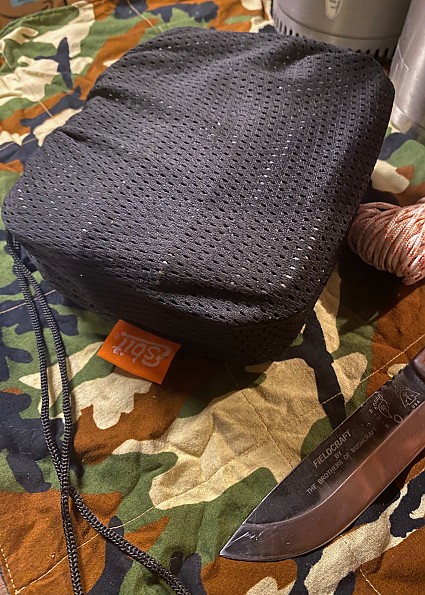 The materials and build quality are very good: I'm hard-pressed to imagine anything that could go wrong with this system in the field. It is a durable kit.
And that is about all there is to this simple system. 
Use and Observations
The stove and cookset do have a nice form factor. This rectangular package stuffs nicely into a pack, a complete kit with fuel, pot, and stove. Esbit claims a weight of 13.3 oz/ 375 g, but after use (meaning there is a little residue in the stove base), my kit's weight was 13.9 oz/ 394 g with an additional .67 oz/ 19 g for the storage sack. Not surprisingly, a wrapped 27 g fuel tablet weighs, yes, 27 g, or .95 oz.
The beauty of an Esbit system is its simplicity, which means even a beginner can use it: open the fuel tab packet, light it, drop it in the stove base, and add the lidded pot to bring your water to a boil. Then sit back and wait for your boil; for two cups (473 ml), this stove will take about 5:48 minutes in calm conditions. 
Lighting the fuel can require patience, especially in windy conditions, but this process can be sped up with the use of a "jet"-style lighter. My Zippo jet-style insert lit the solid fuel much more quickly than did a match or a regular butane lighter.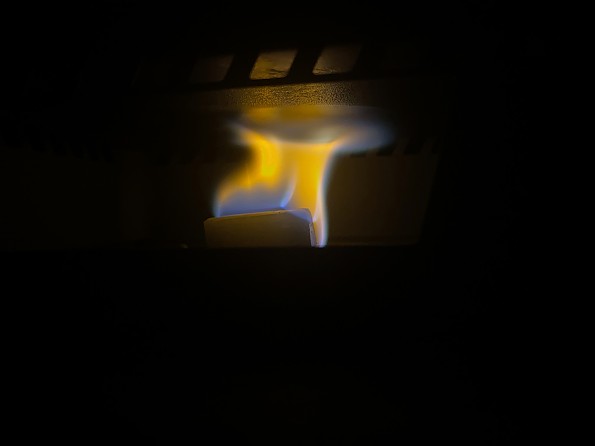 The 27-gram tablets–almost twice as large as the original 14 g Esbit tablets–burn for around 12 minutes, providing 1400°F (760°C) temps. I found that they often burned longer, often 14-15 minutes, albeit at reduced BTU output in those last few minutes.
While the stove and cookset price is relatively low (often a characteristic of Esbit systems), the fuel cost can be considerable: the tablets are available separately from the kit, 8 to a box, and have an MSRP of $16.99, although a major online retailer sells them for $4 less. Naturally, one could use any solid fuel tablets in this stove kit, not just Esbit-branded items. Regardless, one pays a bit more per boil for the simple convenience of using lightweight, easy-to-use solid fuel, a factor a prospective buyer will want to weigh.
The cost of use may loom larger because of one simple fact: this stove is quite susceptible to wind. For example, when I filled the pot with 4.2 c / 1000 ml of 57˚ F/ 13.9˚ C water on a 39˚ F/ 3.9˚ C day, wind gusting from 6-9 mph/ 9.7-14.5 kph forced me to add a windscreen about 10 minutes into the burn as well as a half fuel tab at the 17-minute mark to bring the water to a full boil by 19:23 (I barely needed this tab). If you compare that to my prior boil time for half as much water, which was 5:48, you will get a sense of how much wind can affect the efficiency of this stove. Bottom line: bring a windscreen.
Beyond Boiling
I like the anodized aluminum for cookware. It provides good performance, is relatively lightweight, and allows for an affordable price for such kits–MSRP for this kit is $60. The anodized aluminum also seems easier to clean than some other cookware materials. Why does one need to clean a water boiling pot? Well, while Esbit labels the 1100 ml cookset as being for boiling water, I couldn't resist experimenting further. 
Could the cookset handle, say, a pasta side? Toasting bread? Cooking sausage? How about chili mac? The short answer is yes to all of these. In fact, I toasted some naan one morning, then cooked sausage patties in the pot.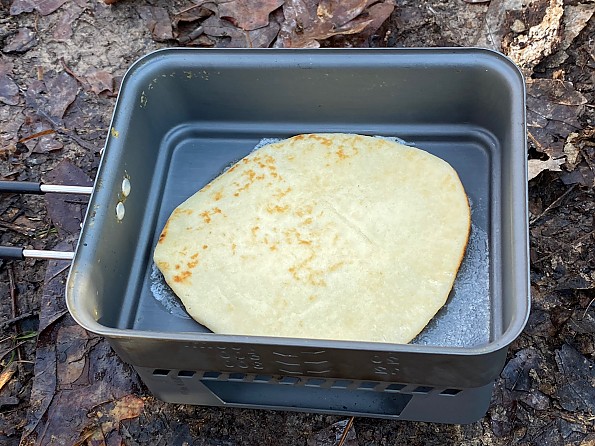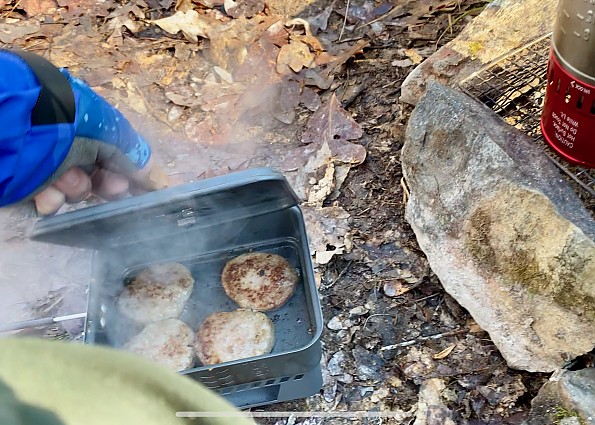 The lid was a boon, allowing them to cook more quickly and evenly than they might have in just an open pan. I promptly scrambled some eggs next, adding half a tablet as a precaution against flaming out while these cooked. I likely did not need to do so, but Esbit has another perk: one can just blow out the fuel to save it for later if one doesn't need it all.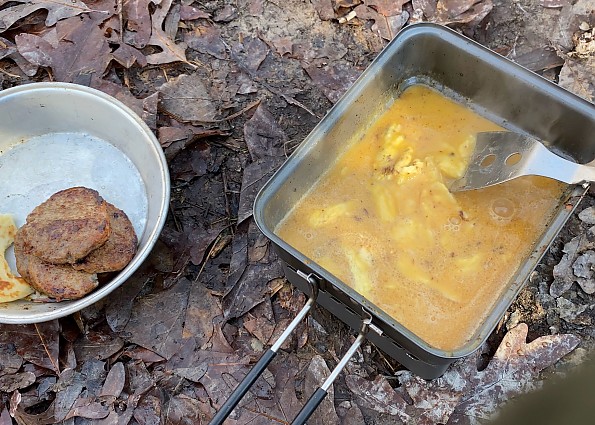 Aside from breakfast fare, I put the 1100 cookset through the paces with curried chicken and rice, parmesan noodles, and homemade chili mac. It worked fine for each, although short of lifting the pot off of the base, one has no means of controlling the temperature during cooking. All of the starchier foods I cooked were essentially add-water-and-boil. The eggs I kept moving through assiduous spatula movement, and they, too, cooked nicely.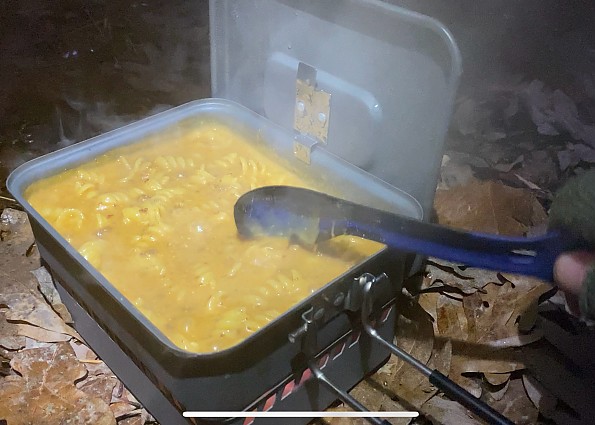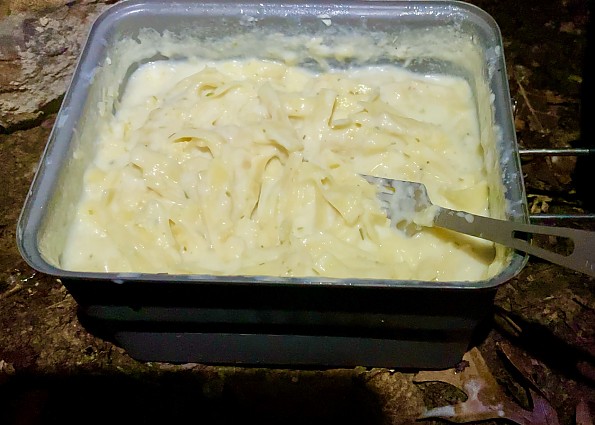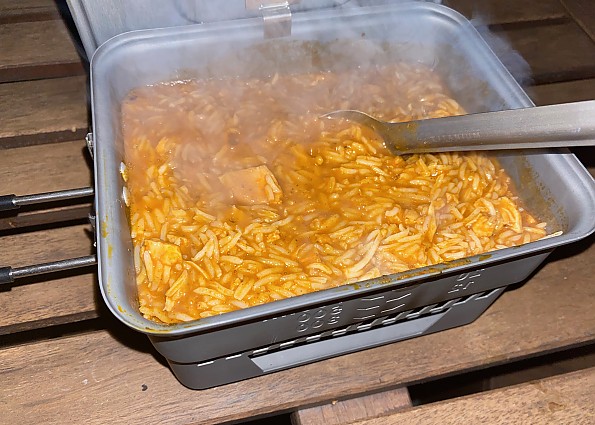 The centrally located Esbit tablet provides a hot spot, although–owing to the way the flame spreads across the bottom of the pot–not as much of one as one might imagine. I'd liken the experience to cooking over a campfire that still has a few flames creating random hotspots during flare-ups.
Esbit bills this kit as being for water boiling, so take this as observation, not criticism: if one cooks food in this kit, cleaning the pot's nooks and crannies can be frustrating. The anodized aluminum certainly helped release the food, but the geometry is more complicated than the smooth curve of a pan. My GSI Compact Scraper was a saving grace for helping to get into the angular lips and corners of the pan, which are indented to sit atop the stove base, and I managed to get the pot serviceably clean between meals, carrying as I do some Dr. Bronner's and a quarter of a sponge.
A Few Drawbacks
The Esbit 1100 ml cookset is not without a few drawbacks. I've mentioned the fuel cost and the susceptibility to wind above.
Two complaints often levied against Esbit fuel are its smell–a chemically-fishy sort of odor–and its tendency to leave residue on the bottom of cookware. The odor is pronounced and unpleasant, but every sort of stove that burns fuel has an odor that might be noxious to a given individual. Overall, then, I would not call odor a drawback unless someone really finds the odor offensive.
However, the pot residue was a bit more of an issue. I am not one to polish my cookware after every (any) trip. I rather like the patina of a well-used pot. The Esbit residue, though, is twofold: within the stove base, the Esbit fuel can burn down to a crystalline, sooty bump in the stove base.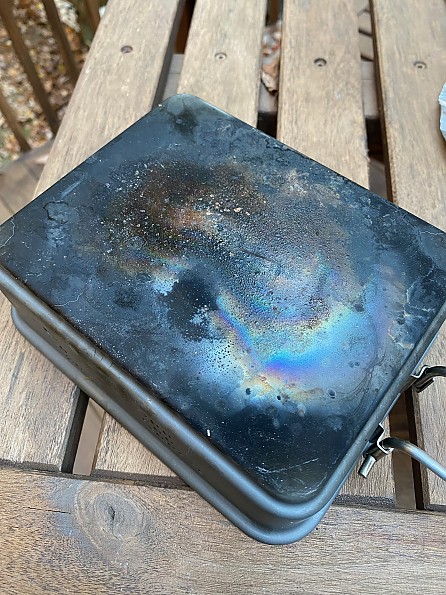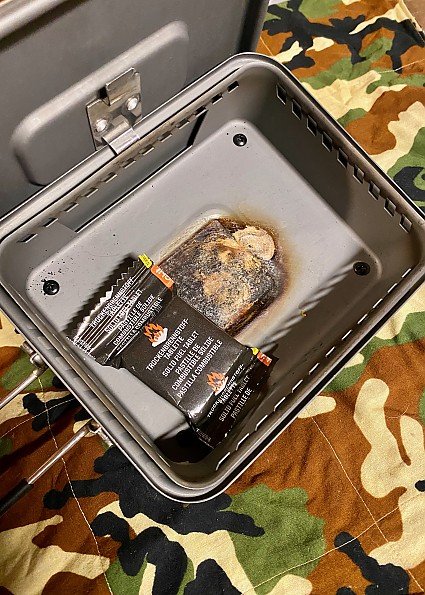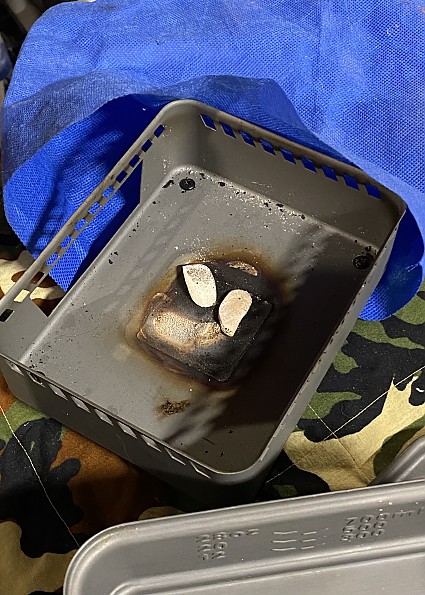 One can scrape the fuel off, but sometimes this mass of partially consumed fuel leaves fragments within the stove base. On the outside of the pan, a sooty coating develops over time, on the bottom but also on the sides as the flames are blown upward.
One issue with the stove base is storage: the stove base, which sits on the ground or whatever other surface one has, nests within the cooking pot. That creates the potential for the dirty stove feet and any loose remaining fuel residue to come loose within one's cooking pot while the kit bounces in one's pack, especially if one has other things in the pot during carry. I actually fashioned a thin stuff sack to prevent any contamination caused by storing the base within the pot; it would be a nice touch if Esbit were to supply something clever for this purpose (see image, above).
The outside of the pot is just messy after use, and while the mesh storage sack can help prevent the sooty residue from dirtying the rest of one's gear, but the mess remains. More on this in a moment.
I found the rectangular shape of the pot required some getting used to: I'm used to round pots. This pot, being rectangular, had a bit of a tendency to slop side to side due to its relatively shallow sides and unfamiliar feel, rather like precariously carrying a frying pan full of water while striving to prevent it from slopping out. It isn't quite that precarious, but for me, it was unfamiliar and thus awkward.
When pouring, I found the rectangular pot shape again caused me to make some messes: I tilted a corner to pour, but water comes over the lip of the pot at a shallow angle, at times dribbling down the side of the pot. This was especially true when the pot was full or nearly full. That's not a deal-breaker, but remember the chemical residue that develops on the outside of the pot? At times, my water dribbled across this in an unappetizing (unhealthful?) fashion. With practice, my technique for pouring and managing the full pot improved, but it never became as instinctive or natural as my technique with round pots and pans.
Lastly, the lid rest is a nice feature: it is handy to be able to perch the lid on the pot, preventing it from getting dirty on the ground. However, this feature is also finicky. More often than not, I found that I had to hold down the pot with one hand and jiggle the lid to get it to release from the pot with the other. This finickiness erases the benefit one might have from easier one-hand operation.
Conclusions
The Esbit 1100 ml Stove and Cookset shines most for its utmost simplicity when boiling water. Arriving late to camp, one can simply pull out this compact kit, open and light a fuel tab, and soon be boiling water to rehydrate dinner. There is no sound of a canister stove roaring, only the occasional, muted snap of a flame if a gust of wind happens to catch it. But–on the topic of wind–a windscreen is absolutely essential if one wants to get the most out of one's investment in solid fuel tabs. 
Setup is easy, use is easy, repacking is easy–save that it can also be messy. The storage inside the kit is ample, even with extra fuel. 
This kit is ideal for two people whose needs are primarily boiling water for drinks of dehydrated food. Indeed, the 1100 ml capacity is likely more than one needs for solo use, since most soloists aren't going to boil 4.6 cups/ 1100 ml for a single meal unless they really, really like coffee!
Despite its modest claim as a water-boiler, the Esbit 1100 ml Stove and Cookset can do a bit more than boil water should one wish it to do so, and the fact that one can do more than boil water adds a greater measure of utility to the kit than one might expect. If one does cook pasta, even for solo use, the extra volume of the pot can be a nice feature, allowing the pasta to swell as it cooks. 
The convenience of this cookset comes with a few drawbacks, notably the mess solid fuel produces and the need to contain this mess, the susceptibility of the stove to lose efficiency to wind, and the minor but persistent frustration of the lid rest, which can require two hands to free the lid.
Ultimately, the Esbit 1100 ml Stove and Cookset is a reasonably priced and very well-made stove and cookset. It is ideal for prospective buyers seeking a simple, durable, and relatively inexpensive stove/pot combo that uses lightweight, compact fuel and who are prepared to deal with the mess of the fuel residue and the higher comparative fuel costs. 
Experience
I have been using backpacking stoves of various kinds for more than 40 years. My array of stoves includes multifuel options, liquid gas stoves, canister stoves, wood stoves, alcohol stoves, and solid fuel stoves. I used the Esbit 1100 ml Stove and Cookset on multiple multiday backpacking trips and at home to test a full range of its capabilities over a period of several months during the fall and winter. Conditions ranged from warm, sunny, and calm to cold (down to subfreezing temps), rainy, and windy.
Source: received for testing via the Trailspace Review Corps (Sample for testing and review provided by Esbit)

Your Review
You May Like
Specs
| | |
| --- | --- |
| Price | MSRP: $54.99 |
| Weight | 13.3 oz / 375 g |
| Dimensions | 7.4 x 5.8 x 2.8 in / 18.7 x 14.7 x 7.2 cm |
| Fuel | Stove works with one 27g tab or two 14g tabs |
| Materials | hard anodized aluminum / folding, stainless-steel pot handles |
| Capacity | 1.1L capacity is suitable for 1-2 people |
Recently on Trailspace