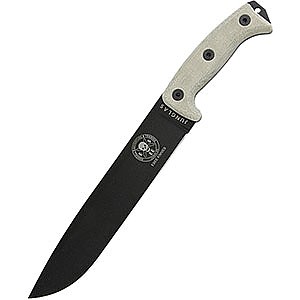 Specs
| | |
| --- | --- |
| Price | Reviewers Paid: $135.00-$250.00 |
| Weight | 23 oz |
| Overall Length | 16.5 in |
| Cutting Edge Length | 9.75 in |
| Overall Blade Length | 10.38 in |
| Blade Width | 2.0 in |
| Maximum Thickness | .188 in |
| Blade | 1095 Carbon Steel |
Reviews
2

reviews

5-star:

0

4-star:

2

3-star:

0

2-star:

0

1-star:

0
A durable large blade for wood processing.
Pros
Tough steel
Durable coating
Perfect fit and finish
Water impervious handle scales
Ergonomic
Cons
1095 blade steel rusts
Laser etched logo exposes raw steel
Missing bearing block hole
The ESEE Junglas is a beast of a knife. Its superb heat treat means that the knife can take a beating and come back for more. All of the knife is designed to resist severe use and abuse. The coating on the blade is one of the most durable I have ever used, surpassing even the custom coatings on some of my blades.
The canvas micarta handle is impervious to water and fitted perfectly to the handle. While canvas micarta can potentially crack it would take a hell of a lot for that to actually happen and it is both more tougher than natural materials and more comfortable than most synthetic alternatives.
The handle is also perfectly fit with the spine of the blade and the scales being perfectly flush. The handle is large enough to fit even the largest hand, or a hand and a half should you want to double up for chopping. The handle is also slightly curved at the back making a long grip for chopping easy without fear of losing the blade, of course adding a lanyard in the provided hole helps there as well.
It's a shame the company hasn't decided to make the bearing block hole as found on the RC-5 a standard feature. While it might be slightly cumbersome with a large blade like this it would certainly be possible and it would be nice to have the option.
The biggest issue I've found with this blade is its tendency to rust, as high carbon steels are prone to do. The coating protects the majority of the blade from this, and it can be easily sharpened off the edge. Unfortunately the laser etched ESEE logo exposes the steel under the coating and is prone to rust. What's worse, the rust cannot be removed without damaging the coating even further.
All in all this is a great large blade for processing wood.
Source: bought it new
Price Paid: $250

The knife is amazing. The sheath is nice, but could be better.
Pros
Comes razor sharp, and holds an edge well
Full tang 1095 steel
Durable 2" wide drop-point blade
Has a nice long blade for battoning big chunks of firewood, or for self defense against large animals. "You can do a small job with a big knife, but you can't do a big job with a small knife."
Micarta handles seem to work pretty nice when wet or sweaty, but I modified mine for a little more grip with heavy gloves on.
Good weight and balance to minimize fatigue
No questions asked warranty. If it breaks, you get a new one. Even if you aren't the original buyer.
The coating on the blade is very durable (comparable to KA-BAR's coating in durability), and feels/looks like a brand new Teflon non-stick frying pan (when brand new).
Every blade is individually numbered. Mine is #8900.
Made in the U.S. of A. Help keep weapons manufacturers in this country in business, and thrive. Polite society rules.
Very secure sheath, with 3 ways to hold the knife in place
Molle webbing on the back of sheath (removable with 4 philips-head screws)
Versatile Kydex sheath with many lashing options, but....
Cons
Kydex sheath. While it's very nice for a kydex sheath, and the rigidness of the plastic works great for attaching to a backpack, plastic is very loud in the forest, and I wish they offered a more woodsman-friendly leather sheath as an option. Also, once plastic breaks, it's broke. Leather can be repaired with a needle and thread.
Velcro on the sheath. As a hunter and a woodsman, I hate velcro. It's loud, unreliable, and generally useless in the wilderness. I cut mine off.
1095 will rust without proper care (more of a warning than a con).
Expensive, but you get what you pay for.
The retaining strap on the sheath that holds the handle is sewn on backwards, or left handed (it is an ambidextrious sheath). I had to cut mine off, flip it around & sew it back on, so that it could be unsnaped with my thumb (I'm right handed).
It would be nice if there was a choil upto about 1 1/4" above the end of the handle, for choking up on the blade. (Not a con, just an improvement/opinion.)
Added jimping to the spine, maybe up to the end of the ESEE logo on the blade, would give a better grip for the thumb when making cuts. (Again, not a con, just an improvement/opinion.)
I replaced the shoe lace-type cord on the sheath with more durrable paracord, and threw away the loud plastic cord clamp & replaced it with a tightly tied loop of 325 paracord. It's silent and holds tension very well.
"This is a knife." - M. Dundee
If I had to choose one item to take with me to survive, this would be it. You could chop a tree down with this knife if you had to, or you could clean a fish (not as easy as with a small knife, but it's not difficult with a little practice).
It does have some weight to it, but it helps with chopping and durability, and it's balanced pretty good to minimize fatigue.
While a big knife is more weight to be carried, it's a hatchet, a knife, a sword, a machete, a shovel (will kill an edge), a pry bar, and probably a few other things, while a smaller sized knife is generally just a knife.
Smaller blades are easier to handle at first, but that's because people are generally used to kitchen sized knives on a daily basis. With a little practice, doing small jobs with big knives is simple and requires less force to make cuts.
Source: bought it new
Price Paid: $135

You May Like
Recently on Trailspace