The Autumn Wind 2XD has been discontinued. If you're looking for something new, check out the best three-season tents for 2020.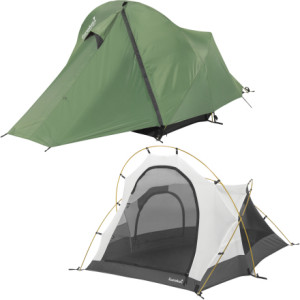 Specs
Price
Historic Range: $109.98-$239.95
Reviewers Paid: $103.00-$179.99

Reviews
Bought this as a tent to take on scout outings, car camping, and my buddy used it on a backpacking trip in the Porcupine Mountains.
This thing is HEAVY but also BOMB PROOF. It has served me well in both hot and cold conditions. Some condensation did drip off of the fly to the inner tent where its kind of flat between the three poles. Was only two drops and could have been avoided with a bit tighter pitch I think.
If you are looking for a BOMB PROOF but heavy tent this is the tent for you.
Sleeps: 2
Ease of Setup: Easy
Price Paid: $103 on SAC

I found this tent on S&C one day while looking for a good car-camping tent. I originally wanted a 3 person tent, but the price was right and I took the plunge.
This design, originally made famous by TNF has great use of space. I'm glad I didn't buy the 3 person, because there is plenty of room for me, my gear, and a guest if I have one. The set-up was a cinch, and it took no more than 15 min. to set up the first time (I'm a guy so I didn't use the directions more than once for a quick glance).
The tent held up well on all three trips so far, and I didn't see a drop of condensation yet. Furthermore, I spent two days in steady rain (boo-hoo) and the Autumn Wind 2XD kept me nice and dry through the storm. The vestibule is good sized, and the second door gives me the option of venting the tent out within seconds. It could be a little lighter, but I didn't buy it for a backpacking tent.
A great buy, and after several uses I place my seal of approval on this product.

Design: three-season freestanding Frog
Sleeps: 2
Ease of Setup: Easy
Weight: 5 lbs.
Price Paid: $125 (S&C)

I live in the tropics, and I just got to use the tent this weekend.
The mountain has no adequate wind barriers, only cogon grass. So far it's the windiest campsite I've ever been on. I can't estimate the wind but it's the kind that makes really audible whistling/raining sound. It was really windy, the entire time from dusk till breaking camp the next day, it never let up. The tent held fine but some parts of the fly hit the tent body. It may be because I didn't use the additional guy attachments, just the main ones or the wind was really that strong.
Either way, I'm happy on the first night I had in the tent, ventilation was excellent thanks to the mesh sides. I'm 6'0 with a wide frame and my girl is 5'4, the tent has no space issues. We can lie down comfortably without touching each other or the tent wall. The vestibule seemed small on paper but it did fit a 60L pack, a 45L pack, and our boots. Its just a matter or arranging the packs properly.
I will update this when I get to use it in wet conditions but so far, I'm liking this tent.
Design: three-season free standing
Sleeps: 2
Ease of Setup: set-up is really quick, the main body takes less than 5 minutes with a partner. The fly is a bit trickier in high winds because you want to guy it out with regard to the wind direction
Weight: 2.5 kg (me standing on bathroom scale technique
Price Paid: $179.99

Recently on Trailspace