Eureka! Extended Stay

The Extended Stay has been discontinued. If you're looking for something new, check out the best three-season tents for 2020.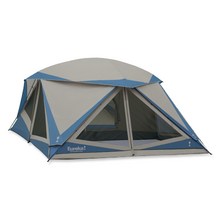 Specs
Price
Historic Range: $299.93
Reviewers Paid: $199.00-$350.00

Reviews
6

reviews

5-star:

1

4-star:

2

3-star:

1

2-star:

1

1-star:

1
We're in our 60s and love this tent for what it is intended - extended stays. My husband is 6'7" and can stand up! We've been set-up in a big storm with 40 MPH winds with no problems. The screened part is great for setting up chairs, tables and entertaining visitors.
Price Paid: $300

While I appreciate the amount of space that this tent provides, it really can't perform once the weather starts heading south.
I can't complain about the screened-in area because it does what it is supposed to, but the sleeping area needs some serious overhaul. For one thing, almost all of the "wall" space is mesh screening that cannot be covered by anything. It's open no matter what. This is fine in calm weather, but once the wind starts up there's no way to get away and it makes it hard to stay warm. Plus, if you have unsecured papers or small items, they go everywhere.
The rain fly is no help at all. It is far too loose, and it's secured to the stakes with bungee lines (mine snapped after too much stress from the wind and I was forced to resort to using duct tape). Types of winds I was in just made the rain fly kick up, which meant that not only was the wind being unblocked, but the rain itself was getting into the sleeping area. I ended up spending a lot of time running outside into the wind and rain to push stakes back into the ground, because they also kept coming out.
In all, I think this tent works well for either short-term work or a long-term headquarters in an area with consistently perfect weather. In uncertain situations, though, I'd gladly go with something smaller if it meant having wind- and water-tight home.
Design: Three-season, two-room extended stay tent
Sleeps: 6+
Ease of Setup: Was set up for me
Weight: Not something you want to carry far
Price Paid: Was given to use by employer

I love my Eureka Extended stay.
To Outdoorsmen; it disintegrated in 10-15 mile an hour winds, are you kidding? I mean yes, it does act like a big sail, but staked and guyed down, I've used mine several times in winds of at least that with no trouble.
Now, I'll admit that the first time I set it up, I did not stake it down. When the wind started to blow and I realized how much lift there was, I staked it immediately and now I always stake it right away when I put it up.
Also, in an effort to improve the design and reduce the amount of air that gets under the fly, I just sewed two nylon webbing loops to the fly about midway up the sides on the back half. By doing so I could guy the edges of the fly down to the center pole and dramatically cut down on the "sail factor". It also increased privacy, since my kids are prone to sticking their heads under the fly to "say hi".
I love how much space is in this tent. We're able to get our entire camp kitchen in the screen room. We usually have a second tent for the kids so my wife and I are able set up our double-high queen-size air mattress and have a small table and chairs in the cabin with TONS of walking around space.
So - here is the breakdown.
Cons: it does trap air under the fly in high winds so make sure you stake it down. If extremely high winds are expected, you'll probably stay home anyway. Feel free to email me if you want more info about the modification I did. It does take two people to set up and needs a big site. It does weigh 45 pounds but the duffel it comes with has ample space so you never have to worry about whether it will go back in the bag.
Pros: TONS of space, lots of "wow that's a really big tent" and "Wow. that's a nice tent, where'd you get it" The convenience of having the screen tent attached is awesome. It does a better job than I expected at keeping the rain off. I was a little skeptical given the amount of screen. Great ventilation keeps it from getting too hot.
Happy camping.
Design: Three season modified dome
Sleeps: 6+
Ease of Setup: not difficult but requires two people
Weight: 45lbs
Price Paid: $200

The Eureka Extended Stay - 8 Person 2 Room Tent is no good. Its poor design made it function like a huge parachute (see Jim Lathom's review too). I set it up in my backyard to apply seam sealer and the tent disintegrated in less than 24 hours in a 10 to 15 MPH breeze. I had attached all clips to the poles and the tent was fully staked except for one loop inside, which stabilized the door in the room divider. The two main fiberglass poles that supported the rain fly split lengthwise and then sheered in two. The tent collapsed to the ground and could not be righted without replacement parts. I cannot believe that Eureka put their name on this tent.
Design: three-season freestanding dome
Sleeps: 6+
Ease of Setup: Requires two people
Weight: 40 to 50 pounds
Price Paid: $199

After selling our pop-up camper because of storage issues, I was directed by my wife to get the "biggest and best tent" available. After looking at Columbia and Coleman tents I found the Eureka! Extended Stay. I have a Eureka! two-man tent that is 20 years old and still going. I trust brand. I was not let down. The design is cutting edge for a large tent and the construction is top-notch. I have only used it one for a summer trip to the beach. Me, my wife, two kids (one only 4 months old) and mother fit comfortably in the tent. Ventilation was superb. Headroom was excellent. I love it.
Good
-Size: 260 sq feet baby!
-Design: only dome design tent of this size. looks cool.
-Screen room: really nice to have that as part of the tent
-Screen room flaps: tent comes with these flaps that you use to make the screen room more weather resistant. I found that you can also reposition them to block the sun out.
-Ventilation- plenty of roof and side screen
-Room divider- nice to have the privacy in the main "cabin"
-Set-up - took us about 20-30 minutes. Not bad for our first time.
-Free standing
Bad
-Size: with such a large footprint it can be hard to find sites large enough
-Weight/size: weight 50 lbs and takes up a large duffle bag
-Wind problems: even though it dome shaped, if wind blows the right direction the screen room can act as a catch for wind and blow the rent away. Only happened when it was empty, but it was a little hairy.
Design: three-season freestanding dome
Sleeps: 6+
Ease of Setup: Moderate. Well designed, but requires some mussles
Weight: 50
Price Paid: $350

This tent is HUGE. 14 x 19 feet. It is great because there is plenty of room for two or three people to spread out like they're at home! It is nice to have the screened part attached to the sleeping area. This tent has excellent ventilation too.
On the downside (not necessarily negative, just something for potential buyers to be aware of): This is not a light, portable tent. Though it stores nicely in a duffle-like bag that comes with it, it weighs about 40 pounds, and is about 3' long and about 1' around. Also be sure to check that the site you'll be camping at has a big enough area to set it up.
Eureka has done their best to make setup easy, by color coding poles to match loops and such. I still ended up taking masking tape and making notes on the poles and rainfly (like "front" "side" etc.), just because when the tent is just laying flat on the ground it all looks the same.
Sleeps: 6+
Ease of Setup: it gets easier once you've done it a couple of times
Weight: about 40 pounds

You May Like
Recently on Trailspace