Eureka! Mountain Pass 2XT

The Mountain Pass 2XT has been discontinued. It was replaced by the Eureka! Mountain Pass 2.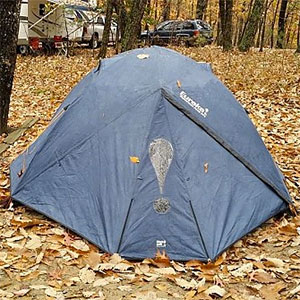 Specs
| | |
| --- | --- |
| Price | Reviewers Paid: $99.00-$200.00 |
Reviews
11

reviews

5-star:

4

4-star:

5

3-star:

2

2-star:

0

1-star:

0
Great for car camping or short backpacking trips where weight isn't an issue. Weatherproof and will withstand most moderate wind/storm conditions with ease when all guy lines are employed.
Pros
Great for early spring, fall, and (mild-moderate) winter camping
Performs well in winds 40 mph
Very warm in cold weather
Performs well in wet weather with minimal condensation
Cons
Heavy
Fly can be difficult to set up
Factory sealed seams sometimes insufficient
Small for size; needs a cross pole to extend head room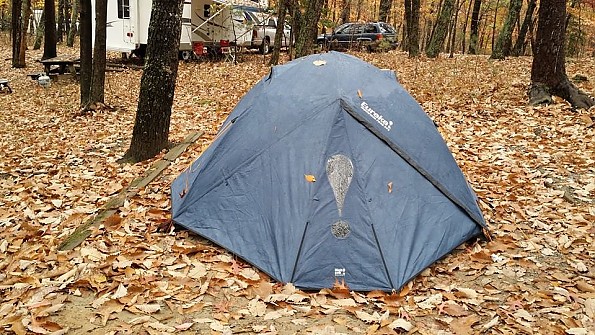 Winds gusted about 40 mph+ overnight. The tent didn't even shift.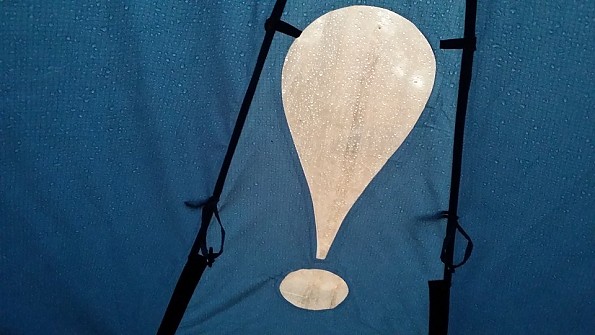 View from inside the rain fly during a rain storm (no leaks)


The main tent body is easy to set up, but the fly can be difficult to manage with one person. That being said, I have never found a three-person tent with this design that is more water and wind-resistant. I sealed all of the seams and applied a coat of waterproofing solution, and have never had a leak.
I usually camp with dogs, and the floor of this tent is very thick and withstands a lot of abuse. The numerous vents and high/lo venting system works well in wet weather. If you spend a lot of time in the tent, the room leaves something to be desired compared to other tent designs. The two-person model is really only comfortable for one person.
A cross pole to extend the headroom (as on the Marmot Aspen and Limelight) would be beneficial—as would incorporating the rain fly cross pole into the main body of the tent.
Overall, I would recommend this tent for any late fall/early spring and even mild-moderate, lower 48 winter camping. It's still a 3-season tent, so a heavy snow load/high wind would cause significant issue. 
Source: bought it new

Great tent.
My wife and I used this tent for 199 days on the Appalachian Trail.  Eureka tents are the best. I've been camping in Eureka tents for nearly 40 years.
Experience
My wife and I used this tent for 199 days on the Appalachian Trail. I've been camping in Eureka tents for nearly 40 years.
Source: bought it new
Price Paid: $200

I've been using this tent since I purchased it in the late 90's.  
The pros:
It's spacious with 36 square feet.
The vestibules large enough to store your pack and boots. 
Doors on both sides so late night trips outside the tent to crawl over your tent partner. 
There is enough ventilation to use this tent well into summer.  You can also close most of the ventilation in colder weather.
The fly is full coverage with additional guy points that make the tent steady in strong winds.
The range of use for me is from early spring through early winter.
The cons:
It's heavy and bulky compared to tents on the market today.
I have used this tent alone and with partners from beach camping in Hawaii to sub-freezing (with snow) weather in the high country of Yosemite and several climes between.
It has been very easy to set-up, has withstood fairly high winds easily since the fly guys in multiple places, is a gem with two vestibules and two doors, good ventilation and is large for a two-person. The tent alone sets up in literally 2-3 minutes, the fly somewhat longer, but that is to be expected with all the guy points.
It has good ventilation but the tent alone can be closed completely without the fly. When I bought it the description was a "3 1/2 season tent." When I querried the seller, the explanation was that it had "the ventilation of a 3-season but can be closed completely and will withstand a light snow load". That has turned out to be completely valid. The weight is the ONLY minor gripe (a bit heavy at 6-7 lbs) but it is WORTH the trouble. Other friends were freezing in their 3-seasons while I was comfortable in my 2XT! Highly recommended.
Design: 3 1/2 season freestanding dome
Sleeps: 2
Ease of Setup: Very easy
Weight: About 7 lbs.
Price Paid: $100-ish

Great tent for car-camping or kayaking where weight doesn't matter. Large vestibules, his and her doors, roomy, good ventilation. Too heavy to backpack. Mine weighs 7 1/2 lbs. with a groundcloth!
Design: three-season freestanding dome
Sleeps: 2
Weight: 7 1/2 lbs
Price Paid: $135

This is a great tent at an outstanding price. It held up to sustained winds of 35mph with gusts up to 50mph for 5 hours. It repels water with ease and if properly guyed out will be rock solid. It was the only tent that survived intact during our trip last weekend to Death Valley during a freak storm. The vestibules are roomy and kept my gear dry and are big enough to cook in if you are carefull. The mesh door coverings and ceiling panel aid ventilation as does the built in eyelid vent. The tents has lots of guy out points and came factory seam taped and sealed but I added another coat just to be sure.
The only thing I can say bad about it is the stakes. Take them and throw them as far away from the tent as you can, they are worthless pieces of s**t. Invest in some good Mountain Hardware stakes.
great value especially if you can find it under $149 like I did.
Design: 3+ season freestanding dome tent
Sleeps: 2
Ease of Setup: easy to set up
Weight: about 5 lbs
Price Paid: $99 on clearance at Sports Chalet

Incredibly good value tent. Holds up very well in snow, wind or whatever. The two vestibules are very roomy and the fly has a plastic window that brightens the interior in poor weather. Problems--just the pegs--they're a little heavy. Coolest thing--can be fast packed at around 4 pounds in good weather. Overall an incredible deal.
Design: Convertable
Sleeps: 2
Ease of Setup: very easy
Weight: 6lbs
Price Paid: $190 American

Must add my 2 cents worth! Great tent. Performs well in windy conditions and wet weather, with the full-coverage fly providing more than adequete storage spaces in the large vestibule (on one side) and small vestibule (on the other). When properly guyed out with the (optional) guy ropes, it is noiseless and sway-less in high winds.
TENT TIP: For dome tents, pitch with the ends into the wind for increased stability, especially on exposed campsites.
Design: 3+ season 2pole dome
Sleeps: 2
Ease of Setup: easy
Weight: 3kg
Price Paid: A$365 (usually A$420)

Should be available for much less than $190 US if you shop around. Excellent value for the money. This is one of the largest two man tents around with two useful vestibules. The included stuff sack is much too large. The fly needs to be seam sealed (with the included seam sealer.) I used a waterproofing spray on the fly and tent floor because I'm paranoid. The included pegs are very heavy, I replaced them with better, lighter ones, bringing the weight close to 5 lbs. The stability is pretty good and can be improved by tying the poles together where they intersect. This tent has many little features I didn't expect for the price. Held up very well to strong rain and 10 cm of snow.
Design: 3.5 season dome
Sleeps: 2
Ease of Setup: Moderately easy
Weight: ~5lbs w/ light pegs
Price Paid: $220CDN / $190US

I use this tent in mountain camping and find it to be a very good tent. Aside from factory sealed seams, it has a full coverage fly which keeps the occupants dry in the wettest conditions short of a flood. Set up is quick and simple; averaging about 5 minutes. I especially like the short poles which allow this tent to fold down to a length of 13 inches, which will fit inside my backpack easily. In the mountains, ventilation has never been a problem for me, but I suspect that hot summer nights could get a bit stuffy with only a single top vent; but in the still air, that might be a problem with any tent. I can heartily recommend this tent to anyone on a budget looking for three season comfort and light packing weight.
Design: 3 season dome
Sleeps: 2
Ease of Setup: Very easy.
Weight: 6 lbs.
Price Paid: $179

An *excellent* tent for the money. This fairly standard 2-person dome has a two door design that provides excellent accessibility and warm-weather cross ventilation when there is a breeze. Unfortunately, there is only one small top-vent/window, and in still/warm conditions, it can get stuffy inside.
The full coverage fly provides good rain protection, provides two fair-sized vestibules for gear storage, and adds considerable stability to the structure when properly staked/cinched down. However, cinching down requires a little practice in order to keep the fly centered and not distort the overall shape of the tent.
One minor complaint--two of the nylon clips that attach the fly to the tent-body (and bear a signifcant load) stretched and became unusable the first time I set it up. They were easily replaced for about $.30 with something a bit stronger.
Overall construction seems quite good--floor seams are taped from the factory, etc. The stuff-sack, however, is quite large--this tent would easily fit into something about 30% smaller. Short aluminum pole-sections are a plus.
The tent itself provides adequate space for two with gear stored in the vestibules, and the structure has proven itself stable in 40mph winds and rain. This is somewhat surpising for such a simple two-pole design, and could not be achieved without the fly.
Design: 3 1/2 season dome
Sleeps: 2
Ease of Setup: Easy 2-pole setup. Fly can be tricky to center/pull tight
Weight: 6lbs, approx.
Price Paid: found it for $149, average price more like $189

You May Like
Recently on Trailspace