The Tessel 3 has been discontinued. If you're looking for something new, check out the best three-season tents for 2020.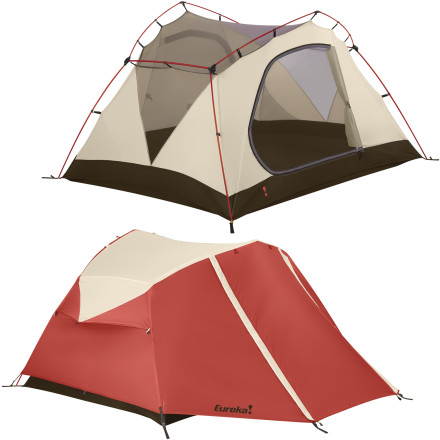 Specs
Price
MSRP: $359.90
Historic Range: $149.95-$359.95
Reviewers Paid: $159.00

Reviews
1

review

5-star:

0

4-star:

1

3-star:

0

2-star:

0

1-star:

0
This backpacking tent is not the lightest 3-man out there, but it is heavy duty and has plenty of interior volume. Large vestibules and 6 pockets give your group plenty of options for stowing your gear, which more than compensates for the small sleeping area footprint. A great back-packing tent for a group of 2 or 3 who like extra comfort and luxury features in a sturdy, weather-proof 3 season tent.
Pros
Large volume tent in a conservative (for 3) footprint
Double doors with large vestibules for a backpacking tent
Awning option for each vestibule
Easy setup with a buckled fly
Plenty of storage pockets inside
Robust build and weatherprotection plus great ventilation
Lite Set option allows for a 25% reduction in packweight
Cons
Packs somewhat heavy and bulky as a result of robust frame and materials
Length is short (at 7') for taller users who sleep fully extended
Cozy for 3 adults laying down to sleep, but 3 still fit
Stakes are subpar for a tent that is retail priced at $340
I needed a 3 person, feature-rich tent for backpacking and camping excursions with my children, and this one fit the bill. I had done lots of research and was impressed by the specifications. I was looking for a tent with a box type design, affording me lots of headroom, but had dual doors and large vestibules for storing items outside of the tent. I wasn't as concerned about the square footage of the tent as much as it's volume, because when you're sitting or lying down in a tent, most of your movement in different activities in from the waist up. I was hoping for a tent with several interior storage options as well. Eureka's top level tents (this was their most expensive backpacking tent) are well built, and this is no exception. 
Specifications:  
Seasons: 3  /   Capacity: 3
Full Weight: 7 lb. 7 oz. (with all 10 stakes, guylines, and pole repair kit) /   Pack size: 27" x 6"
Peak height: 46"  /   Floor dimensions: 68" X 84"  /   Floor area: 39.67 sq. ft. sq.ft.
Tent floor material: 75 denier 190T polyester taffeta with 2000mm coating
Number of doors: 2 /   Number of windows: 2  /   Number of vestibules: 2
Vestibule area: 14.88 sq. ft. front and 14.88 sq. ft. back sq.ft.
Number of poles: 4  /   tent pole material: DAC® aluminum 9.2mm (cross beams), 10.1 (ridge-poles), and 11.0 mm (legs)
Tent wall material: 68 denier polyester ripstop
Rain fly material: 68 denier polyester ripstop with 2000mm polyurethane coating and 8 pre-attached guylines with tensioners
Stakes: Aluminum J-peg (10)
Stuff sacks: (3) - for Tent, Stakes & Pole Repair Kit, and Poles 
storage pockets: 6
Setup: Easy
Instructions for this tent are excellent, and include great photographs for step-by-step reference. Instructions also include care tips. Set up is less than 3 minutes for the tent, plus another 2 for the fly. With 2 people or 3 you could get this down to a couple of minutes total. Really easy.
I lay out the tent body, build the pole frame on top of it (which are all connected by hubs), insert the poles into the grommet tips in the corners, then connect both DAC hubs at the peaks of each ridgepole (above each door). Then the clips go on around the tent. The fly buckles and hook-and-loop straps onto the frame, and is adjustable all the way to the ground if you really have to button up the side facing into fierce winds. The guylines are pre-attached, reflective, and have tensioners included.
Set up would be perfect in the backcountry if this tent had quality v or y pegs instead of thick but bendable aluminum j-pegs. They work fine in grassy conditions. A field pole repair sleeve is included — a nice touch. Here are some pictures:
Poles shown wrapped up with included storage sack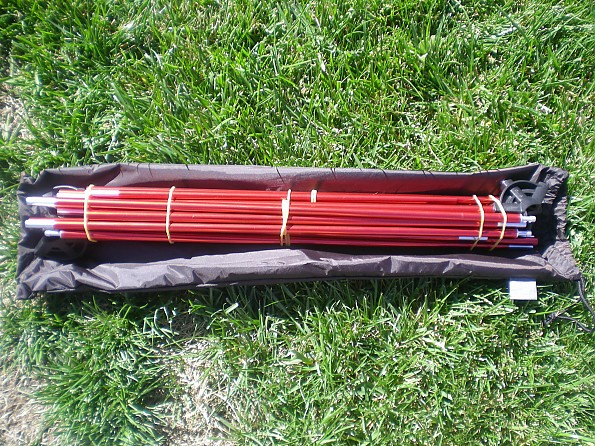 J-Peg stakes and Pole repair sleeve on included storage sack
Tent set up without fly: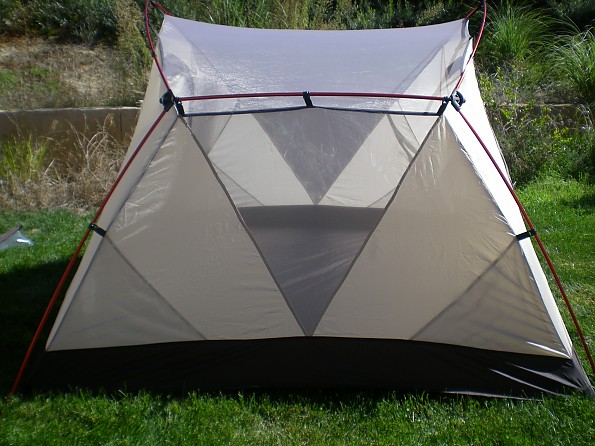 It should be noted that in a rain storm, you could use (2) 7' paracord tensioners (with small bowline loops connected to each pole-tip on the long sides) or the lite set footprint and set up the fly before erecting the inner tent, keeping it dry inside.  This can reduce pack weight by 25%.
Stability/Weather Resistence: 
This tent pitches tight despite its easy setup, as does the fly. It leaves little chance of flapping material in windy conditions. The frame is Robust, with over-sized pole diameters and DAC hubs. 8 additional hook and loop connectors from the fly to frame really strengthen the set-up. Guy out loops are connected to the fly's exterior at the same point as the 4 corner leg hook and loop connections on the fly's inside.
I have not had this in the snow, and would be concerned about build-up on top of the tent (hence the 3 season designation) in heavy snow conditions, since there is no center ridge pole. But rain is no match for this tent, nor are driving winds. I did have some 20-30 mph side winds (pool location selection for my tent-site) during a rain storm that blew some mist through the large side-vent in the fly, but I then tied down the vent to solve the problem and waited out the short (about an hour?) storm. I did not get wet at all and could find not leaks. Winds continued, but the tent took it in stride.
I have also camped in this tent in SoCal's patented October Santa Ana's (which are hot and dry) and pitched the rear vestibule into the consistent wind-conditions. Gusts were reportedly to 40 mph in my area, but I'm thinking more like 35. There was no drama, as this is a stout structure. The Polyester ripstop fly doesn't stretch, fully guyed out, this tent could take much more than what I've given it so far.
Picture of entrance (vestibule door rolled up) with fly attached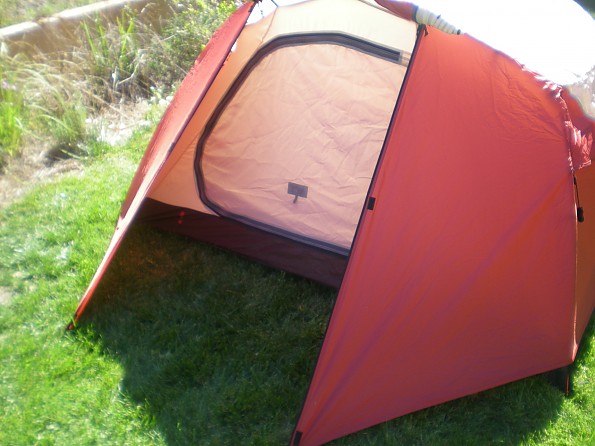 Pictures of additional guy-out points (bottom edge of side of fly, mid-panel / vent guy-out point on same side panel / corner reflective guy-out)
Ventilation: 
Eureka's "High-Low" venting seems like a sound design concept, and I've yet to experience condensation in this tent. But I live in SoCal. Even when it rained in the afore-mentioned storm, I did not have any problems.
There is plenty of mesh in this tent, and the large side-vents, flexible vestibule doors, and special construction of the double doors keeps things cool when necessary, and dry when needed. I can say that the "High-Low" system works at circulating air to keep me comfortable.
Here is a picture of the low part of the "High-Low" design. A post and loop keeps things in place to let the cool air in...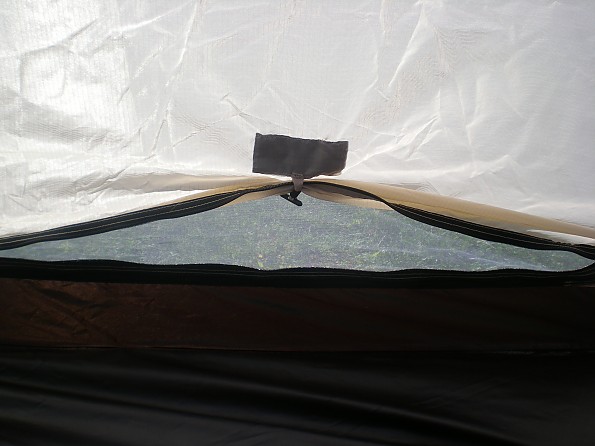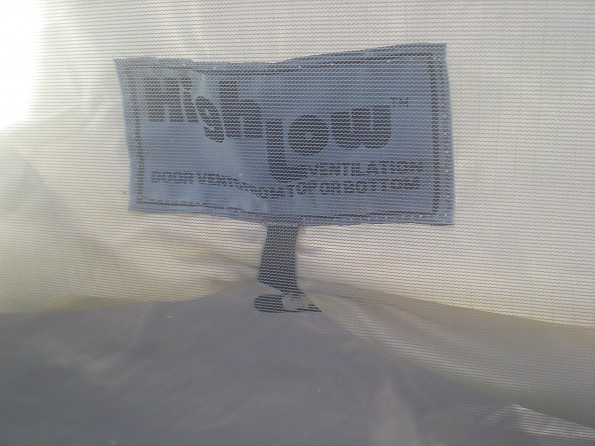 On the high side, you have the mesh ceiling, the large side vents, and the ability to unzip the top portion of the window on the opposite door at it's top, so that the warm air can exit through the mesh door that is now exposed. It has proven highly effective in warm weather. There is a lot of room between the fly and the tent, as you can see by looking at the ample distance between the poles and the tent body.
Room and Storage: 
Okay, this tent's interior square footage isn't going to impress anyone looking for a 3 man tent. I bought 2 for future family trips so we could split up and go 2 in each. It is a cozy fit for 3 adults. I'm 6'2" tall, but laying down I am more like a person who's 6'4"-5" because of my shoe size (13). My feet and head touch the end of the tent while inside a sleeping bag, but only just so.
It's not been a problem because the fly is so far away from the tent. I've never pushed the inner tent in contact with the fly's inner surface. (see picture above — lower guy out point pulls the fly about 6-7 inches from the inner tent at the floor level).
My full-length sleeping measurement is 78". My Large, 75" long sleeping pad is about 4 inches shorter than the length of the inner tent when pitched, so I'd say the true measurement inside is 79". Width is 65", as I can fit my 25" pad and (2) 20" regular pads inside, but they are touching (not overlapping) each other and the sides of the tent - enough for 3 adults, if 2 of them are 6 feet or less. 
Where this tent lacks in floor area, it more than makes up for it in volume above the floor. This tent feels bigger than other tents of similar size, because of the nearly vertical wall design. Lot's of freedom of movement, where you need it most. Headroom is impressive, as I can sit upright anywhere under the roof without touching it (about 75% of the floor area). You won't feel cramped in this tent if you have to ride out a storm. There are 6 storage pockets, Leaving each person plenty of storage space off the ground. There are also loops at the peak allowing for one to add an optional gear loft. I haven't needed that loft on trips, but have run cord across it for lighting or as a laundry line while I'm out. 
Pictures of the storage pockets: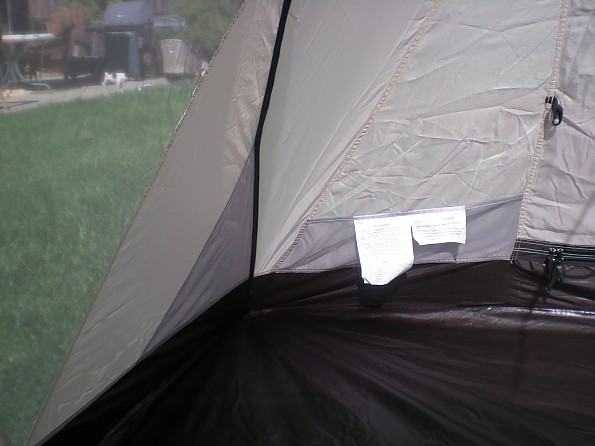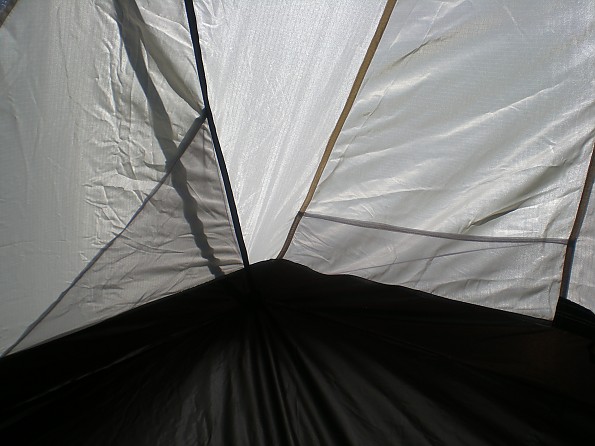 The other strong storage feature is found in the vestibule design, with the 2 large doors. The vestibules are large enough to store (3) 55-60 liter+ backpacks and 3 pairs of boots without blocking either of the 2 entries.
Here's a picture of one corner of the vestibule while I'm sitting the other corner: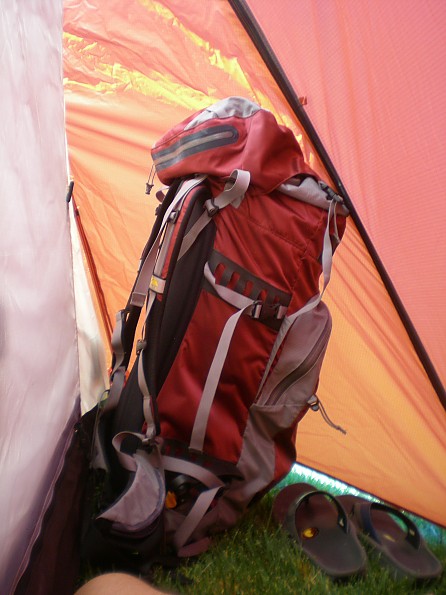 and here is one with the vestibule door open: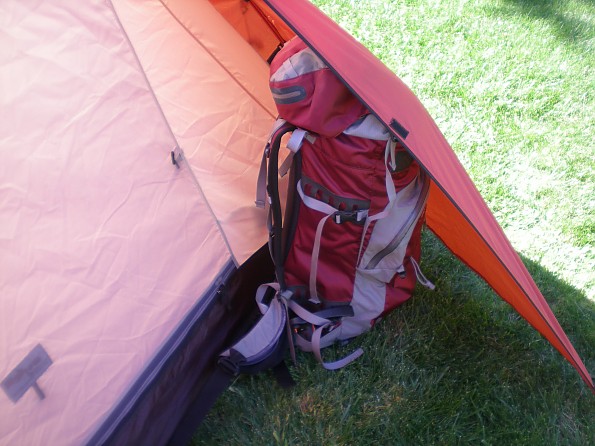 The vestibules deserve more attention for their flexible design. The double-zippered door allows one to set up an awning using sticks or trekking poles. The awnings are large enough to place my Therma-Rest travel chair underneath and stay in the shade completely. Not bad having a backpacking tent with 2 porches! NOTE: You would need to bring 4 extra stakes in order to have the 2 awnings. The vestibule doors have tie downs at 2/3 up and at the top, allowing you to either fully retract the door or leave a short 1/3 length awning to keep mild rain or snow conditions off of the inner tent. I do not have to unzip both sides of the door to get in and out - which proved to be a plus in rainy conditions. 
Packability: 
This tent doesn't pack down that well compared to other 3 person tents I've seen. At 27" (because of the design of the tent poles), it is a full 6" longer than my Sierra Designs Zia 3, but the same diameter. It does have more volume inside than the Zia 3, which has the same floor area. The stuff sacks also do not have drawcord locks, which seems contradictory to the fully featured overall design of this tent. That being said, I don't mind tying slipknots to keep things in place. This is not a lightweight tent for backpacking, which is a concession I'm willing to accept given the myriad of comfort features and robust build. This cold easily be split up between 2 or 3 people, bringing the weight down to 2.5 pounds each - not bad. This is actually a better option for the L.N.T. crowd, as 1 tent for 3 people has far less impact on an area than each taking their own tent. If you want to reduce weight, then get the footprint, leave the extra stakes, pole-repair sleeve, stuff sacks, and inner tent at home to bring your pack weight down 30%.
Ease of Use/Features: 
This is where this tent truly shines. It is truly packed with thoughtful details already mentioned above. The tent goes up easily, the same way, every time. pre-attached guy-lines and tensioners make set-up in bad weather less painful, and the quiet zippers zip without drama or resistance. 8 extra guyout points really help to counteract severe weather conditions. My purchase of the pair of these tents didn't include the light set footprint or a gear loft (which I think is superfluous given its 6 pockets), but the floor is robust enough to make do without it if you must. I am looking for a Lite Set footprint now, but they are hard to come by. The good news is that an REI Quarter Dome 3 footprint fits exactly to this tent, so I may just get one of them (much more plentiful). 
Construction & Durability: 
I am impressed by the construction of this tent, with a beefed-up pole structure, non-stretching Polyester  rip-stop fly, 2000mm waterproofing, and heavier denier floor. I have used this tent 4 times, and so far it's held up very well, with nary a mark on it. I have used a Tyvek ground sheet underneath it. The seams are well taped and straight, and the reinforcements at key stress points are more robust than I expected. Of course all of this comes at a cost in weight, but I have my ultra-light tent kit when I need it. I haven't had this tent out enough as of yet to give a fully credible judgement of its durability. 
Conditions: 
I have had this out in the Summer in SoCal and Lake Powell in Utah (my one rainstorm), and in the Spring and Fall in SoCal. The only thing my tent hasn't seen yet is snow. I hope to change that on a car-camping trip this November, after which I'll post additional thoughts.
Conclusion:
My kids say this is their favorite tent, because of "the way it looks from the inside" and "the shade things that use the trekking poles". That's usually enough peer praise for me to keep using it regularly, but this tent exceeded my expectations on many fronts. I bought 2 for trips with my wife and 2 kids (2 per tent gives plenty of extra room), but one never made it out of the box before I found the Sierra Designs ZIA 3. I don't like the ZIA 3 better than this one. It is just different. I like having various designs in my collection, where one tent may be better suited for a particular trip than another.
Of note is the fact that while this tent is discontinued (but still available at some retailers) in the States, it lives on as the Quazar SUL3 tent in Europe (with a few minor fabric differences only). Check it out here: 
http://www.eurekaeurope.com/products/productdetail/Quazar+3+SUL/part_number=12E044-QZ3-UL/1329.0.4.10.7559.15001.0.0.0?pp=136&
Source: bought it new
Price Paid: $159

You May Like