Eureka! Tetragon 1210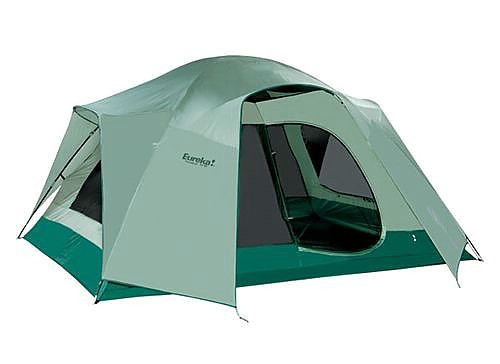 This tent has been a good performer over the years I've had it (6 at the time of writing). It is roomy, easy to set up, and the overall quality seems to be good.
Pros
Size
Ease of setup
Two rooms with divider
Rain resistance
Cons
Fiberglass poles
Weight
Rainfly design
This is a large 12' x 10' tent that is made to sleep eight people (manufacturers claim). Realistically, I think four people would be plenty, but you could manage six ok if you had somewhere else to store the gear.
The set up of the tent isn't all that bad. I can do it by myself, but this is a job probably better done by two people to keep from damaging the fiberglass poles.  This tent did come with the yellow plastic tent stakes, after the first time out with those I wound up purchasing some heavier duty aluminum stakes.  However, stake out and set up is an easy job, and will take less than 10 minutes.
I'm not a huge fan of fiberglass poles, I've broken my fair share of them.  Having said that, I am ok with the fiberglass poles that come with this tent.  They are of a larger diameter and thicker material than the average fiberglass pole.  In the years I have owned it and many times I've set this tent up I haven't had one splinter or break yet.  I have even survived a strong thunderstorm or two, and the poles held up find during some fairly strong winds.  The large size does add to the weight of this tent, but I imagine most everyone who uses this tent will be car camping and not having to pack it very far, so weight isn't much of an issue.  
The tent does come with a divider that can be tied up using the dog bone/loop design, so it installs in seconds.  I like that once in place that the front door gives access to one side, and the rear door gives access to the other side.  You don't have to enter through one side and then go through the divider.  Speaking of, the divider does have a zipper in it, so you can open the divider up during the day if you wish.  I have never actually used the divider on a camping trip, but have put it up a time or two just to check it out.  With the divider in place there is room enough in each side to place a queen size air mattress, as well as some gear.
Ventilation on this tent is good.  There is a mesh opening in the ceiling, as well as windows on each end, the doors have a mesh area with another window directly beside them that opens up.  
The ventilation leads to one of my only complaints with this tent, which actually has to do with the rain-fly.  The coverage of the rain-fly is a bit small.  So, when it does begin to rain, although the tent doesn't really leak much, you have to zip the windows almost completely up.  The rain-fly does do its job, I have been in some torrential downpours and maybe soaked up a half cup of water at most afterwards.  
I've never met a tent that doesn't eventually begin to leak a little, so I think only having a half cup of water in the tent is pretty impressive.  It's just, when you have to spend time in the tent during a rain-fall, don't expect to have much ventilation, it can get to be a bit suffocating, especially if there is more than two of you in the tent.
For a ground cloth I use painters plastic I cut to fit.  I made it so it's a couple inches shorter than the tent and fits completely under it.  I don't recall ever having seen a footprint made specifically for the tent, but I wouldn't have spent the extra money to buy one either.  The painters plastic has always worked fine for my purposes.  I do recommend a ground cloth of some sort though.  The tub of this tent is made from a similar, yet thicker material as the walls, and not the tarp like material seen in some other tents.  
There are pockets inside for gear storage, as well as a mesh loft that can be hung on the ceiling for additional storage.  I rarely use the ceiling storage, if it's a clear night I prefer to leave the rain fly off and look up at the stars as I fall asleep.  Then, if it is raining, I like to keep the ceiling as open as possible to help with ventilation.
Overall, this has been a really great tent throughout the years.  For four people there is plenty of room for sleeping and still additional room for storage.  Six people could stay in it fairly comfortably, if gear storage can be done elsewhere.  It is easy to set up, and can survive a pop-up thunderstorm.  The rain-fly does a decent job of keeping the rain out, but can cause issues with ventilation because the windows will have to stay zipped.  
This tent has lasted me several years, and I imagine it will easily last several more.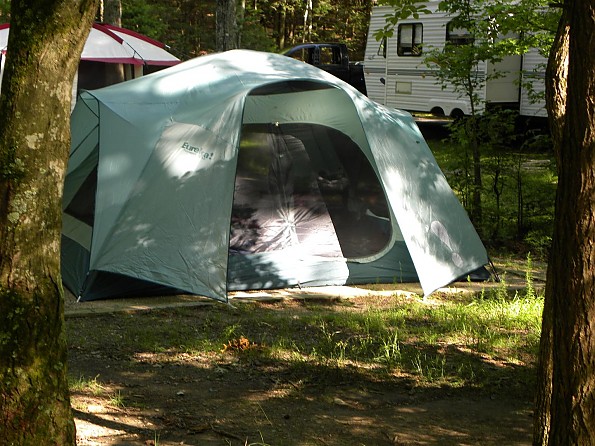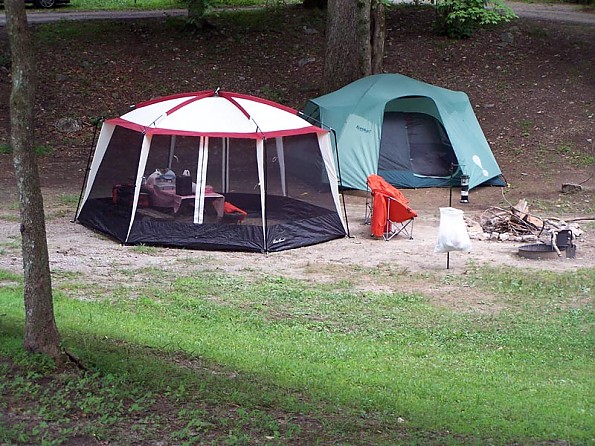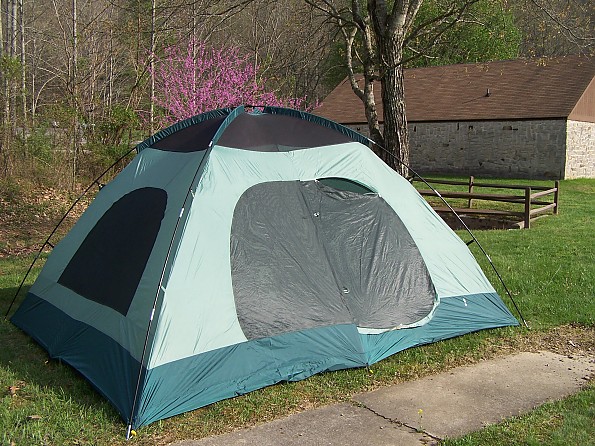 Source: bought it new
Price Paid: Maybe $200 - not sure it's been so long.

I bought this tent for my son and I to use on his cub scout camping trips. We have camped in it 6 times so far and are happy with it's performance.
The Good:
1 - Easy to set-up and take down. 10-15 minutes with the help of an 8 year old.
2 - Very Roomy for up to 3 adults (you could fit more but I like room)
3 - Solid and thick main poles (of which there are 2)
4 - Holds up very well to wind (even with only the 4 corners staked). We had a Kelty and a Coleman blow down on the last outing. You can even stake additional guy lines but unless you set-up in a wind tunnel or in really loose soil I cannot envision needing them.
5 - Easy snap-on construction of the tent sides to the poles (except on the top of the tent where you still have to snake poles through a sleeve - but they are short sleeves).
6 - Very well constructed tent and it pulls up nicely - no baggy sides or floor. Note floor is not polypropelene like so many of the cheaper tents, ie: Coleman. It bags up nicely and is smaller and lighter than most in this size range.
7 - The bathtub floor is about 8" high (almost too high)
The Bad:
1 - The doors can take some getting used to. Since the tent can be partitioned off (why anyone would do that in a tent of this size, I dont know) entry is from opposing sides of the tent for each partition. Also, trying to get the zipper under the rain flap can be cumbersome.
2 - On one trip we did get moderate rain and we had a corner that got slightly wet. It was at the seam on the corner where the tent stake is attached. This was despite the fact that we used Seam Sealer 3. It was minimal and compared to some of our fellow campers who got soaked in their tents, we decided it passed the test. We plan on adding more sealant to the corners in the future. However, none of the zippers leaked nor did the floor itself.
Overall this is a good tent that sets up easily, is made of quality materials and construction, and holds up to the elements.
Design: three-season freestanding dome
Sleeps: 4
Ease of Setup: easy (2 people needed) I use an 8 year old as my assistant
Weight: 17lbs
Price Paid: $159

I'm satisfied with the overall quality and design of this tent. I purchased it for $179 in October 2008.
Initially, I was going to go with Eureka's Copper Canyon 10. My concern focused on how well a cabin style tent would hold up in high wind conditions. A co-worker who is also an avid camper owned and swore by the Tetragon 1610 which he used for beach camping on several occasions. He advised that the Tetragon design of the tent held up beautifully in severe windy conditions common with beach camping. I went with the Tetragon 1210 because I really didn't want anything too big and I needed a tent that would be suitable for a variety of camping conditions.
The tent was a breeze to set up. I went over the directions once and it took about 30 mins carefully setting up by myself and 15mins with help. I was impressed with the poles which I felt were very sturdy compared to other tents that I have owned. The fly was a breeze to install. Matching emblems help you distinguish the front from the sides.
I seam sealed the tent and waterproofed the rain fly which I believe is a must and an annual routine for any tent. Arguably, the floor could have used a denser material but a tarp placed properly underneath the tent corrected this problem. I recommend always placing a tarp underneath the tent to offset the risk of punctures due to rocks, roots or sticks.
I was able to place two twin size mattresses and all my gear inside the tent and had sufficient room to move about. I was able to walk around without crouching while inside the tent. I'm 5'8". Ideally you could place three air mattresses inside or six sleeping bags but it would take away from mobility and the ability to store additionally gear. Experienced a few rain showers and the tent remained leak free.
Only dislike is that the rain fly permits the top of the tent to remain well ventilated. This is great in warmer weather but a huge disadvantage when the temperature at night drops into the 30 degree mark.
I would strongly recommend this tent to others.
Design: Three-season tetra dome
Sleeps: 6+
Ease of Setup: Breeze
Weight: 20lbs
Price Paid: $179

I was on the look for a large tent that would fit myself, my wife, and my 8-month infant boy. After extensive research I ended up buying Eureka 1210 from Sportmart for $129 and It also had a $20 rebate, so final cost turned out to be $109. This is awesome as compared to similar size tents from not so good manufacturers being much higher.
Before camping, I sealed the floor, fly, and other exposed seams with recommended Kenyon seam sealer3 to be on the safe side. At camp, I was able to assemble and stand it up all by myself in less than 10 minutes. I was amazed as my previous tent erection caused me an embarrassment as it took 45 minutes of stressful struggle.
The test is very well ventilated, the teal green color blends perfectly with nature and trees, and its floor space is amazing. We were able to setup baby crib, queen mattress, and it still had lots of room left over. Another good thing, I didn't bump my head into the lantern, not even once. It's got a decent headroom with me being 5'11" tall
Lastly, condensation... I read that all tents result in some condensation. But this tent had Zero condensation. It was cold nights in Yosemite National Park. We also used Coleman Procat heater inside the tent all nights to keep our baby warm. We were concerned that heater will maximize condensation. Whatever it was, tent or heater, it did the trick as we got no condensation at all.
We were four families with same tents on two sites, with everyone extremely pleased with this quality tent. I would wholeheartedly recommend it to anyone who is looking for a spacious tent that doesn't cause condensation.

Design: Two-pole Freestanding Dome
Sleeps: 6+
Ease of Setup: Easy single person setup. Took 10 minutes
Weight: 18 lbs, didn't feel heavy.
Price Paid: $109 at Sportmart

I purchased the Eureka! Tetragon 1210 when my Walmart 5-person tent fell apart. This tent has been a wonderful camping experience many, many, many, many, many times!
My three sons and I used it last weekend and it finally began showing signs of use. It was struck by a micro-burst and was ripped out of its four corner tent stakes. The interesting thing is, the point of failure wasn't the seams or fabric, but the aluminum rings the stakes went through. The rings themselves opened in full metal fatigue.
I figured it was time for a new tent. I began searching the Internet. The best tent I can find is the Tetragon 1210 AGAIN!
However, I'm a little disappointed with the new fly configuration. I don't care for its style. My current 1210 has a traditional, four post style fly. It also has windows in it, allowing for sunlight and night time star viewing.
It's a shame Eureka! removed that feature. It's really a major bummer. Because of this, I'm going to repair my current tent and continue enjoying it until the bottom falls out of it in 15 more years!
Things I love: Price, color, ease of setup and breakdown, internal storage and shelving, quality of material (rings excluded), and the best thing, after 5 years, the zippers have NEVER failed once!
Things I dislike: Zipper handles "jingle" in the wind. It would be nice if they were rubber coated.
Conclusion: For the price, buy this tent. It's a great buy.
Design: 2 pole dome with fly thrre-season two-room
Sleeps: 6+
Ease of Setup: 1 person can setup if required.
Weight: 20lbs
Price Paid: $180 in 2005

The Good - The overall look of the tent was very nice. It's a lovely green color and very easy to put up. It had really nice space that I was able to fit two Coleman Queen Airbeds. If I didn't have those beds and used pads instead, I could easily fit six 150 lb. sized people comfortably there. The zippers worked flawlessly. It had great ventilation and very little condensation.
The Bad - It has a design flaw where the window, located next to the doors, can have water leak in the area where the zippers meet. The zippers, when closed, leaves the tiniest opening that can't be seam sealed at all because it's two different zippers. You can't zip it up either, but I didn't get a leak there when it rained. I got the leaks in the zipper area during my home hose down test.
And now The UGLY! - When I took it out camping, it rained through the all the seams where the bottom tub section meets the top. I sealed it - again - and most of it did better at a test at home, except the areas where the extra strap for staking is located in the center of every side floor of the tent. I have no idea why it happened, but the leaks were still pretty bad even after sealing it heavily - again! I sent it back to Eureka for fixing or replacing.
Design: three season
Sleeps: 5
Ease of Setup: easy
Price Paid: $179

I thought I was buying a farily cheap tent and would have to bring a bunch of extra tarps to keep any rain out. I applied seam sealer to the entire tub seam around the bottom before I went camping for the first time. I decided to try it without tarps at first just to see how it held up. It didn't leak a bit even though it rained ALL NIGHT! The portions of the sides that weren't under the rain fly got wet but as long as you don't touch them, it's no problem. I used this on my family's first camping trip and they all slept comfortably. I think I'll treat it with rain repellant before the next time to try and keep the sides a little dryer. The pole that holds the rain fly up is a little tricky to install by yourself but with two people, it's a snap.
Design: Dome
Sleeps: 6+
Ease of Setup: easy
Weight: 25
Price Paid: $169

The first time I set it up I set it up in the house. Therefore not needing stakes I did not open the stake bag. I set the tent up without instructions, by my self.
I made a few mistakes like not noticing that the poles that go over the doors and windows are different lengths. I had to go round and round to set it up by myself. I got it up and was very impressed.
Then I opened the stake bag to check out the quality of the stakes. Wow, the instructions. I read them and learned so tips that would have made it easier to set up by myself.
I was looking at a Coleman tent and know I made a better choice by getting the Tetragon 1210. The quality is superior.
Enjoy
Design: three-season Freestanding dome
Sleeps: 4
Ease of Setup: challenging for one easy for two
Price Paid: $199

Your Review
Where to Buy
Help support this site by making your next gear purchase through one of the links above. Click a link, buy what you need, and the seller will contribute a portion of the purchase price to support Trailspace's independent gear reviews.
You May Like
Specs
Price
MSRP: $239.99
Historic Range: $89.99-$289.95
Reviewers Paid: $109.00-$200.00