Eureka! Tetragon 5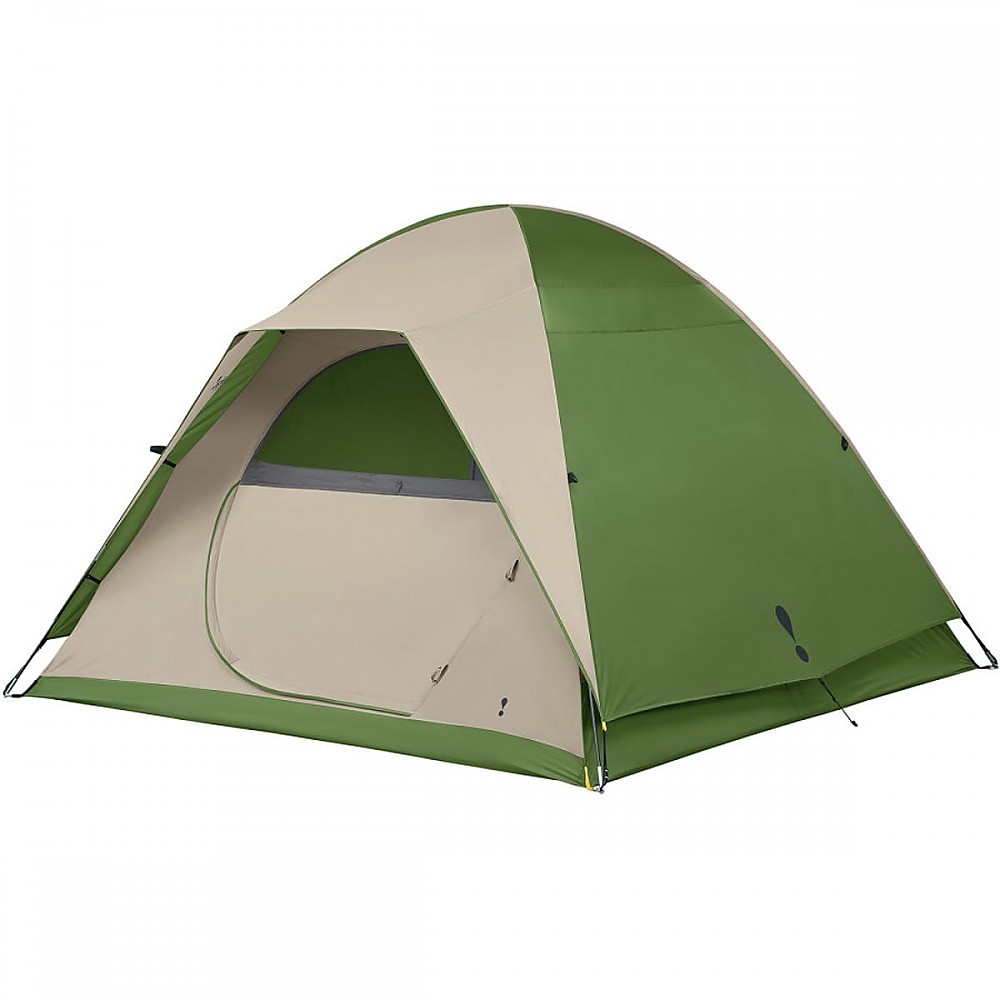 Version reviewed: 2011
A good three-season tent. Lots of options, easy to set up, and durable.
Pros
Small size
Easy to set up
Freestanding
Cons
Only a single entrance
No covered vestibule
I purchased this tent back in 2012 (it was the 2011 version). During that time I have camped out using this tent in all sorts of weather—from raging rain and wind to single digit temps, to the heat of the summer. In all that this tent has held up like a champ. I usually go camping with the Boy Scouts and this tent has become my go-to tent for backpacking trips, and general campouts of a few days. 
The tent is a freestanding design with two fiberglass shock-corded poles. You lay out the tent on the ground, put the poles across the tent in an X pattern and then connect the ends to the metal pins at the bottom corner tabs. Once you have all four corners attached you can stand up the poles and where they cross you use an existing loop on the top of the tent to fasten the tent to the poles. Then you work your way down each pole and clip in the 'plastic' clips along the tent seams to each pole. Once that is done you stake out the corners of the tent.  
The bathtub style floor is thin and not really waterproofed so make sure you have a ground cloth for under the tent. Also the zipper is fairly noisy. But the tent has lots of storage inside and for my 5'4" frame it is plenty of headroom in side. There is a small gear loft that clips to the sides up at the top and two hanging pockets that are permanently attached to the sides.  
The rainfly is easily attached by spreading it out over the top of the tent and aligning the entrances. There is a color coded tab on the fly and the tent so you know where to line up the two. The fly does have its seams taped but I have always erred on the side of caution and I sealed them on top of the tape that was there. It has held up well. I've been in a few rainstorms and have gotten minimal leakage.  
The one issue I have with the rainfly is that it does not completely close off the entrance to make a protected vestibule. Instead the opening is cut out so it is always exposing the door to the elements.  
I have used this tent on a few winter backpacking trips and have done OK. It is not the lightest tent out there but it certainly would be fine on a backpacking trip.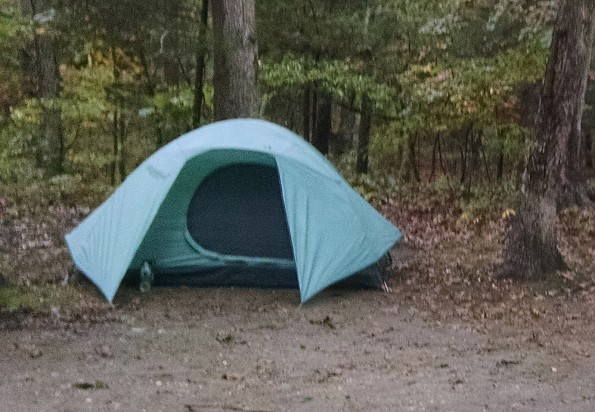 Here is a picture of the tent set up.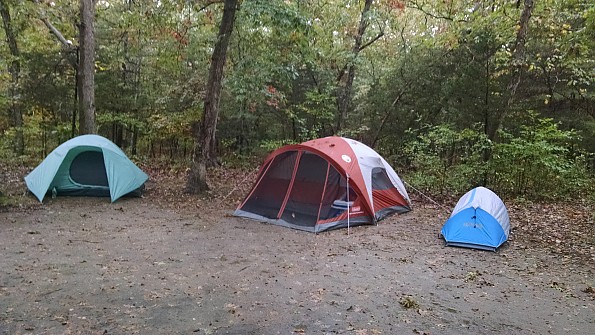 Here is the tent in comparison to a Coleman 3-man and another 1-man backpacking tent.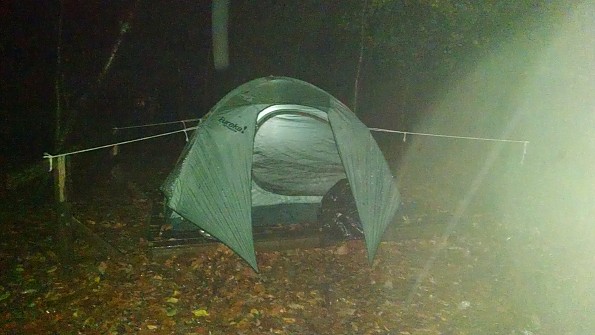 The tent set up at a Scout Camporee. The weather was rainy, cold and windy with gusts up to 30mph. I actually used the extra tie-down points and the tent held out fine all night. There was only one little spot where the rain got in and I blame that on myself. Otherwise we were warm and dry that night.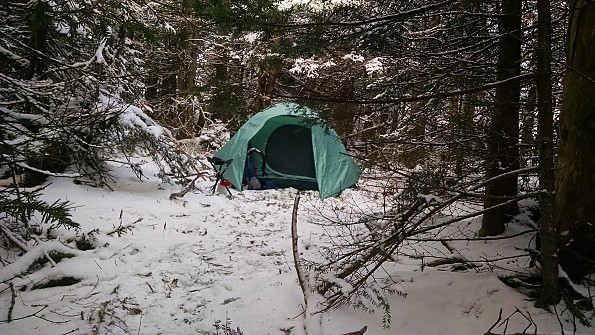 Have used this tent on several backpacking trips. This one up Slide Mountain in the Adirondack Mountains of NY. It snowed overnight and the tent handled it just fine. I just wish the rain fly had the ability to close completely like newer models do.
Source: bought it new
Price Paid: $59.97

OK for the backyard, but would not depend on it in the "backcountry."
Cons
Tent poles are junk, bring a spare section
Built-in floor isn't great
It stays dry in the rain as long as you put a tarp under it. The built-in floor will not keep things dry if it rains all day.
My tent poles broke with less than 10 careful uses.
Eureka customer service did not help... and said I probably damaged them. I take my fly off, carefully breakdown my poles and wrap them in my fly, so they end up in the center of the bag padded by the fly and tent.
I've been tenting for 15 years and this is my first broken pole. You be the judge.
Source: bought it new
Price Paid: $250

It would be 5 stars if the one pole segment end had not cracked so easily. Otherwise, easy single person setup and it has thrived in numerous Northeast thunderstorms without a drop of water leaking!
Pros
Easy setup
Good 3-season ventilation
Proved very waterproof
Cons
Pole end cracked early
Front vestibule is not that large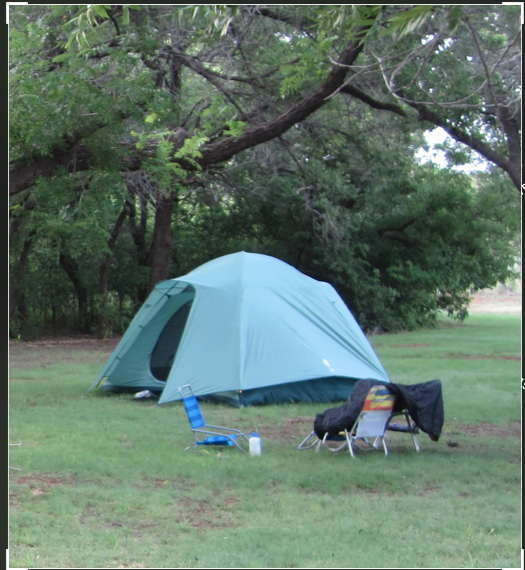 I bought this tent about 5 years ago. Used for car camping on multiple occasions. It sets up easy (only two poles) and has been water tight in some big storms. The front vestibule is a bit small, but I am tall, at 6'3", so this is relative. Nice height inside the tent. It also offers a vertical and horizontal location for the interior storage flap, which is mesh with multiple pockets.
I have a family of four and we fit well with our gear. I have used it in all conditions, including a June snow squall in Yosemite at elevation. The tent rain fly sealed up nicely, though I would not recommend it for an extended stay in cold weather.
Great three-season tent!
Source: bought it new
Price Paid: $160

I give the Tetragon 5 a 5 star rating. Never had any problems. Always seal your seams and coat with campdry spray to waterproof. Common sense tells you to do that.
Price Paid: 60 bucks

You know, it's funny how other reviews I've read are stuff like "Greatest tent!" and "I give it 5 stars!". Well mine's different from that.
I bought the tent at a Boy Scout store in Marietta, GA. I got home and set it up that night and figured out it had many flaws! For example:
1. The Rain Cover had a minor tear in it even before I got it out of the box!
2. The piece on the pole that makes the little arch in the rain cover went missing (I have searched all over and have not found it!!!). Without it, the arch will not hold.
3. The rain fly itself is a battle to get it to cooperate during set-up! It seems to be too small for the tent.
If it came with all its proper equipment, I think it would be a very nice tent. I just didn't have that chance to enjoy it! :(

Design: 3 season free standing dome.
Sleeps: 2
Ease of Setup: It's easy except for the rain fly!
Weight: 5 lbs.
Price Paid: $82

Well, I can't complain about the tent a lot. It held up in some of the most adverse environments I have ever seen. Yet the tent still has some costly drawbacks for people that camp in the wet or backpack on a frequent basis like I do.
The tent holds up semi-well in the rain, but the corners of the tent let in water where the fly leaks water on it. Also, the fly doesn't quite fit onto the tent frame, a little too small. Another problem is the weight. I ditched this tent for an Eureka! Spitfire 1 because of the great weight difference. At over five pounds, this tent's a clunker. My new tent weighs in at only two pounds 13 ounces.
Nevertheless, for the 5 years of service it gave me as a scout, it held up well and earned the nickname "The Beetle" due to the low, round profile.
Yes, I would recommend this tent for people who camp on occasion and in the sunshine. If you wish to go backpacking, I recommend that you upgrade to a better tent. I hope you find this useful information.
Design: Three season
Sleeps: 2
Ease of Setup: Rather easy setup. I could complete it alone in a few minutes
Weight: Over 5 pounds, A clunker
Price Paid: $50

I love it! This tent goes up in five minutes easily with one person and no fuss. Slightly heavey for backpacking but worth the weight to me. I have used it on wet campouts and stayed dry. The big plus over other tents is that it clips onto the poles instead of feed-through, this allows the poles to be attached at the corners, stood up and the tent attached in a few seconds by one person. Comes down fast also.
Design: Dome, 2 pole
Sleeps: 2
Ease of Setup: very easy
Weight: 6 lb with ground cloth
Price Paid: $35

Your Review
You May Like
Specs
Price
MSRP: $84.99
Historic Range: $49.97-$179.95
Reviewers Paid: $35.00-$250.00

Recently on Trailspace