The Tetragon 8 has been discontinued. If you're looking for something new, check out the best three-season tents for 2020.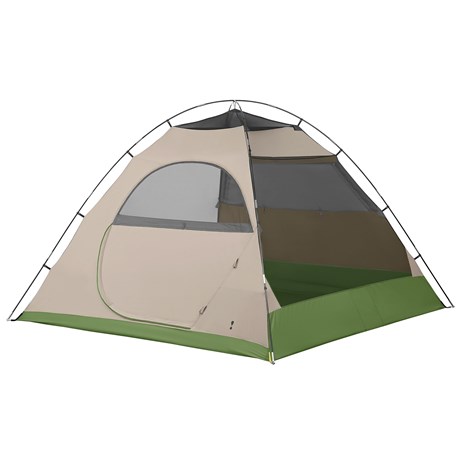 Specs
Price
Historic Range: $62.48-$279.90
Reviewers Paid: $89.95-$92.99

Reviews
Great tent if you're not walking far...
Pros
Size
Price-quality ratio
Air flow
Stability
I got this tent for about $199.99 CAD on sale plus tax between 2015-2016, and it was marked down 75 percent on Clearance. I am saying this because I look up to the other comments of under $100 and the MSRP listed of $139.99 (I think it isn't shown on this page). Even if that is USD I still paid way more than everyone else. Either tariffs are high on camping gear from the US or I should have done my research.
Either way I am not so much disappointed as it is a good tent, better than any I had before it, and compared to what was available at the store it was the best buy. I recall the next cheapest tent of similar size was a store brand, a brand I was familiar with and not impressed by, and it was still a good $20 more. I was familiar with Eureka! and decided to go for it; we needed a tent asap for the July 1st celebrations and my wife indicated a desire to have a "big" tent to use for car camping and summer visits home.
Pro's
Size: It is big and square and tall. Lots of space to set up cots or chairs with big open doors with awnings. You can sit in it out of the sun or use it as a bug net tent. The aspect of the tents floor is the same used by most tarps so any standard poly tarp from the hardware fits great as a ground sheet.
Price-Quality Ratio: Price to quality I thought was good but I see others got a much better price. Still it was better than the cheap one I got from a camping set and better than many I borrowed.
Air Flow: Never seen condensation in ours, been in rain, fall, early spring, late summer, hot hot days with cold nights no issues. If you leave the fly on in the summer it is an oven though, but if you roll up the fly some around the tent the air flow will keep it cooler.
Stability: For a big tent it handles winds pretty well. I have not had it out in anything too serious but 40kmh to 50kmh gusts were fine. The poles are thick and there are lots of tie outs. I think it could hold up well if your pegs are secure.
Cons
Fly: The fly is good and waterproof but it leaves little room for gear you don't want in the tent. The front and back entry ways look like they have good sized fly overhangs but really they don't It isn't even enough to get under to open the tent in the rain. You can however (if you have a stick or poles) guy out the doors like awnings but this won't work well in higher winds.
Stakes: All tents are sold with crappy stakes, it is the way of things...
Design: If they would have sold it with a fitted ground sheet with pole hooks so that the tent could be pitched with just the fly like an awning it would have made this behemoth more useful. I managed to rig a way to do this but since it wasn't designed that way the inner tent cannot be hooked up if conditions or intentions changed. It is a shame because with some small modifications the design could have supported this.
Size: It is big, you are not backpacking it anywhere. Might be able to big canoe it as long as there are no portages along the way to your campsite. It can be difficult to find enough level ground to pitch it.
Experience
I am impressed with it. To date it has seen four or five years of use from spring to fall a dozen times a year. We don't check the weather; we go when we have time and it has been fine in all conditions we faced. It didn't leak last year, but you could see the raindrops starting to absorb into the fly so it will need a spraying this year and that isn't bad seeing as this should be done each year. I would get another Eureka!, just maybe a tad smaller.

*UPDATE* I used three cans of Kiwi Heavy Duty Water Repellent on the fly and along the tent bottom (but not the actual bottom ran out of spray :() and took it out with a proper rain. Rain heavy at times with breaks total abbout 20-30 mm over 36h. The corners did leak leaving puddles after 20 hours or so of on-off heavy rain, only the corners. I cut some drain channels around the tent and went back to socializing at my uncle's site. Returning for the night the corner puddles were gone. The fly looked like it absorbed some water but there was still lots of beading. Not sure if my waterproofing technique is bad, or if the Kiwi product isn't good. I could not find anything to do the seams in the corners where the pegs go, but all the seam tape seemed fine with no cracks or lifting. Hope that helps.
Source: bought it new
Price Paid: $199.99 CAD

We purchased the Tetragon 8 to replace an old store branded dome style Eureka tent from 1998. Overall, we are very happy with this tent. Our major factors in selecting a tent were price, how hot the tent was inside (we live in Texas), ease of set up, weight, and space.
We wanted this tent for car camping with an eye towards some very short backpacking trips. The tent needed to fit two adult women (neither of us is small), our gear and a 62 lb dog. After much research, we decided the Tetragon 8 was the best option.
Our first experience with setting the tent up was in the back yard in the dark under a new moon. Neither one of us pre-read the directions, but by the light of an apartment building light to read the directions, we got the tent and fly up with no problems on the first try.
After several times of setting it up and taking it down, I am unsure just how one person would set the poles in the rainfly without someone holding the other set of poles in the pockets. We are experimenting, but at this time, I'd suggest not trying to set this tent up by yourself when rainfly time comes. The remainder of the tent is very easy to set up and take down by just one person.
Once the tent is up, you will find a very generous sized door, a window, and a fair bit of mesh. With the door and the window open, the mesh lets in enough of a breeze that we have yet to have any condensation inside the tent. The tent has not yet been through the Texas Rainy season.
Inside the tent, there is a huge gear loft or drop pocket system. We used ours by stringing it across the top of the tent. We had a few odds and ends, but the repositionable hanging pockets on the sides of the tent sure have gotten more of a workout! The dark mesh doesn't allow the light from a headlamp to shine through quite as much as my old light gray mesh used to, but it was enough to see to dig through gear.
The nice thing about the way we strung it was you could stand outside the tent, reach through the door, and access everything in the gear loft. The mesh side pockets kept the general pocket fluff we accumulate on camping trips secured and out of the way.
The inside of the tent fit two Thermarest women's Trail Pros side by side, with plenty of room for an old Coleman egg crate next to it for the dog. It would be a VERY tight shoulder to shoulder fit to get 4 camp pads in there, and I'm not really sure if it is possible. We have no intention of trying! With two people plus the dog, we were able to fit our camping gear along the corners of the tent quite comfortably, but keep in mind neither of us is over 5 feet tall, and the gear did encroach on our sleeping area just a bit near our feet.
The rainfly seems to be a good design. It covers all the areas of the tent I'd be worried about in a storm, and held up to the wind quite well, even not staked down really well. The rain fly let in PLENTY of air, and made sleeping in Texas in a tent about as good as it was going to get. The large mesh areas helped dissipate the heat of the day very quickly.
While this is not a tent I'd take winter camping in February in Minnesota, I see no reasons it won't hold up to the occasional light snow it might see in Texas. We intend to camp all winter long in this tent. Our prior tent did survive several trips in heavy snow in Minnesota just fine, so the design should shed show pretty well.
My only gripes come in the form of two. The first one was the expected. The tent stakes were not suited to the terrain of the Prairies and Lakes region of Texas that we have tested it in. We have switched tent stakes and hope to have resolved the issue. You can't expect much out of "pack in the box" tent stakes, so I am not deducting for this issue. Please PLEASE go buy tent stakes that are good for the region before you take this tent out in the wind!
My second gripe is the zipper. There is a flap of fabric that covers the outside of the zipper track near the bottom. It precludes one handed entry completely. I can get the tent unzipped just fine one handed until you get to that flap of fabric. Then, it is a total no-go unless you have two hands. The zipper has been smooth other than this one area.
Some other random observations: I am 5 foot tall. I cannot stand in this tent, but I can sit up and get most of the way up hunched over. The bathtub floor comes up on the door enough that a small child might have issues climbing over it. Our dog tripped the first few times, but has become a tent exiting pro.
The guy lines that come with the tent are pretty useless. I'd suggest buying your own cord and rigging them up how best suits you. The center section that loops over the poles to hold the center of the tent is at the very top of my reach. If you are much under 5 foot, you probably are not going to be able to reach this attachment point. Good luck!
Overall, I have been VERY pleased with this tent. While it is not a lightweight, it packs up reasonable and offers a great deal of space for the price and weight.
Design: three-season freestanding dome tent
Sleeps: 3
Ease of Setup: Super easy, if you are over 5' with two people for the rain fly poles
Weight: about 9 pounds with everything including tent stakes
Price Paid: $92.99

This was a last minute desperation purchase that really paid off. This is a lot of tent for the price. I set it up the first time under the immediate threat of a rain storm and it was extremely easy to do so. Rain protection with the fly is excellent. It has only two fibreglass poles to support the roof which may turn out to be a weakness down the line but the clip arrangement to attach the tent to the poles works very well and makes it an easy one-person setup. The tub is not particularly strong but seems to work well. Typical of most tents it does not come with a ground cloth, that I will definitely want to buy.
Design: Three-season, freestanding dome
Sleeps: 4
Ease of Setup: Very intuitive and easy for one person
Weight: 8.5 lbs
Price Paid: $89.95

Recently on Trailspace