Eureka! Tetragon 9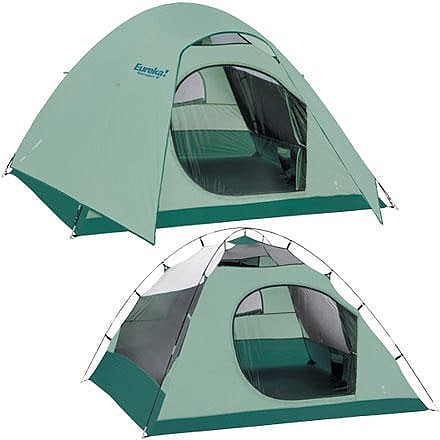 Choosing one tent is hard. Thinking about all your options and all the various ways that you will use your tent and in all the different places, you probably want more than one tent! Sure, you want that solo tent for trips "just by yourself" and then there's that family tent for trips where you take the kids or grandkids or friends. And yet, investing in many tents can be quite expensive.

Here's the one tent that you need!

This beautiful tent, windows and all, is the perfect tent if you want to buy just one tent. It has a very cool six foot high ceiling (great for families). And it has windows (made of soft vinyl). And the best?

You can set this tent up, even if you are a beginner, in probably less than ten minutes. Expert camper? You can set this up practically blindfolded in five minutes.


Pros
The tent is virtually weatherproof for light rains and windy weather.
There is good ventilation through the screen-type windows.
It's large enough for a family, yet easy to set up , as if you have a solo tent.
It's light to carry, convenient and so sturdy!
Cons
Can't think of any cons. Perhaps the only con would be if you couldn't find one at your store.
Look for it online through camping sites or through eBay or Amazon.
For real, I've camped practically across country and this is the one tent that I would like to have with me all the time. (The only other choice I have is the popup tent with the six foot ceiling — that's in another review).
When I was using this tent, I was doing solo camping. Yes, alone out in the woods or in the state parks or in the national parks. The tent is nice, cool, comfortable and easy to set up. Yes, you can set this one up without reading directions. 
It's a roomy tent. So when you are camping out with the kids or with the grandkids or with all of them, you will have enough space to relax. It's so roomy indoors that you can practically set up a cloth barrier inside to make the two areas private areas in the tent.
The only way this tent could be improved is if they made it in my favorite color!
For myself, many years ago, I purchased the tent at the Sports Authority store out in Long Island, NY, USA. I believe that I bought it at a discount because I did buy this one "off season".  And I recommend you do that also. After camping season, that's the time to look for your tent, especially if you are a beginner. But if you can't find this in off-season, I highly recommend you pay full price because this one is so worth it.
Source: bought it new
Price Paid: $109

Not too good of tents as poles break, shock cords snap and fly rips easliy.
Pros
Nice size— sleeps three Scouts with gear for weekend
Cons
Bad poles
Bad shock cords
Bad warranty
Bought 13 of these for Scout Troop. Before using sprayed each one with 3 cans of camp dry for water repellency. Inside and out. They have been used about 8-10 times in last two years on 2 week long camps and rest weekend camps but not abused. Have been in normal weather nothing hazardous.
Have had three poles break without cause, two shock cords in poles break without cause, and one rain fly ripped due to pole breaking. All poles have broken in same place., about 3-4 inches from the end.  All other poles do not return to straight shape after being in dome shape during setup after about 7 days.
Source: bought it new
Price Paid: $119 ea

Owned for 1 year, used monthly for camping with Boy Scouts.  Bought a Eureka because the boys' outfitter tents ($300+) were so well built...  This is more of a family tent.
Headroom - Awesome.  Space inside great for one, holds full size cot and a camp chair to be my little office, great for week long summer camp.  Two full size cots fits but then is cramped, only do this occasionally with camping with family.  When I sleep on the floor on a pad or hiking cot, feels huge.
Poles - worst fiberglass poles I have ever seen.  Don't know if they are overstressing them by how they bend over the top.  The poles don't look as if they were glassed all the way through.  They bend too much after awhile.  The small poles front and back did not survive a mild storm, but keep them, they are handy to use as splints when the main poles go.  
Both main poles have broken at the same place, just over the top of the arch.  Depending on how the pole breaks it rips through the fly, which IS NOT rip stop nylon.
Zippers are okay, have to move them carefully so they don't jam.  One unzipped itself before the zipper, so occasionally I have to force the zipper backwards to fix it.  Wish it had the same oversized zippers the Scouts A frames do.  
Troubles aside, have not seen anything better that meets my requirements for one person setup and not TOO heavy.  Getting some replacement pole sections for the main poles, will probably add Rip Stop nylon panels where the fly is duct taped.
Price Paid: $125

It's ok, but i wouldn't buy another one. As first time campers, we appreciated the space and ease of set-up. But the poles are garbage.
After the first use, I had to replace both canopy poles and one of the main poles. During a windy rainstorm, we got wet because of a poor design. I now realize a full-size fly is best. In the end, you get what you pay for.
Design: three-season freestanding dome
Sleeps: 4
Ease of Setup: pretty easy for two people.
Weight: 11 lbs.
Price Paid: $125

I purchased this tent for family camping with my kids. I have several tents, but needed one large enough for all of us. This tent was roomy and suited us well. Make sure you seal the seams well. It kept us dry during an 11 hour thunderstorm, but was a little hot with the door closed.
Design: three-season free standing dome
Sleeps: 4
Ease of Setup: easy
Weight: 14lbs

After my surprisingly, long lasting, non-leaking no brand tent finally gave up I went shopping for a car camping tent I can set up myself. I ended up with this one after reading some reviews of Eureka tents and talking to a friend who worked in a sports store, who recommended the brand.
The tent has been great. We have had some floor leaks, but I'm lazy and haven't sealed the seams. It's been through a high wind thunderstorm (damp floor, no wall or window leaks, stayed put) and several beach camping trips (including steady winds that pushed it almost flat to the ground, nothing broke or ripped). I can put it up myself (I'm 5'3"), which is really nice. We can fit 2 adults, a double sized air mattress and a long weekend's worth of gear inside. I picked up the proper size groundcloth and 12" metal stakes to replace the ones it came it.
On the downside, it can get hot inside if you have it zipped up, and when you're using the gear loft you lose a bit of height.
Also, I picked up a last-year's model, so the price was great for this kind of tent. If I was going to get another car camping tent I'd probably go for the 1210 for the extra room.
Design: 3 season
Sleeps: 5
Ease of Setup: very easy, one person
Weight: 9lbs.
Price Paid: $100

We are very impressed with this tent, having put it thru its paces now for five years. This is a quality built and reliable workhorse car camping dome tent you can expect to last a lifetime.
We consider it very roomy for two adults, their gear, and plus a child. Obviously no 9' X 9' tent is practical as a "5 person" tent.
This tent sets up easily, within 5 minutes when my wife and I team up on it. Do note this tent thankfully does NOT have the long sleeves (pain to feed dome poles thru). It only has the one hooking loop at its peak, plus the clips. This tent is stable. Good quality construction, for example, door zippers that don't bind and open up with an easy swipe of arm...and the zippers keep on working year after year!
While we got this on sale five years ago for about $50, it looks like the best pricing now is about $90, including the $10 rebate.
Summary: STRONG RECOMMEND as a sturdy quality-built car camping dome tent.
Design: 3-season quality built freestanding dome
Sleeps: 3
Ease of Setup: VERY EASY SETUP
Weight: 11 lbs
Price Paid: $50 (5 yrs ago)

Used this tent for 4 days in Yellowstone (Sept). Tent was roomy, easy to set up. Liked the inside storage pouches and loops for hanging up small LED lights. Had one night of strong rain...no major leaks. Noted that there was a little dripping from roof where tent poles touched the seam. (Would reinforce seams with silcon spray).
Temps at night got down to 35-38 degrees and cold air would flow down from the tarp covered windows. Note that two window panels zip close and the other two are covered via the outside tarp cloth (they do not zip close)so it got chilly inside the tent. This is a 3 season tent provided that all three seasons stay above 40 degrees.
Great tent for "car" camping. Poles are too heavy (IMO) for backpacking.

Design: three season freestanding dome
Sleeps: 5
Ease of Setup: easy..two fiber glass shock cord poles
Price Paid: $100

I've had this tent since 2007 and used it plenty of times through many conditions during those years. Overall, one of the better tents I have owned.
Can be set up in less than 5 minutes, staked and rainfly included. I've had very little leakage that only happened during a pretty torrential rain. 
The only repairs I have made were to sew the loop back on the very top of the tent and replace one segment of pole this entire time. 
Source: bought it new
Price Paid: I don't recall.

Strongly do not recommend as all poles break. Have replaced a couple of times. The tent should have been recalled.
Cons
All poles repeatedly break
Tent should have been recalled. After first use in Scout Jamboree poles broke. Thought maybe I just got a bad batch. Have replaced and they have broken. Do not buy.
Source: bought it new
Price Paid: $150

I've used this for years and I love it, mainly because it's spacious and very easy to use.
Just received the tent from Campmor and am sending it back ASAP. They agreed to pay shipping. Thanks, Campmor for great service.
As soon as I pulled it out to look at it I took out the tent poles. The shock cords for the tent fly are too tight and one of them is frayed to the point it is being held together by about two threads. I know it will not last through the first use. I will be using my 15-year-old tent from KMart till I find another brand. What a dissapointment! I thought the brand meant something but it doesn't mean quality.
Price Paid: $129.95

This is a very good family tent. Mine doesn't leak, it's quick and easy to assemble and it's durable.
If there is any problem with this tent at all, it's that it wouldn't fit 4 people very comfortably, however it does fit 3 nicely.
Price Paid: $150

One of the poles broke on the second time I used it! The wind was light and this tent is a piece of junk...don't buy Eureka products.
Design: standard two-arch dome
Ease of Setup: fine
Weight: normal for a tent this size
Price Paid: $110

Your Review
Where to Buy
Help support this site by making your next gear purchase through one of the links above. Click a link, buy what you need, and the seller will contribute a portion of the purchase price to support Trailspace's independent gear reviews.
You May Like
Specs
Price
MSRP: $159.99
Historic Range: $75.00-$149.90
Reviewers Paid: $50.00-$150.00