Eureka! Zeus 2 Classic

The Zeus 2 Classic has been discontinued. If you're looking for something new, check out the best three-season tents for 2022.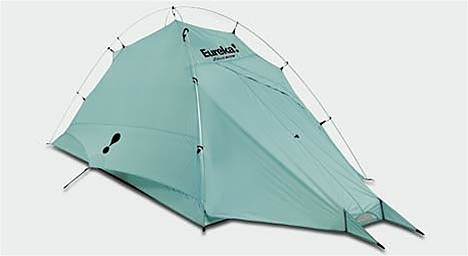 Specs
Price
Historic Range: $129.97-$209.95
Reviewers Paid: $60.00-$189.00

Reviews
7

reviews

5-star:

1

4-star:

2

3-star:

3

2-star:

0

1-star:

1
One of the aluminum poles broke. Strong wind while sleeping inside.
Pros
Shape
Size
Look
Setup
Entry vestibule
Cons
Pole strength
Zipper cover on vestibule
Could be lighter
I bought this tent used. I examined everything for any damage or stress. I found one corner inside where the seam cover had come up slightly. I did patch this with brush-on silicone, although it may not have been necessary.
The second night of a four-night trip one of the poles broke in the middle of the night. The tent was erect as I was sleeping inside. The wind had picked up during the night and this is the only possible explanation for the breakage. I definitely was not expecting it to happen.
Other than that I really liked the tent. We had fair weather out on the Olympic Peninsula of Washington state. I like the easy setup and neat look. Seems light at five pounds and packs down well. Very big inside, could fit three people, but is better with two comfortably with space for gear.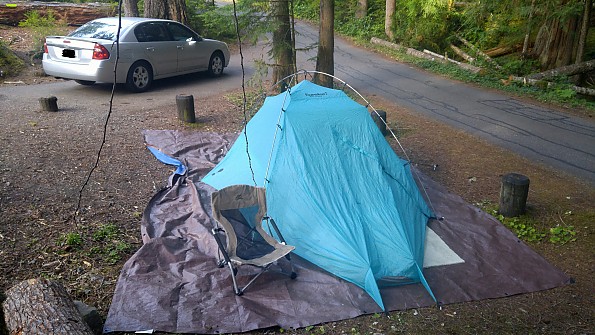 Source: bought it used
Price Paid: $60

Just returned from a very wet weekend of hiking in northern Arkansas. Fortunately found a barn to stay in at night because the vestibule zipper is FUBARed. The tent material got caught up in the zipper head and then split...and I was inside with the dog. Also, without a cover fly, the tent like to form condensation inside below 55 deg. but dries quickly at daybreak.

With that said, I've been a loyal Eureka fanatic and have loved their products in the past without warranty. I'm curious to see if they'll honor their lifetime warranty...free from material defects. If not, I'll surely switch to a Kelty or MSR or some other name brand with good reviews.
Pros
Extremely light-weight
Plenty of room without large footprint
Has a vestibule
Very small package - 4.5 x 14 I'm guessing
Really durable
2 small gear packets inside and five gear tie-offs (can't remember what they're called) in the ceiling
Cons
Zipper design, especially at the vestibule, may need to be reworked...be careful when using it may need to make a fly in 2 of 3 seasons
Requirement: Ultra-light 2-person, 3-season tent, with small pack dimensions.
Enter: Eureka Zeus Classic 2
 ...with some setbacks
If Johnson's doesn't warranty/repair it, I'll probably sew-in some velcro and go with it.
Source: bought it used
Price Paid: $109

The Zeus 2 is my first lightweight backpacking tent. Up to now i have used my 30 year old Helsport tent but retired it this spring.
I have used the Zeus in the woods and up in the Norwegian mountains far above the treeline. The weather can be quite nasty up in them mountains even in the summer time, but this little tent will stand its ground. It is very sturdy and you feel kind of safe in it even when the wind get really bad.So far it has been waterproof too.
Setup is quicker than any other tent i have tried, takedown and stuffing it in its sack take about 2min. It looks small from the outside but is surprisingly roomy once you get inside it.
Condensation has never been a problem, not even in the woods where the wind lose its power. Put the vestibule up against the wind (draft) and stake the vents all out and you will be fine.
Compared to other tents i have carried this one weighs next to nothing, about 1.8kg and take up little space in your pack. The only thing i miss in this tent is a larger vestibule,but i guess you cant have it all.
I am buying another one just like it in a few days to keep as a backup just in case. For the price it's hard to beat this one.
Design: three and a half season tent
Sleeps: 2
Ease of Setup: foolproof
Weight: 1,8 kg

I purchased this tent to do backpacking with my son. He's 5 years old and I'm a 6 ft.
First the good features. This tent fits us very well for it's size. The tent is relatively light for a two person, but when I weighed it on my digital scale, it wasn't 3 lbs 14 oz as stated on the box, but 4 lbs 3 oz minimum weight (no bags or stakes). When the stakes and bags are added (which I feel are a necessity for this tent, the tent weight went to 4 lbs 8 oz. It's still quite light though.
Another good point is the strength / stability. This tent went through a night of 50 mph winds and I had no worries at all. It's very sturdy. One last good point, being a single wall tent it's very quick and easy to setup.
Now for the bad and why I give it a 1 rating. The tent doesn't vent well. I took the tent to the Sierras at 12800 ft in the summer (one of the 3 seasons it recommended for) and the weather dropped to about 15 degrees one night. I vented the tent as instructed with all stakes. I woke up to a frozen solid tent and only on the inside (the average person breathes and sweats about a pint of moisture a night). The outside was completely dry.
This creates many problems especially when the sun comes out and melts all the ice. In warm nights you have to leave the vestibule completely open or you'll really sweat. Also if you get caught in a freak snow storm which I did, quite a bit of snow blew inside under the lower vents.
Another bad feature of this tent is the single door on the front, it's hard to get in and out and has two zippers, one for the side and one for the bottom. Many lightweight 2 person tents now have two doors.
Ultimately, the reasons I gave the tent a 1 rating is simply because of the poor venting which is critical for camping unless you like being wet, and because I had to much rain and snow come in during freak storms.

Design: Three season tent
Sleeps: 2
Ease of Setup: Very easy
Weight: About 4 lbs 8 oz with necessary stakes
Price Paid: $189

I've used this tent in the ADKs on several occasions and have comfortably fit two people in there each time. The tent does have a slight condensation problem on the walls, but I stayed dry every time I used it. For the weight, the ease to assemble, and the price, it can't be beat.
Sleeps: 2
Ease of Setup: Easy
Weight: 2.5 lbs or so.
Price Paid: $100

Tent has a quality construction, extremely easy to pitch. Downside is that it's very small, to me it's only a 1 man tent (which is fine if that's what you need or if you're a dwarf). Tent does have condensation problems, probably due to not having a rain fly which requires a less breathable tent material. Zipper easily becomes entangled as well if one isn't careful when zipping / unzipping.
Sleeps: 1
Ease of Setup: EASY
Weight: LIGHT maybe 3 lbs?
Price Paid: $99

Lightweight, fast and easy to set-up, very useful vestibule (hope to had a bigger vestibule) yet vulnerable to condensation. You need to have a sponge to collect water inside this tent due to condensation when you wake up.
Design: three-season free standing exo skeleton
Sleeps: 2
Ease of Setup: FAst and easy to set up
Weight: 1.8 kg
Price Paid: $148

You May Like
Recently on Trailspace