Eureka! Zeus 2EXO

The Zeus 2EXO has been discontinued. If you're looking for something new, check out the best three-season tents for 2022.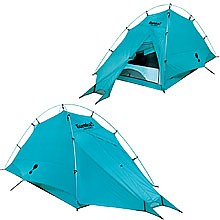 Specs
Price
Historic Range: $118.96-$149.95
Reviewers Paid: $80.00-$150.00

Reviews
28

reviews

5-star:

4

4-star:

7

3-star:

7

2-star:

7

1-star:

3
A very good shelter
Cons
Sweats a tad at times, beats the sam hell out of a tarp
I have traveled the PCT from end to end three times using a Zeus 1.
I love this tent!!!!!!!!!!!!!!! It is easy to put up under any conditions and is light. I have spent time in this tent through really bad rain and wind storms.
I wish I could find a new one, but because of the butthead management of Eureka they no longer make them.
Will Smith, Dallas, Oregon
Source: bought it new
Price Paid: $129

Good tent. Needs a rain fly.
Pros
Lightweight
Easy to set up
Cons
Need to work around condensation issue
I used this tent several time in the mountains in CA and CO. It took me about five times to realize that if you sleep head-in vs head-by-the door, it vents your breath through the ceiling vent over your head—no condensation problem. 
That worked fine until last time camping in all night constant rain for the first time. I am not sure if it leaked or if the rain sealed the ventilation in the surface, but it was like sleeping in drizzling rain inside the tent.
I am getting a simple lightweight tarp to drop over the frame for rainy nights. It'll add 1/2 lb to my pack, but we'll see if it solves the issue. I'll pack it when the weather forecast looks like rain.
Source: bought it new
Price Paid: $125 or so

I bought this tent because it was free standing and light. My first experience with it was during a week long through hike of the Buffalo River National Forest.
I am for the most part pleased with the tent. I am able to set it up in under 2 minutes, when staked down it can handle heavy wind, and the tent seems to be well constructed. It advertises as a 2 person tent but with two people it is quite cramped. It is however a perfect size for one person who likes to keep their gear inside the tent.
My only gripe is the heavy condensation and the length of time it takes to dry out. Other than that I love it and would recommend it to others.

Design: three-season, freestanding, single wall
Sleeps: 2
Ease of Setup: Less than 2 minutes
Weight: 4lbs
Price Paid: $130

This tent works great in any dry weather. When it's cold it keeps in heat well, and I like the the vestibule in the front.
It does have major problems. For example it is not a two man tent. I was camping in there with my buddy, and it was not big enough, our sleeping bags were on the edge of the tent.
The second problem would be condensation. I woke up during the night (there was just a small shower during the night) and accidentally tapped my arm against the side, and I got soaked.
However it is lightweight and packs up small, and set up is a breeze.
Design: single walled three season dome
Sleeps: 2
Ease of Setup: easy
Weight: 4lbs
Price Paid: $100

I am a Scoutmaster and camp 16 nights a year with this tent and I Love it! Tight as a drum in all seasons and no problem with ventilation. I highly recommend it.
Price Paid: $115

After I got this tent I started hearing all the trouble everyone else was having. But I decided I would give it a shot before I took it back. I never had a problem with it. Had it in 100+F and it did as expected. Took it out in -30 and did just fine. I had no condensation problems at all. I love it.
Sleeps: 2
Ease of Setup: Fast
Weight: 3lb 10oz
Price Paid: $150

I am five foot nine. I took it to New Zealand and Australia for 6 months hitchhiking around! Then to Asia for 3 months. Then back to the USA for a bicycle trip across the USA. Feb 28 to May 9th, 2003. During that time I rode across America and then back halfway across. Other than getting 3 hotel rooms the whole period I camped out the whole time. Best tent money could buy since the rain fly comes already on the tent. I love it and love to travel. Eureka, send me some stickers; I love your products.
Design: lovely freestanding
Sleeps: 2
Ease of Setup: it's so easy easy when everyone trys to please me
Weight: how the hell do i know
Price Paid: $80

Used TWO times and RETURNED it for a REFUND (Apollo 2 from Dick's Sporting Goods - EXTREMELY similar to the Zeus 2EXO. Only difference I could find was the Apollo 2 had clips rather than the caribiners that the 2EXO had).
SUPER fast to set up, very small and lightweight. Durable material and very simple design. Kept the rain out very well in heavy rain except when I actually got in my tent and rain dripped in through the vestibule area and onto my sleeping bag.
My ONLY COMPLAINT AND THE REASON I RETURNED IT after only two trips is the condensation and lack of ventilation!
Trip 1 was in dry weather dropping down to approx 28-30 degrees with my girlfriend and I waking up to drops of condensation hitting us in the head. It was literally raining on us in the morning inside the tent. I thought this was because I hadn't set the side flaps out wide enough. I used a more natural slope of the tent rather than stretching it out wide.
Trip 2 was in the rain, overnight low of 36 degrees. The tent did VERY well and set up in less than 3 mins stakes in and all because of the simplistic design and lack of a rain fly. This time I set the side stakes out VERY WIDE in hopes of better venting. However, I was AGAIN dissapointed in the condensation issue the next morning after the rain had passed and there was a fair amount of water collection in the same spots as before dripping.
On the plus side, in direct light the tent dries VERY quickly! haha
I returned the tent today and am looking at a Pinnacle Pass 2XTA.
Design: 3-Season Exo Frame with Clips. No rainfly, attached permanent vestibule area.
Sleeps: 2
Ease of Setup: Amazingly quick and easy
Weight: Very realistic 5.25 LBS
Price Paid: $100

In dry, cool climates, this tent works well. Packs small and light and is very easy to set up.
In colder weather, the condensation is a HUGE problem. In warmer weather, the interior gets stuff. I believe the core issue is a ventilation problem. Even with the side vents (located low on the long sides) staked out, I can't enough air in or out of the tent.
The only way that I've been able to reduce the condensation is to leave the front vestibule pulled open, which exposes the front door (mostly see-thru mesh), which generally vents enough so that only minimal condensation forms at night. This does make for an occasionally breezy night, which is why I feel this tent only works in drier, cooler climates.
Personally, I'd recommend NOT purchasing this tent -- there are simply too many choices out there for a 4 pound tent that would be less frustrating to use.
Design: "2"- Season Freestanding
Ease of Setup: Fast and simple
Weight: ~4 lbs
Price Paid: $125

I always have a huge condensation problem when I sleep in it, even alone. My girlfriend has stayed in it alone and she had no problems. It depends on the person.
It does dry out fast though. Setup is amazingly easy and quick but I prefer my hammock over my tent.
Price Paid: $140

I bought this tent to use as I backpacked through Europe in May 2004. This tent has been fantastic. It has been through some torrential downpours without leaking a drop. Setup is extremely easy and fast, even in the dark.
Condensation inside the tent is not a major issue and while on some nights where the temperature change has been extreme, there may be a bit of condensation present, it certainly is not major.
For a tent that weighs less than four pounds, it is absolutely fantastic. I will use it on my next Euro-trip in 2005!
Design: three-season freestanding dome
Sleeps: 2
Ease of Setup: VERY easy set-up
Weight: >4 pounds
Price Paid: $100 US

If you're a serious backpacker DO NOT BUY THIS TENT! Three of my friends and I took two of these tents packing on Isle Royale for eight days in August 2004. Absolutely no ventilation and the condensation was horrible. The weather was extreme opposites (90 and sunny to 35 and raining for three days) -- which is no problem since I've been camping in that type of weather all my life -- but this tent made it miserable instead of bearable. Thank God for good raingear and a fantastic sleeping bag that works when it is wet.
Design: three season freestanding
Sleeps: 2
Ease of Setup: moderately easy
Weight: less than 4 pounds
Price Paid: $140

While I really appreciate the light weight and packability of this tent (stuffs into a 7" x 14" sack), as well as the reasonable price, stout pitch, and couldn't-be-easier set up, several poor attributes prohibit me from relying on it.
For one, it does not have a true bucket floor and the floor seams are not taped. It leaks in heavy rain or when standing in a puddle, especially at the corners where the stakes are applying the most pressure to the seams. The size is perfectly adequate for two people up to 6', and the roof is high enough to allow sitting up in comfort.
The vestibule has a large enough floor area to keep two packs and pairs of boots dry, but it is not tall enough to let you stand the packs upright (they must lay flat). The zipper on the vestibule is guaranteed to snag the waterproof fabric flap every time, especially in the rain when you're trying your hardest to get in quickly. Opening the vetsibule will also let in much of the rain through the mesh door, although this is a common problem with any tent that omits a separate pole for the vestibule.
And then there's the condensation: quite simply, it's terrible. The large side vents would seem to bring fresh air in well enough, but this doesn't matter much when the top vent is all but closed off because the fabric sags over the mesh. When the fabric gets wet, it is completely closed off. I was using my toothbrush to prop it open during several days of non-stop rain on the (humid) East Coast.
The condensation builds up all over the inside walls to the point of beading up and dripping straight down onto you. This happened to me when it was dry out (although admittedly humid). When it started raining, the beating of the rain would knock off all of the condensation drops all over my tent-mate and I. So when it was raining outside, it was raining inside.
Overall, if you camp in a dry climate and don't mind carrying a rag to wipe down condensation every morning, you could probably live with the negative attributes of the tent and enjoy the positives (light weight, small stuff size, easy set-up, relatively strong structure, price).
If you backpack in humid weather or in frequent rain, you might want to consider a slightly heavier double-wall with lots of mesh in the canopy.
Design: Three-season single-wall freestanding
Sleeps: 2
Ease of Setup: Easiest setup I've ever seen
Weight: 4 pounds
Price Paid: $139

Read Megan's review regarding condensation. I've pretty much experienced that with almost any tent. I JUST bought mine, haven't slept in it yet but set it up in the lawn and high pressure blasted it with the garden hose (direct hit in the seams) to see if I needed to apply extra seam sealant - I did not have to.
Setting it up was a breeze!
As for condensation - I'll have to wait and see. Inner tent rain shower on a muggy night might be a welcome change as I can't sleep when it's hot and sticky anyways.
Another comment: setting a two wall tent (w/rain fly) up in pouring rain pretty much leaves the interior of the tent just as wet as a "condencing" wall tent by the time you clip the fly on.
Money was short this spring so this tent hopefully will get me by till fall when I'll purchase a Big Agnes 2-person two wall tent.
Design: Eureka 2exo
Sleeps: 2
Ease of Setup: too easy
Weight: 3.5 Lbs - ish
Price Paid: $139 minus employee discount

This tent is amazing. I'm a Boy Scout...go backpacking/camping 9-10 times/year.This tent compliments my Apex 3 Eureka, which I also love very much. When it comes down to it, I can never decide which tent to take. This tent is great on hikes, the only thing I might change about it, is it does let a lot of condensation in, but other than that it's fine...never had a problem. If you're a seasoned backpacker, buy it you wont be disappointed.
Sleeps: 2
Weight: 3 pounds 6 ounces
Price Paid: $130

My dad and I both bought this tent last year and took them backpacking for four days. It rained every afternoon and the last afternoon was one of the worst hail storms I've seen. My dad's Zeus ended up in a puddle about four inches deep in water and it didn't leak a drop. The hail beat my tent to death and after about three hours of really hard rain, it leaked a couple of drops through one of the gear loft attachment points. (I used the seam sealer and just missed a spot.) I have since applied sealer to that location and turned my sprinkler on it for an hour and it doesn't leak a bit.
Maybe I've just had cheap tents in the past but condensation is a problem in EVERY tent I've ever been in! When there was a slight breeze, this tent stayed dry as a bone inside. Even after a rain storm and all the evaporation from the wet ground and you breathing in this thing, the level of moisture on the walls is still tolerable.
My only complaint would be that the vestibule is a little hard to get set up right. If the ground is anything less than level, it doesn't seem to hang right.
Overall, great tent. Would highly recommend it.
Sleeps: 2
Ease of Setup: Very Simple
Weight: 4 lbs
Price Paid: $119

I consider myself open to new experiences, but BPing around Europe for four months with a tent that does less than squat is intolerable.
This tent has poor ventilation, poor anchoring, and does less than a large plastic garbage bag. Unless you want to go swimming every morning, don't buy this tent! The amount of condensation that gathers in the tent is ridiculous and any slight movement will send the water into a chaotic rain storm inside your tent (exactly what it says it prevents!!) Then my tent pole broke under slight pressure-- necessary to put it together-- and no repair kit is included. Plus, the seams leak like mad and let in little insects when they please-- even after sealing it with the included sealant!
Next time I'll just bring an umbrella instead.
Design: three season freestanding
Sleeps: 2
Ease of Setup: quick & easy
Weight: 2-3 pounds
Price Paid: $120

The tent is super light and easy to set up, there is no argument there. It also packs down pretty small. However, the tent has very POOR ventilation at best. Moisture condenses very easily inside the tent to almost ludicrous levels. If you hit the wall in the morning after a fog or rain, everyhting in your tent will get wet. Do not buy this tent unless you live in an arid climate and never plan on using it in the northeast or northwest.
Design: Free standing single wall
Sleeps: 2
Ease of Setup: super easy
Weight: 4 lbs +/- 2 oz
Price Paid: $145

I have used this tent twice on Boundary Waters trips and have been disappointed. Ventilation is terrible..... the inside of the tent is soaked every morning. Also, I had rain on my last trip and the tent leaked. I had to rig a tarp over the tent in the middle of the night during the rain. Poor marks for this tent.
Design: 3 season - single wall
Sleeps: 2
Ease of Setup: Easy
Weight: Great

This tent is very light, and very easy to set up. Billed as a 2-man tent, but functions really as a single man tent. If you are in a very dry climate, this tent will do fine, but if you are in a damp area, like the east coast or south, leave this tent at home. The condensation is considerable and in a heavy rain you get all the downsides of a single wall tent. For one person in relatively low humidity it's okay. For anything other than that, (i.e,. 2 people or a medium to high humidity area), I would stay away from this tent. I bought one, tried it a half dozen times, then put it on the shelf and bought an REI Half-Dome Plus 2 and I'll never, ever go back to the Zeus.
Design: three season free standing dome
Sleeps: 2
Ease of Setup: Very Easy
Weight: 4 lbs
Price Paid: $140

Version reviewed: snow
I purchased this tent for snow camping. On "kind" days it is a delightful tent with pleasant cosmetics.
The ceiling vent sags especially with snow load.
A small piece of 1/8"thick water resistant foam rolled into a cylinder (rubber band) and placed in the vent supports and breaths perfectly.
The vestibule sags terribly with snow load and of course the front vesti vent covers quickly.
The side vents are big and breath nicely.
The vesti is reasonable size for pack and boots with adequate room to come and go.
Yes, there is condensation. The roof vent must remain open and this small piece of rolled foam handles that.
The interior is spacious for one and pleasant to the eyes.
Housekeeping:
Seam seal the tub ! (The rest is done pretty well.)
Use a footprint underneath. I use 4 mil plastic tarp.
Zippers will catch in vesti flap on occasion. Zip slowly.
Tub side wall is non-existant. The tent material is light to medium strength but lightweight which includes the corner and vent tie downs. Doesn't hurt to be gentle.
This is a playful and easy 3 season tent which ties down on the corners and on each side wall using the vent flaps.
It is light and compacts to bread loaf size.
About that extra 1/2 season:
The corners and vesti tie downs get extra support from the side vent tie downs. I add a pole interect guy line secured to the same (deadman) securing the side vent tie downs line.
I'm sure this is adequate to 15-20 mph and 2 inch snow load.
Well, that about wraps it up.
But what about 20-40 mph and 6 inches which can come to visit ?
It is possible in my world to add 11 more ounces.
Like another pole which is adjustably tied at the end of each side vent ties and crosses through the caribiners just above the EUREKA! logo. The pole adds strength to the two cross poles as it pushes upward against them. Also this tightens the side walls and adds some strength to the whole structure. I've added pole intersect ties of shockcord to the caribiners and one each side wall shock cord ties to help support the walls in heavy snow load which can be tied lightly to the overhead guy line tie down.
I still am using the standard eight tie downs.
The vestibule will continue to sag in snow and flap miserably in wind until I create a cure.
With the third pole the tent is taught and strong but the back wall still pushes in due to snow weight buildup.
But, no leaks, no rips and reasonable condensation.
For extra ventilation I close the mesh vent door just halfway as I am always certain the front vesti vent will be covered in no time by snow or my pack, boots or anything stuffed in the vesti.
In the future I will probably reinforce the caribiner ties to the tent material. The center pole intersect caribiner tie is reinforce by Eureka very well. I'd like to use matching tent material. This cutie sure would be nice with a window in the vesti to watch that pretty snowfall next year !!!
Design: 3 1/2 season dome
Sleeps: 2
Ease of Setup: easy
Weight: 4 Lbs
Price Paid: $100

A friend bought this model this past winter and although only set it up in his backyard liked it. I had to have one based on his recommendation. I love this tent. A single wall, 2 pole design with vestibule. Sets up in less that 3 minutes. Venting is good although I did notice condensation inside the tent in the morning. Besides being very lightweight, it is sturdy and the 2 man looks like it sleeps 2 comfortably even though I will be rooming alone.
Seams are sealed but the floor isn't, great construction methods and bright under dark skies.
Design: single wall 2 - pole
Sleeps: 2
Ease of Setup: easiest I have ever seen
Weight: 3.3 lbs approx
Price Paid: $129.99

This might well be called a one-and-a-half-wall tent. First, there's the weight. The weight above is the real weight of the tent, stuff sacks, poles, and stakes, measured on my postal scale. As you can see, Eureka! exaggerated the light weight of the tent slightly, but no more so than any other manufacturer, and it's still the lightest free standing 2 man dome tent on the market. It's as light as many non-free-standing "hoop" type tents such as the SD Clip Flashlight, but much roomier and easier to set up (ridiculously easy to set up -- stake out the 4 corners, poke poles into their receptacles on the corners, clip carabiners to poles, stake out vestibule and flies, and you're done).
Secondly, the one and a half wall part. The downfall of single-wall tents is typically condensation getting you and your gear wet. The EXO series fights this by moving the condensation to above where you and your gear reside using selective mini-flys. I backpack in Arizona, which is a fairly dry state (heh), but it does get cold at night, and the last place I pitched the tent was in a protected location with no wind (that is, no ventilation). The front of the 2EXO is covered by the vestibule fly and does not condense (the condensation happens on the vestibule fly). The sides are covered by the pull-out vent flys to about 1 foot above the ground. I found that the sides do condense starting above the vent flys, but that's above me and my gear so it is acceptable (in Arizona). The foot of the tent has a small fly over the roof vent, but otherwise has no fly at all, but I've never had it condense -- I think the normal warm air rises physics directs the moisture to the top of the tent and the roof vent even when there's no wind (not to mention that your feet don't emit much water vapor!). For Arizona weather, the condensation is acceptable -- you and your gear are below the 1 foot mark and still remain dry, which is the point. It might not be acceptable if you're in the Northwest or the Southeast, which have much more humid weather. Someone in such a climate will have to tell you whether the EXO "rains" on you there, rather than the mild dew-like condensations that happen here in Arizona.
Regarding the seams, this tent is unusual amongst Eureka tents in that it requires all seams to be sealed. Most Eureka tents are pre-taped and only require selected portions of the seams to be sealed (typically the corners of the bathtub floors). Due to the side vents this tent also has a fairly short bathtub wall, unlike most Eureka tents that have a veritable bathtub. The bathtub floor also seems to be made of a lighter material than the typical Eureka tent. What this means is that a) if you don't seal the seams with the provided seam sealer, expect to get wet when it rains (like that other reviewer who obviously didn't seal his seams), and b) if you set up the tent in a depression, expect to need your swimming trunks when it rains. And c) if you don't use a ground sheet, expect to need your swimming trunks when it rains.
The 2EXO is rated for 2 people, and 2 people could fit into it, but they better be close friends. Someone taller than six feet may also have trouble, the foot of my bag is almost at the back wall when my head is at the zipper. It is downright palatial for one (not too tall) person though. The vestibule is also not big enough for two packs. I would rate this as more of a 1 1/2 person tent than a 2 person tent.
Do I recommend the 2EXO? With caveats -- the first caveat being that if you're in a wet climate, check reviews specific to your climate, because it does condense above the mini-flies on the sides, which is no problem in my climate (Arizona) but could possibly result in rainfall inside your tent in more humid climates. You also have to be more careful about where you pitch the tent than with the double-wall Eureka tents (which are pretty much bomb-proof), because rain can blow in the vents if you pitch it in an unprotected location, and the bathtub floor doesn't extend high enough to protect you if you pitch it in a depression. However, the tradeoffs for that are low weight and a lot of room compared to other tents of that weight. For the price, you can't get another tent with this combination of low weight and room. You can get lighter tents, but either by paying much more for basically hand-crafted sil-nylon (e.g. Wanderlust's Nomad Lite), or by giving up room and basically buying an overglorified hoop bivvy. I expect my 2EXO to remain a standard part of my stable until I can afford the much more expensive tent.
Design: three-season freestanding dome
Sleeps: 2
Ease of Setup: Very easy
Weight: 4lb 2oz
Price Paid: $134.96

Why are people so affraid of single wall? I've had the Zeus for 1 year. In that time I took it to Philmont, NM, and the Red River Gorge, Ky., and the Smokies and so on and so on. yea it got steamy at the Red but KY air has the habit of not moving, single wall or no, so it doesn't matter what kind of tent your in it's going to be a steam room. I just unziped the door in to the roomy vestibule. New Mexico I had wind and rain, with a friend and I in the tent and we stayed dry. I have yet to treat the tent even seam seal it.
This tent packs smaller than my 38 degree synthetic sleeping bag, quick setup, and equal if not less weight compared to msr and sierra designs tents that sleep 1. Why is this tent getting such little recognition? if you're thinking about buying it and got any questions E-mail me.
Design: three season freestanding dome
Sleeps: 2
Ease of Setup: there's breathing, then setting up the zeus
Weight: 3.5 lbs
Price Paid: cheap

Leaks like a sieve. First at gear loft attachments, then at tub seams. Found puddles in my boots stored in vestibule. Wind blew rain under and in low side vents. Too bad, it's light, easy to set up, packs small, just doesn't cut it for wet weather.
Design: single ply freestanding
Sleeps: 2
Ease of Setup: very easy
Weight: 3 10
Price Paid: $150

This tent is miraculously easy and super fast to set up, inexpensive and very light for a 2-person shelter WITH usable vestibule. It is about half the weight of my SD Meteor Light CD. There is room for 2 large guys without sleeping on top of each other. Pole sections are small and the whole thing packs up nicely.
That being said, I have had an issue with the tent from the beginning. There is one roof vent that, with a little bit of condensation seals itself when the hood over the screen touch. This cuts off the most crucial vent, in my opinion. There does not seem to be enough room between the two layers. This leads to massive condensation problems with two people and some minor ones with just one. I emailed Eureka! to determine if it is inherant to the design or a manufacturing defect on mine. I have yet to hear back. In the wet spring it could be a mess; now it is merely a bother. Over all a very good tent if I can find a remedy to the roof vent problem.
Design: 2 pole freestanding
Sleeps: 2
Ease of Setup: Idiot-proof
Weight: 3 lbs, 10 oz
Price Paid: $139.99

The overall design of the Zeus EXO 2 by Eureka! is outstanding. It is labeled as a two-person tent, but is better used as a roomy one-person tent. Setup is a snap, literally. The carribeaner clips snap right on to the feather-light poles for quick and effective design. It weighs in at about 3.5 lbs. Thanks mainly to not needing a rainfly. I've found that the condensation issue is nothing if you set it up into the wind so the "hi-low" venting works properly. I'm primarily a desert camper, and out here humidity is scarce. If you try it in a humid environment, there may be more condensation. Using the gearloft makes for exceptional storage. Weight to space ratio is very good as well. If you're looking for a strong tent that has as much room as your two-man dome tent, but half the weight? This tent's for you.
Design: Freestanding exoskeliton
Sleeps: 1
Ease of Setup: super easy carribeaner clips
Weight: 3.5 lbs
Price Paid: $100 on sale at Popular (reg $140)

This two-man, single wall tent is a great value/weight combination for a two-man backpacking tent. I took this tent up to the Sierras on a wet, rainy weekend. The condensation on the inside of the tent is manageable for a single wall tent. I don't think I had that much more condensation from most of the other tents used in the group (all of which were double walled). In dry weather this tent would be perfect for those looking to cut weight out of their packs. It packs up to a size of a small loaf of bread. For a weekend backpacker, this is a great tent, for something longer term in rough weather, I would look at getting a double wall tent.
Design: Freestanding
Sleeps: 2
Ease of Setup: Easy
Weight: 3lbs 10oz
Price Paid: $139

You May Like
Recently on Trailspace