ExOfficio Give-N-Go Boxer Brief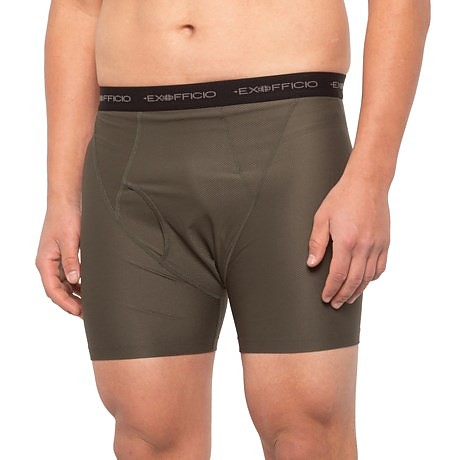 These might replace every pair of underwear you own. Okay, maybe not at $25 a pair, but they are comfortable, lightweight, incredibly fast at wicking away moisture and quick drying. Yep, they are that good.
Pros
Comfortable, does not ride up
Unbelievably fast drying
Wicks away moisture flawlessly
Anti-microbial treatment keeps stench away
Cons
Waistband stretches out over time
Every time I look for them online, I have to look at the midsection of an incredibly toned and tanned young man. Well, I guess that would be a pro for some.
When I purchased my first pair of these in 2009, I would have said $25 is rather expensive for a pair of underwear and would have listed that as a con. Today, as I see other performance underwear being sold for $30-$50, I realize that $25 is reasonable and well worth the investment. If you're a briefs kind-of-guy, they are slightly cheaper ($20). 
USE:
I first bought them because I was bike commuting 8 miles each day in the summer heat and preferred to be dry upon arriving to work. Since then, I have purchased a few more pairs (three in all) and have used for multi-day and day hikes, fishing, hunting, swimming, and just everyday use. 
THE TEST:
These underwear really proved their worth to me when I visited the tropical rainforest island of Samoa for a two-week study trip. While my peers were packing 50-70L packs, I gambled and packed only a 22L daypack. I was determined to put these underwear (and all my other clothes) to the test. I brought along only two pairs for two weeks. With high humidity, temps constantly above 90°F and daily rain, clothes tend to become sticky and stinky pretty quickly. These underwear were the exception.
While hiking lava fields and rainforests in the sweltering heat and humidity, my "downstairs" remained cool and comfortable. The underwear wicked away moisture as fast as I was sweating it out. (And it is worth mentioning here that I am a heavy sweater and despise the summer because of it.)
Overtop the underwear, I would typically wear a lightweight Samoan lava-lava, which is traditional attire for both Samoan men and women and visitors like me who are trying to learn something about fa'a Samoa (the Samoan way).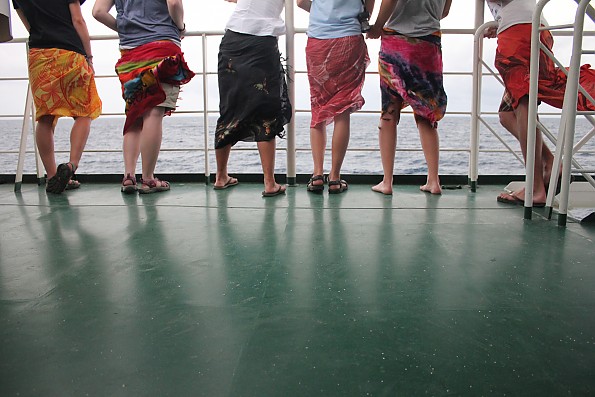 Lava-lavas are traditional Samoan attire. Although they are airy and lightweight, sweating is still inevitable. The ExOfficio Give-n-Go boxer briefs did a great job wicking away any moisture in this humid climate. 

While wearing one pair, I would rinse the other out either in the a nearby freshwater pool or in a sink, dabbing it with some camp soap. They would dry, even in the humidity, within a couple hours maximum, and much faster if there happened to be a nice breeze. They are treated with an anti-microbial forcefield (aka Aegis Microbe Shield), which seems to work well. Never did I catch a whiff of foul odor. Never. There were even days that I didn't have access to freshwater, so I would hop in the ocean and consider that my wash for the day. (Sorry if that grosses you out. You do what you gotta do.)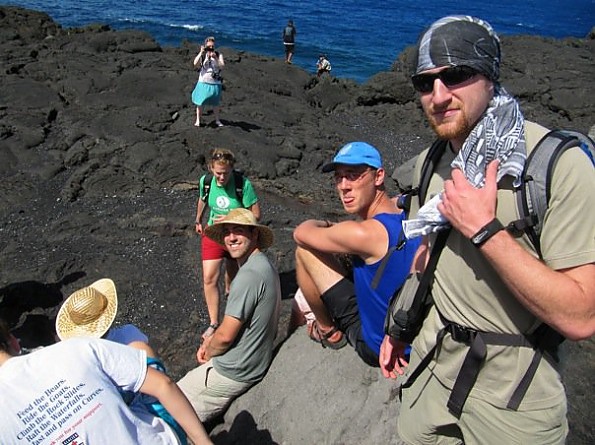 The heat radiating from the ground while hiking on lava fields is excruciating. My ExOfficio boxer briefs did their job well at keeping me cool. I'm in the foreground with a lava-lava wrapped around my head due to a lost hat.  
These two weeks in the tropics were the toughest test I've put my underwear through and they passed with flying colors. I've now done this trip a total of three times (six weeks total) and I've never had any issues with my underwear. I can't say the same for other clothes I brought along. But you don't have to hike the rainforest or lava fields in order to enjoy a pair of these lightweight underwear. They are comfortable day in and day out.

OTHER FEATURES:
Two more quick things to point out...
As a longtime boxer brief guy, the 5.5" inseam is perfect for me. Ex Officio has come out with a new line called Give-and-Go Sport, which come in 6" and 9" inseams. No thank you.
Although lightweight, these do provide very good support. It's the perfect balance between support and not cramming it all together.

DRAWBACKS:
The only drawback I've encountered with these underwear is that the waistband tends to stretch out over time. So far, this has not affected their function, but I fear the waist band will continue to stretch and get to a point of not being tight around my waist any longer.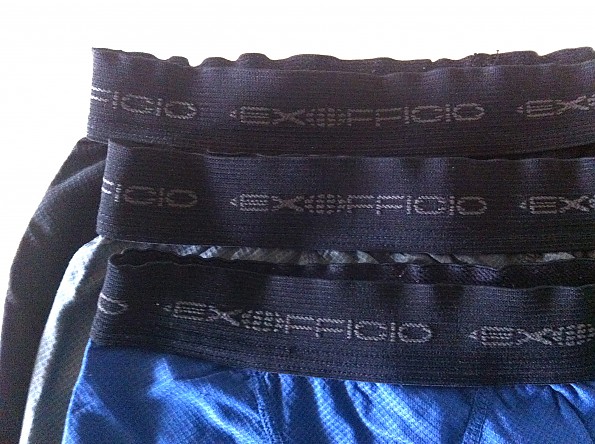 The waistband on all three pairs I own have stretched out, even though my waist size is on the smaller end of the size I wear. They still function well regardless of the stretched out waistband. 

CONCLUSION:
If you can't quite convince yourself (or your significant other) to spend $25 on a pair of underwear, ask yourself this question: What is more important than protecting and comforting my important parts? In my opinion, spending more on socks and underwear is almost always a good investment and in this case, a very good one. 
Source: bought it new
Price Paid: $25 USD

Sorry folks, no pictures on this one; now for the rest of the story. Great material, outstanding support and comfort, and lasts for days on the trail with minimal care. Recommended for daily wear and any trip were you may only get to wash them out in a creek every couple of days.
Pros
Comfortable material
Breathes well and transfers moisture
Not as tight as athletic nylon underwear
Helps stop chaffing
Durable
Cons
Expensive (but good investment)
Legs tend to ride up over the miles
I'm not the commando type, so I have to choose between lined shorts/pants or unlined ones with synthetic underwear. The mediums fit me well without being uncomfortably tight or restrictive like athletic spandex. The inner waistband has a fleecy material that adds to the comfort, with the balance of the material being a stretchy 94% nylon 6% spandex mix that does not pinch at the leg opening like bike shorts tend to do. I'm happy with the "support" and the fly works as intended. 
Moisture is wicked away on all but the hottest, most humid days. On those days I typically switch to mesh lined shorts anyway. Care is pretty easy, wash them out at the end of the day with some camp suds and they will dry overnight. They will go for weeks this way. Just airing them out at the end of the day will get you several days. Constant wear is limited to a couple of days. The material and seams have proven durable 
Overall very happy with them. I didn't pay full price for mine, and you can often find them on sale through all the usual locations. Even at full price, they are a good investment, just like any good gear. 
Source: bought it new
Price Paid: $19

Best underwear ever. Period.
Cons
Expensive
Runs large
Not as supportive as some
I kept reading reviews about these and finally pulled the trigger on a pair from REI. Great move on my part, now I have replaced ALL of my boxer briefs with these. I wear them every day, at work, on the trail, at the gym they are my all purpose go to "draws". 
These wick like crazy and stay dry even during strenuous workouts or long hikes. My only gripe and its a relatively minor one, they could offer a little more support than what they do (mostly important for running or bounding). They do run a little large so if in doubt order the next smaller size. I wear size large in almost every brand I've worn as an adult and in these Im a very comfortable medium. 
Perhaps the best thing about these is how quickly they dry out if you are in need of a quick laundry turnover. You literally could pack one or two pairs of these on a long trip, wash them in the sink at night, hang them up to dry and you have clean shorts the next morning and good to go again!
Source: bought it new
Price Paid: $26

Had two pairs of these on my thru-hike of the Appalachian Trail in 2012. Sexy.
Pros
Durable
Extremely comfortable
Odor controlling
Kept the boys in place
I'll keep this particular review brief (see what I did there? haha!) because I don't want to get too in-depth with my unmentionables, but they are definitely worth reviewing. I carried two pairs of these for my trip.
Now they are a bit on the pricey side, retailing at around $30 a pair, but trust me… when you've got an item as essential as underwear, don't go cheap. These were extremely popular for other dude hikers (you get to become very good friends with other hikers). They just feel so good.
No problems with them deteriorating, and not even really any odor problems. The only time I had a chafing issue was one day as I hiked a stupid amount of miles in a driving rain, but that was all my fault. Otherwise, it protected me extremely well.
The material is amazing. If this material existed in the days of the pharaohs, they would've requested to be entombed in them. Getcha some.
Source: bought it new
Price Paid: $30

6-star underwear!
Pros
High quality
Very comfortable
No chafing!
Would give six stars if I could. Have owned two pairs for about five years now. Initially purchased for treks to avoid the dreaded chafing. They are now used for any athletic venture.
Quality: Two pair that have lasted five years, that alone is impressive. Material is kind on the skin, stretches well, but stays on the body.  
Comfort: Have worn on 15-mile hikes, lots of sweating and ZERO chafing. They wick moisture amazingly and keep their form after a long day.
Breathable: No feeling of constriction or overheating, breathe great!
Additional Notes:
Quick drying. Have washed in lakes or worn under bathing suits for many years. Dry extremely fast.  
Convinced several people to purchase them, even those who aren't backpackers. Never heard a bad thing. Loved by all.
Excellent product!
Source: bought it new
Price Paid: $20

Fastest drying underwear that I have ever had. Makes for the perfect travel and camping underwear.
Pros
Dry super fast
Very comfortable
Do not retain unpleasant odors
Mimic your movement with no binding or riding up
Cons
Waistband does give our eventually
When I first bought a pair, I thought that they were very pricey. Now on my sixth pair and I feel that they are well worth the money.
I have hand-washed these boxer briefs in streams, sinks and in the shower. If I wash them in the morning and hang dry, they are dry by the afternoon/evening. Two pair, is all you need for your adventures.
Source: bought it new
Price Paid: $28

Astonishingly good.
Pros
Durable
Excellent wicking
Higher waistband
Dry quickly
I have a couple pairs of these I wear when traveling or hiking. They really are astonishingly good, despite the cost. 
A couple positive points I don't see mentioned about them: First, the waistband is a little higher than normal, which is really nice since it then rides above the waistband on my shorts or pants instead of chafing underneath. 
Second, it wicks the moisture away so fast that there is a cooling feeling that takes a little getting used to. 
Source: bought it new
Price Paid: $20

Only boxer briefs to wear while being active.
Pros
Comfy
Keeps shape
Dries fast
Best underwear for the outdoors! I wear them hiking, camping, and under my board shorts. They dry fast and even after a few days in Yosemite they kept their shape and didn't stink.
Source: bought it new
Price Paid: $26

The fabric makes the genitals sweat and smell.
The fabric seems okay, but the genitals sweat and now smell. 
Source: received it as a personal gift

Your Review
Where to Buy
Help support this site by making your next gear purchase through one of the links above. Click a link, buy what you need, and the seller will contribute a portion of the purchase price to support Trailspace's independent gear reviews.
You May Like
Specs
Price
Current Retail: $16.99-$29.95
Historic Range: $10.00-$30.00
Reviewers Paid: $19.00-$30.00