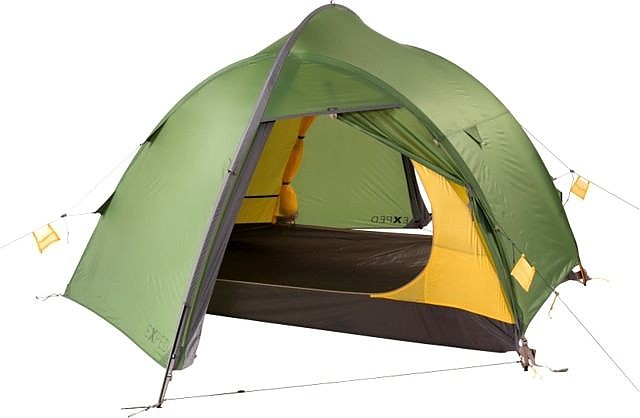 Specs
Price
Historic Range: $389.40-$649.00
Reviewers Paid: $490.00-$539.00

Capacity
2 adults

Weight
6.8 lb / 3.1 kg (Minimum), 5.5 lb / 2.5 kg (LightPackers), 4.7 lb / 2.15 (UltraLight Packers), 8.2 lb / 3.7 kg (Packaged)

Area
29 sq ft / 2.7 sq m (Floor), 25 sq ft / 2.3 sq m (Vestibule)

Setup time
4 Minutes

Reviews
3

reviews

5-star:

1

4-star:

0

3-star:

2

2-star:

0

1-star:

0
Not a 4-season tent! Excellent spring/autumn tent. Too hot in summer, too unstable in winter.
Pros
Height
Two vestibules
Sheds rain and snow well
Cons
Ventilation
Outer does not reach the ground
Does not handle strong wind well
No extra pole segment
dDifficult to set up with mittens on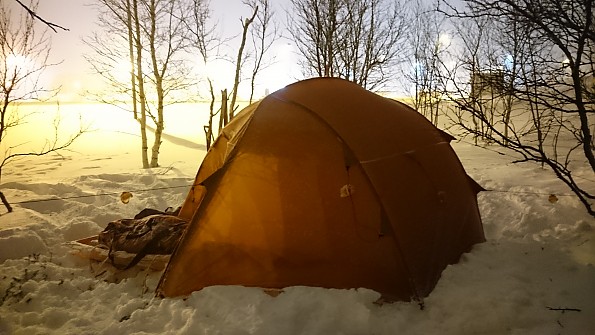 Setup: It's a really easy setup. The last pole might snag a little on the other two, but easily fixed. But I haven't found a way to stake it down before putting in the poles yet, so you have to hold on tight when setting up in windy conditions. Can be a bit difficult to stake out the vestibules tight enough, but in nice weather you don't need any stakes. 
Stability: It's very stable in moderate wind, and it sheds snow easily due to the steep walls. It does need all guylines in windy conditions, and even then it might not stand up straight. I've had one pole break, and have replaced 8 different pole segments due to seriously misshaping in strong wind - the tent collapses... 
Weather resistance: Well... you know my opinion on wind by now... I've never been wet in this tent. the seams leaked a bit the first rainy night, as with all new tents sewn with cotton thread - nothing to be concerned about, the tent have been completely waterproof since then.
The fly doesn't go all the way down to the ground - makes for good ventilation in summer, or a good way for the snow to get in in winter. The snow packs up really high between the walls, and adds a lovely insulating layer when it's cold outside.
Ventilation: I've never experienced any condensation in this tent - probably because it's impossible to keep the wind out. The vents are a little small in summer. If they'd used about 5cm more zipper on the doors, the ventilation would have been excellent. As it stands, it's good enough — just not perfect.
Room and Storage: Excellent! The interior is a bit narrow, but the two vestibules makes it more than big enough for two people. There's enough room for full winter gear in each vestibule, and still ample room for cooking. And the other person can keep all their crap on their side. I've spent a few days in this tent waiting for better weather, and I've never felt it too small. When camping alone, I only use one vestibule, I don't need the other one.
Packability: Ditch the useless bag it comes in, and get a compression sack; that will help a lot. The pole/peg bag is however very good — zippered compartments and clear labels. All other manufacturers could learn from this!
Ease of Use: This tent is full of little well thought out details that make it very easy to use — in summer! In winter, with big gloves or mittens on, you have to be a very very very patient person if you feel like fiddling with any of the tiny tiny features. 
Construction and Durability: The quality is excellent: stitching, fabrics, details all work very well, and show practically no signs of wear after 4 years. The poles, however, are not good enough for a 4-season tent of this contruction.
Conditions: I've used this tent for 4 years now, all year round in Finnmark, Norway. It has stood up to some pretty harsh arctic winter weather, unfortunately it's the times where it doesn't stand up I remember...
Would recommend this as a three-season tent. Not great for winter use. But, if you only have one tent, and only occasionally go winter camping in good weather, this is an excellent option. Considering what I paid for it, this tent has given me a lot for my money — and will continue to do so for many many years to come.
Source: bought it new
Price Paid: 3000 NOK on sale (50% off)

A true freestanding, 4-season tent with exoskeleton and tons of vestibule storage.
Pros
Freestanding
Exoskeleton - interior stays dry setting in rain
Mirror image doors/vestibules
and sold me on this tent which I have owned for a year and a half.
It resides on my motorcycle while travelling around North America.
Setup: as fast as you can imagine — usually around 2 minutes with a little practice. I have only ever guyed it once in Southern California with high winds. I've never used a peg in it. Three poles all color coded and numbered makes it a no brainer. The inner tent remains attached to the fly so it always stays dry.
Stability — truly freestanding and pegs would make not difference to the tautness os the tent. Tested many times over in high winds. It was born in Switzerland.
I've been in many thunderstorms including Oklahoma in tornado alley and never a drop of moisture inside. The ventilation is superb with the 2 huge doors featuring mesh outer and fabric inner panels. Great cross ventilation even in humid, low wind areas. The bathtub floor keeps potential flooding out.
Headroom is phenomenal even with the included attic. There is huge vestibule storage at 23 sq ft - split equally between both sides so 2 people have their own personal storage space. There are storage nets on all four corners. Sometimes I forget which end of the tent I'm using for the entrance... 
I like the way Exped has their packing system. The pole bag is divided into 3 separate areas for poles, pegs and extra lines. The tent bag opens from the bottom allowing the tent to drop in rather than fighting to slide the tent in and out. Well thought out as the rest of the tent.
So far I have used this tent over 30 nights all over North America in wind, rain, fog, heat and cold. It's met all my expectations and looks like new to this day.
I can't wait to get this home into the snow and get its full potential out.
Source: bought it new
Price Paid: $539

A 4-season tent that leans more toward summer.
Pros
Good 4-season summer leaning tent
Large vestibule storage
Kind of freestanding (not if it's raining)
Strong in the wind
Cons
Heavy and bulky
Setting up is not the easiest
Have some leakage problems on the ends
I am 6'4" tall, which limits many tents I can use. I bought this tent because of its versatility. 
Setup: I can pitch it quickly but I don't think it is easy to set up. In the pouring rain it would have the advantage over some other styles by keeping the inside dry.
The poles go into sleeves that are kind of hard to find and difficult to push through quickly without tearing the material.  In the rain poles just don't slide the same. It is not truly freestanding as you definitely need stakes for rain setup. Without being staked out you will have leakage problems. 
Stability: Tight and good wind resistance.
Weather Resistance: I did have leakage around the floor on both ends in very heavy rain. I figured out a solution, but I expected more from this level of tent.
Ventilation: No condensation problems.
Room & Storage: Good headroom and vestibule storage. It came with an inside shelf with 4 storage pocket on the sides. For me this is a one person tent. Two guys, my size, would be tight.
Packability: I think this is a bulky tent to pack for its size. Kind of heavy (7-8 lbs depending on stakes). I would classify it as a car camping tent. I guess it would OK if two people spilt it on backpack trip.
Ease of Use: It is a good tent but does not pack up quickly nor tightly.
Features: True 4-season tent leaning more toward great in summer with good in winter. Great ventilation for a 4-season tent.
Construction & Durability: I have already had a tear in a pole sleeve.
Conditions: I have camped in it from 20 to 90 deg. weather and in very heavy rain. Have not used it in snow. It is a comfortable ventilated summer tent but I don't think it is the warmest winter tent. I used it in below 20 deg. weather and was cold while my friend with a Bibler Eldorado 4-season tent was hot to the point of opening up his bag (same type bags and pads).  I don't think his Bibler would be comfortable in hot summer weather as it has limited ventilation nor could I fit in it.
I like the tent but would not buy it again, probably get an Airstream (just kidding).  If you are going to go this heavy in a tent than you might as well go to a 3-person (assuming you are my size).  Smaller people don't have my issues. For backpacking I use a Big Agnes Sarvis SL1, which is roomy for a little tent, but I have never used it in the winter.
Source: bought it new
Price Paid: $490

You May Like
Recently on Trailspace