Feathered Friends Lark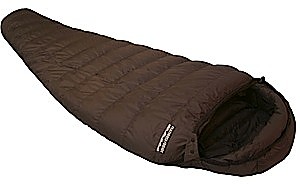 Does Feathered Friends make excellent sleeping bags? Without a doubt. Is this the best 10-degree sleeping bag in the world? Maybe.
But first let's get to good points—it's hard to believe how much top quality sleeping bags have improved since I was a young climber in the early 1970s. They still pretty much look the same, but the attention to details and the lofting power of the best down really makes a difference. I have two other mummies I use: a North Face Superlight from about 1975 and a MontBell synthetic bag from 1994. The Lark and these other two bags are about the same size (relatively slim) and have the same loft (about six inches), and pretty much the same temperature rating: 10 degrees for the FF and MontBell, and if I remember correctly, 5 or 10 degrees for the first incarnation of the NF Superlight. But the FF bag is obviously lighter just by picking it up: 2 lb. 7 oz. compared to 4 lb. 3 oz. for the polyester fill and probably about 3 lb. 8 oz. for the Superlight (which for its time was about as light and compact as you could get). Stuffed size? The same great advantage. Then there's the FF silky taffeta, removable down collar, shaped hood, and so on. Back in the old days, all down sleeping bags were made from 1.9 oz. ripstop without a DWR treatment, had no stiffener along the draft tube, and no one had thought about making a draft collar or using elasticized drawstrings.
So the first night I had this bag, I slept out in the backyard on four inches of snow, a tarp, and ½ inch closed cell pad (just like in the old days). It was 28 degrees when I went to sleep, and the weather service said the low that night was 15. I was fine in just long underwear and a fleece hat. Wearing all your clothes like you should (including a baffled down jacket) the Lark would be fine with a warm water bottle most anywhere in the lower 48 during winter.
And although I'm not as skinny as I used to be, the fit of a regular size is quite roomy for my 170 lb., six-foot frame. For bigger folks, the FF Raven is the same thing only wider and heavier.
As for comparisons, I bought my Lark from an on-line auction, after examining another style of FF bag at a local dealer. Here in Missoula, MT we have two excellent outdoor shops—both stock Marmot bags, one also carries Feathered Friends, and the other has the Western Mountaineering line of down sleepers. So after I got my Lark, I took it down to the store to compare with a Western Mountaineering Antelope and a Marmot Pinnacle. All three bags are extremely well made (and expensive) but because the Pinnacle has less loft, the side by side comparison was between the Antelope and the Lark. Both have the same amount of loft and about equal sizing. Neither has what I would call overstuffed draft tubes or collars, but they're filled enough. The FF has a detachable collar to save weight in the winter, the WM a fixed one—advantage FF. WM uses a stiffener built into the fabric on both sides of the zipper, FF uses separate webbing only along the top—WM on top on this one, although I can see how the FF arrangement would be easier to repair. This year WM has switched to smaller No. 5 zippers, while FF uses No. 8—FF wins, although not all YKK No. 8 zippers are the same, and I can't zip this bag together with any of the other bags I have with the same size zipper. WM uses Velcro to lock the zipper, while FF uses snaps—Velcro is easier to close, but snaps are less abrasive to the fabric when the bag is stuffed—call it a draw. FF tuck stitches the baffle seams (hides them from view) while WM doesn't—I've never had a seam unravel in a sleeping bag. FF has liner loops, WM doesn't. I'd say its a tie, so go with the one that looks prettiest—my Lark is dark purple with a black interior, but it seems that you don't get to choose colors with FF bags.
As for the shell fabric, I have the standard nylon taffeta. It beads up water fine, and I've never had a problem keeping bags dry—although once I slept by Yellowstone Lake without a tent in a 20 degree ground fog and was totally covered in ice. But I was sleeping in my down jacket, the sun came up, and it was no big deal. Habitues of snow caves should definitely opt for the PTFE (FF) or Dryloft (WM) outer shell.
Design: Mummy
Fill: 750 fill down
Temperature Rating: 10 degrees F
Weight: 2 lbs, 7 ozs.
Price Paid: $160 (at auction)

A+! 100% Satisfaction 30 day guarantee. No buyers remorse after my first night under the stars with 18*F overnight low. This is an amazing tool made for serious use. (Of course since it is down be careful of excessive moisture.) The "Epic" shell can take a frost with ease (they offer 3 shell options, Epic is midlevel).
Support the few companies that keep work here, Feathered Friends IS made in the U.S.A. Get this bag at all costs! Customer service was personal and VERY professional, exceeding my expectations with great communication and hasty/accurate shipping. "F.F." custom makes most of their bags, sometimes they have deals on bags that a client backed out of purchasing, so for a few $ less and NO compromise in quality ask "what's on sale?" Happy camping!!
Design: Mummy-long
Fill: 800+
Temperature Rating: 10*F
Weight: 2.2lbs
Price Paid: $362

What can I say that hasn't been said already. If you're looking for the best, checkout Feathered Friends. (I also own a Western Mountainering Iroquois which is excellent).
I originally bought a Lark from Active Endeavors in Chicago because they honored a competitors "25% off any single item in the store" coupon. When I got home, I discovered the bag was a "long" (it had been mislabeled by the retailer). Since they didn't have another bag in stock, and wouldn't honor the coupon on a special order, I called Feathered Friends directly. They gave me full credit for the price of the bag and sent me a custom made Lark to my specifications. Excellent service, and an excellent product. Trust me, spend the extra money and buy the best. Once you come around (and you will!!) you'll hate the fact that you've had to spend the money to upgrade later.
Design: Mummy
Fill: 800+ fill down (overfilled 2oz.)
Temperature Rating: +10F
Weight: 2lbs. 13 oz.
Price Paid: $400 on sale

Your Review
Where to Buy
Help support this site by making your next gear purchase through one of the links above. Click a link, buy what you need, and the seller will contribute a portion of the purchase price to support Trailspace's independent gear reviews.
You May Like
Specs
regular
long
Price
MSRP: $439.00
Reviewers Paid: $160.00-$400.00

fall 2010
regular
long
Weight
2 lb 5 oz / 1000 g
2 lb 7 oz / 1100 g
Fill weight
1 lb 4 oz / 570 g
1 lb 5.2 oz / 601 g
Loft
6 in / 20 cm

Temperature rating
10 F / -12 C

Fill
850-fill down

Shape
Mummy

Max user height
6 ft 0 in / 180 cm
6 ft 6 in / 200 cm
Shoulder girth
60 in / 150 cm
60 in / 150 cm
Hip girth
56 in / 140 cm
56 in / 140 cm
Foot girth
38 in / 97 cm
38 in / 97 cm
Recently on Trailspace