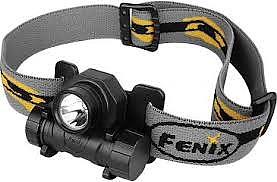 Specs
Price
Historic Range: $34.95
Reviewers Paid: $30.00

Weight
41.1 g (excluding battery)

Reviews
1

review

5-star:

0

4-star:

1

3-star:

0

2-star:

0

1-star:

0
The blue-collar of headlamps...tough...simple...reliable. It does everything you really need it to do over many years of service.
Pros
Durability
Waterproof
AA Powered
Diffuser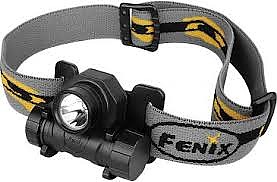 Simplicity
If you are someone who uses colored and flashing lights to create your own discotech while outdoors this is not the lamp for you. The Fenix HL21 has three brightness settings of 97/47/3 lumens in white only...as well as the ubiquitous SOS mode...which is at least two more options than I need or care about. To its credit the Fenix HL21 uses a simple plastic and aluminum alloy construction which has withstood years of abuse and wear. There are bits of dirt cemented into some of the smaller crevices...and the elastic strap shows some signs of wear...but after years of hard use the Fenix HL21 continues to perform admirably on uneven trails and bouncy runs.
Size and Weight
The light is a little bulky by the standards of the day...but the lamp doesn't bounce around or pull on my head. Fenix list the weight of the headlamp at just over 41 grams without the battery...which is on the lighter side of headlamps. Headlamps with comparable run-times and lumens typically use 2-3 AAA batteries which are heavier than the single AA battery the Fenix HL21 uses...while providing essentially the same amount of power. Unfortunately the Fenix HL21 is not lithium compatible...which would drop the weight of the lamp further while increasing its versatility. However...the HL21 is alkaline compatible...and that is far more important in cases where I might want to "recharge" my headlamp with a new battery at a convenience store in a town along the way.
Lumens and Duration

If you are not into the social construction of measurement...or really into flashlights...you probably missed the drama around the ANSI standard for run-times. In a nutshell manufacturers have lobbied and been given some rather favorable terms...but all you really need to know is that the ANSI standard is highly susceptible to manipulation by manufacturers...and this makes it difficult for consumers to know how many lumens they are getting over a certain period of time.
Fenix is a reputable company who would have a lot to lose if they came to be known as deceptive. Moreover...I have not detected any obvious drop in lumens when putting in fresh batteries which would indicate the most egregious kind of abuse...so absent a way to measure lumens I believe the 2h3m/5h43m/53h run-times are reasonably accurate. This might not sound like a ringing endorsement...but given the state of the market it really is!
Diffuser
I tend to prefer simple devices without a lot of rickety rack that can fail and add weight/bulk/cost...but the tiny diffuser lens which changes the somewhat ridiculous 93m beam into a flood while in camp is a win for me. I initially had some reservations about a piece of plastic hinged to the outside of the lens...but after years of use it has never got in the way...and thanks in part to a bevel design which allows the lens to be turned so that it never works against gravity...the thing functions as well today as it did the day I got it.
Like many other headlamps the Fenix HL21 tilts somewhere in the 50 to 60 degree range...made possible by a simple plastic locking device that like the diffuser I initially had some reservations about...but again after years of heavy use it shows no signs of fatigue and locks in the angle light right where you need it.
Waterproof
Exceeding the IPX-6 or less common IPX-7 of most comparable headlamps...the IPX-8 rating of the Fenix HL21 is a standout feature of the lamp...and along with the diffuser lens explains why I choose it more than my other headlamps that are lighter and have longer run-times. While kayaking at night I suddenly found myself on the wrong-side of my boat...the Fenix HL21 (having been briefly submerged underwater along with my head) worked flawlessly...the beam never flickered...not even underwater! I cannot testify that you could use the lamp underwater for any extended period of time...but I use it worry-free on all my paddling adventures and rainy runs. In fact...if the Fenix HL21 had a couple more hours of run-time it would likely be the only headlamp I use...it is that good!
Summary
If you demand a lot from your lights...want or need a bunch of special-effects...then you might want to look for another lamp. The Fenix HL21 is for folks who want a simple + durable + worry-free device that can light up a path or your way around camp. This light has been submerged...stayed put in a nighttime tornado...and seen hours of service in the rain on runs and hikes alike.
Unless you're a gram counter...the only true weakness of the Hl21 is its rather short run-time of approximately 6hrs...but unless you plan to do a lot of trail-walking at night the 6hr run-time is more than enough to get you through a weekend at camp...and then some.
Source: bought it new
Price Paid: $30

You May Like