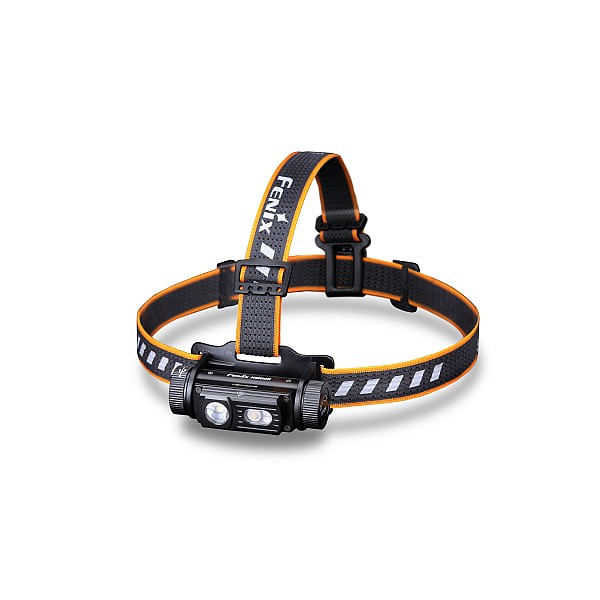 The Fenix HM60Ris a 1200-Max Lumen, rechargeable headlamp with an exceptionally long battery life. The light outperforms every headlamp I have owned over the past 21 years of caving. Weighing in at 157grams with the battery, the lamp is light enough to throw into the backpack. "Intelligent Frequency-Sensing" adjust the lumens of the light to the speed of the user, so that a trail runner does not have to fidget with the settings as they speed up or slow down. Coming in at under $80, the light is a great value. Add to all that, Fenix is the brand that many world-class cavers use for weeks-long expeditions.
Pros
Bright
Battery life
Can work with gloved hands
Battery indicator
5 Levels of light
Frequency Sensing between levels
Cons
Battery is not readily interchangeable with other 18650 lights
Design leads to potential of foiling waterproofing
My TikTok account @cavegoose sees a million+ views per week, where I share my caving adventures. The website flashlightbrand.com saw my account and asked if I would be willing to test one of the products they sell. After some discussion of my needs in a cave, we settled on the Fenix HM60R. Fenix has an outstanding reputation among cavers, but I have been relying on a competitor's lights for years.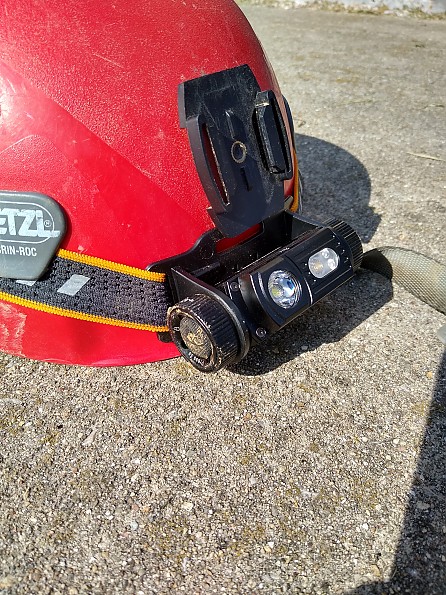 In evaluating a headlamp for caving, I look at 4 primary aspects of a light.
Brightness,

Battery Life,

Waterproofing, and

Value (return on cost).
Here on Trailspace, I have rated the lamp 5 stars. More accurately, I would rate it 19 out of 20 stars. Weighing each category equally, I have to knock 1-star off the waterproofing (more below).
For those who prefer video reviews, here is an 8-minute video hitting the highlights. The written review that follows provides a few more technical issues.
TESTING PARAMETERS
The HM60R was tested on five cave trips of 3 hours, 4 hours, 2 hours, 15.5 hours, and 2 hours. Additionally, there were many battery tests in my basement to see if the stated battery times were accurate. The headlamp was subjected to the same wet, muddy conditions all caving lamps endure. It was submerged for brief moments multiple times, on trips requiring wetsuits to complete.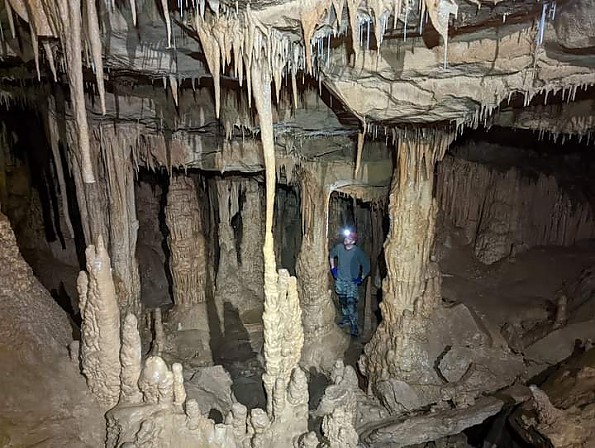 1) BRIGHTNESS 5/5 stars
At 1200 Lumens, the HM60R is the brightest headlamp I have ever owned. It is important to note that manufacturers hype the highlights and leave the consumer to read the fine print. Running the headlamp on Turbo gives you 30 minutes of light above 1000 lumens. After 30 minutes, there is a drop off to 500 lumens for another 90 minutes, before the battery is drained. The chart below shows the batter run time on each setting.

On a 3-hour trip, I ran the light on Turbo the entire time. I noted that the drop from 1200 to 500 lumens was gradual enough that I never really noticed until 2 hours and 20 minutes, when the light flashed twice and then dropped into maybe 5 lumens of light. I was not disappointed. For that 2:20 period, this was the brightest light I had ever used continuously.
Of course, the average caver is not going to run their light on Turbo Mode. Below is a chart listing the settings, along with lumens, distance, and intensity. For me, 8-hours is the sweet-spot of time spent underground. Being able to run at 350 lumens the entire time is quite sufficient and not always necessary.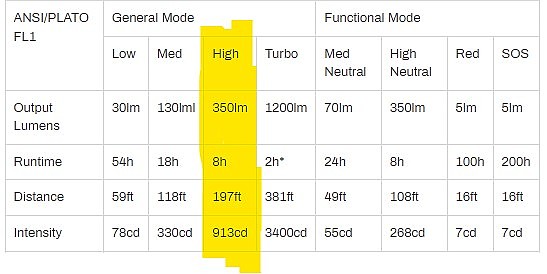 Special Feature
Under the category of Brightness, is the Intelligent Frequency-Sensing feature, which is designed for trail running. The medium and high settings on the spotlight are selected around a person taking 150 steps per minute (SPM). As the pace increases, the light will brighten. At 220SPM, the lamp will max out at 150% of the selected setting. The lamp will dim back to its selected setting as the pace slows below 220SPM
2) BATTERY LIFE 5/5 stars
This is where I fell in love with this lamp. When I started caving 21 years ago, it was necessary to carry three AA batteries for every 2-hours of caving, just to get 90 lumens of light. On an 8-hour trip, a caver would carry 15-18 batteries to ensure he had enough. As already mentioned above, I was able to run the Turbo setting at 1200-500 lumens for 2:20 before needing to change the single 18650 battery.
The previous Chart lists the battery times, and as you can see a caver can do a full 8-hours at 350 lumens without a battery change. So, when I went on a 15.5-hour trip into Sullivan Cave on August 5 I had my fully charged battery and two backup batteries. However, I quickly realized I didn't need the high setting very often in the passages we traveled. At 10 hours I began wondering how much longer until a battery change was required. At 12 hours I started wondering if I could get back out of the cave on only one battery. At 13 hours, my lamp started flashing that it was time to change batteries.
This was just incredible to me. The Zebra Lights I have been using for years, give me only 4-hours of burn time used in much the same way.
Extra Feature
A quick click of the power button will tell you the percentage of battery life remaining.
Solid Green is 85-100%

Flashing Green is 50-84%

Solid Red is 25-49%

Flashing Red is below 25%.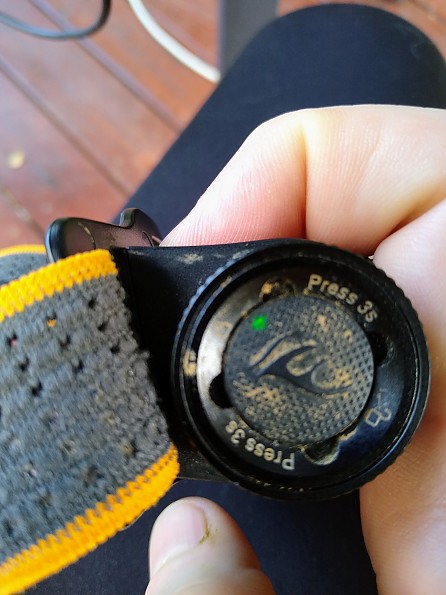 A Note on Batteries
When you buy a AA, AAA, C, or D battery you know you are buying a battery that is going to power any device calling for that size battery. Unfortunately, that is not the case with 18650. Focusing only on the quality manufacturers' 18650s still vary in millampere hour (mAh) and voltage. The result is two "18650" batteries may look the same, but one may not power the other's devices.
The HM60R requires a battery of 2600mAh and 3.6 volts. This means the numerous 3500mAh, 3.7v batteries I own for my Zebra lights would not work in the HM60R. Conversely, the Fenix battery did power the Zebras, but I have read (not tested) that it will be with a much shorter battery life.
The other thing to note is that Fenix itself manufactures different 18650s for different lights. So in purchasing different models of Fenix lights, it is important to determine if batteries are interchangeable.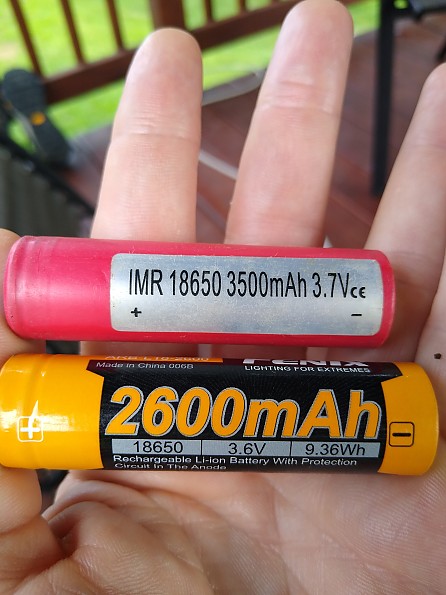 3) WATERPROOFING 4/5
The HM60R is rated at IP68 against dust, dirt, and submersion. This translates to the headlamp being submersible up to 1.5 meters (~5') for up to 30 minutes. During my testing of the lamp, I had numerous quick dips under the water with no problems.
The 4-star comes from the potential of human error. The HM60R has a built in USB-C charging port that is accessed by unscrewing the left end of the lamp (unscrewing the right end removes the battery). The risk is if a caver forgets to screw close the USB access—or fails to close it securely—the lamp is no longer waterproof. The cap needs an additional 1.5 rotation after the USB is no longer visible to be completely closed. This could be an easy miss for a caver who is pulling his fully charged lamp out of his gear box and neglects to double check the closure.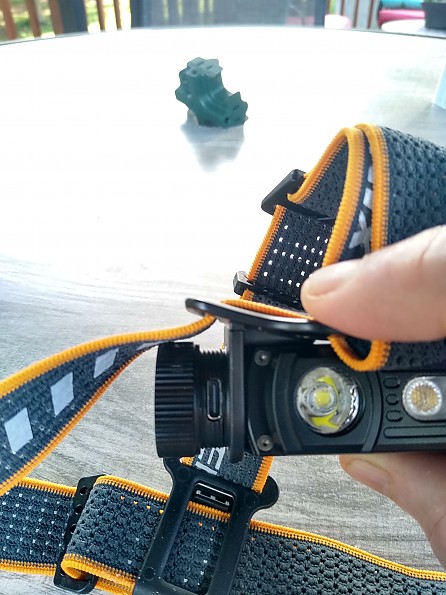 4) VALUE 5/5
I often feel outdoor products are ridiculously overpriced. If you run through my reviews, you will note I often list price as a con. However, I feel the HM60R is a great value. While the Zebra Lights I mentioned are running at $89 at the time of this review (and I also consider that a value), the HM60R is beating that price by $10-$16. Additionally, this headlamp is putting out light that cavers were paying $200-$300 for a decade ago.
While there are much brighter lamps currently on the market, they either have a shortened battery life, or they are running $500-$600.
ASK THE PROS!
While I was testing this light, I sat down to watch "The Deepest Cave," a National Geographic documentary that is streaming on Disney+. The expedition down at Chevé Cave, Mexico has traveled so deep into the mountain that it takes a full 5-days just to reach the new survey beyond Camp 7. So, these cavers are easily spending 3-4 weeks in the cave without ever seeing daylight.
What struck me while watching the documentary is that nearly all the expedition leaders were wearing Fenix lights as their primary, and Zebras as their backups. They weren't wearing the $500-$600 lamps. They were wearing the exact same set up I wore on my 15.5-hour trip.
If that is not the ultimate selling point for looking at Fenix, I don't know what is! In the meantime, I am looking at my calendar and counting the days until I get to get the HM60R back underground. 
Experience
I started caving 21 years ago and have used many different headlamps during my thousands of hours underground. I'm a member of 4 cave conservancies and the Vice President of the Karst Conservancy of Illinois. I am the editor of two caving newsletters and the treasurer for the Near Normal Grotto.
Source: I was given the choice of any flashlight to review by distributor Flashlightbrand.com. I selected the Fenix HM60R for my caving adventures.

The author of this review received a sample of the product from a retailer in exchange for a review.
Your Review
Where to Buy
Help support this site by making your next gear purchase through one of the links above. Click a link, buy what you need, and the seller will contribute a portion of the purchase price to support Trailspace's independent gear reviews.
You May Like
Specs
Price
MSRP: $106.00
Current Retail: $79.95-$80.45

Max Lumens
1200

Max Beam Distance
381 ft / 116 m

Max Runtime
54 hours

Lighting Modes
4 spotlight levels, 2 floodlight levels, red light and red SOS

Bulb Type
LED Luminus SST40 and XP-G2 neutral white light LED

Size
3.35 x 1.77 in / 85 x 45 mm

Weight
5.54 oz / 157 g including battery and headband

Battery
18650 or CR123A