Fenix LD15R

The best, most useful, compact flashlight I've ever carried. Bright when I need it, just enough when that's all I need, plus great battery life.
Pros
Variable output, 3-500 lumens
Small enough to carry anywhere
Great battery life
Magnetic base
Micro USB rechargeable 16340 batt
Alternate batt: CR123A (no recharge)
Durable
Reasonably water resistant
Cons
No adjustable width of beam
It doesn't get up and make the coffee in the morning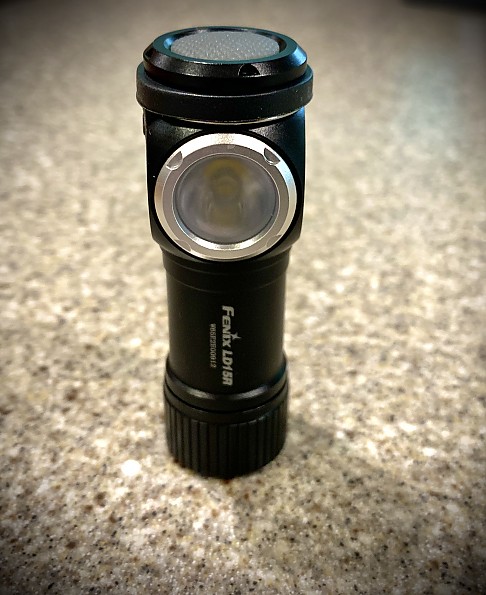 For most of my outdoor life experiences, I've been frustrated to one extent or another by light. Or the lack thereof. Flashlights, headlamps, floodlights, mini-lights, etc. I've used innumerable lights over the years, but now find myself singing "Hallelujah!" in response to modern LED light sources and their capabilities. While I still find a headlamp very, very useful in the backcountry, the Fenix LD15R is small and light enough to make the backcountry trip and ride around in my every-day backpack or bag, or even in my pocket.
First, some dimensions: My light measures 6.9 cm (2.75 in) long, 2.4 cm (15/16 in) wide without clip, and 3.1 cm (1 7/32 in) wide with clip in place. It weighs, with clip, a very modest 54 g (1.9 oz). Fit and finish are excellent. The rubber flap sealing the micro USB recharging jack fits tightly and seems durable. (It is attached to a rubber ring encircling the light; a replacement is included in the packaging, along with a replacement O-ring for the battery enclosure cap.) The feel of the rubber cap and the underlying switch are comfortable and definitive when clicking on/off.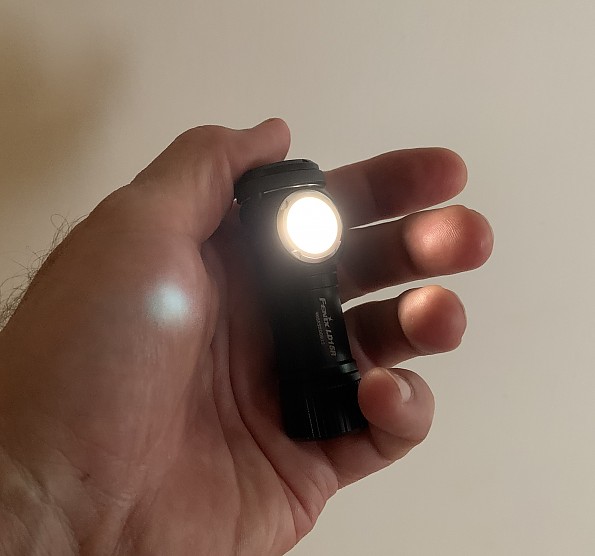 Perhaps the most notable thing about the design is that the light output is produced by an LED/lens combo mounted at a right angle to the longitudinal axis of the light. This is handy, allowing the light to be stood on end to direct light horizontally. Alternatively, if a suitable ferromagnetic surface is available the magnet in the tail end of the light can be used to mount the light so as to direct its output as desired. Excellent for working small, dark places like crawl spaces, behind furnaces, and the like. (Ask me how I know!)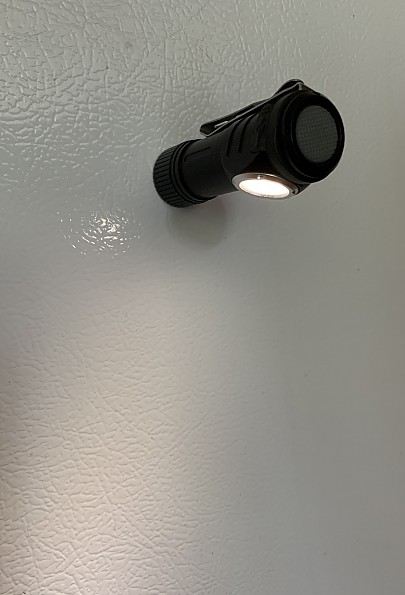 A single quick click of the switch lights up a battery-power indicator LED under the switch cap; green indicates "good to go", but not necessarily a full charge(85-100%). A flashing green indicates 50-85% charge; constant red, 25-50%, and flashing red, <25%. Charging from a nearly fully-depleted battery (I used a ready-to-hand Apple iPhone charger [5V 1000 mA]) required just under 1.5 hr. While charging the under-cap LED glows red; once fully charged, it changes to green.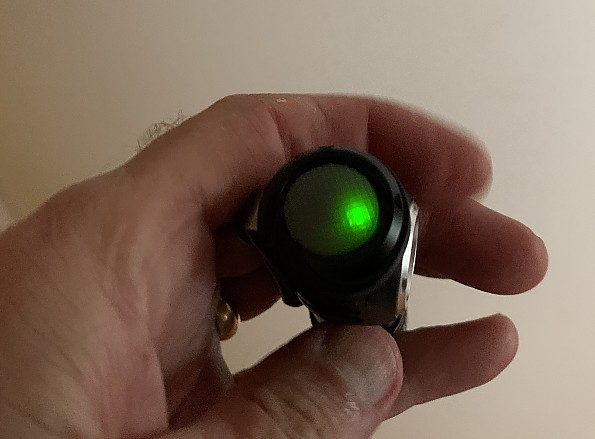 Depressing and holding the switch for approximately 0.5 seconds turns the light on, at whatever light output it was last being used at. There are four levels of light output, which one cycles through with additional single clicks of the switch: 3 lumens, which I find very useful for when I just need a bit of light to find something in the tent without blinding myself or anyone else; 30 lumens, which is enough for all kinds of practical work, like pitching a tent in the dark, or starting a stove in the dark in the morning; 150 lumens—bright enough to illuminate usefully up to about 50 m away, and 500 lumens, which will brighten up a huge swath of what's in front of you, with the center of the output reaching about 75-80 meters.
This last, the "Turbo" mode, causes the light to heat up significantly; to prevent overheating and the nasty things that can go along with that, Fenix programs the light to use what they call Time-Limited Output Downshifting. After approximately 5 minutes in Turbo mode (4:59 when I timed it), the light adjusts output down from 500 lumens to 200 lumens, still plenty bright enough for most anything one might want to use such a small light for.
An important note about light output: there is no means by which to focus or adjust width of beam, etc. The light produces a fairly broad spray of photons, with the center of the output cone being noticeably brighter and things tailing off as one looks to the periphery. I find this an exceptionally good all-around choice.
The light is not intended, nor likely to be used for, long-distance searching or the like, and for general in-camp work, too narrow of a beam means one is always having to redirect the light, etc. The output here is much like that of my favorite headlamp—brightest in the central area of vision, but with very usable light in a good working cone of illumination around that.
Battery life is impressive. In Turbo (including the downshifted time), the light will burn continuously for over 1 hr (1h20m per the manual; I got 1h21m and change). Fenix claims nearly 3 hr battery life at the High (150 lumens) output, 13h20m at Medium (30 lumens) and 110 hr on the Low (3 lumens) setting, and my use compares well with those estimates.
The flashlight also has a red-light mode; if one depresses the switch for about a full second, the light comes on in constant red mode, with an output of approximately 4 lumens. Interestingly, Fenix only claims a battery life of 30 hr in constant red-light mode. When using the red LED output, another click of the switch produces a regular, metronomic flashing red (approximately 1 sec flash, 1 sec pause, repeat), and another click from that setting puts the light in flashing red SOS mode.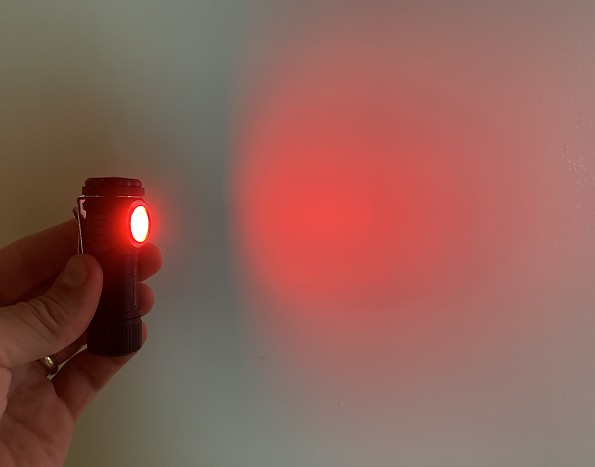 Fenix does not report any claims for battery life in either flashing red mode. I did not test either, but fully expect each to produce a 30 hr run time at the bare minimum, though I don't ever want to need flashing red lights to signal for me for anything like that long.
I found the light to be very simple and intuitive to use. I did not test it using the non-rechargeable Li-ion CR123A alternative type of battery, but I'm fond of the fact that these batteries (fairly readily found in stores) can be used if there is no charging option available. 
The clip on the light, especially with the light weighing only 54 g, allows for it to be attached to a pocket, strap, etc. without being burdensome; I even rigged it as a headlamp in one instance, using a bandana threaded under the clip and the whole contraption tied around my head. Worked like a charm.
I find myself carrying the light a lot, and using it more than anticipated. I especially like having it in my pocket when out with my dogs in our dark and brushy back yard. Fenix claims that the light is rated IP68 waterproof, which they describe as meaning it can withstand submersion at depths of as much as 2 m for up to 30 min. I haven't tested the light to that extent, but it did withstand a drop into a muddy puddle, being fully submerged in same, and immediately responded with normal operation.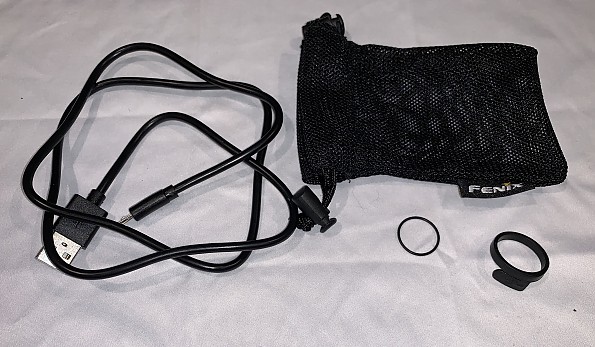 The light comes packaged with the rechargeable proprietary Fenix 16340 battery, a micro USB charging cable (but no charger), the replacement charge jack flap and O-ring mentioned above, and a small mesh carry sack.
Experience
I've used outdoor lighting devices for decades, in settings ranging from backpacking along the Continental Divide to hunting/fishing and working outdoors in the dark, and even in night boating/diving. I presently own more flashlights, headlamps, and the like than are strictly necessary.
Source: bought it new
Price Paid: $54

Your Review
Where to Buy
Help support this site by making your next gear purchase through one of the links above. Click a link, buy what you need, and the seller will contribute a portion of the purchase price to support Trailspace's independent gear reviews.
You May Like
Specs
Price
Current Retail: $51.95-$54.99
Historic Range: $26.93-$54.99
Reviewers Paid: $54.00