Ferrino Snowbound 3

(1)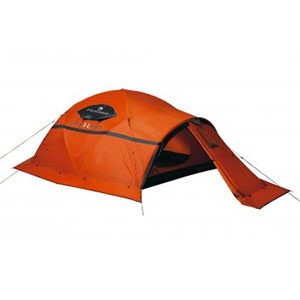 Specs
min
max
Price
Historic Range: $249.99

Weight
5.3 kg
5.9 kg
Volume
3.3

Dimensions
20 x 52 cm

Reviews
Extra tough, and plenty of room for three people.
Rating:


Source: bought it new
Price Paid: CL$289900 ~ US$550

Summary
Extra tough, and plenty of room for three people. Comes with features that I haven't seen on other 4-seasons tent. Really in love with this fort. But if you care about weight (I don't), you might want to see other options (5.9 Kg at its max).
Pros
Extra tough
Really waterproof (not all 4-seasons are)
Plenty of room for the users and their equipment
Extra ready to use cord to use in storm wind conditions
Great condensation management
Cons
If you are a weight-free camper, this will really disappoint you (almost 6 kg with all accessories)
As all 4-seasons tent, not for use in the heat
Setup:
As with every new tent, you must practice in your backyard before you take it to your expedition. It comes with 5 poles, 4 same length-colour and 1 shorter and in different colour for the fly sheet's main entrance. These are corded poles. Also comes with 8 cords (4 installed, 4 in case you need to use a great feature this tent has), 21 aluminum pegs (you'll need 15 in normal conditions, 19 if you need to secure the snow flaps) and a repair kit.
As this is a two-wall tent, you'll have to set up the inner and water repellent before putting the waterproof fly sheet, so it's good to practice a lot to master the quick setup in case you find yourself in a sudden rain.
Stability:
AMAZING. It uses 8 pegs to anchor the tent to the ground, the fly sheet gets secured under the poles and you have 4 wind cords: 1 front, 1 back and 1 on each side. Also uses 3 pegs for the absides, 2 in the front and 1 on the back (I at least use just 1 on the back as I don't find the need to use 2, which you could do if you think it's better). Being a geodesic dome tent, it self support, so if you know you won't find high winds, you could just fix it with the 8 pegs and the 3 for the absides.
On the other hand, if you are in stormy weather, you could use a great feature this tent has: Guy line system connected to the poles through the ventilation sleeves. This means that you have access to this loops (4, one in each "corner") through the ventilation sleeves so you can attach 4 extra cords directly to the poles. these cords come with the tension stopper included, so no need to use knots.
(I wanted to put an image here of the system, but I don't have my tent installed. should have done it in my last trip. I'll take one the first chance I have, promise! in the meantime you could surf the web for images of it and you should find one easily)
I have never used this, but I think it's so cool to have that =)
Weather Resistance:
Waterproof wise it's very good. Moisture wise, you could wake up and touch the inner wall nearest to your head and feel it a bit wet. It's not that you'll wake up because condensation is pouring on your face, at all. But you might feel that type of condensation; good breathability.
The fly sheet it's another thing and it does get very wet with condensation if you have weak wind to dry it out. In my experience, it does get dry through the day, but if you're leaving early, you will have to leave it lay down on the floor upside down to dry it faster and shake a little to get rid of the water drops.
Ventilation:
Well, most part was covered on the point above, but I'll tell you that it has 4 storm proof sleeves which can be closed by the cord that is on the end of it, and 2 zip "windows", one on each side. It also has 2 ventilation windows, one on each abside; these are smaller. This is all for the fly sheet.
The inner tent has 1 mesh window on each side, and half of the entrance door  has a mesh window too.
Since I haven't used it on high altitude, where this tent belongs, I think the ventilation is pretty good!
Room and Storage
10 pockets on the inside for storing and organising stuff. I've known people who had used this tent for four people and sleep well. I've only used it with my girlfriend and each using an inflated mattress (big one), we still get a middle corridor and space at the feet for putting our clothes and things like that. The 2 absides are great for keeping your rucksacks, footwear and all you don't want to have inside, dry.
Packability:
It comes with one bag to put all, and a smaller bag for the poles and, in that, another smaller bag for the pegs and extra cord. Heavy as it is, you could distribute the weight easily. The main bag is very robust and Ferrino says that it is great to use also as a rope bag. Haven't used that way.
Features:
Well, we have the transparent window on the front abside so you can take a look at the weather without having to open the tent. Also in the inner tent you have plenty of loops to hang a lantern or to put a rope and leave wet clothes to dry.
Construction and Durability
The poles in tempered 7001 T6 duraluminium alloy. The inner tent in water-repellent and breathable Ripstop polyester. Fly-sheet in Ripstop polyester. W/R 4000 mm. Floor in waterproof polyester. W/R 8000 mm.
Taped seams on fly-sheet and floor; Triple reinforcement at floor corners; R.B. (Reinforced Band System) reinforcements comprised of edge banding in Oxford polyester on the fly-sheet.
Where to Buy
Help support this site by making your next gear purchase through one of the links above. Click a link, buy what you need, and the seller will contribute a portion of the purchase price to support Trailspace's independent gear reviews.