Five Ten Anasazi MoccAsym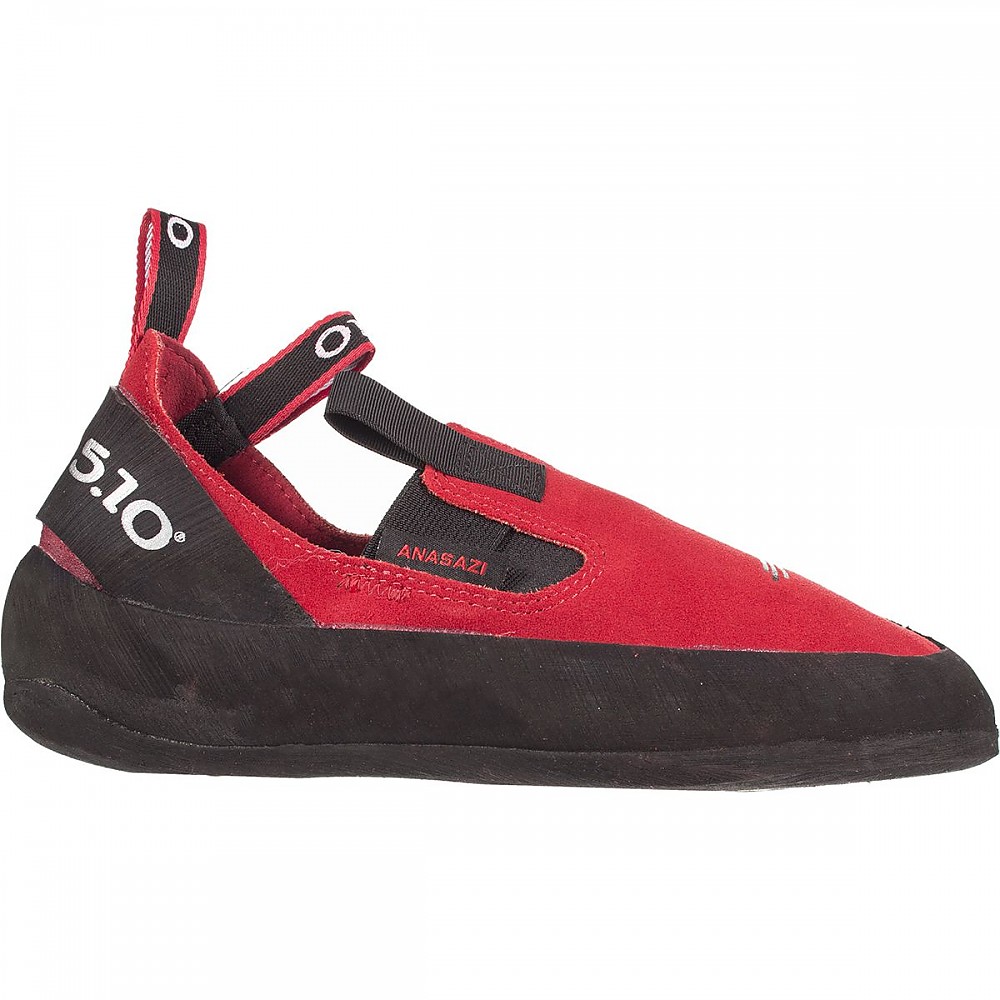 Since it's been a couple years between reviews I though I'd throw my opinion into the ring.
I agree with the other comments that this is a soft-shoe. Sized right there should be no concern regarding the heel slipping during heel hooks and whatnot, and that you can expect some stretching. What I found in terms of this more than the length was the width, which I was very glad for. Every foot's different I suppose.
What I think it's important to know about this shoe is that in addition to it being a great quiver shoe, if you are starting out I feel that it's a great first shoe to purchase. Fit is essential, but the sym's general-purpose performance carries into bouldering, top rope, even multi-pitch, and the new climber's feet will not be killing them, in turn they climb longer and more frequently.
I love these shoes and will probably always have a pair either on my feet or in the bag; provided Adidas doesn't ruin how Five Ten have been doing things.
Price Paid: $95

I've been using this shoe as my lap running shoe/comfort shoe in the gym and its been working pretty well. This is a very sensitive soft soled shoe so know that if your feet are not strong(aka a beginner) you will feel small sharp jibs through the shoe.
I bought the shoe about 1 1/2- 2 sizes down which I think is going to be about right. This shoe will stretch a lot but that break in period is a pain. Once you get through the break in period though it really is a very comfortable shoe.
Cant say much more then everyone else on all the other review sites have said so I'll cliff note my review
-very sensitive shoe
-stretches a lot keep that in mind when you buy id say down size 2 sizes for boulders 1-1 1/2 for comfort
-will dye your feet red first few times
-can and has been used to climb everything from 5.14c to v14 boulder problems
-very versatile shoe I suggest everyone have a pair of slippers in there shoe arsenal
-if you have a high volume foot the shoe can feel a little shallow
Materials: leather
Use: vertical to slightly overhanging climbing/bouldering
Break-in Period: 2-3weeks 3-4days a week

This has been my main climbing shoe for two years now. I have used it extensively in bouldering, and sport routes in the gym and outside.
Pros
High quality elastic
Stealth Rubber makes the shoe
Cons
Turns feet red from the dye even after over a year of use
Rubber is softer so it wears more quickly compared to harder rubber
The leather and elastic perfectly formed to my feet and I never felt the shoes come off if I rarely did any heel-hooking. From plenty of climbing, the first part of the shoe was the tip and the leather is soft so I can feel the holds under the rubber which boosted my confidence on small holds. 
Source: bought it new

Like the other post by Grant, they are not the perfect edging shoe. If you have strong toes, then they'll be fine, but not much support. Great for the gym and fine outside, just remember if your feet sweat these shoes will stretch a good amount (one full size?). I didn't buy mine small enough. I was climbing "Party in your mind" at the New (about 100 foot climb) and about halfway through they started to stretch to the point where my big toe would slide in the shoe. Pobably wouldn't have happened if I bought a size or half size smaller. Overall great shoe and could be like Grant said, the good ol' standby.
Price Paid: $90

What can I say--they are THE BEST SHOES YOU"LL EVER OWN--period! The stealth rubber is the stickiest I've ever used, in fact it could be considered cheating to use these shoes, I love 'em. Get them a tad small, but not too tight cos they're lined and don't stretch too much, but they do conform to your foot shape. Other great thing about them is you can throw them into the washing machine as they're not made of leather at all (which should please other vegans out there too! ). DONT WASTE YOUR TIME WITH ANY OTHER SHOE--IN THE END YOU'LL GET THE ANASAZIS ANYWAY!!!:)
Materials: cowdura; stealth c4 rubber
Use: extreme rock climbing
Break-in Period: 4 outings minimum
Weight: light
Price Paid: $120

The Five Ten Anasazi Mocs were the first bouldering shoes I had. They are not easy for a beginner, but I learned to love them. I bought them because they were all that was in stock at my rock gym and I wanted them fast.
At first I felt stupid for buying them, they were horrifically uncomfy. But trust me, after 2 weeks of hard climbing, they totally conformed to my foot. Now i love these shoes.
I wear a size 11 street and size 9.5 rock shoe. Other than the fact they turn your feet red from the dye in the leather, I love them.
Materials: leather
Use: bouldering
Break-in Period: 2 -3 weeks
Weight: ?
Price Paid: $88

A beautiful standby. Comfortable. Although their personality changes after they break in. When you buy them they are really good edging shoes, but after about two weeks of solid climbing they slowly retire into smearing beauties. Buy them though. They are a really good shoe to have. If you only climb in a gym, which most "climbers" do these days, these are the only shoes you need.
P.S. If you are a climber living in southern california/orange county area you should email me to go do some bouldering.
Price Paid: $90

Great all around shoe. Super comfortable for many uses from bouldering to sport to multipitch. Suede upper fit like a glove after two weeks and it still does one year later. Heel fit is especailly nice b/c the rubber wrap doesn't open up around the heel like some other shoes (like when the suede streches out and is baggy around the heel on some shoes). Its preformance has been great without being a super aggressive shoe.
Materials: suede, rubber, etc
Use: all around
Break-in Period: 2 weeks but out of box they were fine
Price Paid: $60 (display model)

These are the first pair of shoes that I owned. As said in the other reviews, they are not the best for edging, but smearing they work great. They are also super comfortable, at least when it comes to climbing for long periods and comparitively to other shoes.
Price Paid: $85

Your Review
Where to Buy
Help support this site by making your next gear purchase through one of the links above. Click a link, buy what you need, and the seller will contribute a portion of the purchase price to support Trailspace's independent gear reviews.
You May Like
Specs
Price
MSRP: $125.00
Historic Range: $19.98-$159.95
Reviewers Paid: $60.00-$120.00

Recently on Trailspace