Five Ten Guide Tennie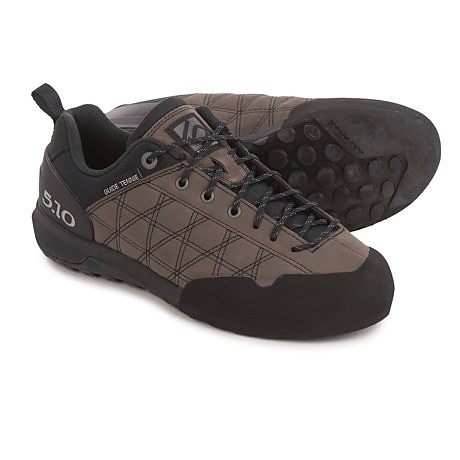 The Five Ten Guide Tennie is an approach shoe best suited to light hiking that involves scrambling on rocks. It has features common to many shoes that try to bridge the gap between hiking and rock climbing—lacing that runs almost to your toes to ensure a secure fit, durable leather material, and great lateral support. The midsole and sole are clearly intended for light rock climbing: stiff midsole, extremely sticky sole with shallow treads, and a rubber-coated toe for extra traction.

While it lacks the sole, cushioning, and support to be an all-day, everyday low hiking shoe, I'm happy walking for several hours in these, and their performance on steep sections of rock is excellent.
Pros
Durability
Sticky sole
Lacing to the toe = easy to keep feet locked in
Good hybrid features, some cushioning for regular walking
Cons
Limited breathability
Weight
Not the best choice as a dedicated hiking shoe as opposed to hybrid conditions
The Guide Tennie is made to get you to rocky trails, then enjoy the rocks without slipping and sliding. I wear a size 12, and the pair weighs a tad less than two pounds—so not by any means the lightest weight shoe you can find. One could reasonably fault some of Five Ten's colorblind style choices, but I am OK with this purple pair.
The upper of the shoe is a pretty robust, rough-textured nubuck leather. In keeping with making this shoe well-suited for light rock climbing, the midsole is reasonably firm, the soles are both very sticky and sporting a well-defined edge. The tongue is reasonably well-cushioned and partially synthetic. I liked these shoes better after a couple of shakedown hikes, so leave a little time to break them in.
The lacing eyes (no speed laces) run almost all the way to the toe; laces are flat nylon that stay tied, which is nice. The sole has a light tread pattern, big oval 'dots,' and the toe is covered with rubber.  
FIT
I consider this to offer a middle of the road fit. My feet are slightly wide at the front, average at the heel, and I don't have much of an arch. So, I wear custom orthotics with every shoe I have that is not a sandal. This shoe has enough room to accommodate the ¾ length orthotic and a medium weight pair of socks with my wide-ish feet. 
This is a fairly close-fitting shoe if you haul the laces tight, which is what you want if you are navigating rocky slabs. I use a light/medium merino Darn Tough or Point 6 ankle high sock with them, which has worked well for me.
My feet are a little wide in the front, and these have enough room to wear comfortably all day. There is no insole of any substance. I have worn them all day for many days, and they feel good. The lacing on these and other approach shoes does a great job ensuring that your foot stays anchored and doesn't slide around, no matter how steep the terrain. 
Approach shoes like the Guide Tennie all, to some degree, have a less-forgiving midsole in terms of flex. That is because the stiffness makes for better rock climbing performance. If you plan to walk a number of miles in these, getting used to that stiffness helps somewhat. I liked these shoes better after they had a couple of five mile hikes under their belt.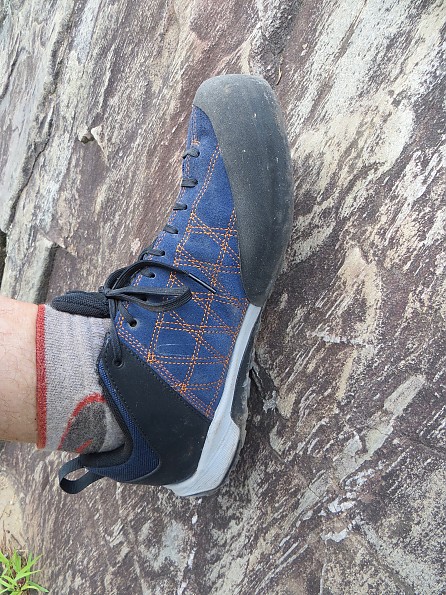 As you can see, there is some EVA foam in the heel area, and a loop at the back to clip them to a pack with a carabiner.


SUPPORT
Medium. The shoe is fine for day hiking and fantastic for steep sections, and the heel areas have some limited cushioning for hiking in between the steep parts. This is not the best shoe if you are carrying a medium to heavy backpack or walking all day, day after day. I would want more cushioning, deeper treads that work better with mud and other messy trail conditions, and a more forgiving midsole for constant walking and hiking. If you compare this to a typical low hiking shoe, you will probably think the sole/midsole feels kind of stiff, like all approach shoes I have ever tried on. In terms of your foot shifting side to side or front to back, these are outstanding.
On the positive side, this shoe is made to take a beating and will protect your feet from pointy rocks, and your toes from getting whacked by lurking obstacles.  The rough-out leather material is tough and shows virtually no wear after a healthy number of miles.
WATERPROOFNESS/BREATHABILITY
This is not a waterproof shoe—no membrane. You could treat the leather with a water repellant spray, and they might then be water resistant, but this isn't the best rainy day shoe. Because I use these for fooling around on rocks, I don't take them when I anticipate rainy conditions, and some of the slabbed trails in our area are pretty sketchy and dangerous when they are wet, no matter what kind of shoe you wear. 
All leather shoes also have limited ability to vent moisture. On the hottest days I have worn the Guide Tennie, I find quite a bit of moisture breathes straight out through the tongue, which is mesh/synthetic. I didn't expect that, but it's helpful. With a good pair of merino socks and that tongue, I never felt my feet were getting unduly damp or uncomfortable. Considering the hot and humid conditions I see most of the summer, that's pretty good.  
It is worth mentioning that I have had Goretex membranes in other shoes fail within a year of purchase; this is my second pair of Oboz waterproof hikers, and I have not experienced any failure. 
TRACTION
Five Ten's "stealth" rubber soles are one of the company's main selling points. It is very grippy on rocks, the same material used in most of Five Ten's dedicated rock climbing shoes. (Note, Adidas acquired Five Ten at some point). All climbing and approach shoes like to promote how sticky and grippy their soles are; most such claims have some merit, as the gummy rubber used in these is fairly different from a typical hiking or trail running shoe. And, these soles are as grippy as you will find.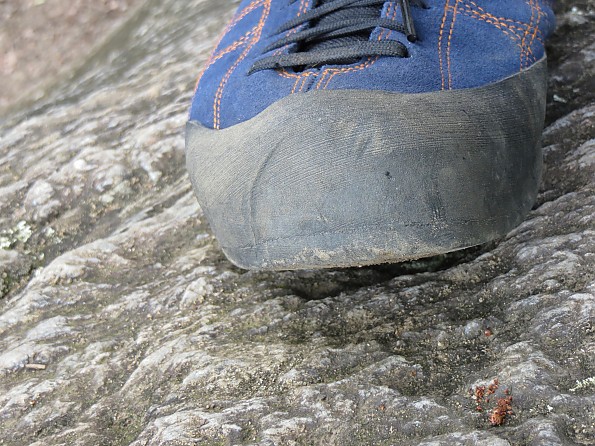 Nice flat area in the front for smearing, and great beveled sole for edging.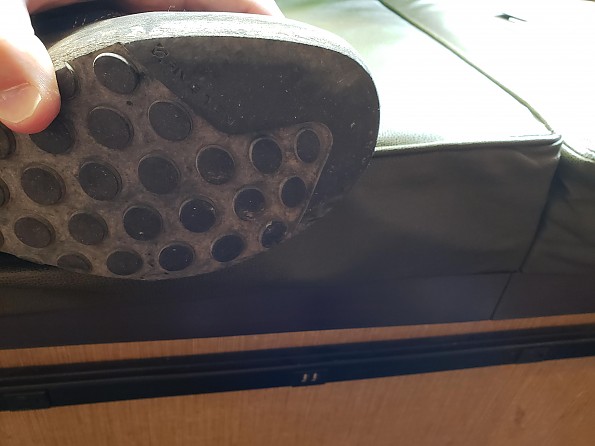 This is the Guide Tennie's wheelhouse—smearing the toe area, edging on steep sections of rock, benefitting from a lightly-treaded and extremely sticky rubber sole. It's rock-climbing sole rubber on a multi-purpose shoe. These shoes shine on rock scrambles and slabs under most weather conditions, and I feel very sure-footed on tricky, low-traction surfaces with these shoes. 
The light treads aren't great in mud and don't give you great traction in loose soil or riverside trails covered with little pebbles and rocks. Most approach shoes present some kind of compromise on this issue.  
Expect a sole this sticky to wear relatively quickly if you use them on rocks a lot. It's too soon for me to say how quickly they wear, but a few spots are showing some wear after about three months.
DURABILITY
The leather uppers are very durable for a low shoe, and the toe cap is robust. Everything seems very well stitched and glued together, and nothing has come loose. It's hard to estimate a shoe's durability after three months, but it appears made to last and to take a fair bit of abuse. See my comments about about the soles—constant use on rocks probably means a re-sole before you wear out the uppers. 
TESTING CONDITIONS
Over the past few months, I have worn these for somewhere between 50 and 75 miles. Lots of hiking on local trails this summer, rock-hopping along a local stream and the edge of the Potomac River with the dog. The riverside trails nearby have a combination of rough and steep granite and water-smoothed, undulating sections that present some real traction challenges, which is the reason I started looking at approach shoes a number of years ago.
A typical hike will be 5-7 miles, about half on the rocks and half on sand/dirt/semi-rocky paths. I like these for the hike in; the flat and relatively stiff sole/midsole means I really haven't come close to twisting an ankle, and there is enough padding that my feet aren't getting battered. I love the traction on the steep and rocky sections. 
I haven't carried a backpack heavier than about 20 pounds with them.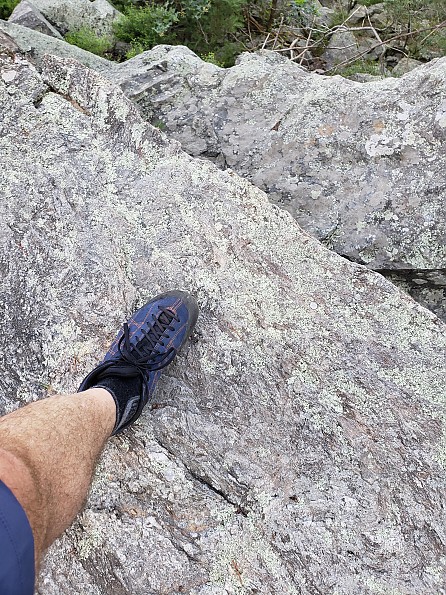 SUMMARY
Before you buy, ask yourself what you want out of the shoe, especially if you are thinking about an approach shoe. Approach shoes as a category are a hybrid between low hikers and dedicated rock climbing shoes, basically. If your trails are rocky, if you see a lot of slabs, steep rocky sections, smooth rocks that might make you think your regular hiking shoes/boots are going to slip, you might enjoy the superior tracking and rock scramble capability of these. They offer traction you really can't get with low hikers, trail runners, or hiking boots.
I have worn two other brands of approach shoes over the years and have liked them all for various reasons. These perform best on the climbing and slabbing parts of your day—awesome traction, very good feel for the rocks. They are fine for the walking and hiking part of the equation too, but there are other options that might be more comfortable if you're primarily hiking instead of climbing.
I give them a solid "four" rating overall; for the climbing aspect, they are excellent.  
Source: bought it new
Price Paid: $120

Got these in the Yosemite mountain shop and walked around the valley for two days taking pictures. A little scrambling to get in position for some shots of climbers on El Cap and walking the roads of the valley to get around. The salesman talked me into getting my regular size because I wasn't planning on doing any technical climbing and I'm glad he did.

I strolled around and put probably ten miles on them in two days. It was a warm November 1st and 2nd (70 degrees daytime) and with summer weight wool socks my feet had absolutely no problems.
Pros
Outstandingly sticky rubber
Comfortable, stable on all kinds of terrain
Lacing to toe gets the fit I need for all conditions
Cons
At the heel the sole came unglued and flopped around a week into wearing
Stitching on the side of shoe unraveled about a month into ownership
Soles so sticky that they picked up small gravel and dirt and became slippery
I grew up in Missouri and when I moved out west realized that I needed different gear to go with the new terrain I encountered. Hiking in the Sierras, San Gabriel Mtns, and Joshua Tree was rocky and steep. I wanted shoes that were sticky and stable. These shoes were it for day hikes and approaches. The midsole was stiff enough to carry a decent load for afternoons (10-20 pounds). 
After owning them for a month or so I had to cut about an inch of sole off the heel of both shoes because they had come unglued and were flopping around. Also the side stitching on both shoes had started to unravel. This doesn't effect anything about the way the shoe performs, it's just cosmetic. I did replace the insoles to something thicker and softer.
The only other problem I had I found out about while doing a day hike in JTNP. While hiking on trail to some petroglyphs the soles were picking up little bb sized stones that made the soles very slick. This is also a constant problem on dirt trails. I learned very quickly to do a little stutter step where rain the sole of the shoe down the inside of my leg from knee to ankle. 
I've had these shoes for 6 years now and wear them in the woods and around town. They are really comfy and assuredly have a look. They do need to be resoled, but now that I live back in the Midwest it's not vital that I do so. 
I definitely recommed these to anyone in need of an approach shoe or hiking shoe for rocky environments.
Source: bought it new
Price Paid: $95

Version reviewed: 2015
A good quality sticky approach shoe that allows you to climbs rocks well. This review is for the current 2015 model Guide Tennie Approach Shoe by Five Ten.
Pros
Sticky sole
Stiff sole for edging on rock features
Cons
Weight is heavier than some
Comfort is a compromise to functionality
Sole picks up pebbles while walking
Laces do not hold a knot well
A good quality sticky approach shoe that allows you to climbs rocks well. This review is for the current 2015 model Guide Tennie Approach Shoe by Five Ten.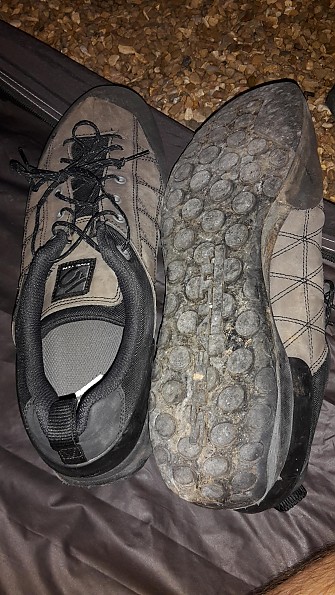 This model seems to be a little narrower and longer than earlier models. The toe box is very roomy, which concerned me on how well they would edge on small rock features. But after a good amount of scrambling and actual rock climbing, my concerns were unfounded. The shoes allow you to climb very technical routes due to the stiff mid sole and sticky rubber.
The rubber soles are very sticky, so sticky that gravel sticks to them and falls onto your other shoe while walking. I have had to clean out pebbles from my shoes multiple times a day while hiking.
These climb better than my previous favorite approach shoes (Camp 4s) because they are stiffer and have a better toe geometry. The Camp 4s are slightly more comfortable for hiking since they fit more like a regular tennis shoe. But if you want an approach shoe that will allow you to climb easy routes, these will work well.
The only negative I see is that the shoelaces that come with the shoes are too slippery and thin to hold a knot well. Even double knotted they will work loose over time. Hey, I'm a rock climber, I know how to tie a knot.
The Guide Tennie approach shoe is a solid shoe that has a great balance of stiffness and comfort for rock scrambling/hiking.
Source: bought it new
Price Paid: 100

I have never had a shoe like this. I was surprised when I got them, not only do they look good and feel good, I feel like a mountain goat when I go rock hopping.
Pros
Grip
Comfort
Looks
Weight
I grabbed these because I like to rock hop and run the rocks where I am. So I grabbed a pair of these because I had seen them a lot before I bought them. I didn't expect to like them or to find them comfortable.
I was wrong. I love them! Nice and grippy, very well made. I wouldn't expect the tread to last long for daily wear on hard surfaces as they seem to be made of a soft compound.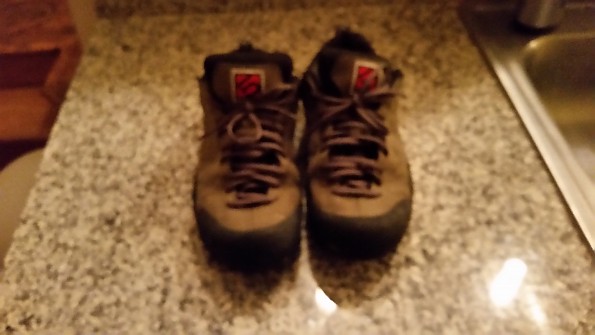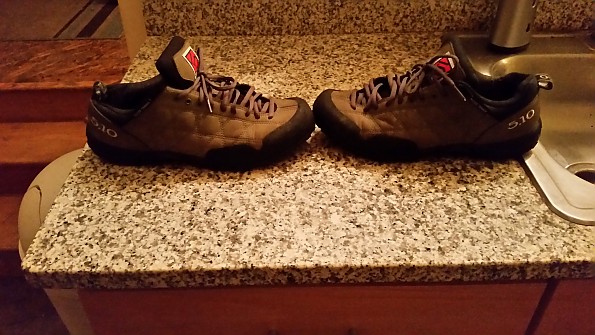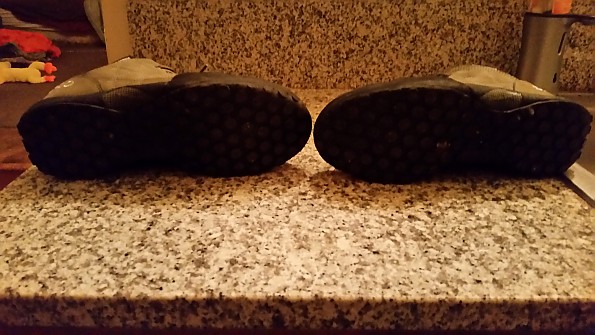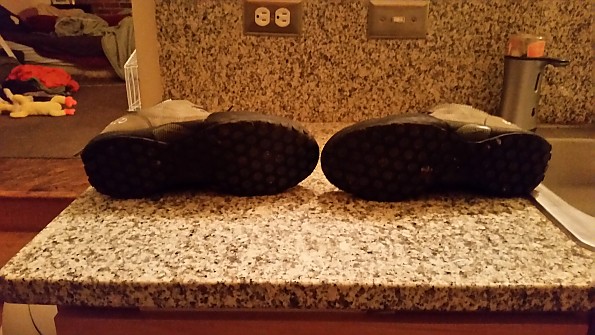 Source: bought it new

I purchased these shoes for fishing. The comfort and fit were outstanding. They have great traction on all the rock and soil types I have thrown at them. Imagine the comfort of a slipper with the grip of a climbing shoe. After a few trips I ordered a second pair.
Pros
Comfort
Grip
No break-in period
Cons
Price is a bit high
Some of the colors are hideous
After burning through several pairs of high end hiking shoes, I decided to purchase the Guide Tennie. I figured any shoe produced for 30 plus years has to have something going for it. I found them on Amazon for about half the MSRP.
Right out of the box the shoe was really comfortable. We are talking big untied skate shoe comfort. The first real test was hopping along some boulders and loose rock along the river. I was surprised at just how well they handled the mixed terrain of a loose trail and wet rock.
After about four trips to different areas I was sold. I ordered a second pair in a separate color. These have become my go-to shoe for most occasions. While some of the colors are a bit gaudy, those seem to be on sale the cheapest. So order away and leave your personal stylists at home.
.
Source: bought it new
Price Paid: Half of MSRP

These are the worst shoes I have ever worn. They feel like blocks of wood duct taped to the bottom of my feet. My feet hurt so bad after. I have bought Five Ten shoes in the past and been happy. These caused blisters and a week of foot pain for two hours of use. A lot of money to spend on shoes I have to probably modify with arch supports.
Cons
Flat sole, not good for high arches
Slipped on wet rock
Mediocre performance for a shoe designed to do everything.
I took them to a rocky trail system to break them in. Wore them for two hours. Six miles of rocky assents and descents later I was limping my way back to the truck.
Called Eastern Mountain Sports for an exchange, not a return. They do not exchange "used" shoes. Should've stuck with REI.  
Have been wearing bandaids on my feet all week because of these medieval torture devices. Never again will I test a shoe mail order.
Source: bought it new
Price Paid: $97

Best shoes for canyon hikers and canyoneering!
Pros
Super sticky sole (even when wet)
Leather uppers
Lace up for adjusting
Durable
On my fourth pair, I never consider going into a canyon without them. I do admit they have poor arch support out of the box, but this can be fixed with inserts of your choice. I prefer Superfeet.
I've used them for scrambling, bouldering, canyoneering, lightweight hiking into an approach, although I suggest no pack loads over 15 lbs. I also recommend wearing lightweight socks, or even none, when canyon hiking as your feet tend to swell.
There are two drawbacks to the shoe.
Poor arch support
The uppers, for me, always tear on my left foot after 9 months. But I mostly hike over volcanic and limestone rock type, which is very coarse. The uppers are pretty durable, some of my friends only have to replace the soles, something that Five 10 offers for $30.
I honestly don't care about heating issues or ankle support—these shoes are great for me. I use them because the type of hiking I do can be dangerous and when I have these on, I feel safe and secure, even when the shoe is wet.
Source: bought it new
Price Paid: $100

I must admit, I fell for the sales pitch on these shoes. It sounded nice - technical. The shoes looked attractive too...but after a few hikes, two in fact, they don't look so good now. These are some things you need to know:
If this shoe gets wet, the sole begins to fall of...after spending $95 on these shoes I am sick of having to glue them back together. I wanted these shoes to last a reasonable time - not less than a week.
The rubber is sooo sticky, every thing sticks to it. You end up sliding every where.
Even if you don't have wads of muck caked to this shoe, the rubber does not grip at all well on wet stone surfaces.
The leather is of such a poor quality that it begins to tear around the rubber toe cap....I think it would have been stronger if they used paper.
I just don't get it...why market a shoe for a particular terrain but give it such a piss poor manufacture. The shoe comes is made in China and the sole is stuck on in America I think. as far as I am concerned both suck, shoe included!!
Price Paid: too much

This is a lightweight, comfortable, well made approach shoe that climbs extremely well. While great for approaches and descents, it also serves as a light hiker.
Pros
Lightweight
Climbs well
Comfortable
Cons
Medium durability
Not padded enough to completely sub for a hiking boot
I use this shoe as it was designed to be used: as an approach shoe for technical rock climbing. I've used it in sport, trad, and wilderness climbing areas with great success. As an example, I climbed the East Buttress of Middle Cathedral in Yosemite and they worked great, but by the end of the walk off my feet felt a bit pounded.
Source: bought it new

When I first purchased this shoe I thought it might be a bit stiff in the sole, but it has loosened up beautifully: not too soft/sloppy, not too stiff. I also had some doubts about its performance on loose slopes and leaf cover, but they have performed admirably off-trail.  
I recently did two days in the Organ Mountains in NM, and was quite impressed. They not only perform, but are comfortable.  
I do have some questions about the durability of the uppers — I noticed a small nick/peeling of them yesterday.  That said I have taken them through some extremely abrasive rocky slopes.
All-in-all a fantastic performing/fitting shoe for me.
Son zapatillas extraordinarias en muchos sentidos pero.... muchos peros...
- Se rompen todos siempre por los laterales al mínimo roce... y quedan feos e inservibles.
Deberían tener refuerzos de goma en los laterales y serían más duraderos e impermeables.
- Se despega la goma de la punta y del talón con facilidad
- Deberían ser un poquito más rígidos en la punta-
- La goma de la punta debería ser de mayor grosor porque se desgasta rápidamente.
- No se pueden pisar los charcos. Te mojas los pies. Esto con la goma se solucionaría.
- Son caras de cojones
Price Paid: 90 euros

Mediocre precision and grip, but very durable.
Pros
Durability
Stealth rubber
Cons
Not precise enough for climbing/scrambling
Weak grip on certain soils
It is a solid and durable shoe with fantastic grip on pure rock. That is its main advantage. However, when it comes to grassy or unstable mixed soil slopes, it quickly becomes unfit for purpose. 
There are better approach shoes today, in terms of frontshoe precision, fit, and multi-surface sole grip performance.
Background
I have used them for several years for crag climbing approach and hiking, all seasons, never had the courage to take them in alpine environment. I have used many different types and brands of approach shoes, for different activities, from hiking and trekking to alpine climbing.
Source: bought it new

Overall I was very impressed with these shoes. I wear them as daily shoes as well as for outdoor adventures. They have taken me to Granite Peak in Montana twice. I hiked with them in the ten or so miles with a forty pound pack and ascended the peak with them. They performed great.
The only issue I've had is the sole coming apart, but it's nothing a little super glue can't fix. Xool styling plus high usability make these shoes winners in my book.
Price Paid: $90

Great shoe. A little too nice for rugged climbing but its nice to have them on in case you feel the need to climb and you're not carrying your regular climbing shoes.
Great fit and finish although I must say that the Stealth soles are the same as Five Ten's regular climbing shoes - they leave marks so if you happen to wear them for casual wear - you need to remind yourself so you won't mark up the tile or wood flooring. A+.
Materials: Leather
Use: Approach/climbing
Break-in Period: short
Weight: 1.15lbs
Price Paid: $95

This is a great shoe. I'm on my fourth pair and I use them hard: work, climb, hike, play. Very comfortable, great fit, super sticky rubber. Sole does tend to peal off at the toe but this is easily and permanently solved by pealing it back a little further and resticking with super glue.
Price Paid: $100

Your Review
Where to Buy
Help support this site by making your next gear purchase through one of the links above. Click a link, buy what you need, and the seller will contribute a portion of the purchase price to support Trailspace's independent gear reviews.
You May Like
Specs
Men's
Price
MSRP: $120.00
Historic Range: $27.98-$139.95
Reviewers Paid: $90.00-$120.00

Weight
14.3 oz / 405 gm

Material
Leather/textile

Features
Textile lining, Stealth C4 rubber outsole for unbeatable grip, Climbing zone on outsole

Fit
Regular fit

Women's
Price
MSRP: $120.00
Historic Range: $37.83-$140.00

Weight
11.8 oz / 335 gm

Material
Leather/textile

Features
Textile lining, Stealth C4 rubber outsole for unbeatable grip, Climbing zone on outsole

Fit
Regular fit

Recently on Trailspace