Fjallraven Bergtagen Longjohns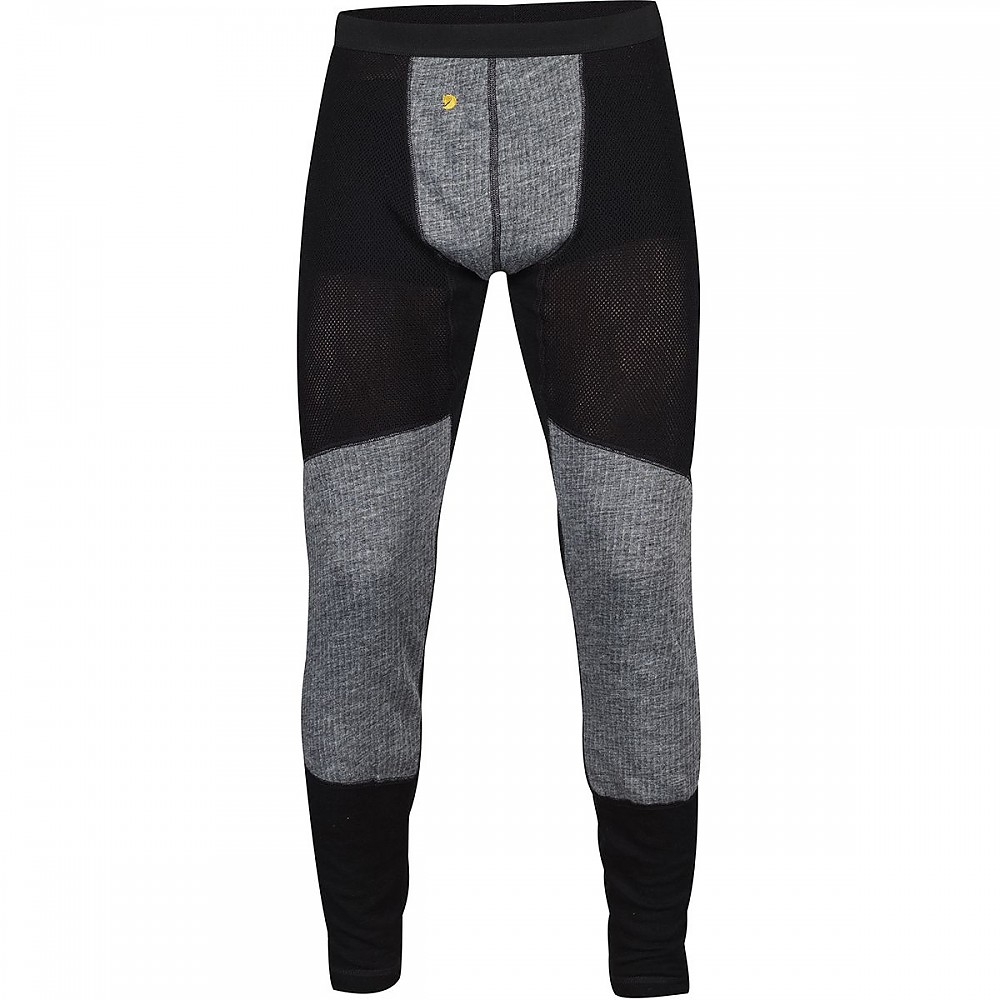 The Fjallraven Bergtagen Long Johns is a base layer pant that utilizes wool in three different weaves to maximize heat retention in key areas (butt, groin) and breathability in others (thighs, calves). It's a total home run of execution and since I received this base layer for testing I have worn nothing else. It's exceptionally well tailored, durable, doesn't stink on multi-day trips, and you'll have no fear around a fire. The only possible negatives are more inherent to wool, than this product—it takes longer to dry.
Pros
Comfortable
Durable
Breathable
Fit
No stink factor
Fire resistant (no worry about sparks)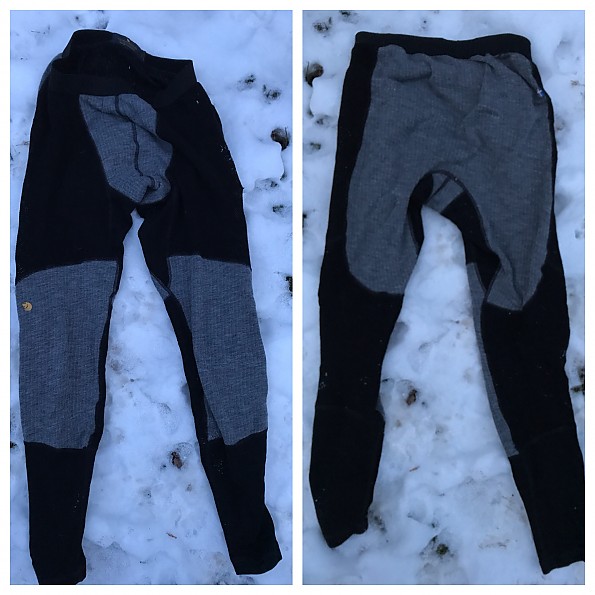 PREAMBLE
Fjallraven is right up there with Arc'teryx in the confusing naming scheme of their products. The Woolmesh Long Johns is part of their Bergtagen line (Bergtagen is a Swedish word used to describe the feeling of being captivated and humbled by the mountains, awesome name), which includes the base layer (two top options and two bottom options, both men's and women's), mid-layer insulation (two different jackets for both men and women as well as a elephant style sleeping bag), outer shell (pants and jacket, both men's and women's) and a work layer (pants and jacket, both men's and women's).
So as you can see that's 21 product options all within the same name lineup. It can be a little confusing, even for someone who knows what they're looking for. All are designed to mix and match, dependent on the conditions, and work together to create an ideal alpine kit. As someone who has only tested the base layer top and bottom, I can only speak to the quality of the garment as a stand alone piece, and within a system of products that I (already owned) and paired it with.
Initial Impressions
Upon receiving both the Bergtagen Woolmesh Sweater and Longjohns I had two initial reactions:
1- The packaging and presentation is beautiful. Both came in a fabric bag with a hard cardboard lining the interior. The garments were neatly rolled on the inside with a carabiner clipped to the outside (A little homage to the mountaineering designed line. Not a weight bearing biner, clearly marked, but still good for clipping a chalk bag or gloves, etc).
A big part of Fjallraven's core values lie in sustainability and eco friendly products and this is a wonderful demonstration of that. I still use both bags, one I kept the cardboard in and it's an extra layer of hard sided protection for my camera when in my pack, and the second I pulled out the cardboard and just use it as a ditty bag, keeps my lip chap, knife, extra batteries, headlamp, all in one place. Nice touch, Fjallraven.
2- Once you get past the Apple level enjoyment of the packaging you pull out the garment. It's shocking at first, and not necessarily in a good way. I remember pulling it out and laughing.
The problem is each time you wear it you'll love it more than the last time.
FIT & COMFORT
As well as the Bergatgen Woolmesh Sweater I tested, if not better. I wear a 33/34 pant, roughly 6 foot, 175 lbs and ordered a size large. Nice and long, tight around the waist, but not restrictive, and still allows you to tuck in your shirt so there's not cold air gaps. Really low profile ankle cuff areas, my one big pet peeve with a lot of long johns is the wrestling match they get into with your socks and boots for position. They can fit over your socks and sit within higher top boots nicely.
I'm admittedly a bit of a baby when it comes to itch factor and this thing is soooooooft. I often use wool as a mid-layer and not a base layer because, well, the baby thing, and most of my base layers are synthetic but this thing feels like your genetic grid pattern fleece, but with more positives. The amount and percentage of wool varies within the three different patterns used (more on that below) but all are comfy soft.
Probably the most impressive thing is the use of three different wool blends, and patterns, throughout the piece. The knees, groin, and butt have a thick(er) grid pattern (and polyester for durability when kneeling or sitting, for example) to maintain core temp. The thighs have a wool mesh (hence the name) for more breathability and to vent those big muscles to prevent overheating, and the low profile, but dense weave used at the waist and from about the mid-calf to the ankle.
WARMTH & BREATHABILITY
Now this is where things go above my pay grade. I genuinely don't know how this product works so well. These two headers, while not mutually exclusive, generally, are at odds with one another. If something is highly breathable than you can assume it can't trap heat that well and vice versa. I have yet to find a lower limit to these things as a base layer and that's saying a lot as they've seen temperatures below -30c with a wind chill.
Now I was wearing appropriate outer layers (obviously), with these but I'm still baffled. You'd expect the mesh areas of these to be noticeably colder than the other two sections. Somehow though, you don't notice a difference at all. You also don't end up up hot and sweaty, as long as you are taking appropriate venting steps and helping to regulate your core temp, but that is something you need to do regardless of what type of base layer you choose.
Being wool the Bergtagen can absorb a lot of water weight before you even begin to feel clammy. The high wool content throughout all three of the materials used will pull moisture away from the skin, although as is common with wool, it can take longer to dry once wet. I've timed it at somewhere in between 10-12 hours without a heat source, and 2-3 without one, so a fire, or hot tent, comes in handy, and another bonus of the wool is no fear of sparks, or embers, from a fire.
I usually like to wear my base layers into my sleeping bag, especially on mountaineering trips where extra weight carried becomes exponentially worse, and any moisture in a down bag is generally no bueno. A little preventative caution to manage moisture and you'll be fine.
The best part about a wool base layer? You don't get that chill when you stop for a break. Wool is incredible at maintaining a micro climate around your body, so you don't get those temperature swings from too hot to too cold.
CONSTRUCTION AND DURABILITY
Exactly what you'd expect from a company who have built their name bucking the ultra light trend in favour of durability and sustainability. Seams are stitched straight and tight, flat locked, with no loose ends or exposed threads. Over four months (and numerous uses), multiple washes (cold wash, always wool specific detergent and hung to dry) the garment looks  brand new. There's been absolutely no pilling along the edges, even the high wear areas around the cuffs. Wool, when treated properly, should last a long time and I see no reason that this product won't, especially given the high wool content throughout. In case your wondering the three different wool blends breaks down like this:
chest, shoulders: 52% wool, 35% polyester, 13% nylon
sleeves, sides, low torso, back: 80% wool, 20% nylon 
side panels, cuffs, neck: 95% wool, 5% elastane
LAYERING
A base layer should be relatively low bulk and should play well with others. This checks both boxes. Anywhere that it would meet another layer (waist and ankles) a tight thin weave is used. Tucking in a sock or your base layer shirt isn't a problem. I most often wore these under a pair of soft shell pants (Arct'eryx Gammas are my main pant when active in the winter, i.e. ice climbing, winter mountaineering, pulling a pulk) and the combo of the two made for an incredibly breathable, but also versatile setup with enough warmth and protection for all but the absolute worst conditions. If "you know what" really hits the fan you have the option of throwing a had shell over top of those two. The amount of times that I wear three layers on my legs though is very rare.
CONCLUSION 
Any product designed for mountaineering or winter camping needs to be hard wearing, durable, and reliable. The Bertagen Woolmesh Long Johns are designed to be exactly that—exactly what you need, where you need it, and nothing more. It has clearly been designed, and tested by people who use it. The quality of the product, the thoughtfulness of the design, and the use of cohesive different fabrics makes this a winner of a product. I own multiple base layers and now only reach for one- this one.
CONDITIONS
I've tested the Fjallraven Bergtagen Woolmesh Long Johns over a four-month period here in Ontario, Canada. We've seen temperatures as low as -30° Celsius not accounting for the windchill this winter. The warmest temps I reach for this is around -5°c, and that's because you need a layer over it (who walks around in just long johns?), but it works well with just shell pants, especially in a cold rain.
My thanks to Fjallraven and Trailspace for the opportunity to test the Bergtagen Woolmesh Long Johns.
Source: received for testing via the Trailspace Review Corps (Sample provided by Fjallraven for testing and review)

Your Review
Where to Buy
Help support this site by making your next gear purchase through one of the links above. Click a link, buy what you need, and the seller will contribute a portion of the purchase price to support Trailspace's independent gear reviews.
You May Like
Specs
Men's
Price
MSRP: $140.00
Historic Range: $91.99-$139.95

Women's
Price
Historic Range: $72.89-$139.95

Recently on Trailspace