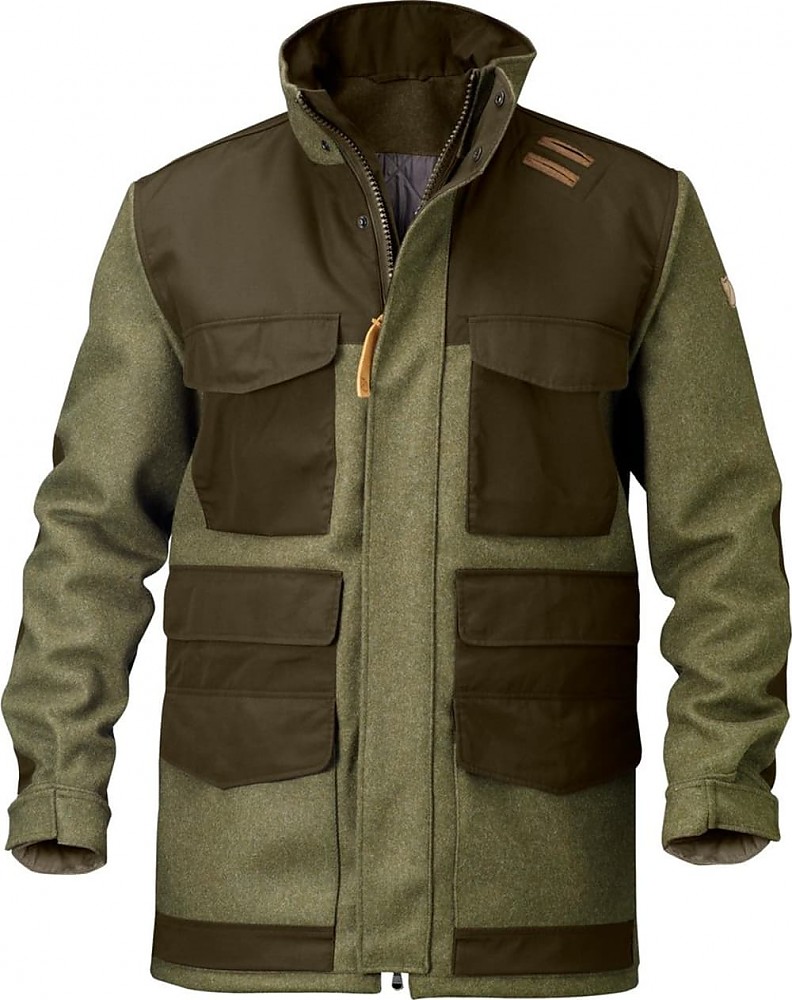 Specs
Price
MSRP: $700.00
Historic Range: $489.99-$699.95

Outer material
G-1000 HeavyDuty: 65% polyester, 35% cotton, 100% Wool

Lining
100% polyamide, 70% cotton, 30% polyester

Lining 2
100% polyamide

Reviews
1

review

5-star:

1

4-star:

0

3-star:

0

2-star:

0

1-star:

0
This is a throwback to when jackets were made to last a very long time (a lifetime, perhaps), coupled with modern day conveniences and fabrics and a thoughtful approach to features.
Pros
Durable, like grandaddy's old jacket
Practical and cavernous pockets (even has ammo pockets for practical hunting purposes)
Radio clip strap on shoulder (brilliant!)
Long torso fit—prevents drafts
Warm in cool and cold weather
Cons
Wide cuffs
Heavy (drawback when active)
Conditions:
I tested the Fjallraven Forest Jacket No. 3 in a variety of conditions during the late winter and early spring seasons including snow, light rain, and high winds in the mountains and valleys of central Pennsylvania. In addition to hunting (its primary use), I've also worn the jacket for blustery dayhikes and winter camping. Temperatures have ranged from 15°F (-9.4C) with low wind to 45°F (7.2C) with stiff winds and consistent drizzle (i.e. not fun hunting weather).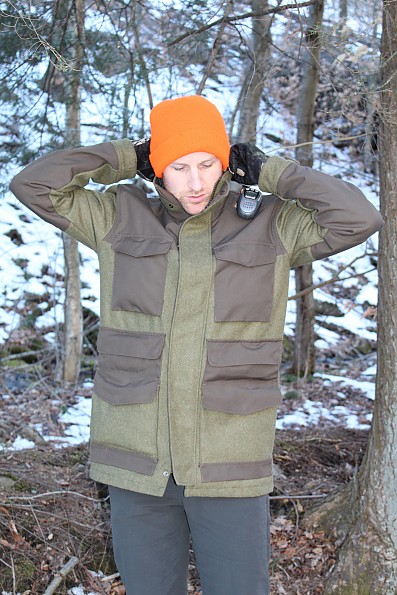 Fit and Comfort: 
At 6'2" (1.88m) and 200 lbs (90.7kg), the men's medium fits me best with plenty of room in all areas including chest, torso length, shoulders, and sleeves. In fact, I was surprised that a men's medium actually has a little bit of extra room for me, but that is okay given that I nearly always have multiple layers on underneath, thus filling the gaps. Being taller than average, I often struggle to find jackets long enough in the torso, but this is one in particular is a great length in that it even covers my butt, preventing any drafts.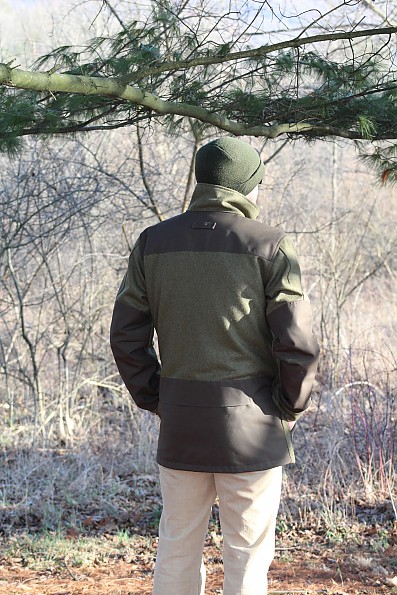 Long enough to cover my back-end.
Materials:
The jacket is made from a combination of Shetland wool and G-1000 Heavy Duty, which is Fjallraven's own fabric made from polyester and cotton.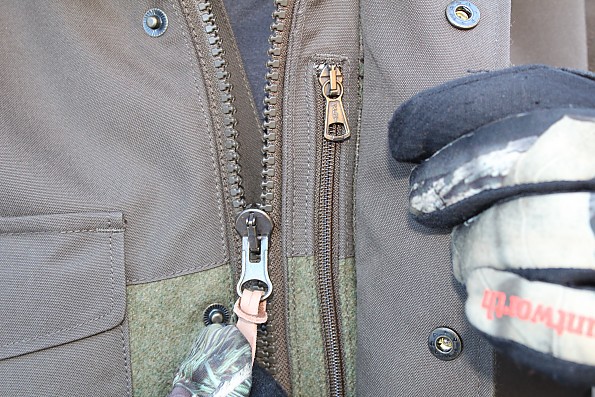 Long zipper pull on the front zipper is easy to use even with gloves. Chest pocket zipper also shown. 
Weather Resistance: 
While not designed to be entirely waterproof or windproof, the jacket does a fair job of keeping the elements at bay. Fjallraven does make note that the jacket's G-1000 Heavy Duty areas can be waxed for increased water resistance, but that is not something I felt was needed or warranted during the testing of this jacket. Perhaps something for long-term testing. The jacket did a fine job at keeping light rain and snow from penetrating. In most of the company's literature, this jacket is touted for autumn use, however, I found it was perfectly suitable for most winter use as well, due to its ability to keep me warm and layerable.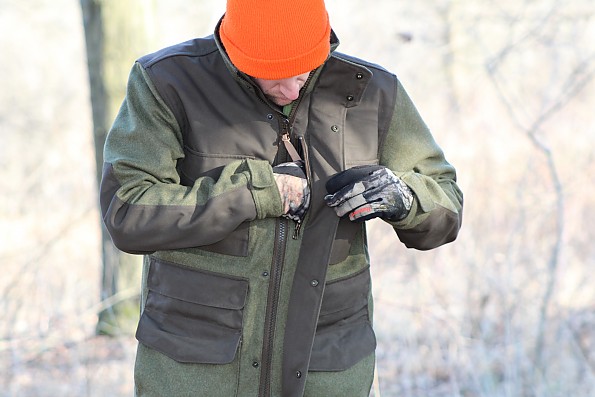 Layering: 
I've worn a combination of layers underneath the jacket, depending on weather conditions and activity levels. Due to its girthier size, especially in the sleeves, it's best worn with layers, as opposed to just a single t-shirt. The most I've worn underneath the jacket was a long-sleeved wool baselayer, a long-sleeved fleece top, and a long-sleeved cotton hooded sweatshirt. Altogether, this is a lot of layers, but all fit under the jacket without issue and without restricting movement. While hunting, I've also worn it with a basic fluorescent orange vest overtop.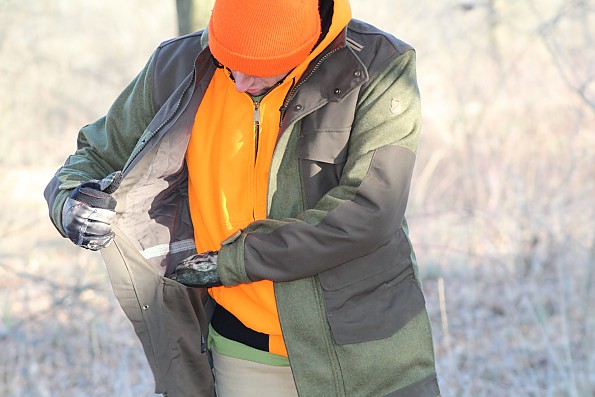 Abrasion: 
Normal hunting conditions, particularly whitetail deer hunting in the mountains and valleys of central Pennsylvania, require a fair bit of trudging through snow, brush, thickets, and other terrain that is generally avoided while hiking or camping. This jacket has met all of the aforementioned terrain with ease with nearly no signs of wear and tear. 
Adjustable Cuffs:
The jacket's adjustable cuffs have a two-button approach. This gives extra room for gloves or layers. The only issue I have with this is that the narrower of the two buttons is still plenty wide enough for any purpose I've had and the wider of the two buttons is excessively wide. I'd love to see a slimmer cuff that does a better job at keeping out drafts, which is particularly an issue I encountered when still hunting (less so when hiking/camping).
Pockets Galore (and Functional): 
The pockets on this jacket are plentiful. In fact, even after wearing it a few times, I was still finding pockets I didn't know existed on the jacket. Pocket overload can be a bit of headache for those of us who tend to forget in which pocket we place things, but the pockets are pretty practical, especially for hunting purposes, with features like two ammo pockets (one for shotgun and one for rifle), a top-loading game pouch in the rear, sizable internal pockets and external hand-warmer pockets. 
The fact that I can comfortably (that's the key word here) fit everything from my basic hunting pack into the various pockets of this jacket, thus eliminating the need for the pack, is a testament to usefulness of the various pockets. 
Everything in this photo can comfortably fit in the pockets of the Fjallraven Forest Jacket No. 3. and does not limit function or comfort. 
Radio/GPS Clip:
An easily overlooked but incredibly useful feature of the jacket is the integrated and reinforced strap on the left shoulder for clipping on a radio/walkie-talkie or GPS. This solves a constant problem I've dealt with for many years when hunting with others. We tend to rely on two-way radios instead of cell phones due to a lack of cell coverage, but if the radio is in a pocket, it's impossible to hear unless the sound is turned up high (which defeats the purpose of staying quiet).
For years I've tried to slip the radio on the collar of my jacket so it is closer to my ear, but it routinely falls off or weighs down my collar. The integrated strap solves this issue entirely and proves to me that Fjallraven has paid attention to even the smallest of details when designing this jacket. 
The integrated radio clip on the left shoulder is small yet incredibly useful feature. 
Expectations:
The retail value of this jacket is certainly not small, so with that comes high expectations, but somehow, the jacket has exceeded my high expectations. This is because the jacket is everything a cold-weather hunting jacket should be (warm and rugged) as well as highly practical with the little details (radio clip strap, pockets, torso length, long zipper pull) and it's easy to get the sense that this jacket is going to withstand the elements for a long, long time to come.
Construction and Durability: 
This jacket harkens an earlier era when woolen mills were the standard bearers of manufacturing jackets to last a near lifetime. The jacket is undeniably tough and able to withstand the bumps and bruises that come with cold weather camping and hunting. This is a lifetime jacket, plain and simple, and very well might be passed down through the family generations. 
Recommendation: 
This jacket receives very high marks in what I consider to be the vital aspects of a cool-to-cold weather hunting and camping jacket (warmth, layerability, durability, length, and construction). Additionally, it hosts many bonus features that, in my opinion, elevate it from being a very good jacket to being a great jacket.
Acknowledgement: 
Many thanks to both Trailspace and Fjallraven for allowing me the opportunity to test the Forest Jacket No. 3.
Source: received for testing via the Trailspace Review Corps (Sample provided by Fjallraven for testing and review)

You May Like
Recently on Trailspace