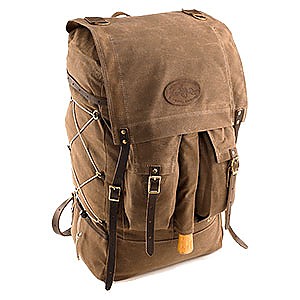 Specs
| | |
| --- | --- |
| Price | Reviewers Paid: $390.00 |
Reviews
2

reviews

5-star:

0

4-star:

0

3-star:

2

2-star:

0

1-star:

0
Well made, old school, traditional canvas pack that conjures images of a classic era in recreational camping. It has an equally traditional lousy waist belt.
Pros
Sturdy construction
Water resistant waxed canvas
Comfortable buckskin padded shoulder straps
Large cargo capacity
External pockets
Cons
Flimsy waist/hip belt
Lack of adjustment
Lest I confuse anyone, I should point out that Frost River makes what they refer to as three different sizes. The way I see it, they make three entirely different packs. The capacity is vastly different with each.
There is the "Isle Royale" (which is the pack I bought and the pack reviewed here). 
Then they have the "Isle Royale Jr" and the "Isle Royale Mini WC".
We are talking old school, early 1900s technology. But sometimes my mood is traditional and I crave a vintage experience. That may be hard for younger people to understand. If the names "Nessmuk" aka George Washington Sears, Horace Kephart, Col. Townsend Whelen, or Abercrombie mean anything to you then you'll 'get it.'  
I started camping in the early 1960s well before the introduction of titanium utensils and Cordura nylon.  It wasn't "cave man days." We were MODERN. We had "Strike Anywhere" matches! We also had aluminum "mess kits" but we were just as likely to be packing a cast iron skillet.  
The Frost River Isle Royale hearkens back to a classic era.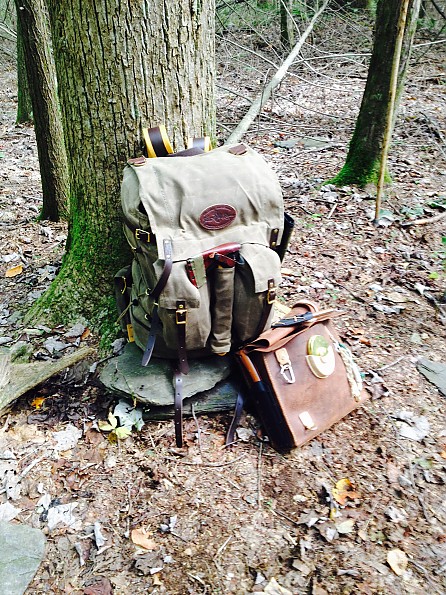 Understanding (and accepting) the limitations of this pack...IT IS VERY WELL MADE!
The heavy canvas material is strong. The seams are well sewn. Attachment points for straps and buckles are both riveted and sewn. It's built like a truck.
Stated dimensions are 23"h x 15"w x 8"d.
Capacity is actual 2760 c.i. Expanded volume, 4968 c.i. (approx.)
It weighs 7 lbs empty.
It's a BIG pack. It will hold a surprising amount of gear.
Of course, if you're packing a canvas Whelen lean and a wool blanket instead of a sil-nylon tarp and compressed 2 lb down sleeping bag you're going to need some volume.
The top flap has an internal map pocket and there are two long external pockets on the front of the pack with flap, buckle, and strap closure. Each pocket will hold a 32 oz Nalgene bottle with room to spare. They would almost (but not quite) hold TWO Nalgene bottles, end-to-end. I only state this to give the reader a size reference. When using this pack I personally wouldn't be carrying Nalgene bottles.
There is also an axe loop on front between the two pockets.  
I opted for the bottom leather straps for a $30 upcharge. Useful for strapping a bed roll, tarp, etc. to the bottom of the pack.

Other than the buckles on shoulder straps and waist belt, there is no further adjustment. With modern packs we are taught to loosen all straps when putting on the pack, then cinch to tighten and stabilize the load. With old school strap and buckle, the adjustment has to be made before slinging the pack. And of course there is no "load leveler" adjustment to pull the load forward at the top.
There are leather compression straps on the sides. Each side has a small slip pocket at the bottom. There is cordage lacing on the sides for securing other longer items outside the pack. Perfect for tent poles? I stick a tarp and a takedown bucksaw in there.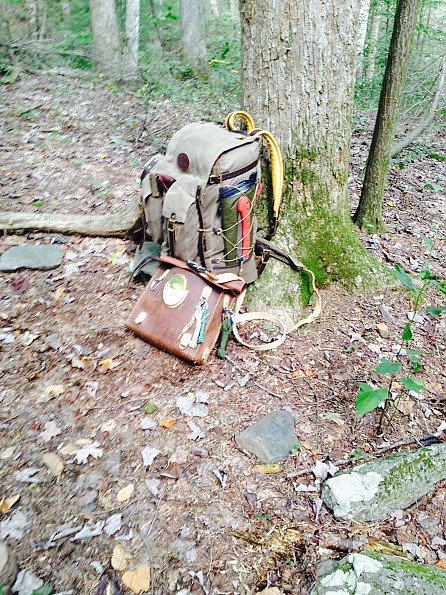 In case I have not been perfectly clear, let me state: I LIKE THIS PACK.
There is really only one thing that bugs me and that is the waist/hip belt. It is a simple canvas affair with harness leather straps and buckle. The problem is it rolls up and doesn't support the weight. It is virtually useless.
I have plans to either MAKE a new belt...or possibly ROB one from another pack. It seems the ideal thing to do would be to rob a modern, functional, padded cordura belt, cover it with canvas, and install it on this pack. Then replace the fas-tex buckle with leather strap and traditional buckle.
If there are other old codger backpackers out there who reminisce to an earlier time or maybe want to re-create it, I would enthusiastically endorse the Frost River packs.

UPDATE (5/11/2016):
 I have recently robbed the hip belt from my Direct Action "Ghost" pack.
The Ghost is more of a day pack size (I use it as a "get home bag") and it doesn't really need a hip belt. The hip belt from the Ghost fits perfectly in the channel on the Isle Royale pack. The "Pencott Badlands" camo pattern blends well with the waxed canvas. From across the room I would never notice that it isn't a perfect match. It works much better than the canvas belt that came from Frost River.  If Frost River would supply a better hip belt I would bump up the rating on this pack by a full star!
Photos in various lighting conditions show how belt blends in with the color of the canvas.  Most people would never notice that the belt is not original to the pack.  At a casual glance, hardly anyone would notice.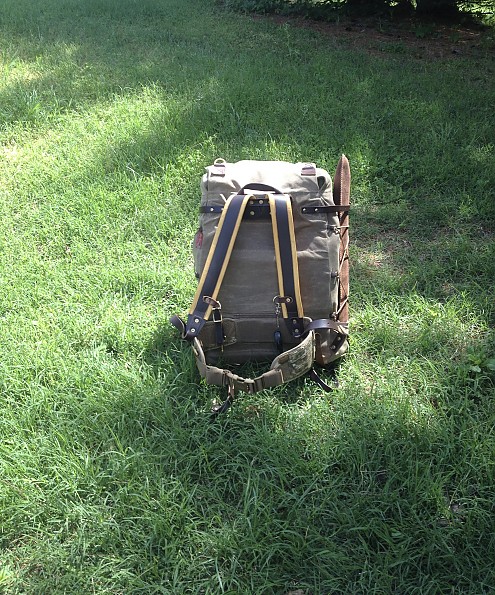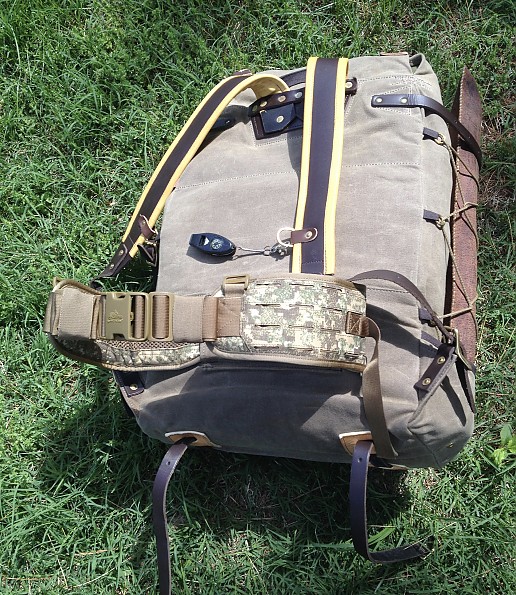 Source: bought it new
Price Paid: $390 (with bottom straps)

Just two words to describe this pack, bomb proof.
Pros
Well built
Loads of room
Traditional design
Asthically pleasing
My new pack arrived yesterday and as of yet has not been tested in the field, but the fit for me is perfect. At the age of 65 and a lifetime of backpacking all over the world from Arctic exercises in Norway during my service in the Royal Navy to the Yukon in Canada using military packs either British pack systems during my service or my preferred Norwegian Army pack this pack is right up there amongst the best.
It does feel comfortable to wear. Not yet sure about the waist belt. The capacity of this bag is large, so there is a danger of overloading it which I would not recommend as the bag weighs 7 lbs empty, so if you are an ultra light backpacker this pack is not for you.
There are four external pockets, two on the front and one on either side. Above the small side pockets there are lace up fittings ideal for trekking or tent poles, even a poncho. Under the lid on the inside there is another large pocket intended for maps, but capable of holding more.
The main compartment is huge, but the pack has no structure to it when empty or partially filled. It just collapses on itself. So a container such as a plastic trash can might be a good idea if you want your pack to be more rigid.There are also leather cinch straps on either side for compression.
I really do like this pack, but it does have its limitations which experience tells me that overloading could well be the main problem.This is a high quality pack and will last a lifetime for anyone who has one.
Source: bought it new
Price Paid: £320

You May Like
Recently on Trailspace