Gaia GPS Hiking, Offroad Maps App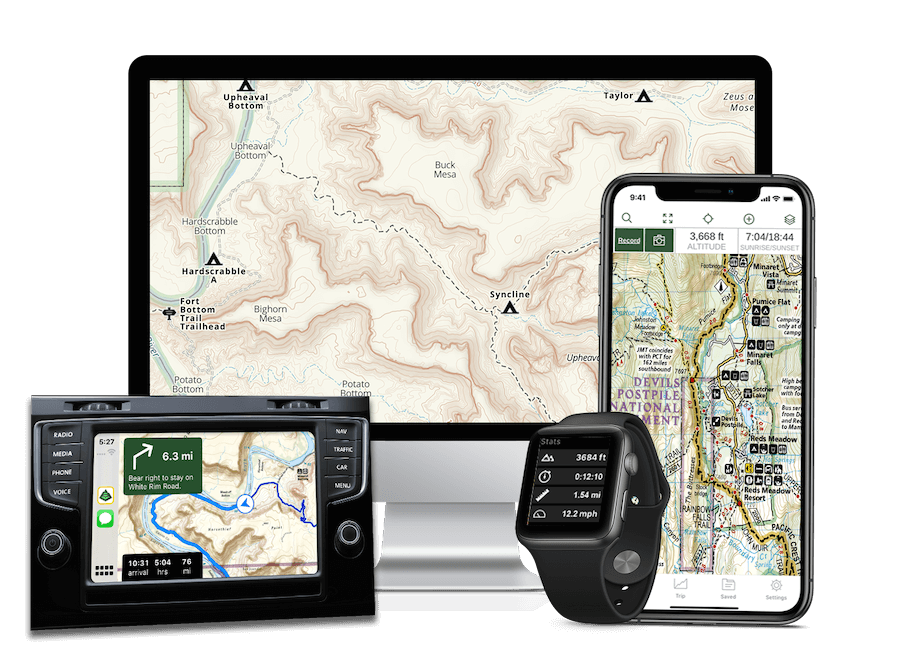 Gaia offers up-to-date and detailed GPS topo maps for Android or IOS devices. Best of all the maps are downloadable so your phone can be your GPS even when out of cellular range.
Pros
Up-to-date maps
Detailed resolution maps
Downloadable maps
Import and export tracks and waypoints
Very good value
Cons
$22 cost
Some issues with freezing up
I had a Garmin eTrex and then a Garmin 450 GPS that I have used the past 12 years. Both devices were well utilized and displayed good accuracy and much usefulness. 
I recently bought the Canada Topo Pro maps for my Samsung Note 3 for $9.99. I liked and used that app for the past few months. Having a big 5.7" display to view maps and waypoints on proved to be much better than the smallish display of my Garmin 450 GPS. I also enjoyed having one multiple use device along. The Note 3 acts as a phone, computer, camera and now GPS.
Previously I also carried a small but heavy Canon S95 camera along with the heavy Garmin 450 GPS. My Samsung Note 3 weighs half of either of the other devices and the battery lasts 12+ hours.
I read the Gaia comparison review on their website so I paid the $22 and took it out on a recent 5-day backpacking trek through Lake Superior Provincial Park. The maps, track, and waypoint recording are all good. It also features Facebook, e-mail, and other "sharing" integration along with syncing and sharing your tracks with others via the Gaia Cloud service.   
Since buying the Gaia GPS app I no longer have a need to carry my Garmin 450. Best $22 I ever spent.
Source: bought it new
Price Paid: $22

The main takeaway for me was that planning a route was significantly faster and more intuitive than any other mapping app I've used. The app does all the things we've come to expect from mapping apps, including pinning waypoints, creating routes, and tracking hikes, but offers many features that others don't, including the national parks maps from National Geographic and cell phone coverage maps. The interface is clean and easy to understand and the maps are sharp without clutter.
Pros
Clear and legible maps
Multiple map layers to choose from
National Geographic National Parks maps
Ease in route planning
Cons
It costs money for the best features
Gaia GPS is a map application that allows you to plan routes, navigate on the trail, record waypoints and tracking. With a paid subscription, you can get access to different maps and map layers that can be downloaded for offline use. It can be used with mobile devices (Apple or Android) or the Gaia GPS website.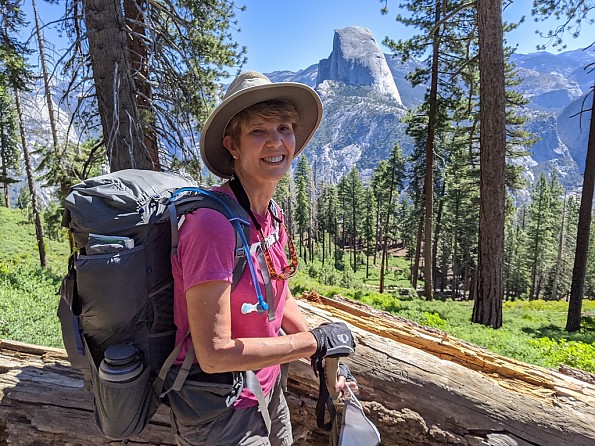 By now, many people are familiar with the basics about GPS apps, but in case this is new to you, your smart phone has powerful navigating capabilities when the built-in GPS function is used with a navigation application such as Gaia GPS. GPS-enabled devices such as smart phones connect to positioning satellites to determine your location. The app can be used in the absence of a cell signal or Wi-Fi because the GPS function is separate. However, you do need to download maps to your device ahead of time to be able to use the app when you don't have a cell signal.
I use a few different map apps on my Google Pixel 3XL smartphone, some that are free and some that I pay for. Well, it's more than a few. I count 12 on my phone screen dedicated to outdoor adventures in addition to tide charts, star charts, knots and plant identification apps. I'm used to the free CalTopo app so I never considered using Gaia GPS but when I was offered a free membership for one year, I jumped at the chance to test the app that I'd heard so much about.
Gaia GPS
Gaia GPS has different levels of membership. With the free version, you can plan routes, record waypoints and routes, record tracks and follow your current location on the default map and a few map layers such as air quality and current wildfires. With the paid version, you get access to all the National Geographic trail maps, international locations such as Australia, New Zealand, Japan, and several in Europe. You also get access to many more map layers such as cell phone coverage, weather forecasts, snow levels, avalanche forecast, past wildfires, mountaineering routes, aviation maps, river maps, and more.
There are two levels of membership. The premium level of membership provides access to more maps and map layers than the basic membership. The different membership levels are described on the Gaia GPS website. 
Jack London State Historic Park Field Test
I've been testing the Gaia app in my local area at Jack London State Historic Park and on a backpacking trip through lesser traveled trails in Yosemite.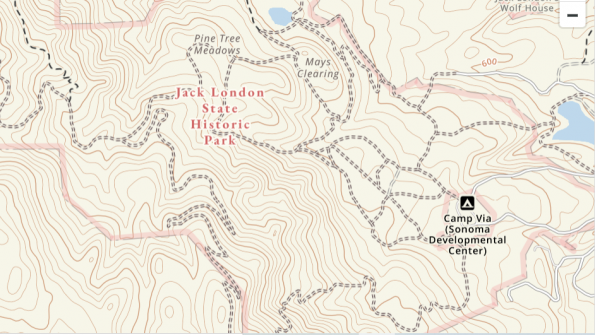 I've been hiking in the mixed forests, redwoods, orchards, and vineyards at Jack London State Historic Park for many years but still find the trails confusing at times. Signage is moderate at best, and there are a series of intersecting trails and loops that still leave me baffled. In addition, some park trails transition to paths on other private and public lands but some maps aren't integrated. I found Gaia GPS to be helpful on numerous occasions when I find myself stumped as to which way to go. I have good cell service there so I didn't have to download maps ahead of time. I found it easy to pin a waypoint on the fly and to start tracking.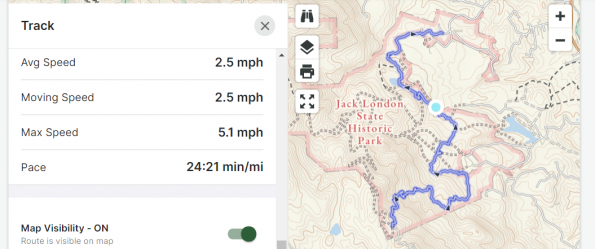 On my last hike, I was curious how long my hike was, but had neglected to turn on tracking. At the highest point, which was the mid-point of my hike, I established a waypoint using the app and turned on tracking, turned around and retraced my steps back to the car. That made it easy to calculate my total mileage by doubling the miles recorded: 8.38 miles total, with an ascent of 1,336 feet (surprisingly low as most of the ascent was in shockingly steep spurts on the Coon Trap Trail so it felt more significant than the number reflected).
The hike took about 4 hours with some rest stops, and my average pace was 2.5 miles per hour with a max of 5.1 miles per hour (likely scuttling down some of those steep sections). When I got home, I could view all the data on my smart phone and my desktop. On my phone there was a field where I could add notes and on my desktop there was a place to add notes and photos. It also provided a link to park information with a description of the park and a list of popular trails. I created a private track, but there's a setting where I could choose to make it public.
On the phone menu for the track, I could choose the following:
Statistics (the stats for the hike such as speed and elevation)
Show on map (shows entire track on the topo map)
Edit (where I could crop the map)
Guide Me (provides a straight line to your current location)
Driving Directions (provides a link to map apps such as Google Maps for point-to-point driving directions)
Download Map Along Track (a helpful feature that allows you to download the map for offline use along a track you recorded)
Resume Recording (allows you to re-start recording on the track)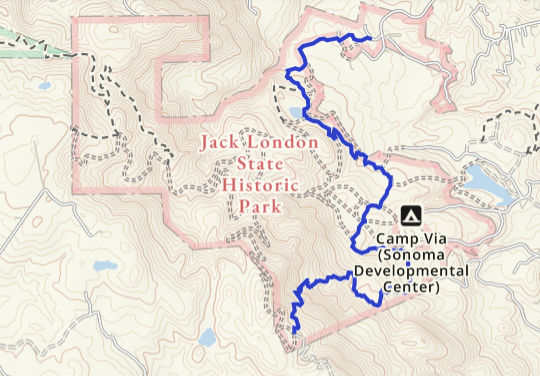 Yosemite National Park Field Test
For my Yosemite National Park trip, I created a 60-mile route that started at Glacier Point using CalTopo, rather than directly in Gaia, simply because that's how I've created routes in the past. I exported the CalTopo route to my device and used it with Gaia. It worked perfectly.
My route included waypoints for my planned campsites and the major passes and these displayed with my labels. I did a location check once or twice a day to verify that I was on my planned route and used Gaia on the last section when I realized that I was running short on water. I was able to find an alternate route that had better chance of finding water sooner and followed a different trail than the one I had laid out originally. I don't use tracking on backpacking trips to conserve battery power, so I didn't test that feature.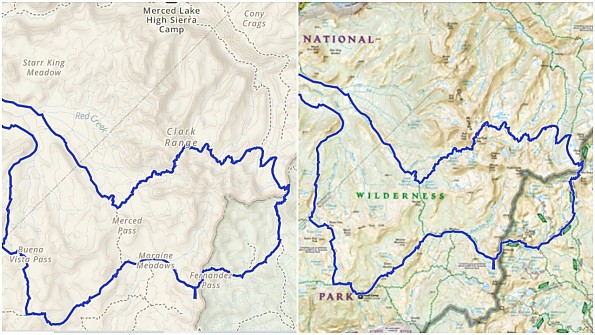 Yosemite Route Planning Test
There was a trip I planned to do that was cancelled multiple times due to late season wildfires, but I was able to test the route planning function in Gaia. Instead of plotting my route in Cal Topo as I had done for the previous hike, I planned it on the desktop version of Gaia GPS.
It was so easy to start a route, click on various points and have the route snap into place instantly following the trail. I could click on the starting point, a few junctions, and the ending point and see the route with the mileage and ascent data (28.8 miles with 8,153 feet of ascent—yikes!). I named it, saved it and was done with the first step in seconds.
When I clicked on the "Details" button, I got to the page that listed all the stats that I mentioned above in the Jack London section, including an elevation profile. Going back to the map, I was able to add waypoints such as my planned campsites and a few key landmarks. When I clicked on the "Waypoint" icon, it placed a random waypoint with a red teardrop inside a prominent green circle (you can't miss it!) that was easy to move into the desired position along with a pop-up screen that displayed the elevation, coordinates and fields where I could name it and write notes.
Clicking on various map views gave me additional information. The National Geographic overlay provided many named landmarks in Yosemite National Park while the satellite overlay gave me a better view of my planned campsites and what the terrain was like (heavily forested vs bare rock).

Summary
The main takeaway for me was that planning a route was significantly faster and more intuitive than any other mapping app I've used. The app does all the things we've come to expect from mapping apps, including pinning waypoints, creating routes, and tracking hikes, but offers many features that others don't, including the national parks maps from National Geographic and cell phone coverage maps. The interface is clean and easy to understand and the maps are sharp without clutter.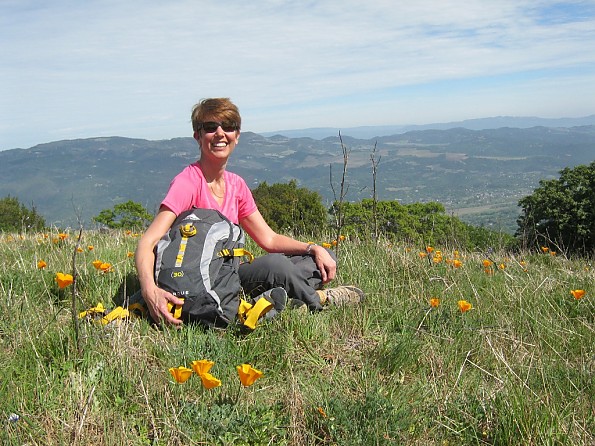 Information
Gaia GPS: https://www.gaiagps.com/
Gaia GPS for Apple: https://apps.apple.com/us/app/gaia-gps-hiking-offroad-maps/id1201979492
Gaia GPS for Android: https://play.google.com/store/apps/details?id=com.trailbehind.android.gaiagps.pro&hl=en_US&gl=US
Tutorial on Gaia GPS from Adventure Alan: https://www.adventurealan.com/iphone-gps-map-backpacking/
Disclosure of material connection: I received a free membership for one year for testing purposes, but the opinions expressed are solely my own.
Experience
I use many different mapping and navigation apps including CalTopo, All Trails, Guthook, GPS Status & Toolbox, US Topo, and Hiker Bot.
Source: tested or reviewed it for the manufacturer (Kept it)

Disclosure: The author of this review received a sample of the product from the brand or its representative in exchange for a review.
Your Review
Where to Buy
Help support this site by making your next gear purchase through one of the links above. Click a link, buy what you need, and the seller will contribute a portion of the purchase price to support Trailspace's independent gear reviews.
You May Like
Specs
| | |
| --- | --- |
| Price | Reviewers Paid: $22.00 |
Recently on Trailspace