Gander Mountain Blazer Solo

Specs
| | |
| --- | --- |
| Price | Reviewers Paid: $40.00-$99.00 |
Reviews
2

reviews

5-star:

0

4-star:

2

3-star:

0

2-star:

0

1-star:

0
This is an inexpensive tent, which is fairly lightweight for its price. The size is sufficient for as a single person tent and it has succeeded in keeping dry and comfortable so far. There is not much room for gear — you'll have to leave the panniers on the bike or the pack outside.
Pros
Inexpensive
Lightweight
Cozy
Easy to set up
Cons
Not free standing
Brightly colored rainfly
While on a bicycle tour in the Upper Midwest, I found that my bivvy sack was too cramped and the heat and humidity were intolerable. I stopped into a Gander Mtn in Green Bay, WI, picked up this tent, and sent my bivvy sack back home.
Given the price (about $99), the weight, and size, it was a big improvement. It is far more comfortable. I have room to change (yes, it is a bit cramped, but better than a bivvy sack) if I am staying at a public campground. It is also very easy and quick to set up, even in the rain and wind.
I have had no problems with major condensation or leaks during moderate rain storms. I have not been caught in a major thunder storm in it yet. I have had no problems in wind. She stays steady. I do suggest setting up with your feet pointing the same way as the wind is moving.
There is not much room for more than me, my sleeping bag and mattress, and a few small things, but that is OK by me.
The mosquito netting works — good ventilation too. I have been using the tent for two years now, about 25 nights total over those two years. I keep it clean and it seems like it is going to last me at least another season. I like that I can pack it up pretty compactly into my panniers. 
The stakes are cheap, but they work well enough. The poles are a little awkward to get folded up and tightly packed; the poles for the foot end can be a little difficult to get through the sleeves. 
Two things I don't like about it as a bicycle tourist, first, the fly is very bright, which can be a problem when stealth camping off the side of the road; secondly, it is not a self standing tent, so if the soil is too loose or there are just rocks, you have to be creative to set it up, but this is a very minor complaint (rocks, trees and bushes can be used. I always bring about 20 extra meters of line for just such occasions).
I also could not find a footprint specific to it. I just got one for another tent with similar proportions, a little creative folding and it works fine.
Source: bought it new
Price Paid: $99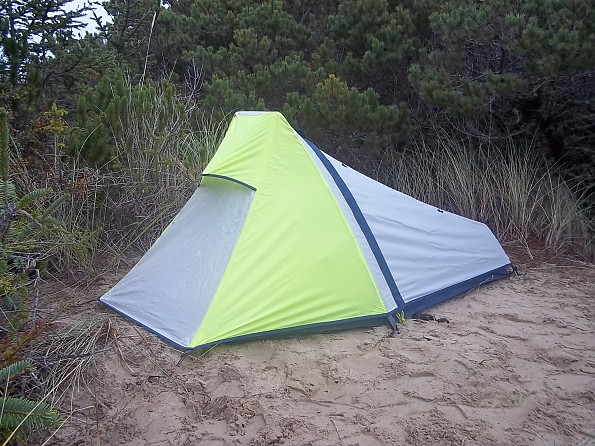 Ever been on the trail and felt uncomfortable with your expensive tent in view of other hikers. I know I have. This is the reason I bought this inexpensive tent.
Interesting that this tent has 2 doors. It's a nice touch as it will setup anywhere. The rainfly has a nice big vent right over your head. There are 2 added zippers at the foot of the fly for more ventilation.
The setup is easy, poles using a sleeve and clip system. Inner tent is mostly mesh with a 6"strip of polyester fabric over the top from the head to the foot. There is a good 3" clearance between the inner and the fly. The poles are a thin flimsy fiberglass. It came with some realy bad short stakes, and the tie lines were thick and of poor quality. I replaced both. On to the test...
At this price one would think that this is a fair weather tent. So I took it out to the Oregon beach, 12/22/10. Yes, storm season. I got out there and it was drizzling. I got it setup in under 5 minutes (first time). I used 9" Y stakes. I know when a storm is coming! With a little doing I got the rainfly tight.
As I pondered the wisdom of staying out in a storm in this inexpensive tent I cooked my meal. At 5:30 pm The weather started to change from a light drizzle to a downpour. I felt the temp suddenly drop. It was time to move inside.
Outside the winds were gusting better than 35 mph and the rain was coming down sideways. I took a peak outside and saw my Noah tarp was down, and my backpack was exposed to the weather. Inside I was dry. How long it stormed I don't know, as I went to sleep.
In the morning I got out of a perfectly dry tent. Had to find my backpack as it had moved down the dune and rolled down the trail. Further inspection of the tent I found condensation on the upper 1/4 of the rainfly, this is normal out here. The rain had forced itself between the footprint and the bottom of the tent. No water seeped into the tent.
Those flimsy fiberglass poles held no cracks no breaks. There was 2 droplets of water on that 6"strip above the inner tent. I took this as condensation drops. Overall I think this was a very fair test.
On the downside
If you are taller than 5'10" you will not fit into this tent as I was snug, with my feet touching the vent, and my head with in inches of the other end. There was no room at all for my backpack. But I knew that when I bought it.
Overall I think this is a good tent that if you get caught in a storm you would be safe. I would recommend it for more fair weather because of the poles.
Tent sold by Gander Mountain, made by Northpole, China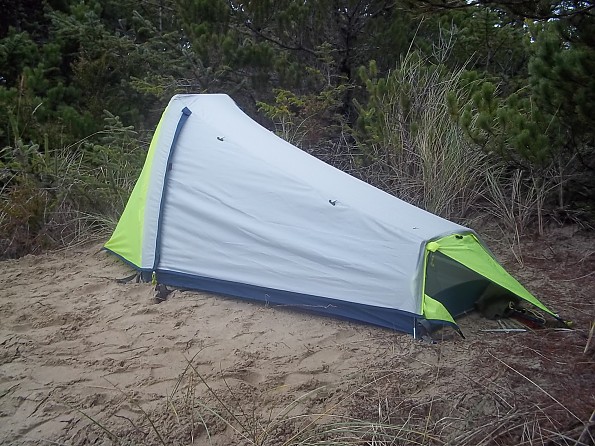 Price Paid: $40

You May Like
Recently on Trailspace