Garmin eTrex Vista HCx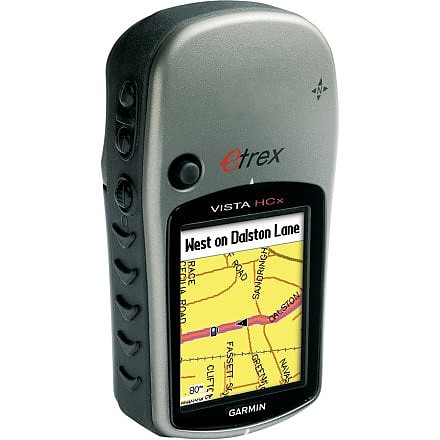 RainBuzz review...

Hello All this is my unbias review of this unit.

I know what readers want to see, a unbiased thorough report.
Lets face it, the ".com"s relies on ads for revenue and have restrain from a totally honest review.

I'll tell you the good, the bad and what is acceptable.

Good
-------

Small - fits in the palm of your hand, even a female can easily grasp this device without fear of dropping it.

Ergonomics - its a one handed device. Unlike many other GPSs that require two hands, or is unsecure with just one handed operation, the Etrex is designed for one handed, comfortable and secure operation.

Battery - I am still on my first batteries. So far about 20 hours and it still shows as full on the battery indicator, which is only a resolution of 3 bars. So it means I am still within the first third of the battery. Keep in mind though, I am using lithium batteries, which lasts 5x longer then alkalines. And the voltage is fairly steady until it finally dies.

Rugged - rubberized grip and steal lid for the battery/belt clip bolt.

Waterproof - I worked under water and in the rain. Of course it was only a few inches deep and only for a few minutes. I don't want to test expensive imported electronics upto the point where it breaks. I am not rich.

Standard - It uses a standard USB cable, it saves as tracks as standard GPX files for Delorme and Google compatibility. It uses standard AA batteries. Which also means you can buy recharable batteries and use them also.

Fairly fast - UCB bus does a descent job of transfering, but it crashes on trasnfering large files, such as large map files.

Color screen - the colors and resolution is accepable. Not great, but it gets the job done. Great part !!! ... is that it is visible during the day without a backlight, which lowers the battery drain.

Navigation/Maps - It shows the details streets OR topos, depending the map that is loaded. It can create routes on street maps (Navigator).

Memory - It has no built in memory, but a microsd fits into the battery compartment. I tested it with a 2 GIG. Future firmware will most likely allow larger memory cards.

Cusomtizable - The screen arrangement can be configured to best suit your needs.

BAD
-------

Mouse - The mouse bottom has no cover, so when ever its placed in the case or pocket the mouse botton is pressed and the unit backlight activated. So don't carry the unit inside a case or pocket on long hikes. there is no menu option that turns off the mouse botton or turns off any of the other keys. Unlike a ipod there lacks a firm switch that deactivates the controls. Best if Etrex is not used in mission critical tasks unless you can build a hard case or moouse cover.

Night time use - to turn on the backlight, its most natural to press the light botton, but it requies a long wait to show the map screen, alternative is to press the mouse botton.

Tracks - BIG PROBLEM !! I have to turn down the resolution of tracks I download from Trimble or other sites before uploading it to Etrex. Why, Garmin claims a huge capacity for track points and waypoints, but some bug prevents it from showing more then several dozen. A big NO NO for those of use hiking on remote trails where markers are not visible. I had to sepsarate my track points by severl hundred feed to a thousand feet to feet the track on the etrex.

File menu - There is none. You have to take out memory card and place it in a USB memory reader to organize the files. The GPS unit does not act as a memory card reader.

Proprietory - The unit requires a Garmin USB driver. So don't expect to walk into a Internet Cafe, download a track from the Internet and upload the files into the Etrex. You are pretty much stuck using your own laptop that has the garmin USB driver and Garmin Mapsource software installed. Alternative, you can carry a USB card reader.

Water - it doesnt float, so be very careful when on a river, lake or ocean. It also does not show tides. So for Marine use get a different GPS.

Screen - A bit too small. The size of the unit limits the screen size. But for those of us with normal or better then normal vision, the small screen could be put to better use if the resolution was increased to make the small icons more clear.

Software - Its proprietory, Delorme, Nat Geo and other Topo maps can not be downloaded to the Etrex. Only Garmin Maps can be downloaded to the Etrex. Considering Garmin Mapsource software are among the worst out there except for Magellen Software which is the worst, it limits the enjoyment and usefulness of the GPS.

ISN'T IT ALWAYS THE SITUATION, GREAT HARDWARE AND CRAPPY SOFTWARE !!! Due to a lack of international competition on software quality in this areas usually suffers greatly. And no you cannt go to a Japanese site and buy a import. It doesn't exist.

I found the trilas on Gramin TOPO 2008 to lack MOST of the trails in my area. Also the trails are single pixel wide grey/black lines which are extremely difficult to see. The software also is bare minimum when it comes to features. So far the hardware OEMs are doing their best to also sell the software and hence, making the maps proprietory.
I am keeping my eye open for a strictly hardware manufacturer that just makes GPS, so I can use any software I want. Its also good for the market because it brings in competition.

Compass - Slow and inaccurate. Bring a magnetic compass on challenging navigations.

File limitations - as mentioned above there are LOTS of file problems on the Etrex.

1 - There is no file menu, one has to buy a separate USM card reader and organize the memory card outside the unit.
2 - File size for maps is limited. It will take about four separate files to load the entire USA topo.
3 - Large file transfers crash. Alternative, probably a reliable one, use a old USB 1.1 port rather then the USB 2 port on most computers. Yeah, you r gonna have to find a old PC or a old USB hub somwhere. I fortunately have a 5 year OLD antique laptop I can use. When I want to use it with my FANTASTICALLY FAST and convenient desktop I have to drag out one of my old USB 1.1 hubs.
4 - Merging, editing files (tracks) ALLLLLL have to be done on the PC in which you have the Garmin USB driver and Mapsource installed. Nothing can be done on the unit or on a public PC. Hence, if your going hiking for a few days either bring along your laptop or don't edit/merge/organize your tracks while on the trail.

Personally I like to spend my nights reviewing my tracks and organizing, but cannt be done without your own laptop.

I think we are at a point now in hardwarre, where the processor and memory is more then adequate to accomadate a Operating system and software to make these units more autonamous, but as usual the SOFTWARE PEOPLE have dropped the ball.

No exerntal antenna port - My 7 year old garmin GPS III has a external antenna port. For those of us who have discovered and used this port its a GOD bless. Why, a third party external antenna is LEAPS AND BOUNDS !!!! more sensitive then a built in antenna. So when I am in deep canyons, tree foliage, urban jungle or really bad weather the external antenna receieves where the built in usually fails. Even on car GPSs I look for a antenna port.

I bought a external GPS antenna without any company name, just marked "Mad in Taiwan" connected it to my OLD garmin III and within a few seconds it captured 9 satelites !

No waiting for warmup, no "poor reception" warning, and no 50 feet or worse resolution.

I broke the cable on the external antenna, and I cannt replace it because all I know of it is that it was "made in Taiwan". It was OEM, where the American company is supposed to import it and then stick their company name on it, but mine didn't have a label.

Conclusion:
I am a IT/Engineer and my beef with poor software is a legitamate one that can be fixed if only more talented people and more competition entered the market. But the unit is usable and the hardware is well made.

The unit is a a STRONG BUY. Its the best unit of its kind out there. For those of us who like to hike, climb or bike.

I don't recommend it for Marine use, because it does't float and lacks tides. But can be used on water, lets say for kayaking or canoeing. Just don't drop it. Or have a bouy connected to it. And bring along a tides map.

I like to see in the next version a Bluetooth capability. So I can use it with my phone and laptop. I like to also see a more feature rich software on the unit. This little device becomes a object of distraction and amusement on lonely nights on the trail. We can lose the games on the unit. Lets face i, no one plays them, and a PSP or DS would blow it away in that area if you have kids.






Price Paid: $300

Excellent product overall.
Pros: Super sensitive receiver very reliable signal in almost all situations.
Excellent screen that is very visible in all light conditions.
Lightweight and compact - ideal for backpacking.
battery life is the best I have seen on any unit. I own 2 other GPS units.
Versatile, excellent for hiking, geocaching, wilderness navigation. Not ideal for car, but adequate and the windshield mount performs very well.
Super easy computer interface using the Garmin Mapsource software. I also have all the Southeast region topos loaded on a micro SD. The 1GB card is half full. So far in 6 months usage software and GPS has worked flawlessly.
Cons:
Rubber armor delaminates which is a real pain.
Not as rugged as my Magellan Explorist 210 or my Garmin Geko 101.
My other units have survived several bumps and scrapes, but the first time I dropped the Garmin Vista HCx, the screen cracked.
Overall, still the best value for the avid backpacker, or geocacher. A very powerful unit.
Price Paid: $269

With four years of use I still really like the Garmin Vista HCx.
Pros: Really high sensitivity, color screen, micro sd card slot, electronic compass, small size, long battery life, excellent tracklogs, trip computer is adjustable and great, altitude and altitude display, records all my tracks as gpx files on the micro sd card, turn by turn routing with optional maps, it is a very tough unit.
Cons:  It is not a 3 axis electronic compass, screen read-ability in some lighting, extra cost maps, small screen.
I use the Vista for hiking, bicycling, motorcycling, canoeing, kayaking, geocaching, snowmobiling, XC skiing, snowshoeing, and I have used in the car for over the road too.
As I get older a larger screen will be in the cards for my next GPS.
Price Paid: $239

Overall this unit is a huge improvement over the Vista B/W screen unit, which I used to own.
Pros: Color screen, more sensitive satellite antenna, geocaching features.
Cons: The biggest problem I've had is that the elevation randomly resets itself anywhere between 1000 to 3000 feet higher and sometimes lower than the actual elevation. I've had to calibrate the elevation many times. I've sent the unit back to Garmin for repair, but the problem persists.
Have to set the backlight level every time the unit is turned on.
The electronic compass isn't all that accurate when standing still. In my opinion, it's not much better than a unit where one has to move for the compass to work.
Price Paid: $250

Great Receiver. The color screen is awesome and once you load some TOPO maps on it, it has as much information as you could ask for on a handheld unit. The microSD card slot is awesome. with a 2 GB card you can fit almost the entire TOPO of the US. My only complaint is that it takes a fair amount of time to download maps, but it is a small price to pay for all the information that is loaded to your unit. Satellite reception is quick, and battery life is good.
Price Paid: $299

Your Review
Where to Buy
Help support this site by making your next gear purchase through one of the links above. Click a link, buy what you need, and the seller will contribute a portion of the purchase price to support Trailspace's independent gear reviews.
You May Like
Specs
Price
MSRP: $299.99
Historic Range: $36.83-$349.95
Reviewers Paid: $239.00-$299.00

Weight
5.5 oz / 156 g with batteries

Unit Dimensions
2.2 in x 4.2 in x 1.2 in / 5.6 cm x 10.7 cm x 3.0 cm

Display Size
1.3 in x 1.7 in / 3.3 cm x 4.3 cm

Display Resolution
176 x 220 pixels

Display Type
256 level color TFT

Recently on Trailspace