Garmin Forerunner 645

#9 in GPS Watches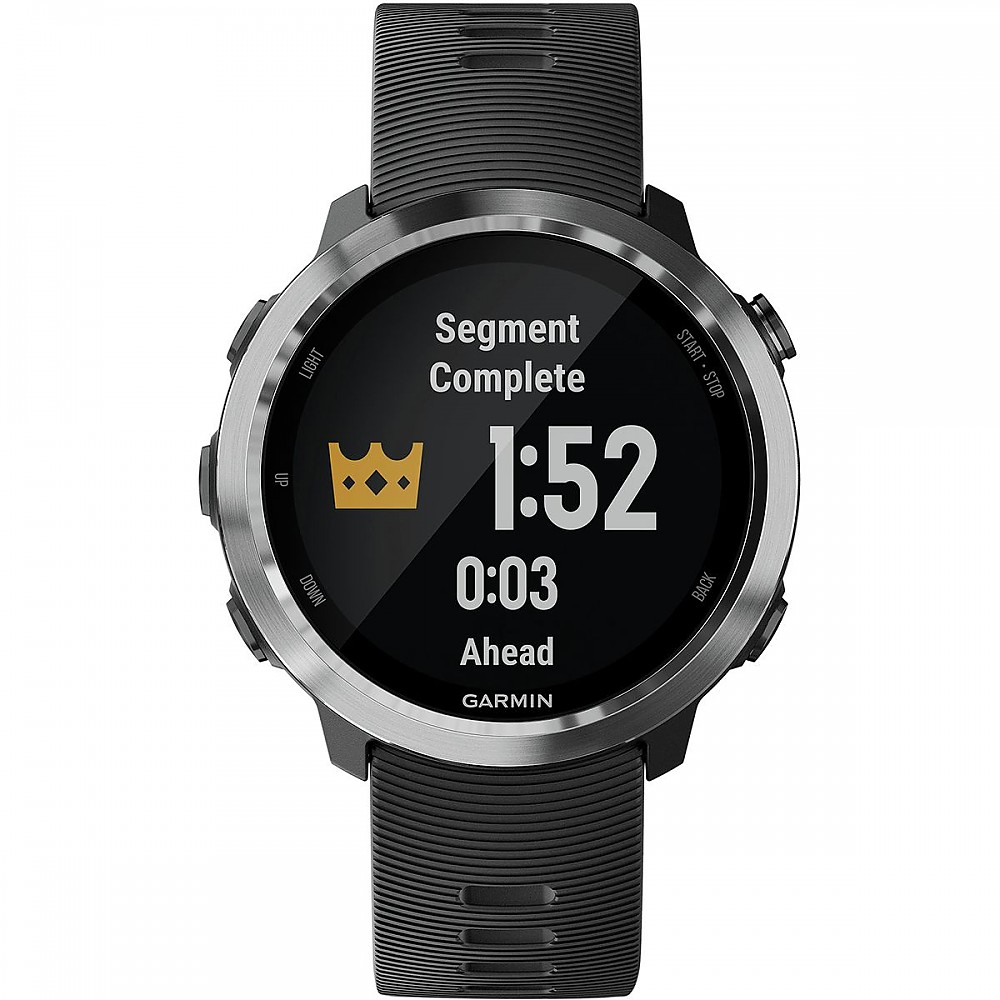 A modest looking GPS, heart rate monitor, and smart watch that delivers reams of training information. Pairs with a mobile phone to deliver loads of other features and is fully customizable. A good choice for athletes engaged in systematic training, it also works well for more casual users that can put the smart watch features to use.
Pros
Compact and modest design
GPS and HR monitor combine to record detailed info on training activities
Scrollable screens give real-time training info when on the trail, road, or mountain
Customizable with thousands of watch faces, apps, and screens available on line
Phone syncing and smart watch features and apps extend utility into the rest of life
Cons
HR monitor not always accurate
Battery life shorter than spec
Strap broke within two months, possibly defective, replaced under warranty
I (almost) never would have bought this watch for myself. I'm not that serious or systematic about training. I just go out and run by feel, and these days that usually means keeping a moderate pace, enough to be breathing easy on flats and downhills and work up a bit more steam on the uphills, which there are plenty of in my backyard. SO what's a guy like me doing with a fancy training watch?
Well, back in 2013, my ultrarunning daughter gave me a Forerunner 245 as a timely birthday present, a few weeks before we started together in the Oslo Skogsmaraton, wherein she dropped me after about 20 km. By last spring the battery in that watch wouldn't hold a charge for much more than an hour while recording. When I took it in to the shop for replacement, I was informed that Garmin wouldn't replace batteries on older models but would happily sell me a newer model at a discount.
I did find a place in Germany that would do the replacement, but it seemed a bit risky so I decided to go for the trade-in. And ended up with a whole lot more watch than the old one and maybe more than I'll ever need or use. I mean, it has widgets! And interchangeable faces and data screens! And passes on messages and alerts from my phone!
But let's not put on our socks over our boots here. First: does it tell time?
It's a watch!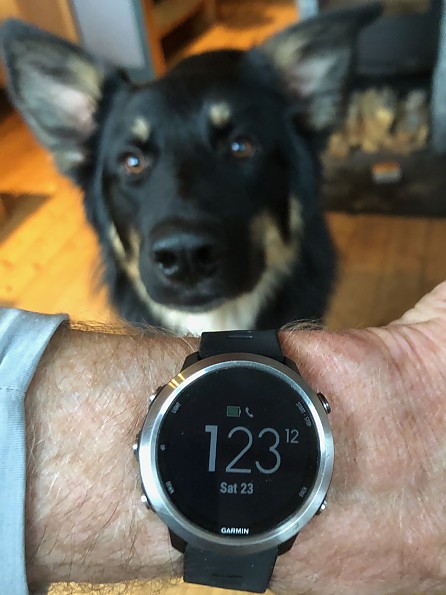 On my chosen watch face, the current time is displayed in big numbers, with battery charge and phone link icons above and the day of the week and month displayed underneath. Fortunately, I can still remember what month and year it is. The 240 x 240 pixel screen displays fonts down to an estimated 8 point size clearly and legibly.
The watch comes with a handful of other pre-installed watch faces, for example, an analogue watch face with hour, minute, and second hands, or some faces that include accumulated distance over multiple runs. I can download any of over a thousand more from the Garmin Connect Store. – 46 web pages worth with 30 faces each in all kinds of imaginative (and not so much) colors and designs. Here's a Mondrianesque and another artsy face that I installed just for fun: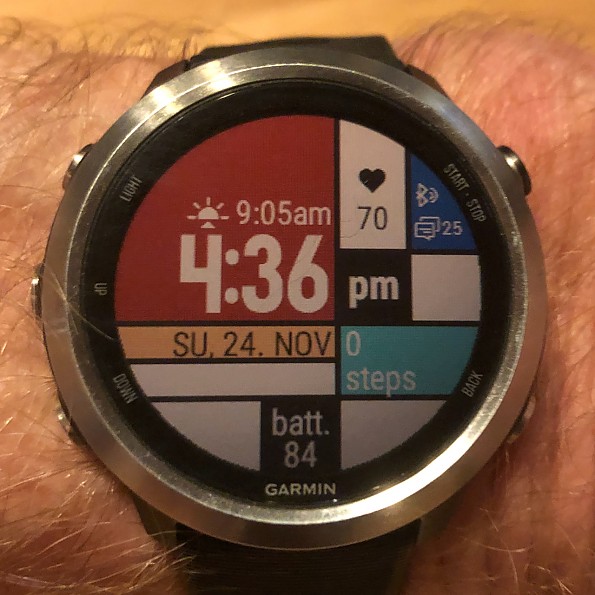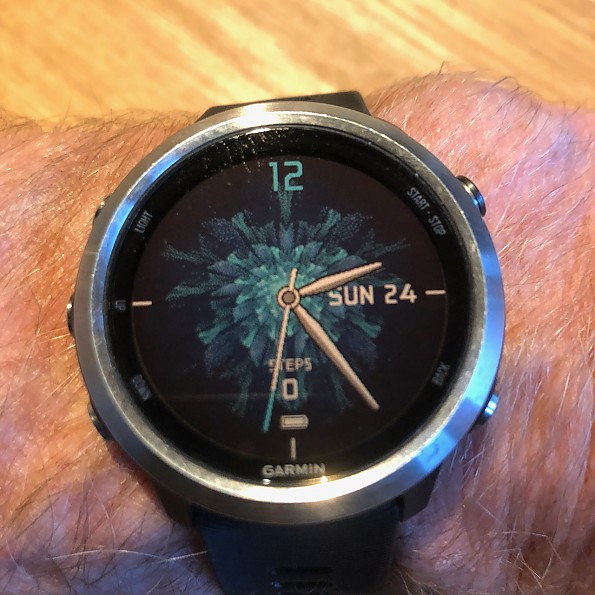 Some other faces come packed with information, often in fonts that I find too small to be all that useful.

Like other GPS watches, the 645 is usually set by satellite. If I fly to a new time zone, I have to put into GPS mode and wait for it to find satellites and fetch the local time from the heavens. I can set it manually, but I usually I let it do its thing, although that means getting out of the airport first.
Despite all its additional power, the 645 is more compact and "normal looking" than my old 245, so I wear it as my daily watch. It may not signal as much status as a Rolex or other multi-thousand-dollar watch, but I imagine in endurance training circles it may earn a knowing nod now and then.
It's a computer!
The 645 is a full-featured smart watch that stays in touch with my smart phone to relay all kinds of information one way or the other. Without my ever asking for it, I get messages, calendar, and New York Times alerts on my wrist. These are infrequent enough that I find them mildly amusing, and so haven't bothered to turn them off, but I definitely don't want my wrist buzzing every time an email comes through.
The watch comes loaded with other widgets, for example current heart rate and a graph of last four hours' heart rate, other training and physiological info, and a calibratable compass. Others can be downloaded and installed, for example a menstrual cycle tracker for women, maps, or weather info. Just for fun I just downloaded and installed the myABC custom widget, which gives altitude, pressure, and current bearing.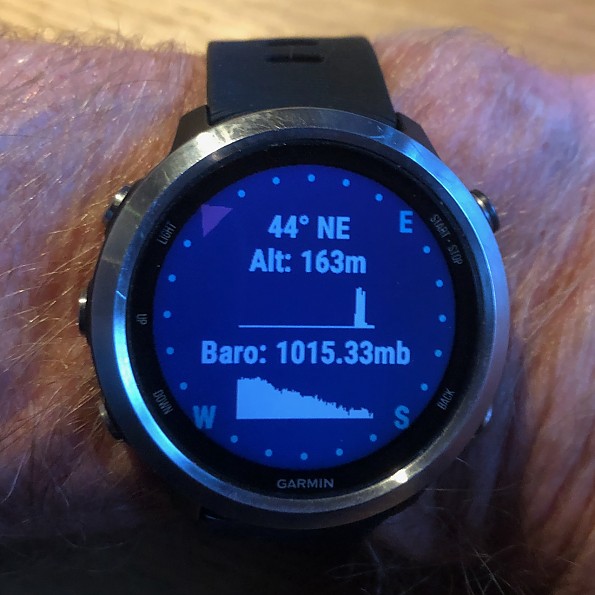 I'm sure Garmin would love me to activate Garmin Pay, presumably so they can scrape a fraction of a percentage off every transaction, but here in Norway a smartphone app called Vipps is a preferred e-pay option, so I prefer to stick with that.
All this brainpower means that the watch has a complex OS, accessed via the five buttons arranged around the watch face. Clockwise from upper left these are labelled (in very fine print) light, start-stop, back, down, and up, indicating their primary functions in backlighting, recording, moving through OS levels, and scrolling through screens or options at each level. Navigating all this takes some getting used to, and for my part I tend to stick to a few core functions.
A recent software update via the USB connection to my laptop took over 5 minutes.
It's a GPS!
In recording mode, the 645 will continuously record my position and use that to calculate current and average speed and other parameters. It can be used for navigation, for example by downloading a planned route from a phone or PC so that the watch can issue prompts via a tracking screen. The watch will also guide a user back to start. This might come in handy when I am trying new running routes down through the city where things can get a bit complicated, but as yet I have not had occasion to use it for navigation. Some apps or widgets will import and display maps from Google or other sources, but despite the hi-res screen there's not a lot of real estate to display them on. In general I would rather use my handheld GPS with maps for navigation in the backcountry.
It's a heart rate monitor!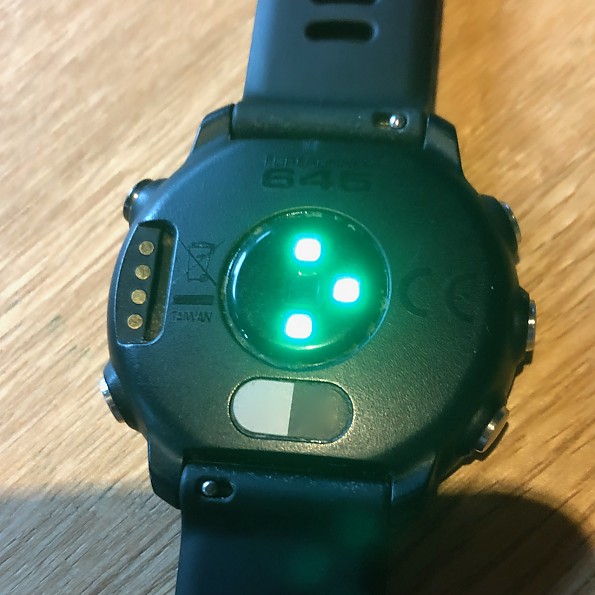 The Forerunner 645 has a built-in optical heart rate monitor. It functions via three green LEDs on the back of the watch where it presses against the wrist. These light up and start checking for a pulse whenever I pick up the watch and put it on. I have no idea how it really works, but the numbers I get are consistent with what I know about my resting and maximum heart rates and performance from my old watch and other devices. It mostly works just fine, but occasionally goes a little haywire and reports heart rates that are unrealistically high or low. This is apparently a thing with optical HR monitors; the watch can also be paired with a chest monitor strap, which may be more reliable (but I have occasionally seen whacky numbers from one of those, too).

It's a personal trainer!
 Like other training watches, the 645 records tracks and associated data such as average speed and heart rate and gives the user live feedback on various screens that can be paged through using the control buttons.
The watch comes with a number of preset modes for various activities, such as running, trail running, cycling, or xc skiing, among others, each with its own set of screens. Screens can display up to four data fields, but most of the preset screens display up to three, in fonts large enough for me to read on the run without my glasses. I have mostly used it in Run mode, which opens with a screen that gives total time and distance in km and current pace in minutes/km (it can easily be switched to miles and speed in distance per time).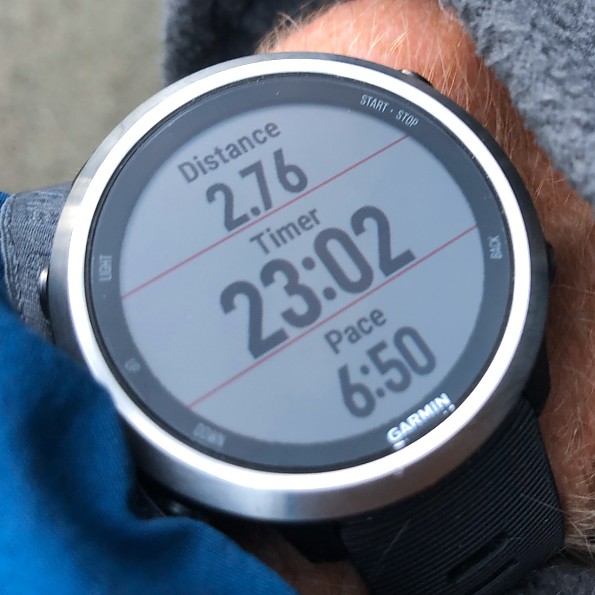 By pressing the lap (back) button I can break my run up into segments; the second screen gives current lap time, distance and pace. Next comes a heart rate screen, which displays my current heart rate in big fat numbers.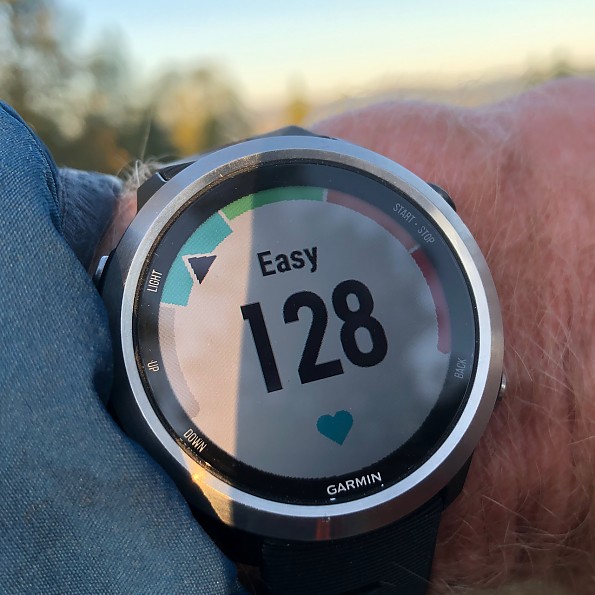 My heart rate zones, calculated based on the max and resting heart rates (or age) that I entered in my user profile when I first set up the watch, are represented by colored arcs along the top edge of the watch face, with an arrow pointing to my current heart rate zone. I'd be paying a lot more attention to that if I were training more systematically. Paging down I come back to the time and date screen, but continuing past that I get an altitude screen that shows my current altitude and a graph showing changes in altitude over the course of the run, along with elapsed time.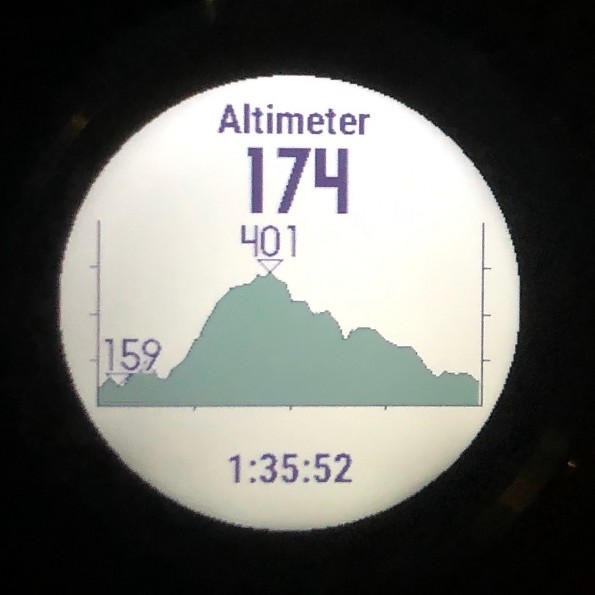 That would normally bring me back around to the first Run screen, but I decided to check out some of the custom screens that are available online, and found a Race screen that feeds out 6 fields of info on a single screen: heart rate (color-coded by zone), current pace as 10s average, cadence, total distance and time, and average pace.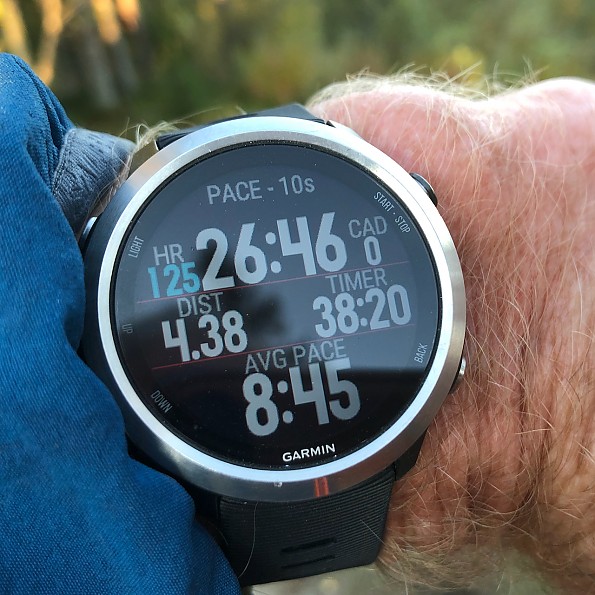 Some of these, and especially their identifiers, are in rather small type and can be hard to read when on the run, at least until you know what and where everything is. (Technically it's a single field that somebody engineered to display all the data; it took me a while to figure that out and how to install it, but I got it in the end). There are other screens and watch faces available that cram even more info into a single display, but to me most look rather confusing and the typefaces get to be rather small.
As another example, the Trail Run mode starts with distance, time, and current pace; then total ascent, elapsed time, and vertical speed; lap info; heart rate; current altitude and the altitude graph; and a calorie counter. I should probably use that mode more since I do a lot of hills, and it would be a good mode for backcountry skiing as well. All screens are editable: fields can be changed, removed, or added if there's space.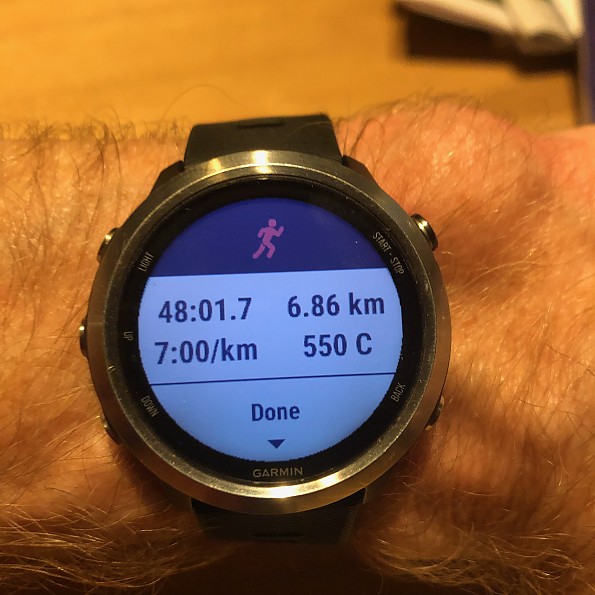 After saving a run, the watch reads off summary information about the run in a series of screens, including some calculated metrics: distance, time, average speed, calories, estimated recovery time, aerobic and anaerobic training effect, and an estimated VO2 max. All the info goes into Garmin Connect via my phone, where I have it set up to be shunted over to Strava to share with my family and a few other sporty friends.
So the watch generates plenty of info, and the preset modes help decide what info gets displayed where, but it's up to the user to figure out all the complexities and customize.
It's a music player!
Yes, I could load the watch up with some playlists and podcasts, up to 3.5 GB / 500 songs worth according to Garmin, and mate it with a pair of Bluetooth headphones to keep myself entertained while I run, but I haven't explored that option. That cuts the battery life back to "up to" 5 hours in GPS mode, but my experience suggests it might be shorter than that. Our new puppy chewed up the nice Bluetooth sport headphones that I got last Christmas anyway, so these days I do my listening, mostly podcasts, with wired ear buds and my phone. I could also use the watch just to control the music playing on my phone, but it's good enough for me to just take the phone out of my pocket for the occasional program change so I haven't bothered with this option either.
It's battery powered!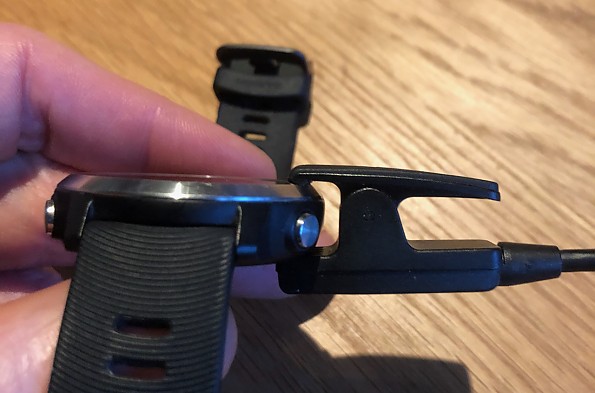 The lithium-ion battery is charged via a dedicated USB cable with a clamp that mates with four contacts on the back of the watch. It is supposed to hold for up to 14 hours in GPS mode without music. I have sometimes been disappointed on that front, with the battery nearly exhausted only about 6 hours into an all-day hike or ski. It's fine for up to marathon distances (at my gentlemanly pace), but for hiking and all day skiing I use my handheld GPS with lithium batteries to navigate and record. My ultrarunning daughter will recharge her watch from a backup battery during a race, but for her all the info is critical for monitoring her condition and pacing. Me, not so much.
I have tried turning off the heart rate monitor to save battery life but haven't tested this systematically. Anecdotally I see only minor improvement. I might save more by turning off Bluetooth.
The battery is supposed to last for up to 7 days in just plain watch mode with background activity monitoring. I think I have gone longer than that on some recent multi-day hikes, perhaps because I turn off my phone and take the watch off at night so it's not trying to monitor pulse.
The strap is made of tough silicone rubber that I find comfortable enough on my wrist. Within the first two months, the rectangular loop that keeps the free end from flopping around cracked in two places. I held it together with tape for a while, then brought it into the shop and they gave me a whole new strap no questions asked. I have had no problems with the new one after 5 months of mostly daily wear and a lot of sweaty runs, so I think the original must have been defective. The band has little slots in the back for opening the spring pins, so it's not possible to switch just any band, but I found a variety of replacement bands in nylon and leather, as well as Garmin's multicolored silicone bands, online.

It's waterproof!
Garmin claims that it is waterproof to 5 atmospheres. It has weathered a lot of sweat, all-day rain, and a few swims with no sign of leakage.
It's mine!
As I noted at the beginning, this is a lot more watch than I really need for the way I train and live. But all of the functions that I have used or at least checked out work more or less admirably as advertised. While it might not be a first choice for deep backcountry users, it is a good choice for anyone who uses heart rate and calculated metrics in systematic training for competition. The battery life in GPS mode sets a limit for anyone looking to use it for all-day or multi-day adventures, but can be extended by charging from a backup battery. The smart watch features and slim, unobtrusive design extend its functionality into daily life.
Experience
I have owned the watch for over 6 months, using it as my everyday watch. I have used it to record at least 1000 km of running, including a 7+ hour 50 km race, and on a few late and early season backcountry ski tours. I have not used the music or navigation functions.
Source: bought it new
Price Paid: NOK 1300 (about $142) on a trade-in discount; normally NOK 3200 inc. 25% tax

Your Review
Where to Buy
Help support this site by making your next gear purchase through one of the links above. Click a link, buy what you need, and the seller will contribute a portion of the purchase price to support Trailspace's independent gear reviews.
You May Like
Specs
Price
Current Retail: $399.99-$449.99
Historic Range: $259.93-$450.00

Weight
42.2 g

Diameter
1.2 in / 30.4 mm

Physical Size
42.5 x 42.5 x 13.5 mm

Fits wrists with a circumference of 127-204 mm

Water Rating
5 ATM

Recently on Trailspace