Garmin Foretrex 401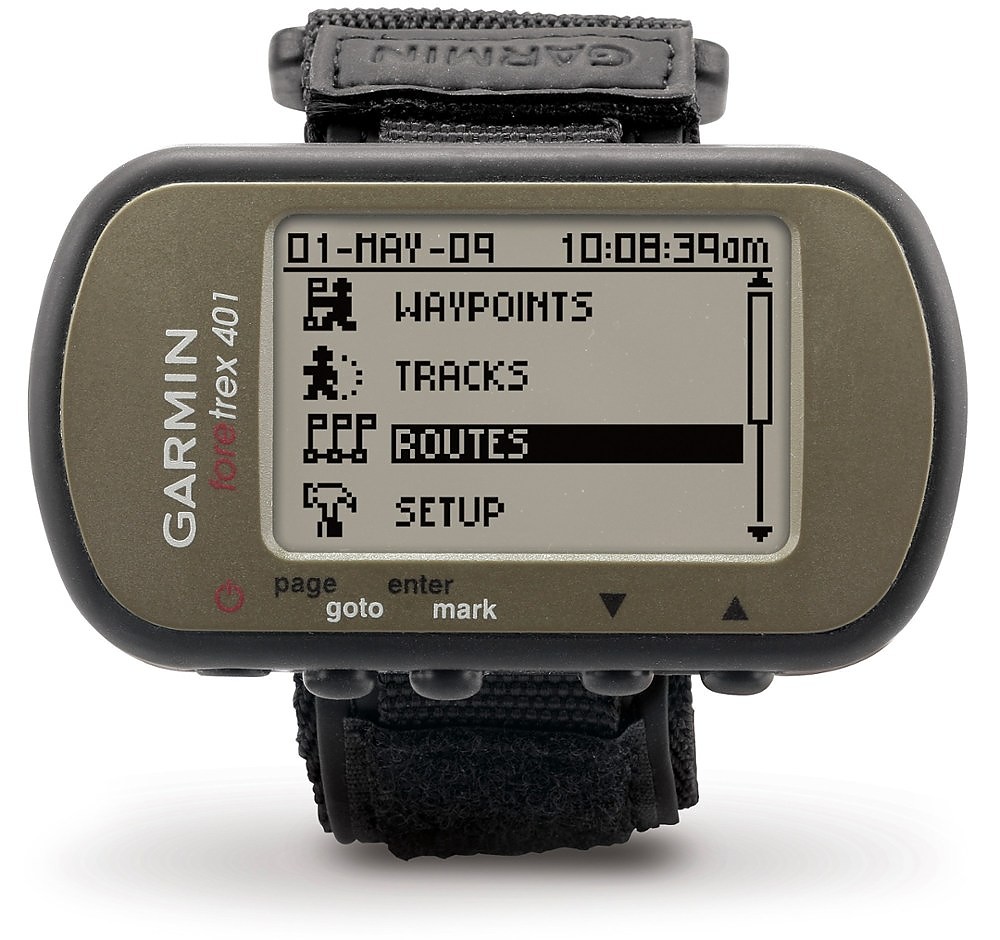 The functionality I want, nothing else. Don't forget that initial calibration out of the box!
Pros
Small
Inexpensive
Accurate
Brings me back to my waypoints
Tough
Acceptable battery life
Same batteries as my headlamp (AAA)
Awesome wrist strap
Cons
Altimeter is barometric = usless
Garmin Foretrex 401
I tried a low-budget old-school GPS about five years ago and was under-whelmed. It was heavy, devoured batteries and had a teeny little screen that was about useless. I gave the Foretrex 401 a chance after deciding that trying to read a map on an GPS wasn't what I wanted but rather a way to find way-points in a whiteout.  I read other on-line reviews and pulled the trigger on this one.
Several times in the last two seasons I have had to find my way back to camp in a whiteout.  In these cases I used map, compass and cairns and obviously I survived just fine.  I wanted a GPS so I could navigate without stopping to take a back-azimuth and without pulling out the map and note paper.  I dislike the larger units and they cost a mint so the small size and wear-ability of the Foretrex appealed to me.
Did I even glance at the user's guide? Did I look at the CD that came with it? Heck no! Electronics need to be intuitive enough so that instructions are unnecessary. "So, Jeff, how'd that work for ya?" It worked fine-ish, in a day or two of tinkering I had it down, except one small thing which I will elaborate on below.
In my first real backpacking situation I found it to be horribly inaccurate, it told me to go in the opposite direction that I knew I had to go. The reception under the trees was fine at least. Then I figured out to calibrate it, I guess reading directions can help. After that it consistently brought me to within six feet of my way-point.  Once calibrated, which is simple, the arrow in the display brought me to within spitting distance of my way-point every time. 
I use it trail running in the mornings and like the ease that it keeps track of the miles I run and my speed, though I think the speedometer is slightly more accurate at higher (driving) speeds because it clocked me jogging at 11 mph the other day and I KNOW I wasn't going that fast. 
I wore it on a recent hike and it was exposed to a heavy drizzle the entire trip and remained waterproof and took a few lumps from getting banged about.  A lot of military guys seem to use these and even they give it generally good reports from battle conditions.  
In almost-whiteout conditions, Foretrex on left wrist.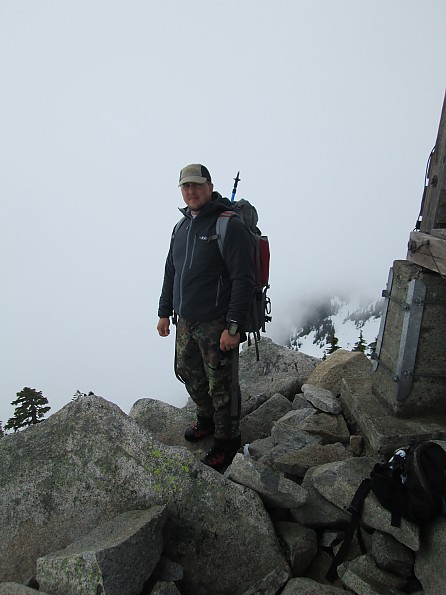 The wrist strap, which fits fantastically, has an extender so it can be worn over a coat or up the forearm which I like even more.
As an altimeter it suffers because it uses a barometer for measuring elevation. I can sit still and the altimeter says I climb 50-60 feet in elevation over the span of a minute. Barometer altimeters are all inaccurate so I never trust one anyway. 
The light works well and I like the date and time feature so I no longer need to wear/destroy a nice watch and its light enough that I don't much notice the weight. 
GPS is improving definitely. I'll always carry map and compass of course but this gadget, to me, is a keeper.
Source: bought it new
Price Paid: $165

One of my Foretrex101s expired a few weeks ago and I decided to replace it with the just released Foretrex401. It arrived mid-week and I had no trouble accessing and opening the Foretrex401 generated gpx file with Easy/ExpertGPS and Topofusion. The 401 appears as a USB drive in Windows.
I was hoping to use the 401 along with the Garmin heart rate monitor during my mt bike rides instead of the my Edge205 and separate HRM. The 401 had no trouble picking up the HR reading and displaying the values.
Perhaps not surprisingly, the Garmin website has no substantial information of the 401 as of yet and no discussion of what software will work with the 401. When I emailed Garmin concerning data transfer software and the spanner function under the Setup menu, I received the following rather uninformative reply:
"Thank you for contacting Garmin International. I am happy to answer your questions. At this point, the Foretrex 401 is only compatible with Garmin MapSource, but this information will unfortunately not include your cadence or heart rate information. On the bright side, Garmin Connect, our online fitness website, will support the Garmin Outdoor product line in the second half of 2009. In the meantime, we recommend that you upload activities from those devices to MotionBased. Unfortunately, there is not much documentation available for Spanner other than the installation instructions found on the download page. You may also want to read through the Wiki page found at the wikipedia.org, see Spanner(Garmin_program)."
The above reply is totally lame referring to outdated/non-supported links and a less than helpful Wikipedia reference. Even though it is now well beyond the "second half of 2009" Garmin Connect does not include the Foretrex 401 and the motionbased website has essentially been abandoned by Garmin leaving the Foretrex401 in effect unsupported by Garmin except for the most basic data transfer. The Foretrex401 manual makes no mention of the spanner function or what a gpx file is or how to make use of it.
At this point the Foretex401 appears to be a corporate orphan that no Garmin division is able or willing to support. It is unclear if it is intended for jumping out of airplanes (jumpmaster function), hiking (altimeter/compass), cycling/fitness (HR/cadence) or providing a heads-up when ordinance is going to explode (countdown-up/timer).
In addition to the above, function wise, the 401 adds a USB interface, faster satellite acquisition and wireless data transfer to the venerable Foretrex101. It is slightly more compact in size than the 101, has a better strap attachments and stores the data is in a gpx file.
Operationally the Foretex401 does what is it supposed to do but with no software included, undocumented functions and virtually non-existent technical support, most purchasers will be frustrated in trying to use the Foretrex401 right out of the box. A printed quick start guide is in the box but the manual in a pdf on the CD.
As noted above, with some tinkering and non Garmin software I've been able to list and view the Foretex401 tracks, waypoints, routes and other data as well as transfer the data to GoogleEarth. For what Garmin lists as a basic handheld GPS it should be much more straightforward to operate and transfer data.
I'll give it 2 stars until it is better supported.

Price Paid: $240

Precision, but not accuracy.
The ForeTrex 401 is useless for elevation. The AUTO CALIBRATION uses GPS to calibrate the Elevation (Calibration by GPS is accurate to +/-400 feet; Calibration by barometric pressure is accurate to +/-50 feet). I did both ways and put the ForeTrex 401 on the desk stationary for two hours, the elevation changed 500 feet. Everyone has the same issue.
Experience
Elevation change 10 feet when walk from 1st floor to 2nd floor.
Source: bought it used
Price Paid: $100

I use it all the time. It keeps my hands free. Surprisingly accurate. I like the simple menus and graphics. Thanks.
Price Paid: $189

Your Review
Where to Buy
Help support this site by making your next gear purchase through one of the links above. Click a link, buy what you need, and the seller will contribute a portion of the purchase price to support Trailspace's independent gear reviews.
You May Like
Specs
Price
MSRP: $199.99
Historic Range: $125.93-$199.99
Reviewers Paid: $165.00-$240.00

Dimensions
2.9 in x 1.7 in x 0.9 in / 7.5 cm x 4.3 cm x 2.3 cm

Display size
1.4 in x 0.9 in / 3.6 cm x 2.3 cm

Display resolution
100 x 64 pixels

Display type
Black and white LCD

Weight
3.1 oz / 87.3 g with batteries

Battery
2 AAA batteries, not included

Battery life
17 hours

Waterproof
yes (IPX7)

Floats
no

High-sensitivity receiver
yes

Interface
USB