Garmin GPSMap 60CSx

Top 25 in Handheld GPS Receivers
The GPSMap 60CSx has been discontinued. If you're looking for something new, check out the best handheld gps receivers for 2023.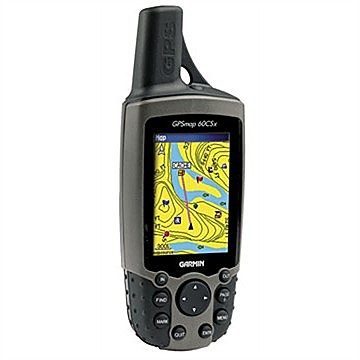 Garmin's GPSMAP 60CSx marks the end of a paradigm for Garmin. While their more budget-conscious trail products (eTrex) retain tactile interfaces the move now is for touchscreen versatility. While this review doesn't touch upon the validity of such a strategy, I did think it worth mentioning. This product is not part of Garmin's future in the way that the Colorado, Oregon, and Dakota are. Still, this GPS is extraordinarily capable and, if you need some of its premium features, it might be the sweet spot in the price-to-performance category.
What I like about it.
The 60CSx has an uncanny ability to maintain a fix. I recorded a day hike on an Ohio trail that spent much of its length under trees in a canyon whose depth sometimes exceeded 100 feet; it never failed to record my track. The unit is also quite rugged, and wears the nicks and scuffs of my mistreatment of it as a badge of honor. It also sips from the batteries. Although the two required AA batteries must be alkaline (lithium cells apparently deliver too high a voltage when new), they seem to last a more than generous amount of time.
What I don't like.
Navigating the menus and typing on the on-screen keyboard is non-trivially difficult. The unit I own often seems to move the cursor in the adjacent direction I pressed on the d-pad. This results in selecting the wrong letter or menu option more often than I care to accept without frustration. I'll also reiterate here that the unit cannot accept lithium batteries, which makes it minimally more expensive to operate in the long run.
I can't decide which section its Turn-By-Turn direction capability should fall. I suppose I'm mostly neutral on the subject. It isn't at all why I purchased the device and it technically delivers on this promise, but the implementation isn't all that convenient. Only the base street map is included with the unit, and the addon maps are expensive. There is also no support for voice-guided navigation, instead the unit has two different tones to warn you of upcoming turns. This forces you to look at the unit, and if you don't have a dashboard or windshield mount for it then that means you're grabbing for it somewhere next to you. Not ideal in freeway traffic, but I've already devoted too much time to this feature. Bottom-line: It's there if you want it, but don't buy this unit based that feature.
Bottom line.
There is plenty about the GPSMAP 60CSx I don't like, but as you can see from my strong rating it does the essentials so damned well that I just can't fault it for those shortcomings. How often will you really need to change the polling interval or the routing strategy or the time zone while you're busy surviving on the trail? You should have setup the unit for travel before you hit the trailhead. And you certainly won't need directions to the bar! Clip the GPS to your pack and leave it to do what it does best: tell you exactly where you are, where you've been, and where you're going.
Price Paid: $300 USD

I have to agree with most people. It does have its faults but for the price, and you can find a good price if you are diligent.
It is absolutely amazing at locating satellites and hence its postion!
It is difficult to program for someone who does not use it a lot, and one should also carry a good compass.
I intensily dislike the pricey software which you really need for the unit to be effictive, but currently it really is the only game in town again for the features and price. However, soon it will have very attractive competion, and it should interesting to see what Garmin does then!
Price Paid: $320

Design:
A rugged construction and rubberised buttons make this a good unit to take on a trek. Its IPX standard waterproofing which means you can submerge this unit in water, so heavy rain will not affect this unit.
The screen is bright and large enough to see all of the detail provided. Even in bright sunlight, the transreflective screen shows up well.
This is a highly sensitive receiver which makes use of the SerifStar chipset.. Obtaining Sat lock is often quick and reliable.
Battery life is approximately 16 hours which checked out well in real life.. I still had 3 bars left (out of 4) after a 15km trek. I used NiMH 2700maH Uniross rechargeables. Unit was using the latest firmware as of Feb 2008.
Test Day:
The day was cool, cloudy, and damp on the ground. Some parts of the trail involved thick canopy cover through the forests.. the 60CSx served well throughout not losing a satellite fix at all.
I used the GB Topo DVD which was neatly ALL downloaded onto a 2Gb microSD card. This map contains vectorised mapping which includes some 1:25k scaled data. Most footpaths were marked and plenty of elevation data (in the form of elevation lines) provided a visual clue of my environment.
I had a route containing some 20 Waypoints (each waypoint can contain up to 16 Chrs info) which was downloaded to the unit using MemoryMap application and OSGB 1:50k Mapping on my PC.
During the trek the unit was recording my path. The path was recorded continuously and without error. The data is stored in a GPX format which makes is perfectly compatible with many Navigation apps and devices.
The compass is a 2-Axis compass that confirms direction to your next waypoint. This was accurate and indicates off-course drift on the same screen.. Useful!
Altitude data was very accurate too, most of the time reading similar figures to the OS paper maps I was holding.
Things to note:
There is almost nothing to dislike about this unit.. However, the newer OSGB maps are NOT compatible with the 60CSx and there hasn't been any further updates to the 2005 Topo DVD. Think about this carefully..
Mapping is the critical component to any GPS unit. If you can live with the prospect that there will probably never be any further Topo update to the cartography for this unit, and If OS mapping is not important for you.. go for this unit. I highly recommend it.

Price Paid: £250 approx

I've owned this unit for several years and I love it! Watertight. Tough enough to use as a hackey-sack.
Display is great: large - so you can see lots of your surroundings and easily visible in all lighting conditions.
Great reception: quickly gets a fix even under thick conifer stands, deep in mountain valleys. Compass and barometric altimeter are very accurate and calibration is a breeze. Micro SD memory is a great improvement. Great battery longevity.
The Csx improvements over their older lines are wonderful! My old Vista used to lose reception routinely under a thin canopy. This one, however, only takes a few seconds - even in deep, densely-forested valleys in the Sawtooths to get a ~25' lock. (No more bushwacking off-trail to find a clearing to get a fix!) I currently run a 2GB card and can't imagine needing more.
Calibrating the altimeter is fun - I just climb to a peak of known elevation and reset it, it's simple. Calibrating the compass is even easier (no hiking involved)!
I remember having to constantly "scroll around" to get an idea of where I was with my Vista. This GPS's large display makes finding my relative location much easier.
I typically go through about 1/3 - 1/2 of my (NiMH) battery life on a week-long backpacking trip in the Rockies. (Not constant use, obviously.) I'm confident that if I got lost, I'd have plenty of juice to spare.
Loading maps onto the memory card is a snap, using Garmin's Mapsource software (I have the '99-'02 version). Also, updates on Garmin's website are really easy.
All this in a package that seems to appreciate the occasional drop onto rocks! (Mine has the scars to prove it!) This unit is tried and true and I feel confident navigating with it in the harshest conditions.
Highly recommended, especially now that prices are falling since Garmin has come out with newer, fancier models.
Price Paid: $350

I love this thing. I was supposed to get it for Christmas from my dad, but when it came in on Dec 5th I could not wait. I use it for driving and in the woods. I use one 2gb stick for the city navigator and another for the topo 2008 mapsource. It works absolutely fabulous!!! I have taken it out on to some trails and have had no issues. It even get a pretty good signal inside my house.
I use google maps to google maps to get the exact location of trail heads and make a waypoint on city navigator mapsource. Get there with turn by turn.
Price Paid: $350

I also purchased the Topo US 2008 software. Many of this unit's buzzers and bells are only usable with the purchase of additional software which is a little expensive. If you have not purchased yet or unless you can get a really good discount, or are only interested in using the GPS in the outdoors you may want to look at competitors' models.
Garmin charges for their software and locks its city versions to only one GPS unit. If you then lose/break/or get stolen your GPS unit, have computer problems etc. you are kind of screwed and will have to not only replace your GPS but buy a new copy of the software you already own. Garmin does not do this locking crap to its Topo US 2008 version.
This unit shines in the chip set and antenna area. The processing time is really good when compared to older units and the antenna seems to always be able to get a lock on satellites. The screen is colorful and clear. The unit is pretty user friendly.
Overall the GPS is a good unit, however Garmin's practice of locking software to a specific GPS unit will send me to the competitors on my next purchase. Magellan's new units are using the same chip set and antenna as this unit so I would expect them to have all the good attributes that this unit has without having to deal with Garmin's software issues. Magellan's new GPS series are also compatible with National Geographic Topo as well as Magellan's own Map Send. I would look hard at those models if still in the market.
Price Paid: $299

This is one of many GPS units I own and by far my favorite. I backpack regularly and this thing is right on the money for satellite coverage, even in dense tree coverage - which is the reason I bought this unit. I have several Garmin GPS units including the 60CS, but this one really is better with the quick acquisition times. The only complaint is the cases they make for them, very cheap and they do not fit the unit well. Other than that this is worth its weight in gold.
Price Paid: $400

The 60Csx is a must if you do much traveling. Paired with the US 100K Topo CD and City Navigator 8.0, this is an unbeatable machine in terms of portability and features. We always get a lock with it, even in buildings. I've only had it jump around once, and that was in the heart of downtown Chicago.
This unit is also perfect for geocachers and has a nice geocaching utility. It also allows you to upload your own symbols for geocaching. The compass is pretty accurate if you follow the directions on how to calibrate it. The altimeter is nice, but haven't used it much.
Good battery life too even with the backlight on. We highly recommend this unit!!!
Price Paid: $325

I have had both an Explorist 400 and this unit. This unit beats the Explorist 400 hands down. There are some features that this unit has that the Explorist 400 does not, but with the things that they have in common, this is the better unit (but you have to pay for it). This is probably where the Explorist will be in another year or two.
Here are a few things that I like about this unit:
2 double A batteries are great, Energizer rechargeable last for me about 18 hours. If they go dead, just pop in some new ones.
Street routing. The unit gives you the option of street routing for shortest or fastest route. It give you audible prompts to let you know a turn is coming and also an enlarged preview of the turn. If you miss the turn it will automatically give you directions to correct your mistake.
Many different ways to find poi's. By city, intersection, address, type of location, previously found poi's, and others.
Color screen is very bright and even changes to night mode automatically.
Reception is excellent. I compared it to my Explorist unit and found that the Garmin unit would pickup satellites faster; it would also pickup stronger signal under heavy cover. According to the units display the Explorist would show a lower degree of error by a couple of feet and I never completely lost signal with the Explorist but have dropped to 2d coverage before. I have never dropped below 3d coverage with the Garmin unit. I could never get a satellite connection inside my house or my office, but I could get one with the Garmin unit no problem. It would get signal almost as fast inside as it does outside. I am sure that some of this is due to the external antenna.
If you have the extra money this is the better buy, if you are not able to come up with the extra dollars the Explorist is still a good selection.

Price Paid: $350

Your Review
You May Like
Specs
Price
Historic Range: $219.95-$534.95
Reviewers Paid: $299.00-$400.00

Weight
7.5 oz / 213 g with batteries

Dimensions
2.4 in x 6.1 in x 1.3 in / 6.1 cm x 15.5 cm x 3.3 cm

Display size
1.5 in x 2.2 in / 3.8 cm x 5.6 cm

Display resolution
160 x 240 pixels

Display type
256 level color TFT

Battery
2 AA batteries / not included

Battery life
18 hours, typical

Waterproof
yes (IPX7)

Floats
no

High-sensitivity receiver
yes

Interface
serial and USB

Recently on Trailspace