Garmont Bronco Plus

The Bronco Plus has been discontinued. If you're looking for something new, check out the best backpacking boots for 2022.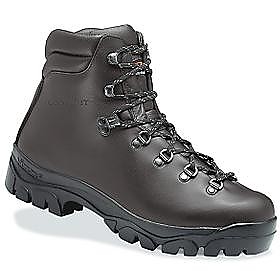 Specs
(no Gender)
Price
Reviewers Paid: $180.00-$200.00

Men's
Price
Historic Range: $69.40-$199.95

Women's
Price
Historic Range: $199.95

Reviews
7

reviews

5-star:

5

4-star:

2

3-star:

0

2-star:

0

1-star:

0
I bought a pair of Garmont Bronco Plus before I went to Afghanistan in 2003. I wore them 12+ hours every day for a year through dusty, rocky terrain. They required very little break in and were comfortable from the moment I put them on to the moment I took them off. I wore Bridgedale Trekker socks exclusively, as they were recommended on the Garmont USA site, and to combination was perfect for me.
When I got home, I ordered a brand new pair, but I can't seem to stop wearing my broke in pair:) In addition, Garmont customer service was fantastic -- they sent me foot beds and boot laces for free when I inquired about buying some. I am heading back to Afghanistan for another year and my Bronco Plus boots will be with me once again. Boots were purchased from myhikingboots.com.
Price Paid: $185

Classic 'no frills' departure from the world of high tech footwear gadgetry. Garmont has a monopoly on the seamless, all leather, quality backpacking boot market. The quality of materials and workmanship are flawless.
I have a pair of Galibier Super Guides with a very similar seamless tongue design; it must be too difficult or expensive for other boot manufacturers to copy, otherwise everyone would use this construction method. It assures a waterproof, gore-tex free boot... excellent!!!
- Heel fit is perfect -- no slippage.
- Fore-foot fit is a little wide for my narrow feet, but I haven't experienced any problems with proper socks and lacing. Wish they were available in narrow.
- These boots are stiff when new, and take considerable break-in time. I wore them to work and on short hikes for a month before I ventured onto the trail with a backpack. Very comfortable now.
These boots may be tough to find, but a search is worth the effort -- a comparison with other brands will sell you on the design, workmanship, and fit. Again -- just gotta admire that seamless tongue!!! Great job Garmont.
Materials: All leather, seamless, non gore-tex.
Use: backpacking, hunting, hiking
Break-in Period: considerable - boots are quite stiff when new
Weight: app. 4 lbs. size 12.5
Price Paid: $180

I purchased these boots because they got such a high rating in Backpacker Magazine. I took about a month to break them in on several 5-mile hikes before taking them on a long weekend trip on the AT and let me say that they performed flawlessly. They proved to be quite tough, even on the hike up Highcock Knob, which, at the end of a grueling day, is murderous. I found that when we got to the top, the LAST thing on my mind was the condition of my feet. I put their ankle support to the test along steep hikes (both up- and down-hill) littered with bowling-ball-sized rocks. I was also impressed with the way they kept my feet warm while trudging through cold streams.
The only thing I'm not crazy about is the absence of a good toe bumper. I found that the leather at the toe of the boot got scratched easily but have convinced myself that it merely adds character.
I've never owned a pair of hiking boots like this and have nothing to which I can compare them but I'd recommend them to anybody.
Materials: 2.3 (?) mm
Use: Steep, rough trail with a moderately heavy load
Break-in Period: 1 month
Price Paid: $189

an incredibly well-made boot. nearly completely seamless construction, including the tongue. impressive construction.
very simple hardware -- a very traditional looking boot. no frills.
i purchased these boots largely b/c of the fit in the heel -- even without special insoles, the heel is kept firmly in place both laterally and vertically. the fit in the forefoot is a bit loose for my skinny feet, but i make do with extra pairs of socks.
i would like to see better hardware on the boot, including the pulley/ball-bearing system that many top of the line boots now have.
completely and totally waterproof, even w/o gore-tex -- a testament to the high-quality construction.
Materials: leather
Use: rough trail with heavy pack
Break-in Period: minimal
Price Paid: $200

After a year of pounding these boots, I consider them one of my top investments. I backpacked from Pennsylvania to West Virgina along the AT across the state of Maryland. I hiked down the middle of streams and never a blister or a leak. The rocky trail turned other hikers feet to hamburger, but in spite of the pounding, the Garmonts saved my peds. If you take long backpacking trips, go with this boots and don't look back.
Materials: Leather one piece
Use: rough trail & backpacking
Break-in Period: Just the time that it took to lace them up!
Price Paid: $195

These boots fit and felt good when I first put them on at REI. After a couple short walks they are completely mine. Waterproofed with liquid Nikwax. If you have a foot that is somewhat wider than a Med. try these.
Materials: Leather
Use: RT + Pack
Break-in Period: about 10 miles
Price Paid: $189

Great boots. Best pair that I have owned. Size 8 1/2 is actually an 8 1/2. Very stiff when new but break-in quickly. Good ankle support and plently of toe room. Feet stay in place with no side to side or sliding action. Tested the water proofness of these boots by walking in water for about 20 minutes. Nary a found its way drop inside. I've recommended these boots to a couple of my friends. 1st place in Backpacker Magazine's test.
Materials: 1 piece leather
Use: rough trail w/ 40 lb pack
Break-in Period: 4 -5 miles
Weight: about 4 lbs
Price Paid: $190

You May Like
Recently on Trailspace