Garmont Eclipse XCR

The Eclipse XCR has been discontinued. If you're looking for something new, check out the best trail shoes for 2023.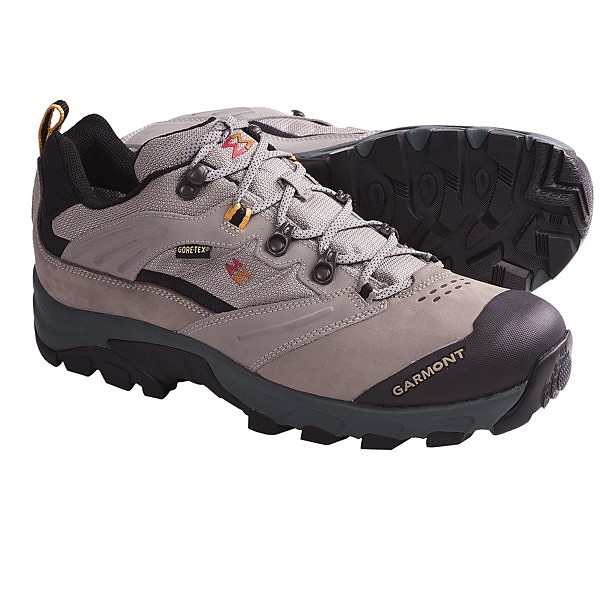 After owning this shoe for approximately 1 year, the soles began to crack as others have stated.  They also developed a separation (on both shoes at the same time) along the seam where the leather on the outside edge of the shoe meets with the rubber-covered toe (directly to the outside of my pinky toe).
It was post-warranty period so I couldn't expect any results from making a warranty claim.  I have been extremely disappointed in the quality of this shoe.  I paid ~$120 US for them.  I expect shoes to last longer than one year.   I will probably avoid Garmont from here on out.
Price Paid: $120

I have severe overpronation, and my podiatrist recommended looking for a hiking shoe for day-to-day wear that would give me even more motion control than Brooks Beast. The shoe definitely works in that regard. Both shoes are model II, size 14.
The problem with the shoe is that it wears out quickly. I've been through two pairs, and three of the four shoes (both right and one left) have developed cracks in the sole across the ball of the foot. I've never had that happen with any other shoe. This greatly reduces the stiffness of the sole (it doesn't seem to leak...at least not yet), which is the attraction for me.
I always wear out the ball of the foot in every shoe, including the Beast. Evidently I put a lot of torque and flexion on that area, but this kind of deep crack is something new. I think the stiffness is what contributes to the crack; it's stiff, all right, but the sole isn't strong enough to withstand the forces imposed when I push off.
I'm rating it a 4 because it really does a stellar job of supporting my feet until the crack develops -- nothing less than a full fledged hiking boot works as well.
I emailed Garmont, and they suggested I file a warranty claim. That's fine, but I don't want to keep filing warranty claims and am curious whether the model III is any better in this regard.
I paid $75 because these were both close-out pairs, after the model III came out.
Materials: Gore-Tex
Use: Daily wear (2-5 miles), light hiking/walking in woods
Break-in Period: None (worked from the get-go)
Weight: 220 lb.
Price Paid: $75

I am a big fan of Garmont shoes. I am generally pleased with this model. After about 6 months I was getting a 'squeak' in one sole from what I'd guess is initial separation. I RMA'd them to Garmont USA and they sent back a brand new pair, no questions asked. The new ones seem fine and I have experienced no issues going forward.
Use: light hiking
Break-in Period: none

Unlike the previous reviewers, I have not had any problems with the quality of these boots. I purchased them in 2004 and have used them on 3 annual 100+ mile Appalachian Trail section hikes. They fit my feet quite well, although I had to replace the insoles with orthotics to accommodate my higher arches.
My biggest gripe is that, once wet, they take forever to dry given the Gore-tex lining. I love the lighter weight of these boots over traditional leather mid-tops, yet the toe rand can still hold up to rocks, unlike many trail runners. I may check out the new Garmont Nova version to see how that works (http://campmor.stores.yahoo.net/10348.html).
Use: Rough trail with 25-pound pack; week+ hikes
Break-in Period: None
Weight: 30 ounces

Like the other review, the shoe was great at first. After about 11 months the shoe started to fall apart. Now after one year I have a crack in the sole of each shoe running from the ball of my foot across. I can only use them for yard work.
Materials: Gore-tex
Use: dayhiking
Break-in Period: 1 month
Weight: ?
Price Paid: $125

Initially I was quite taken by this shoe - it fit from the start and was well suited to day hiking. After one year of use, however, the soles fell off and there is no way of replacing it. Garmont told me that they could not supply new soles, and that a repair in any case would cost more than a new pair.
THIS IS A VERY POORLY DESIGNED SHOE THAT IS NOT DURABLE. DO NOT BUY THIS SHOE IF YOU WANT TO USE IT FOR LONGER THAN ONE YEAR.
Materials: leather and gore -ex
Use: day hikes
Break-in Period: 1 mo
Weight: 175 lbs
Price Paid: $139

Your Review
You May Like
Specs
(no Gender)
Price
Reviewers Paid: $120.00

Men's
Price
Historic Range: $59.72-$130.00
Reviewers Paid: $75.00-$139.00

Women's
Price
Historic Range: $35.40-$124.95

Recently on Trailspace