Garmont Rambler GTX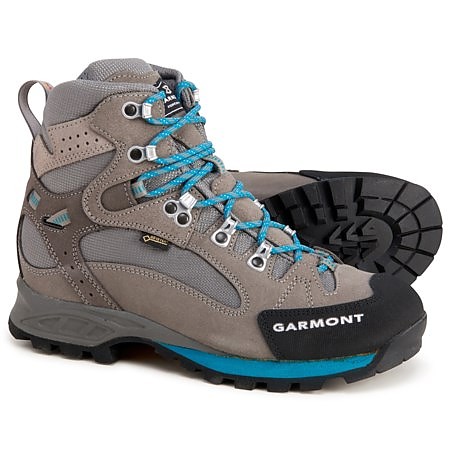 A very capable on-and-off-trail boot for the price. Are these the mythical one-pair-of-boots-for-just-about-everything solution? Maybe. Yeah, probably. Well, yes—definitely—if they fit your feet. Just hope they fit your feet.
Pros
Supportive ankle collar design
Superb metatarsal comfort
Grippy, rock-oriented outsole
Deep heel pocket
Flexible while being stiff...
Cons
Planned obsolescence...
Still a "scrap boot"
Best For: Backpackers of many, many kinds...but their ideal match often goes off-trail, traverses alpine areas, and regularly carries 40 lbs. If your trail crew leader doesn't spec all leather boots these should be on your radar. If the Job-Hazards Analysis doesn't say 8" leathers are needed these should be on your radar. The Ramblers also make fine "mountain training" footwear, so you can save your trail runners for races if you want.
Design
Garmont's Rambler GTX boots are a mid-weight, leather-scrap-and-fabric backpacking boot. Handling it, the Rambler is what I would call a stout boot. It easily resists my torsional twisting, and does not want to bend much at the ball of the sole. The leather and various Cordura fabrics work to create a sense of sturdiness and purpose in design, with leather generally being used in high wear areas while the fabric is reserved for larger expanses on the outer sides of the foot.

Though there are about a dozen leather and fabric panels on each boot, most of them are sewn together using a double row of thread, a very good sign. The upper collar area is covered in what's called "Soft Cordura", with a generous grosgrain ribbon pull loop at the back. The inner collar area sports 3-D spacer mesh above the Gore-Tex liner, which stops approximately 6 inches above ground level. The toe has a thick rubberized reinforcement to take glancing blows from talus.
Lacing is interesting. The lower three options are webbing loops, likely an effort to give the toe a lower profile and keeps things more comfortable when donning universal crampons. The next two up are metal lace loops, followed by a metal lace lock, a heel-lock webbing loop, and then the two upper metal lace hooks. All the metal hardware is powder-coated, and for what it's worth the webbing loops look just like that used in nylon climbing slings...a minimally-reasonable 1/4 inches wide. The tongue is mostly soft Cordura, with leather reinforcements and a webbing lace keeper loop.
The sole is a bicomponent unit with a TPU insert in the heel for shock absorption and durability, and a firm mountaineering-boot-style EVA foam forefoot. The Vibram "New Winkler" outsole looks like a fancy twist on the classic Montagna block pattern. It's said it's lighter than that pattern, and I suppose I believe it if only because the Ramblers do feel quite light. Despite the aforementioned stiffness and burly materials, the Ramblers do not incorporate a heel welt for semi-automatic crampon use.
Weighing one of my US size 12 boots I get 1lb 12oz. Garmont says one size 9 weighs 1lb 9oz. For what is a really full-featured mostly-leather boot, these are quite light weights. It seems that lighter sole unit in combination with selective use of Cordura goes a long way, because otherwise I don't know how such magic occurs.
Performance
I think it's the light weight of the Ramblers that makes them so pleasurable to wear. I find I get to leave other, heavier boots in the closet when I have these as an option. If, for instance, the day brings a ridgeline hike with a few snowfields, I can just wear the Ramblers and put Microspikes in my pack. The soles are precise enough to navigate well on terrain below class 5, though overall the boot is flexible enough for all-day walking. I note it has a deep heel cup for a patchwork boot, keeping the foot centered on many types of terrain.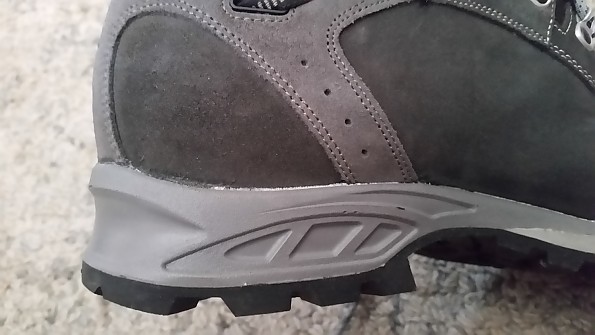 The Ramblers are most certainly a rock boot though; the outsole bites chunky talus hard. They are built so as to provide both ankle support and protection while ambulating over uneven off-road terrain. A person who used them only for on-trail hiking would be under-utilizing them, as would a person using them exclusively in lower-angle forested areas. Even on high-angle slopes the toebox is somehow both closely-trimmed and roomy, while the mid-foot and heel stays snug; the upper lace hooks do a fine job of anchoring the ankle.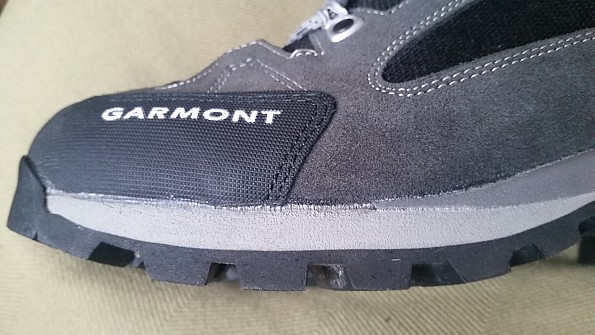 The Ramblers are also certainly a great field boot. A full 6 inches of waterproofness and an all-purpose design should ensure a few seasons of life in most industries. I've worn both Asolo Fugitive and Lowa Banff models in this capacity during almost a decade of Forestry work and I can say I find the Ramblers a better overall boot in terms of fit and comfort. The double-stitched seams should help prevent blowouts too—I'll update this review as necessary.
And speaking of fit and comfort, I feel I have to note here that I find the few specific anatomically-minded design features of benefit. I note four: the asymmetrically-padded ankle cuff, the asymmetrical-height ankle collar, the differentially-padded tongue, and the metatarsal break in the ball of the boot. These four things Garmont has designed to help better fit the Rambler to the human foot; or, at least, to an approximation of the human foot around which their boots are built.

That is, just because the Ramblers fit the shape of my feet don't mean they'll fit yours. Some manufacturers are totally off-limits to me just because their last doesn't fit my feet. As performance is innately tied to fit in the case of footwear, and as I am in this case boasting about the features leading to said performance, I want to ensure everyone understands that just because one can order a pair of boots with the same features that brought me such bliss, one is not assured bliss.
And to be sure, it's not all bliss for me with the Ramblers. As I so often have to do with padded boot collars, I must, in an effort to ensure my heel is locked down, cinch the upper lace hooks so tightly as to occasionally pinch my shin. Just goes to show that even with all these fancy features, sometimes a lace hook in the shin is still on the menu.
I appreciate Garmont's efforts though. Their Metatarsal system—which tries to ensure the break of the sole matches up with the ball of the foot while providing ample room for the 1st metatarsal—is in fact very welcome. As I have a Morton's Neuroma in my left foot that's been quite ornery in the past, I need to wear footwear which encourages the natural splay of my forefoot. In the Ramblers my feet are allowed a comfortable range of motion while lateral stability stays stolid.
Cleanup & Maintenance
Another old-toothbrush-and-a-pinch-of-soap-flakes-in-warm-water situation. There's probably a leather product Nikwax will sell you to treat the leather, but I don't know if it's worth it given the patchwork nature of the uppers. The outsoles appear to be replaceable, should the uppers outlast them.
The hardware seems bomber, but should be replaceable by a cobbler if a lace hook breaks. The webbing middle ankle-lock lacing loop—cough cough planned obsolescence—could be worn through if one really tried, so don't ever clean the laces and just keep grinding muck and crap in there as much as possible. And then kinda like swing the boots above your head by the laces, with the laces threaded through JUST THOSE LOOPS. (If only there was a photo of them...)

Soapbox
Patchwork backpacking boots like Garmont's Rambler are relatively new things, if only because backpacking is pretty new. Before the influx of purpose-built full-grain-leather boots in the '60s, most designs were descendant from military or hunting boots. Makers like Pivetta and Fabiano dialed-in the fit of a jack-of-all-trades boot incorporating a closely-trimmed sole of dense, lugged rubber and a deep heel cup to keep the foot secure in a variety of positions, made of a single piece of full-grain leather (FGL) finished with a single back seam.
In order to meet demand and realize economies of scale, the '80s saw the now dozens of manufacturers shift production to a style of boot made of scrap leather, Cordura (or vinyl), and ever-thicker foam padding. Since these new boots were both initially more comfortable, as well as being vastly cheaper to make versus traditional single-seam FGL construction, the shift was seen as a win-win at the time.
I imagine it must have been difficult to see the value of what was being lost with the change; namely, a boot that could last decades with care, and a boot which fit well due to precision of componentry rather than compression of expanded rubber. That is, the fit from a mass of foam smooshing one's foot against a smooshy insole is much different than that of a piece of formed leather holding one's foot snug against a formed leather footbed. The later lets veinous blood flow when the foot is at rest, for one…
Garmont's Rambler boot was born from a response to an era of concerns about the trend of decreasing quality in both materials and fit among backpacking boots. The technologies it incorporates—the asymmetric ankle design especially—succeed in recapturing some of that lost precision in fit. The sculpted nature of the upper does allow a reduction in padding and a corresponding increase in proprioception, though feedback is not to the degree of my FGL Fabianos.
It's that feedback, that sensitivity, that I can say is lost when comparing a FGL boot from the '70s and a patchwork boot from the '80s. Comparing my early 1970's-vintage Fabianos or Pivettas to my first, circa 1990 K-Mart hikers I note a certain relationship at play whereby an increase in elegance and simplicity comes with a corresponding increase in density and precision. Generally, our trekking shoes today are less dense, with thicker soles and uppers, and a larger overall size.
The Rambler seems to buck this trend then, reveling in an asymmetric, svelte profile. Sole materials are firmer and thinner, and the sole itself is cut closely to the uppers for precise footwork. A smarter cut in the ankle area means less padding and a final result similar to the firm support good full-grain leather affords after it breaks in for a while.
Conclusion
The Garmont Rambler is a really competent iteration of the patchwork backpacking boot, crafted with the latest technologies to create a fit quite close to the boots of old while affording the lighter weight of modernity. The closely-trimmed sole, precision padding, and anatomical fit go far towards finding the solidity and confidence inherent to older FGL boots.
This is a good sign, I think. Companies need to have successful products which integrate the latest technologies with classic ideas, or they die. Many companies with the pedigree of Garmont are belly up, so I'm glad to see Garmont able to play the hand they've been dealt. In other words, while I'm sure we'd all like to sculpt works of art out of single pieces of virgin Horween, sometimes constraints must be met.
If compromises are to be considered and I'm to put away some of my traditional expectations for a backpacking boot, the Rambler can only too easily be seen as a resounding success. So, while I certainly don't expect the boots to have the overall longevity and resilience of FGL, only time will tell if I'll have to smear Shoe Goo on every seam just to keep them together. And I'll speak up about that lace loop if I have to.

Testing Conditions: Hiawatha National Forest, Pictured Rocks National Lakeshore Trail, and Escanaba State Forest in Michigan's incomparable Upper Peninsula. Malheur National Forest, Eastern Oregon.
About the Author: Vince Contreras has been working as a professional Forester and Ranger for various federal land management agencies since graduating with a Bachelor's Degree in Forestry from Southern Illinois University in 2010. He currently resides in Michigan's Upper Peninsula, an occasional Forester for the US Forest Service. He enjoys rock climbing, backpacking, and debating nineteenth-century German Idealist philosophy. Other hobbies include leather-working, bushcraft, and really, just creating original things.
Source: received for testing via the Trailspace Review Corps (Sample provided by Garmont for testing and review)

Your Review
Where to Buy
Help support this site by making your next gear purchase through one of the links above. Click a link, buy what you need, and the seller will contribute a portion of the purchase price to support Trailspace's independent gear reviews.
You May Like
Specs
| | |
| --- | --- |
| Price | Historic Range: $99.99-$250.00 |
Recently on Trailspace