Garmont Syncro GTX

The Syncro GTX has been discontinued. If you're looking for something new, check out the best hiking boots for 2021.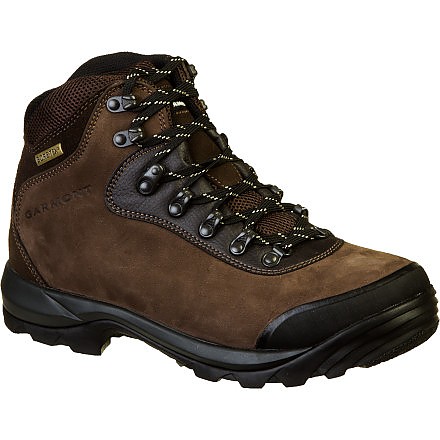 Specs
Men's
Price
MSRP: $194.95
Historic Range: $84.98-$234.95
Reviewers Paid: $189.95-$209.00

Women's
Price
Historic Range: $56.99-$234.95
Reviewers Paid: $90.00

Reviews
4

reviews

5-star:

0

4-star:

3

3-star:

1

2-star:

0

1-star:

0
Great durable boot.
Cons
Hot and steamy if your feet sweat a lot or if in a hot environment
First off, I spent the last two years living in this boot in the Middle East and Central Asia walking an average of 6-10 miles per day. I would have rather had a pair of non-Gortex all leather boots for the hot environment, but those are extremely rare to find anymore.  
Like one of the previous reviewers, I have a very difficult time finding boots to fit (wide toes and narrow heel).  These boots fit perfectly right out of the box, so I got them even though I had never heard of the brand and despite them having a Gortex liner. Being in a hot environment Gortex is not really preferred but I needed a durable, heavy duty boot that could stand up to the rigors of a lot of mileage and packs up to 50 lbs.  
These boots did not disappoint. I wore them daily for almost 3 years walking on sand and sharp rocks. They held up great and provided good support.  
My only complaint is that my feet sometimes got a little hot and steamy, but that is to be expected with 130 deg temperatures.
After returning from my trip, I am buying my second pair. Sadly I have learned that this exact boot is no longer being made, so they are getting difficult to find. Buy a pair while you can.
Source: bought it new
Price Paid: $209

I have trouble finding boots that don't have eyelets that press the nerves on top of my feet wrong, or ones that actually holds my heel with a GOOD insole (nice arch/ deep heelcup).
I love these boots most of the time, but on descents even if I played with how my insole controlled foot pronation, my big toes jammed the front. Couldn't tighten the laces on the bottom enough. If you make the laces too tight in place, ankles irritated.
Otherwise I LOVED this boot, but my toes hurt. No heel blisters if wore right combo of socks. I got blisters when I first wore these boots. I use a thicker, black SOF Sole insole to take up volume and use a medium weight hiking sock and I am fine. Sometimes I use a lw sock with a liner and that does the trick too.
One other issue myself & a friend had was minor delamination at the toes, early on. She had an eyelet at the ankle flex point rip off. We do serious trailwork all summer. Boots have to hold up. We love these ones so much, so hope that those issues are fixed!
Materials: nubuck
Use: trail work, day hikes, overnight hikes with heavy pack
Break-in Period: 1 week
Price Paid: $90

Well-traveled, rugged boots:
This product held up really well for years going on monthly backpacking trips in the Apps as a boy scout and the time since that I have been going about 2x/year with additional hiking trips. This would put the mileage over 500 miles easy, maybe approaching 1000. I have pretty normal feet, and these fit me really well, don't know about others. I've gotten maybe one blister, with occasional hot-spots which I covered with duct-tape.
End of lifespan:
Lost a piece of hardwear, a little loop for the laces, but it seems fair since I gave these boots heck. The last time I used them however, before a short rugged day hike up Bear Peak here in Boulder, I noticed a small crack, something I could fit a pencil eraser into. Pulling the boots off after the hike, I noticed the hole near the heel was now a huge missing chunk right on the inside of my heel. I took them in to the nearest Garmont dealer who said "they're pretty old and worn, but email Garmont and see what they say." Sent in a picture and they said they'd warranty them.
I got the new pair today and they are definitely solid. The heel seems more reinforced than the old model. There's more nylon than before along the top and through the tongue, but I don't think this reduces durability at all and maybe makes them lighter. The new hardwear is smoother lets me lace a little tighter I think. Looks perhaps more rugged than before and less likely to wear out my laces. They weigh in at 1 lb. 8oz even on my electronic scale, I'm guessing the old ones were 1 lb 9oz maybe, but it's hard to say.
In summary, Big Ups to Garmont!
Materials: 2.2mm nubuck leather, gore-tex, nylon.
Use: Philmont, rough trail, 190lb payload (person and pack), rough day hikes
Break-in Period: A couple day hikes maybe?
Weight: 3 lbs/pair on postal scale, size 9.5
Price Paid: Full price way back when

Fist off, I loved these boots when I first purchased them. I had a really difficult time finding boots to fit. My feet are wider at the toes and narrow at the heal. I tried numerous brands but the toe box would be too small... or if the toe box fit the heal would slide. Then I discovered the Garmonts. They fit nicely. In fact, they were almost too roomy until I placed the old cushion insert from my Cabela's Mountain Hiker II's inside.
I would probably give them a heartfelt 4 stars were it not for their Achilles heal (literally). The BiUurethane midsole heal, which acts as sort of a shock absorber began to deteriorate causing the Vibram sole to separate. Granted, I did get a couple of good years out of them and I tend to live in hiking boots. But the boot should have had more life in it yet. I tried several glues but nothing would stick to the soft substance. These would be excellent boots if this design flaw was addressed. I was also a bit disappointed that Garmont has sent production to China.
For a similar boot fit with great design and quality construction, I recommend the Alico Tahoe. And you'll save yourself about $70 if you get them on clearance.
Materials: leather nubuck; Vibram sole; Gore-Tex
Use: day hikes and everyday wear
Break-in Period: a couple of days
Weight: 1.49 kg / pair
Price Paid: $189.95

You May Like
Recently on Trailspace