GCI Outdoor SitBacker Canoe Seat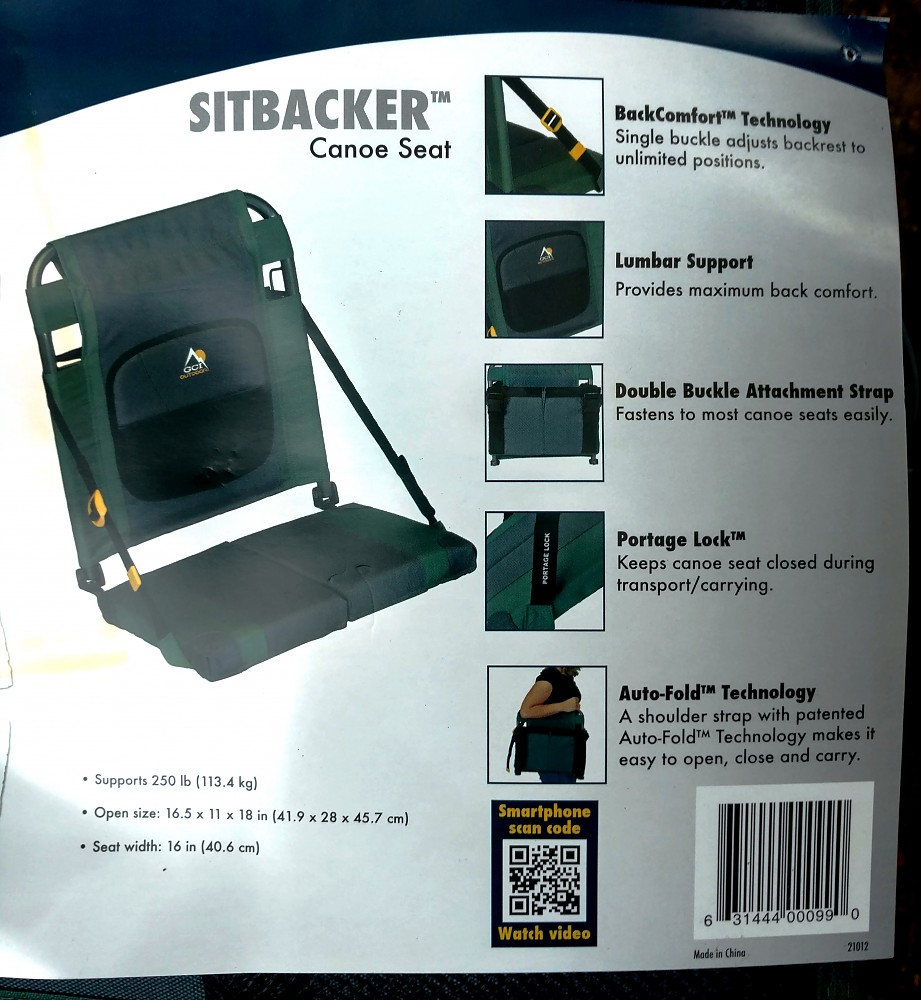 Convenience and Comfort in a relatively small package. GCI Outdoor offers a fairly versatile seat option for flat seat canoes and several styles of kayaks...providing a greater level of comfort and support...translating into longer paddling days.
Pros
Durable fabrics
Split closed-cell foam seat
Tall adjustable seatback
Portage "lock"
Single strap tensioning
Simple attachment
Cons
Steel only, frame construction (used in saltwater)
Open-cell foam lumbar padding
Straight top bar on seatback gets uncomfortable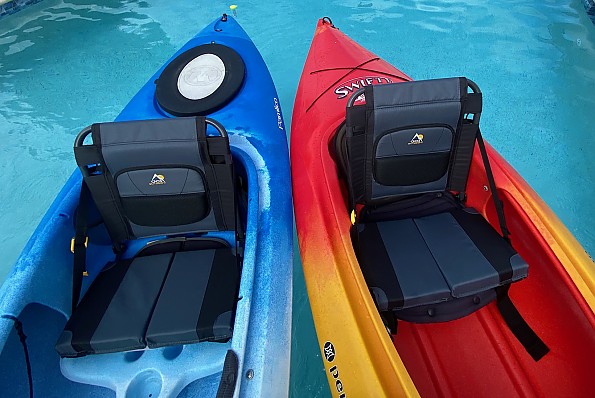 I have been paddling for over a half century and have owned several different canoes and kayaks during that time period. There are two common complaints I have when paddling long hours...#1 I yearn for greater seat cushioning and #2 as I age I desire more back support. As a result, I have had my eye on the GCI Outdoor Sitbacker Canoe Seat for quite some time...but never pulled the trigger. I was elated when given the opportunity to test and review these seats for another website.
When paddling long trips on flat water in Canada or multi-day river trips I spend an inordinate amount of time dreaming of a perfect paddling seat...so expectations can run quite high when you finally get to review one. In this review, I will share what I like about the Sitbacker Canoe Seat and what I would like to change if I could.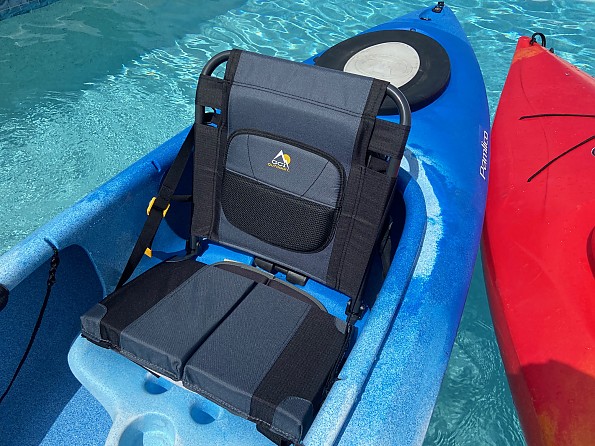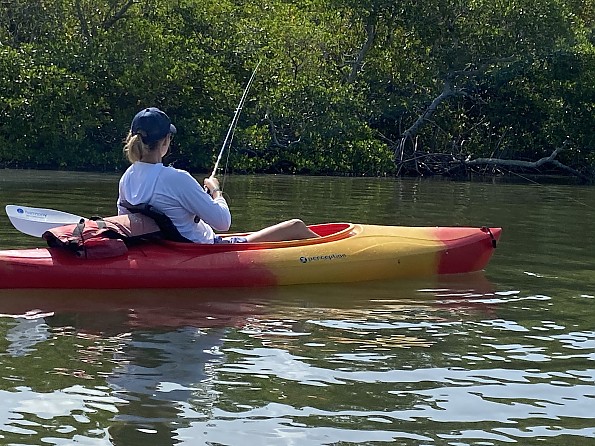 What I liked:
Split seat

Thick closed-cell foam on seat

Portage lock hook-n-loop tab

One strap/buckle seatback adjustment

Simple 2-snap buckle on seat attachment

Dimensions. Large enough for comfort, small enough to fit a variety of boats

Fabric used. Durable and proven Ripstop nylon and oxford packcloth

Relatively lightweight 
What I would change if I could:
The seatback upper frame bar...it is straight and I prefer a contoured outward bend.
Incorporate aluminum framing rather than steel (I reside and paddle mostly in a saltwater environment)
Closed-cell foam in lumbar region to avoid sponging
Aluminum or SS adjustment buckle and pivot bracket
Now that may appear to be a lot of things I'd liked changed, but it is primarily because I live and play mostly in a hot and humid saltwater environment...which does not play well with steel framing, nor plastic/nylon/zytel fasteners. Plastic products of all qualities become brittle and either break or crumble.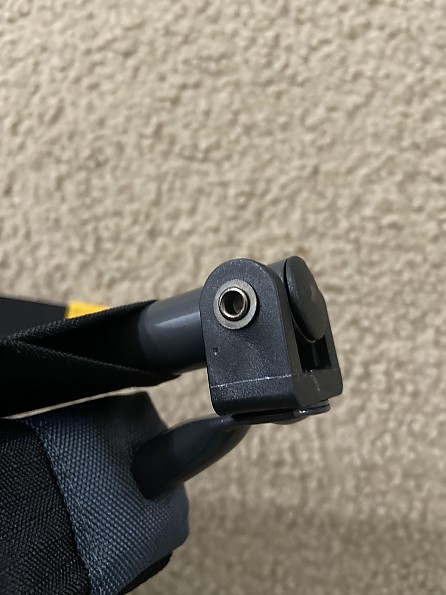 I will have to be more diligent in my after-use maintenance, with washing these seats down with soapy water and strive to keep them out of the sun and heat.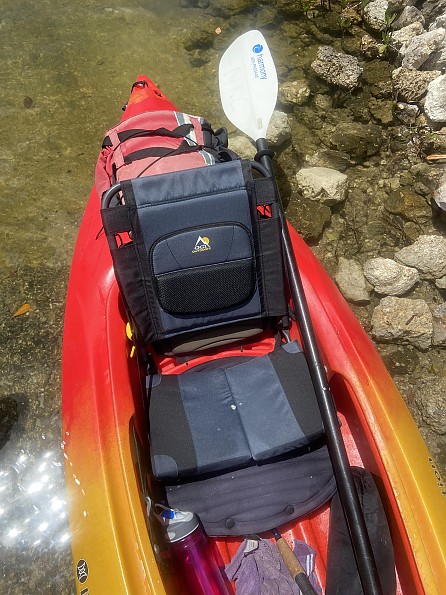 Ease of Use:
Attachment and actual use cannot get much easier than fastening two snap-buckles and pulling the webbing taut...then opening the seat and sitting your tail-end on it. If you want less recline, you pull one strap on your right. If you want more recline, you lift on the yellow buckle to release tension on that same strap. Nothing complex about that.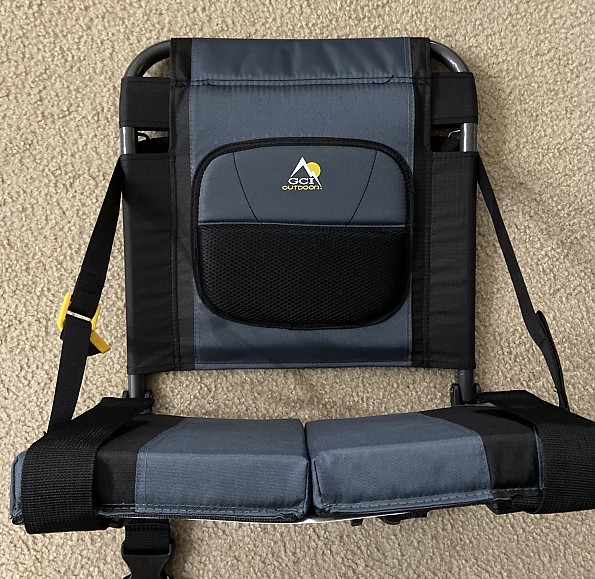 Comfort:
Seat comfort is really dependent on a few variables...Activity, Duration, and Tolerance. I don't care how much "cush" any seat has, eventually you'll likely grow uncomfortable. Seats are a very personal thing...and I'm as persnickety as the next person, prefering the Barcalounger and still longing for the lush bench seats found in 1980's Sedan de Ville's that you would disappear into. So seats can be a point of division for folks.
I felt that the GCI Sitbacker Canoe Seatoffers a nice balance. I like the thick, dense closed-cell foam on the seat bottom. It is far more comfortable than my kayak's Phase 3 seat and my canoe's cane bench seat.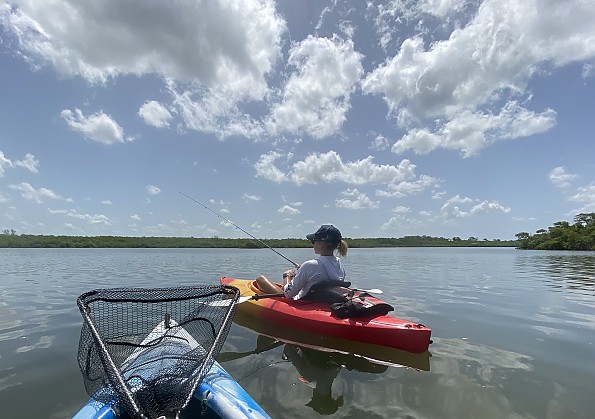 I am not a paddling purist when canoeing, but do lean forward during my strokes, so the seat back is not critical at that point, nor when paddling my kayaks as I also lean forward. However, I do lean back when resting and fishing and at those times I desire "long-term" comfort. The Sitbacker Canoe Seat seat back is comfortable "short-term" and that can mean different things to different folks.
It is a sling style seat back, but if I really lean back with my full weight for an hour of fishing...I get to wishing the top bar was contoured to fit the shape of my back rather than a straight bar that tends to apply too much pressure directly below my scapula. I'm 6'0" and my daughter in the photos is 5'10" and fits her wonderfully. Is it a Deal Breaker? I don't think so. There is a backward bend to the vertical seat back framing, but if I had a backward bow in the horizontal bar as well, it'd offer me long term comfort.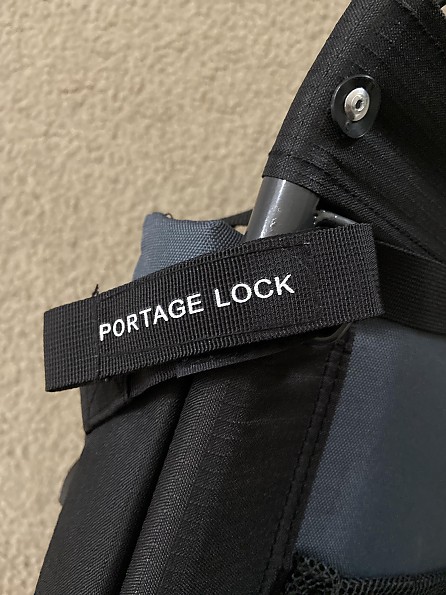 It's The Small Things:
Isn't it always the small things that bring us joy or make life just a tad easier? The "Portage Lock" is one of those small things. If you don't portage your canoe, it probably won't mean much to you...but if you do, it is just one small add-on that makes life so much easier. To be able to leave the Sitbacker Canoe Seat strapped onto your bench seat during portaging is great, but to loop one small sewn on hook-n-loop strap through an attached 'U bracket' to prevent the seat back from flopping down into your view during portaging is greater.
*Though some may choose to leave the GCI Outdoor Sitbacker Canoe Seat attached to their paddlecraft with the Portage Lock secured during transport...I would not recommend it. Though I haven't seen any alongside the roadway, better safe than sorry applies here. 
Final Thoughts:
The GCI Outdoor Sitbacker Canoe Seat is a product I like and can wholeheartedly recommend. The "Things I like" outweigh the "Things I'd change if I could" and most of those are speculative anyways. I look forward to putting countless hours on this seat, so if anything changes I'll be sure to revisit this review with an update. Perhaps I shouldn't mention this, but you'll do your own research and find it yourself...website MSRP is $45...but Dick's Sporting Goods has it for $34.99, a considerable amount cheaper.
**Additional Notes: The GCI Outdoor Sitbacker Canoe Seat is primarily designed and best suited for a flat bench-style canoe seat. It does work great also in my models of kayaks seen in the photos. Be aware that when securing the bottom retention straps around the sides of the kayak molded seat (purely to prevent them from sliding...which it has not slid), I believe it places a different stress on the fabric and straps than designed...which may result in premature fabric failure. Though I left the retention straps loose, when I would cinch the seat back strap tighter, I could feel the tension on the front of the seat-bottom...so much so that it would lift that front portion off the kayak seat. Worked perfectly but I know not to tightened the retention straps when wrapped to the side.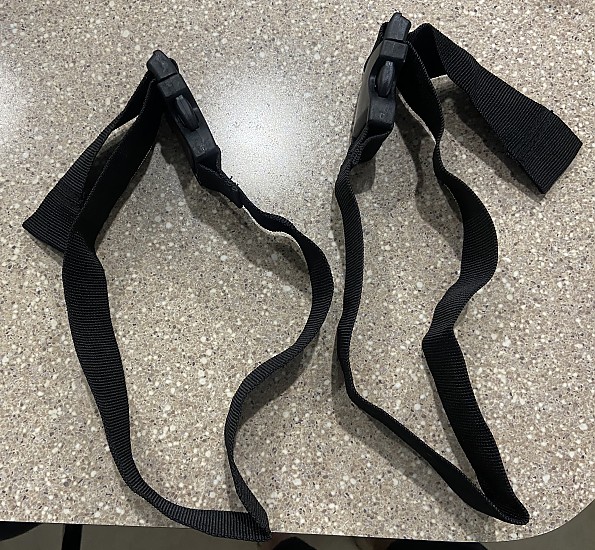 Second "note," I've read other reviews complaining that the tension strap that snugs up the reclining to the seat back releases over time. Truth is, it does and it will. Any buckle that doesn't have a cam-lock will. I find it a nonissue...shoot, the buckle on my shorts do that daily. Backpackers face the same situation with shoulder straps all day long on the trails. It's not a negative.
Experience
I have been using these GCI Outdoor Sitbacker Canoe Seats for several weeks paddling day trips in the Mangrove Estuaries and fishing coastal bays and backwaters. Experience with removable canoe seats with adjustable seat back is nil...with permanent folding plastic, such as Old Town's I have used and do not prefer. All my "sit-in" kayaks have built-in thinly padded, molded seats with folding seat backs. I find them marginally better than the hard plastic, as the padding is far too thin to be of benefit.
Source: tested or reviewed it for the manufacturer (Keeping them)

Disclosure: The author of this review received a sample of the product from the brand or its representative in exchange for a review.
This canoe seat offered excellent back comfort during a five-day paddling wilderness adventure. Its light weight and thoughtful design made it easily portagable without having to take it in and out of the canoe. Recommended.
Pros
Light weight—2.9 lbs
Folds small for travel
Back support and comfort
Cons
The fabric wore through from rubbing too easily
This SitBacker canoe seat was a lifesaver on my five-night, six-day wilderness paddling adventure. I was with my grandsons and they were in the front and back of the canoe leaving me to occupy the center seat. It took me a couple days to realize that the portage shoulder cushions could be removed but not before they had rubbed the seat fabric where it wrapped around the vertical supports of the seat back.  
Nevertheless, after removing the shoulder cushions the seat performed beautifully and offered excellent lumbar support and cushioning.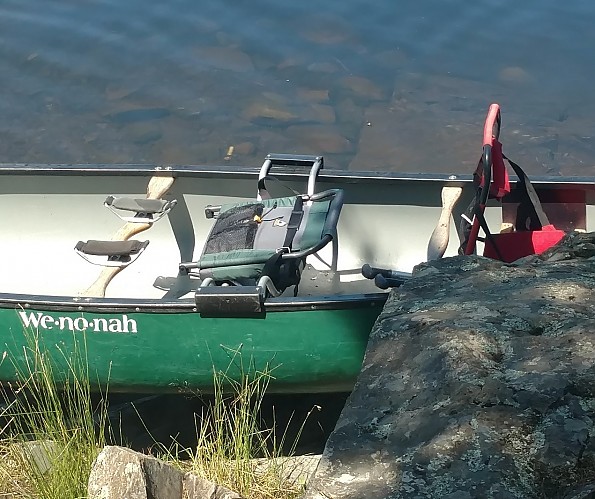 Because I was in the third seat, which was not fixed to the canoe, I had to transport the SitBacker attached to the removable third seat during portages. An inconvenience, but fortunately, because of the SitBacker's light weight, 2,9 lbs, this was not an issue.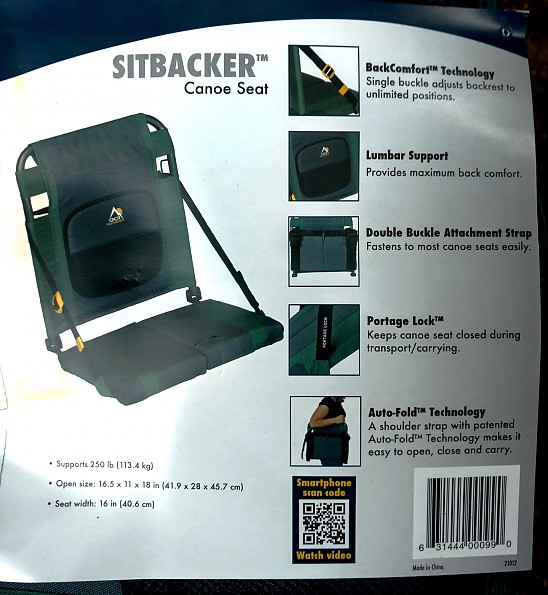 The SitBacker's dual buckle straps make it easy to fasten it to the canoe benches. It was easy to adjust the degree of recline by adjusting the backrest to my comfort level. The lumbar cushion was very comfortable and as a relatively inexperienced paddler this was essential to my surviving the six days on the water. The integrated shoulder strap was very helpful as well. The SitBacker portage lock was useful in keeping the seat from flopping around during the many (20) portages!
One significant drawback was that there was no easy way to keep the seat-back upright when getting into the canoe. Nearly swamped us a couple times as I tried to get in while the seat was folded. Finally, the fabric rubbed thin because of the middle seat location against the shoulder cushions. Fortunately I removed those after a couple days and the seat material survived. Probably my fault.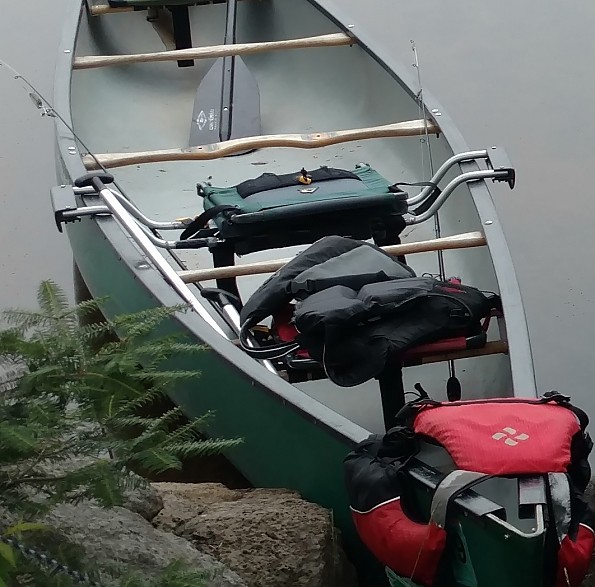 Although I used it for my canoeing adventure it could also be used on bleacher seats at sporting events.

The SitBacker retails for $45 from GCI Outdoors direct. I saw it for $34.99 on Amazon Prime. I received this from the manufacturer's rep for testing and review.
Source: tested or reviewed it for the manufacturer (I kept the product after testing.)

Disclosure: The author of this review received a sample of the product from the brand or its representative in exchange for a review.
Your Review
Where to Buy
Help support this site by making your next gear purchase through one of the links above. Click a link, buy what you need, and the seller will contribute a portion of the purchase price to support Trailspace's independent gear reviews.
You May Like
Specs
Price
MSRP: $45.00
Historic Range: $29.95-$37.99

Unit weight
2.9 lb / 1.3 kg

Supports
250 lb / 113.6 kg

Open size
12.2 x 16.5 x 17.9 in / 31 x 42 x 45.5 cm

Seat width
16.5 in / 42 cm

Folded size
3.7 x 16.3 x 16.5 in / 9.5 x 41.5 x 42 cm

Seat strap length
17 in / 43.2 cm

Recently on Trailspace