Geigerrig Nano Drink Tube

Top 25 in Hydration Accessories
Reviews
1

review

5-star:

0

4-star:

1

3-star:

0

2-star:

0

1-star:

0
The Geigerrig Nano Drink Tube is a tiny, 4mm sized hydration tube that provides a user effortless drinking or water extraction when paired with Geigerrig's pressurized hydration reservoir. Gone are the days of exerting and wasting breath drawing water from a bladder.

These two systems work best together when backpacking, day hiking, trail running, and biking. Both the bladder and tube system should fit any pack equipped with a hydration sleeve.
Pros
Lightweight
Tangle-free tubing, easily attaches to Geigerrig's pressurized Hydration Engine (reservoir)
BPA-Free
Cons
"Poplock" or tube clip too overly engineered
Adjustable Flow Gate not adjustable with one hand
Tube width too narrow; it takes a while to achieve the desired mouthful of water
Since the Nano Drink Tube works best with Geigerrig's Hydration Engine (aka reservoir), I want to discuss the reservoir first, before discussing the Nano Drink Tube. Let's go over the Hydration Engine, which is available in 2-liter and 3-liter capacities. I tested a 2-liter reservoir.
The Hydration Engine by Geigerrig is not your ordinary water reservoir system. The bladder itself can be pressurized and depressurized via the use of a "Power Bulb" — think of that bulb that you pump when checking blood pressure. 
Manufacturer Specs for the Hydration Engine (2L)
http://www.geigerrig.com/hydration-packs/accessories-reservoir-bladders-bite-valves-backpacks.html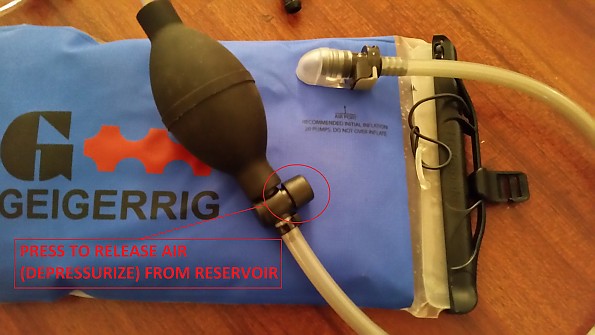 How does it work? The reservoir essentially has two parts to it:
The first partition is where the water goes in.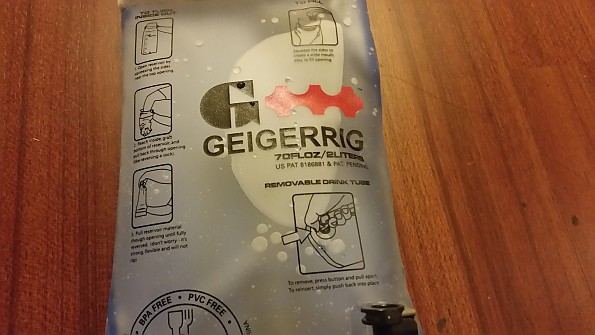 The second partition is an air pocket that when pumped with air via the "Power Bulb" inflates, allowing the water to be forced through the drinking tube.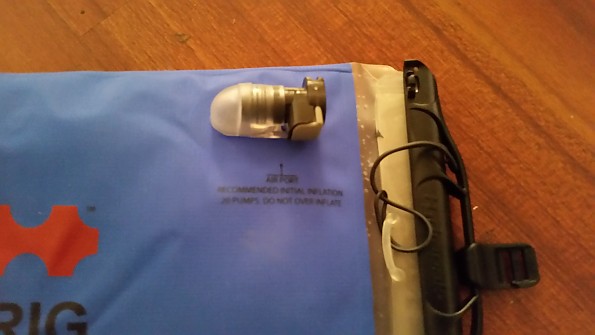 The Hydration Engine comes with two ports, one for the "Power Bulb" and the other for the Nano Drink Tube.
After initially filling up the bladder with the recommended water amount:
Pump the bladder 20 times to pressurize the reservoir.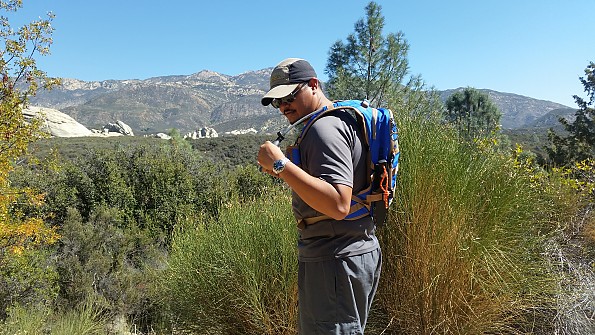 Once pressurized, open the valve on the drink tube and you will see that water is forced out due to the pressure.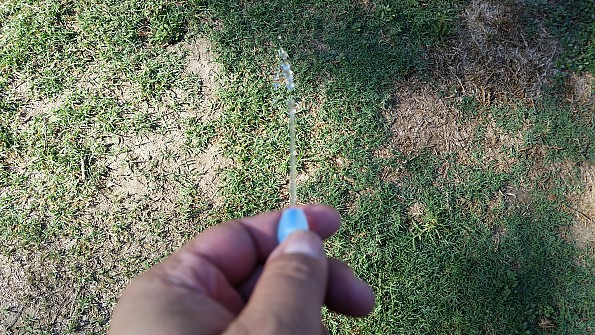 This may not be a con for some, but I noticed that after pumping air into the reservoir, my pack suddenly felt bulky. I felt a huge lump on my mid-back after pressurizing the bladder.    
TIP: I personally release the air out after drinking. I re-pressurize only when I need to drink. This allows my pack to feel comfortable and less bulky.
Another con for me was the "Power Bulb." I found that the bulb, on occasion, slipped off from the tubing. I had to remedy this by zip tying where the bulb and tube attach, so it can be secured much tighter that when it was originally provided.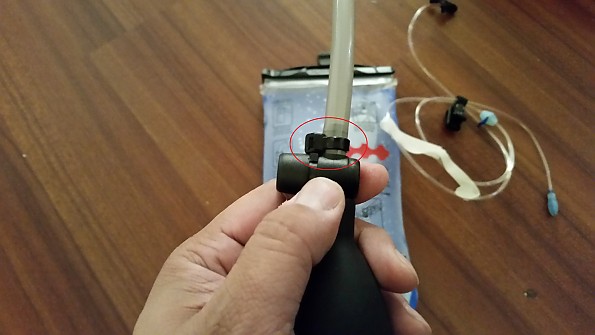 The Hydration Engine reservoir itself works great and is easily filled and sealed via Geigerrig's Hydrapak Slide Top. I personally felt confident that when sealed correctly, I didn't have to worry about any of my water spilling or leaking.
For a 2-liter capacity reservoir, it looked and felt very compact. Weighing only 6 ounces, this 12-inch by 7-inch bladder should fit not only Geigerrig's day pack offerings but also other daypacks equipped with a bladder sleeve.
Now, onto the Nano Drink Tube! Below are its manufacturer specs:
http://www.geigerrig.com/hydration-packs/accessories-nano-drink-tube.html
My initial thought of the Nano Drink Tube was "How the heck am I supposed to suck water out this this IV tube?" Though the valve connector appears to fit other bladders like my Platypus Big Zip, this tube works best with Geigerrig's pressurized hydration bladder.
I personally have not tried this tube on any other bladder aside from fitment curiosity but feel that it will not work as efficiently due to its 4mm diameter size (that's about one-third of most drinking tubes). You would definitely exert yourself trying to draw water from your regular reservoir. The Nano Drink Tube is really best used for and designed for Geigerrig's Hydration Engine.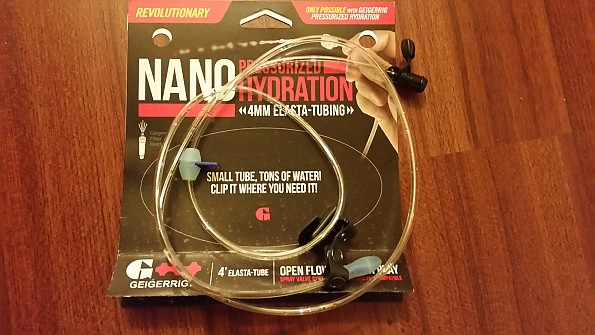 After using this system for day hiking, plus a half marathon training run, I really liked the idea of not having to exert so much energy drawing water from the bladder. A few pumps of air to pressurize the reservoir was all that was needed to allow water to flow through this tiny tube.
The Nano Drink Tube is equipped with an "Adjustable Flow Gate" that allows the user to adjust or stop the flow of water. The AFG worked great, but I found that it's:
Not too adjustable – technically it's either on or off, there is no in-between.
Required two hands to operate.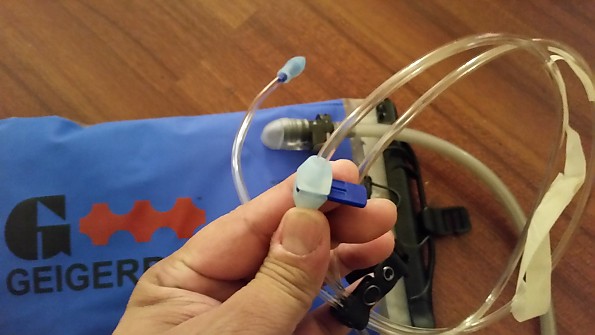 I found using one hand to stop or adjust the flow to be challenging. You need to apply some pressure in order to pinch the tube so that water stops flowing.
The Nano Tube also comes with a "Poplock" that allows the user to clip the tube onto a shirt collar, pocket, or wherever it is convenient. A useful feature but, in my opinion, the clip was a bit too overly engineered. A simple clip you could just pinch to open would have sufficed, but Geigerrig opted to employ a clip that challenged my finger dexterity.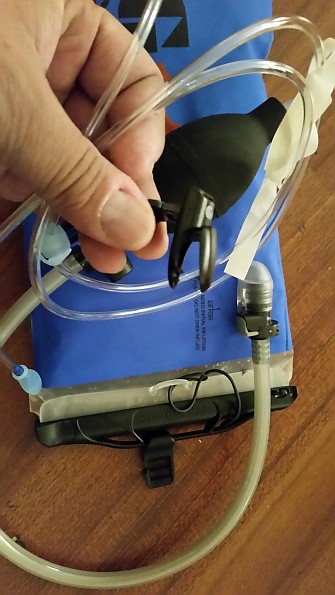 The Geigerrig Nano Tube attaches to the pressurized Hydration Engine reservoir using a Quick-Release mechanism that is similar to what Platypus uses. It's very easy to attach and remove.
Nano Tube on Geigerrig Hydration Engine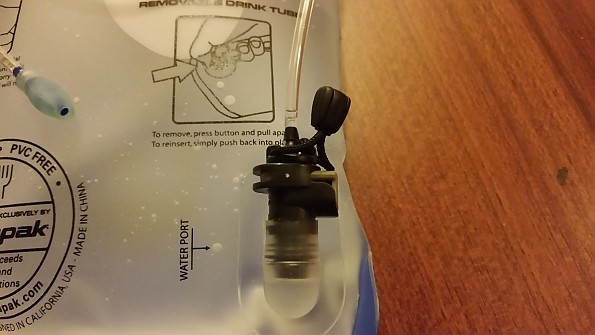 Nano Tube on Platypus Big Zip reservoir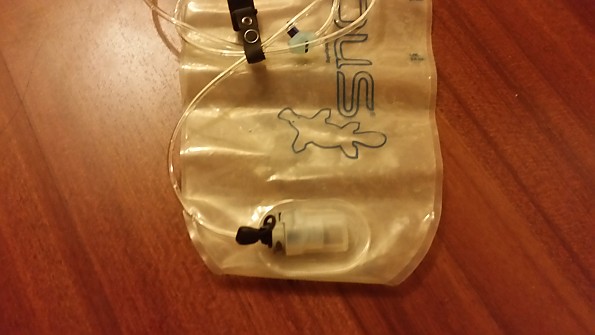 As mentioned earlier, though the Nano Tube can attach to other systems that have a Quick-Release valve, the Nano Tube is best used with Geigerrig's pressurized Hydration Engine. If this tiny Nano Tube is used with a non-pressurized system, you will be working too hard to draw water from the reservoir.
Final Thoughts:
Despite the overall small, 4mm diameter of the Nano Tube, I was impressed with the amount of water you could draw. Having a reservoir that can be pressurized helped immensely and ultimately IS what makes this product work.
I can only find two things I would like to see improved on this product. They would be:
The "Poplock" be replaced with a much simpler clip, and
For the "Adjustable Flow Gate" to be more operable with one hand.
Tester Background and Condition of Use:
I have been backpacking the past five years with trips ranging from simple overnights to multi-day trips in the Sierra Nevada Range, Death Valley, Mojave Desert, Angeles National Forest, Cucamonga Wilderness, Sespe Wilderness, and San Gorgonio Wilderness.  
To date, I have used the Geigerrig Nano Drink Tube (with Geigerrig's Rig 700 day pack and a pressurized 2-liter Hydration Engine) on multiple day hikes, plus one half marathon training run. Additionally, I have taken this setup on my routine nightly walks around my neighborhood.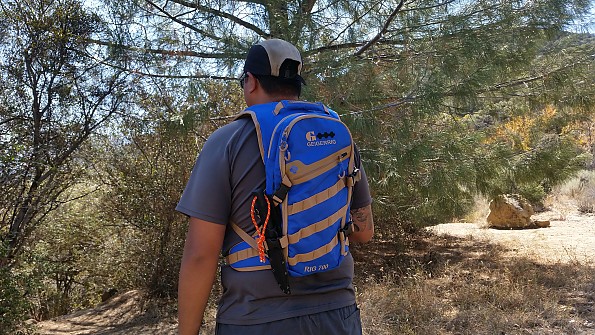 Source: received for testing via the Trailspace Review Corps (Samples provided by Geigerrig for testing and review)

You May Like
Recently on Trailspace