Geigerrig Tactical 1600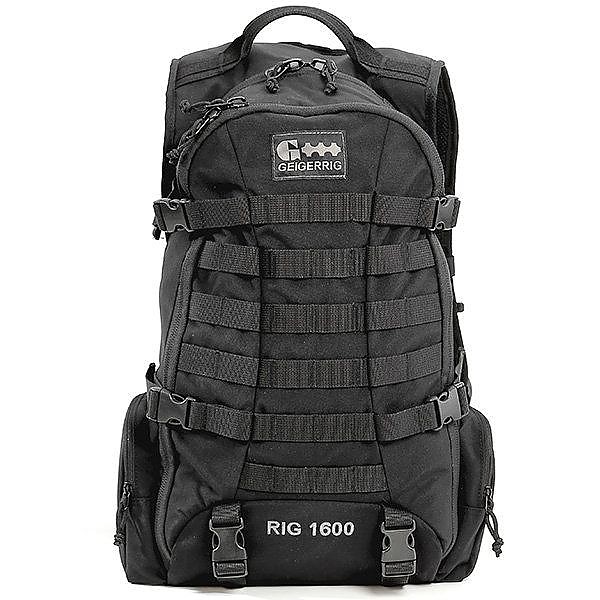 This amazing hydration pack has an almost indestructible hydration engine that is easy to clean and room to bring everything you need for any daylong adventure.

Pros
Robust and durable pack
Very comfortable fit
Lots of storage
Molle webbing system
Available inline water filtration
Easy to clean hydration bladder
Lifetime warranty against leaks
3 litre (100 ounce) hydration bladder capacity
Disclaimer: I was provided with this pack by Geigerrig to trial and review. I have had a Geigerrig Rig 1600 (their non-tactical pack of the same capacity) that I purchased as a consumer two years ago, and throughout this review I will make comparisons between the two.
(Left: Rig 1600 Tactical, Right: Rig 1600)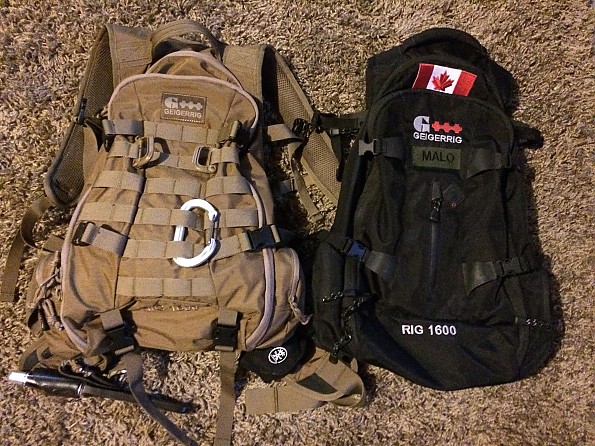 THE SHORT REVIEW
I LOVE THIS PACK!!!!
This a great pack. It's durable and cool and will hold a days worth of gear. The hydration engine has a lifetime warranty against leaks and is easy to clean. You can find cheaper packs and cheaper hydration bladders, but they won't measure up to this quality, well-built system.
THE LONG REVIEW
This pack is made of 500D Cordura, and is durable and tough enough to take heavy use without tearing or wearing out. I don't abuse my gear, but I definitely use the hell out of it, and both Geigerrig packs are heavy duty.
The shoulder straps are part of an ergonomically designed system that fits your back and shoulders and is comfortable, regardless of how much gear you stuff into the bag. The back is padded and covered with mesh to provide comfort and some ventilation.  
The Rig 1600 Tactical has a wide hip belt and each side features Molle webbing attachment points and a zippered pocket. The hip belt is wide enough to transfer weight from the shoulder straps for a more comfortable fit. (The non-tactical Rig 1600 hip belt is narrow and does not provide the same support. It will keep the bag from moving around too much, but is not wide enough to provide weight transfer. Both hip belts are removable).
This pack has 1600 cubic inches of storage. The main compartment is accessed by a heavy duty zipper that opens almost 2/3 down from the top. (The non-tactical Rig 1600 access zipper only opens 1/3 down from the top, making it a little difficult to access gear in the bottom of the pack).
The secondary storage compartment features mesh pockets, a zippered pocket, and a small plastic clip for attaching a key ring. The access for this compartment is a full length zipper that opens like a clam shell.
There are also two zippered pockets on the sides of the pack (approximately 6" by 6").
The Tactical version features "Bedroll Straps" at the bottom of the pack. These are adjustable and I use them for securing a rain cover or rain jacket. Both packs have two straps on each side for securing gear and for tightening up the main compartment, keeping everything tight and secure.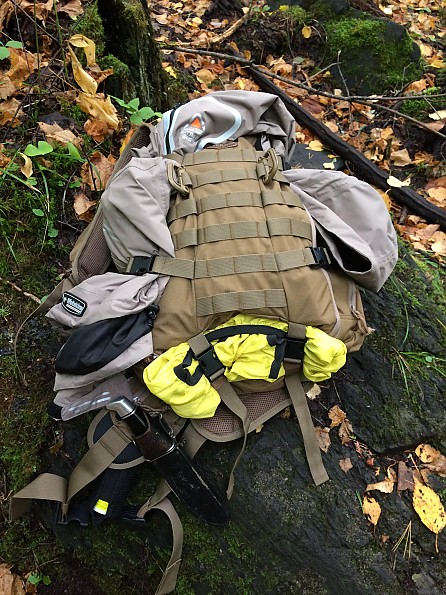 The Molle webbing system is great. There are endless choices of accessory packs, compartments, and sheaths for knives and tools that attach securely in a variety of configurations to suit just about any requirement (tactical, first aid, and recreational). It's very versatile. Using the Molle system on the hip belt, I mounted my Buck 119 special with paracord and my bear spray canister with a carabineer.
I have also mounted my Leatherman Wave with a molle sheath on the hip belt. The molle system is totally secure. The webbing weaves together and is so secure that you can literally lift the entire bag by the Sheath.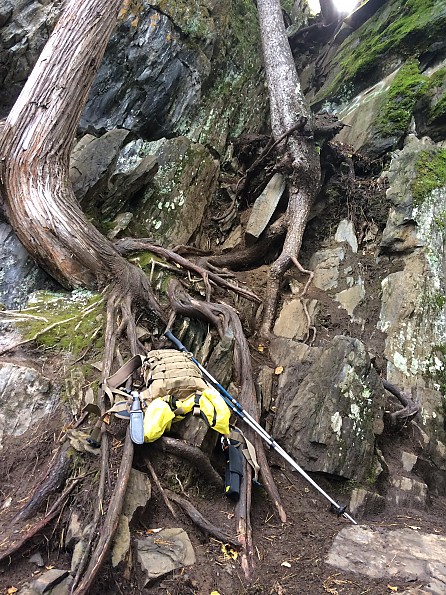 Possibly the greatest thing about this pack (and the main reason I purchased the Rig 1600) is the hydration engine.
1. The manufacturer provides a LIFETIME WARRANTY against leaks! Seriously. That's not a typo. If you take care of it, and don't lose it and it doesn't get stolen, there's potential that you may not have to buy another hydration engine for a very, very long time.
2. This thing is bomb-proof. I'm using the term bomb-proof in more of a figurative sense, and I don't suggest you build a bomb for any reason, but my point is this thing is tough. The manufacturer does some very entertaining destructive testing of these hydration engines and posts the videos on their website. I just love gear that is overbuilt, reliable and tough, and this thing is all of those.
3. The hydration bladder can be turned inside out and is dishwasher safe. How cool is that? Eliminate the funk that grows over time from storing a damp bladder. Both hoses are have quick disconnect valves, so there are no plastic threads involved.
4. The hydration system is pressurized. A separate bladder holds air that puts pressure on the water bladder. The result is that you will drink more water. When you bite the bite-valve, water shoots into your mouth. This is also useful for sharing water with friends and your dog, neither of which will need to put their mouth on your bite-valve. It can also be used to spray water for cleaning a scrape when performing first aid.
5. Because the system is pressurized, an inline water filter can be used. This makes it possible to scoop water from a lake and have it filtered prior to reaching the drinking tube. For hikers who are looking for convenience, this eliminates the need for a separate water filter or chemical purification tablets.
6. The capacity of this hydration bladder is 3 litres (100 ounces). That's a lot of hydration! When I trekked 9 km of the Mantario Trail (through some of the baddest terrain the Canadian Shield has to offer) I appreciated still having a half litre of water in my pacK upon my arrival. I also found the extra capacity to be useful when filtering lake water to drink during my stay. 
DRAWBACKS
The only drawback I've found with this pack is that it isn't waterproof, and at the time of this review, Geigerrig does not offer a raincover. I've tried using a rain  cover from another similarly sized pack, but because of the shape and style of the shoulder straps, it didn't fit properly.
CONCLUSION
This pack is worth the price. It's attractive, useful, and versatile. I have many packs that I've used for walking my dog, fishing, hiking, canoeing, and camping, and these Geigerrig packs have become my go-to packs for all of those activities.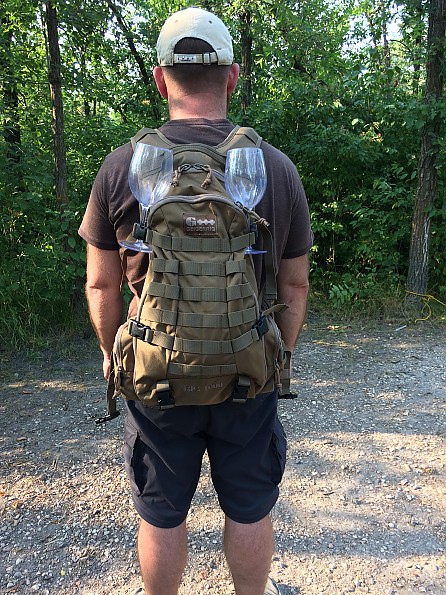 Additional Note for Gear Nerds and Preppers:

This is the closest thing I have to a bug-out bag. At all times I have the following items in this bag, regardless of my activities.
Waterproof matches, headlamp, inline water filter, buff, first aid kit for people and dogs, carabiner, sharpie, waterproof Rite-In-The-Rain notebook, pencil, hand sanitizer, Leatherman Wave multi-tool, duct tape, emergency poncho, paracord, emergency foil blanket, zip ties, and a granola bar.
Disclosure: The reviewer received a sample of this product from the brand or its representatives in exchange for a review.
Source: tested or reviewed it for the manufacturer (I received a sample of this product from the brand or its representatives in exchange for a review.)

Your Review
Where to Buy
Help support this site by making your next gear purchase through one of the links above. Click a link, buy what you need, and the seller will contribute a portion of the purchase price to support Trailspace's independent gear reviews.
You May Like
Specs
| | |
| --- | --- |
| Price | Historic Range: $114.95-$200.00 |
Recently on Trailspace