Gerber Bear Grylls Ultimate Fixed Blade Knife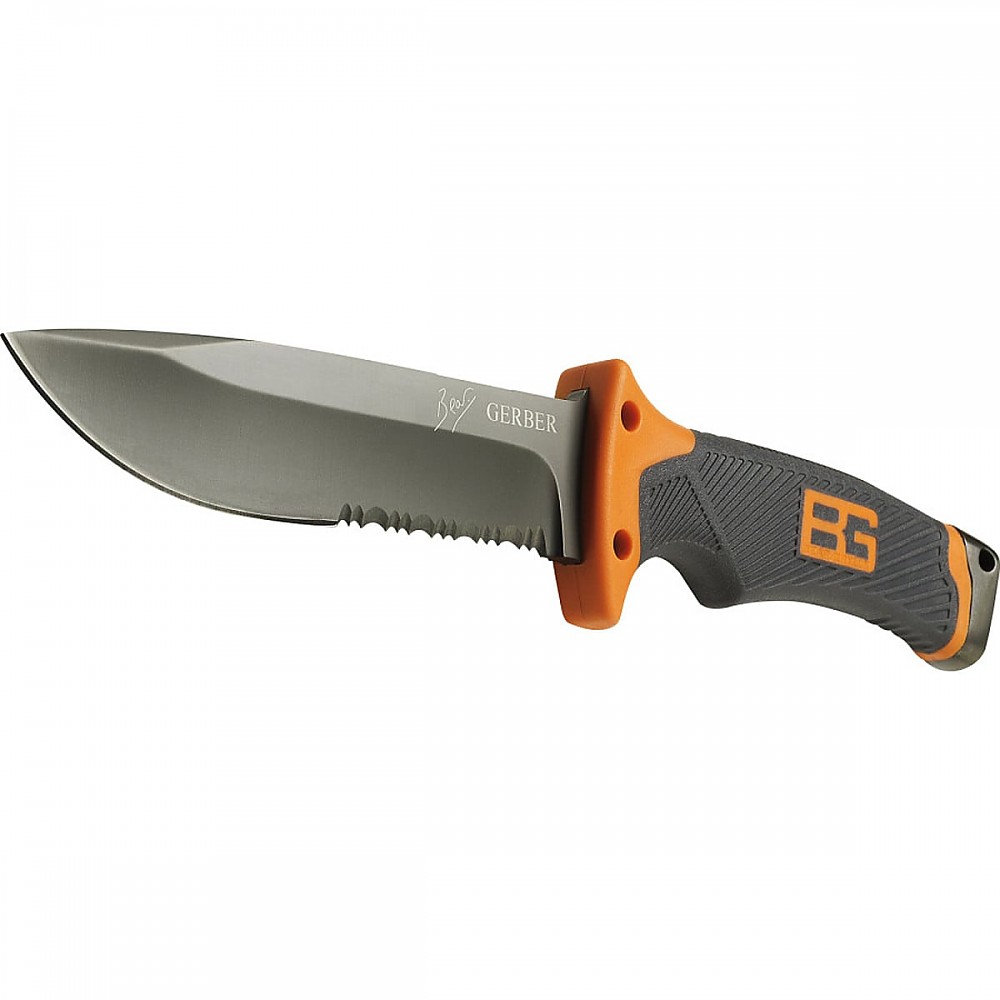 Pros
Whistle and fire starter are good concepts
Sheath seems better quality than the knife
Cons
Clip point
Not full tang
Partial serrated
Cheap fire starter
Butt cap is not a pummel
OK, I understand a good many people like this knife. Although I see some good qualities in it, the bad ones outweigh the good. First of all, I have a friend with one that wanted to put it through some tests. And by all means guys, if you're buying something to be used as a survival tool... please run it through the ringer before you every stake your life on it. As I said before, your knife is the most important tool you can have on you. If it breaks in the field when you need it the most... its too late.
I'll start with some of the perks I found with it. I really dig the quick survival instructions it comes with. Although it's not something containing much detail, anything is better than nothing for a person not knowing survival basics. And though the fire starter is cheaply made, once again something is better than nothing. The sheath is a good standard, a tough nylon material which is always nice. But, I don't care for the velcro retention strap for the knife itself. The lanyard whistle is another good idea, though i would lean more toward a true lanyard.
Now, for the knife itself. And point blank guys... it's cheap made. I'm not sure what type of grade steel it is, but it's not very good at all. One site I looked at says high carbon, the other says stainless, and another says both. So what is it?
And you never get the grade. It's marketed as a drop-point blade, but once again... it's not drop-point. It's clip point. There is a big difference there. Drop point is the strongest point blade you can find. A clip point blade just so happens to be the weakest. While doing some battoning on some green wrist size sapplings, and tapping the knife into a tree by hitting the pummel. The butt cap came off. So, its a faulse pummel and not a true full tang. After that happened, we tried to retrieve the knife from the tree only to brake the clip point off in doing so. So, I imagine its a lesser grade than 440 steel. But, then again it is a clip point.
Another feature that I find stupid on the knife itself is the half serration. A partial or half serrated knife is useless when it comes to survival blades. Other than rope it is good for nothing. And if your knife stays well sharpened... it will cut rope regardless. I go for a 20degree edge on my blade rather than the 23 most come as. It doesn't sound like a lot, but it makes a huge difference.
With that being said, I think this knife is pretty much a novelty blade with a famous guys name on it. Nothing more. Sad to say, but its true. I did have high hopes for it, because I find Bear a very entertaining TV guy. My kids love him. Though I wouldn't stake much on his actions from his show. It's TV, that's all. Overall, I wouldn't suggest this knife to anyone that plans on using it as a survival tool.
If you are a fan of the guy and that's one reason you're looking for a blade of his. Might I suggest the Bear Grylls Compact Fixed Blade. I bought one for my son, and it seems to be a far more reliable knife than the so called "Ultimate Survival Knife". It really is full tang, though still has a clip style point to it, and serrations as well.
Source: borrowed it

This is a good solid knife for the money. There are better out there, but they will cost a lot more and it is debatable truly how much better they will be.
Pros
Good balance and feel
Good utility
Easy to maintain
Great price for what you get
Cons
OK blade metal
Cheap extras on the sheath
Bear's name all over the knife
This is a good low cost knife. It is based on the Gerber LMF II Survival knife which has a very good reputation, so it is likely this is a pretty good knife as well. Let's start with the knife it self.
The knife is a 420HD with heat hardening, this is a stainless steel with low carbon content making it a relatively soft metal but the heat hardening process helps it a great deal. It takes a good edge but will lose that edge quicker then some high carbon or exotic SS. On the other hand it is easy to sharpen. The serration on the blade is a matter of taste and they offer this same knife with out serration so it really is an un-issue.
The knife is not a full tag, meaning the blade metal does not extend to the very back of the knife. This is desirable because it increases the strength of the knife when hitting it from the back to drive it into something. That said the tag is almost full stopping short of the back metal strike plate.
There is a design reason for this. As stated before the Ultimate knife is based on the LMF II which also does not have a full tag because the Air Force requested it that way. The Air Force uses/used this knife as a survival knife for its pilots and in the case that the pilot has to use the back of the knife to strike the control panel or other parts of the aircraft in a crash there would be no chance of electrocution based on the strike plate being isolated from the blade. This feature could also save you if you were to strike live wires with the blade because it would be isolated from your hand. Not a bad feature in today's world.
The handle is a rubber plastic compound that feels very good and should hold up well while providing very good grip. The knife has excellent balance and holes to tie it to a stick if you need to create a spear. Over all this knife is well balanced and easy to control which is 70% of what you want a knife to do.
The sheath is OK, it appears well made and does its job well but, corners were cut with the extras. The fire start is thin and will ware out quicker then thicker units. The sharpening stone is a last resort item and should only be used if you really need it, it will not produce a great edge. the attached whist is nice but small and not real loud.
For the money this is a nice knife that feels great in your hand. Are there better knifes out there sure but you will pay for them and how much more knife will you really get? Any knife can be broke and some are stronger then others but if you use this knife as intended you will be fine. When I bought this knife I didn't expect much, but after using a while I have to say I really like it.
Source: bought it new
Price Paid: $29

This knife is a great option for doing camp chores. The sheath and knife are both very innovative and are great quality.
Pros
Great quality
Lighter than a lot of fixed blades this size
Comes sharp
Well executed sheath and knife design
Cons
Only 3/4 tang, not huge deal though
Ferro rod takes some time to get it to work first time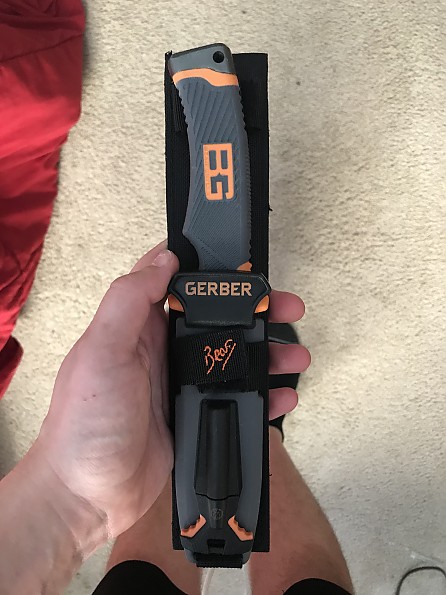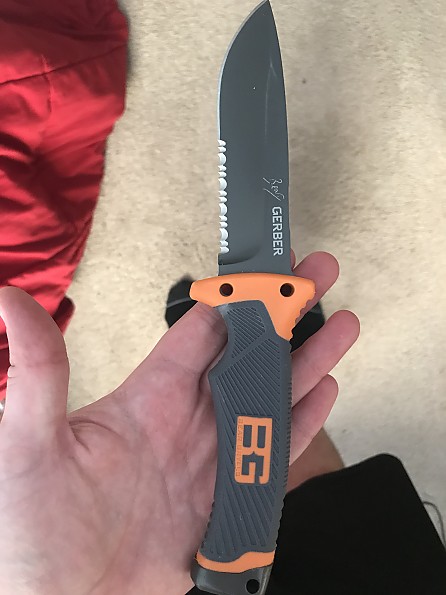 My initial impressions on the product were that it was gimmicky. I didn't think much of the sheath design in particular. But I decided to give the product a shot, and I'm happy I did.
It comes nice and sharp, ready to chop and slice. It isn't the greatest steel, but when you consider the price point I'm all right with that. The knife is 3/4 tang. That didn't bother me that much either, because I didn't intend on using it for bushcraft, just camp chores.
The knife in general is actually pretty light, which is a plus. The pommel at the end is a really neat concept. It's good for nailing stakes into the ground. At the end of the knife is a removable lanyard with a whistle. The whistle is nice and loud. Works great. The sheath (which I had thought was gimmicky) is awesome. The ferro rod is a really cool idea and they executed that idea perfectly. It locks in nice and tight. Despite being inverted during carry, I never worry about it falling out.
The only negative with the ferro rod is that it is coated, and it won't work until the coating is rubbed off. So the first time you use the knife you have to use your striking surface to rub that coating off first, which was a little bit of a pain, but not too bad.
Speaking of striking surfaces, at the top of the knife blade there is a designated striking surface for the ferro rod. Really neat and shows Gerber put a lot of thought into this knife. When you undo a couple straps on the sheath, the sheath will open up and there is a knife sharpener. It actually works really well, and it's not just for the survival knife! While in sheath, the knife is nice and snug. It won't go anywhere.
Like I mentioned I use this knife for camping chores. I do light batoning and I cut cordage amd cut food with it, among other tasks. This knife is a great, affordable knife that exceeded my expectation
Background
Three years, very positive experience.
Source: bought it new
Price Paid: $46.95

In general, this is a good knife, well thought out and constructed. It has a nice feel to the grip. The checkered handle-end is useful for crushing or hitting, although I don't like hitting things with a knife which I regard as a precision instrument to be treated well.
The serrated rear section of the blade is good for rope cutting but it makes sharpening the straight front blade section trickier. It takes up the section of the blade where you like to have good control for whittling and notching.
I prefer a longer serration on the back of the blade, but accept that the BG design keeps this space clear for two purposes.
hitting the back with a heavy piece of wood to provide extra cutting force and
to accommodate the firelighter striker notch. 
The firelighter steel is good, although the ferrocerium rod is a bit short and rather small in diameter (about 3/16") and will not last long if used routinely the way I use my much meatier 3.8" diameter Swedish Firesteel, although it strikes a good spark and is fine for its intended occasional (emergency) use, and is best kept unused for that purpose alone. It is retained in its mini-holster on the plastic blade sheath nicely by a grippy small o-ring but it will pull out and get lost if caught on branch or rock.
I found the accompanying tiny whistle utterly useless, so I threw it away and used its little lanyard to secure the firelighter to the sheath so it can't get lost. I always carry a much better whistle.
The whole sheath and mounting Cordura backboard combo is quite bulky and stiff, so it allows little flex against the body, such as when the knees are bent, as when climbing steep terrain. Underneath, between the sheath and the backboard there is a diamond sharpener which is set at on wedges at an angle to the sheath backboard and this causes some of the bulkiness to the whole assembly, but it is no big issue. The straight blade holds an edge well.
I tend to carry a Swiss Army knife for tiny jobs, a Leatherman Wave multitool, a Buck folder for light sharp work and a 20cm Bowie for the heavy stuff. The  BG Ultimate is a third of the weight of my Bowie alone, but as a one-stop single knife for the intended survival purpose fulfils its function well. 
Price Paid: AUD$90

I own quite a few knives for different functions. I have knives for survival, camping, fishing, hunting, hiking, etc. You name it, I own quite a few knives. 
I found that the Ultimate Knife is modeled after the Gerber LMF which was my go-to knife for everything at one point in life. To me this is a great thing, as that knife has lasted me through years of use and hopefully with proper maintenance this one does the same.
The serration on the blade, as another reviewer mentioned is great for cutting rope, cord, etc. however, it does make it a little trickier in sharpening the knife as you cannot just run the entire blade across a stone. That isn't exactly a shortcoming, as partially serrated blades have many uses. The stone with the knife is adequate for putting a decent edge on the knife, however, it can work in the "field" as needed.
Since owning this knife, I've taken it with me on many trips and it's served me reliably. For an inexpensive, yet dependable knife, I would recommend the BG Ultimate Knife. All in all, I found the knife to be surprisingly good. In fact it exceeded my expectations.
Price Paid: $40

Well built knife that comes with fire starter and good-quality sheath with built-in sharpener.
Pros
Great material on handle gives good grip
Stays sharp with built-in sheath shapener
Comes with fire starter
Cons
Not really a full tang knife
I purchased this knife new and have not been disappointed in it at all. It is not a full tang construction, but it is definitely well built and stays sharp. It has a built-in sharpener in the sheath, a fire starter, and a plate on the bottom to help pound small poles into the ground.  
I would definitely recommend purchasing this knife if you want a well-built, sharp blade in the woods. 
Source: bought it new
Price Paid: $50

Sharp out of the package. Handy extras.
Pros
Weight
Durability
Firestarter
Cons
Color
Clip point blade
Serrations
I thought I would like this better than I do, but it just doesn't get the use that my Kabar does. 
I have used it to baton some wood and it held up well. I wish they made a non-serrated model.
I guess survival equals serrations in the knife world.
Source: bought it new
Price Paid: $45

This is an ALL PURPOSE SURVIVAL KNIFE and as such has its ups and downs.
To begin with, a survival knife should always be used sparingly, it may be the only sharp edge you have. If you don't have to use it and something else will do, use whatever else is available. Be smart with it, it's not a screwdriver. My co-worker busted the tip of his trying to use it for just that reason.
Being a multipurpose survival knife you will notice the serrated edge. As a regular use knife this really gets in the way for me.  As a survival knife I wouldn't want anything else.
The handle has great gripping surface, BUT, you won't want to get it near a fire as it could melt easily. Notice the two holes at the top of the handle close to the blade? Those are holes you can run a string through and tie your knife onto a stick and turn it into a spear. The whistle works good.
Cons:
The knife sharpener on the backside of the case is EXTREMELY coarse! I would only use it as a last ditch effort as it will tear down my blade quickly.
A waistband clip would have been nice in case I don't have a belt on.
If purchasing I highly recommend not using the flint stick unless you are truly trying to survive. It has limited use for its size. An extra flint stick for this knife is available from Gerber for $5. I use a magnesium flint striker and save this one.
Price Paid: $38 (black friday walmart)

This knife is awesome.
It is a 4 1/2 semi-serrated knife. It comes with a whistle, sheath with a sharpener on the end of the handle. It has a metal end that can be used as a hammer it also comes flint it has a grip that is really good.
I dropped it in the water and picked it up and was the same. It also comes with a pocket survival guide and little thing on the Bach of the sheath that tells you what signals to use to aircraft.
Price Paid: $60

I've owned six Gerber knives and find that their knives work well and are durable. I have purchased the Bear Grylls knife and am please with it.
The knife balance well in your hand, and comes with a sheath that has a self contained sharpener and fire starter. The fire starter is a must for the serious woodsman who travels into the wilderness and gives another way to start a fire.
Price Paid: approx. $45

What a very nice knife for the price Bear and Gerber have put together. I've reviewed other Gerber tools and i can't say enough about them.
My sheath was getting worn on my Gerber multi-tool and Gerber sent me a new one at no charge.
Price Paid: $50

Your Review
Where to Buy
Help support this site by making your next gear purchase through one of the links above. Click a link, buy what you need, and the seller will contribute a portion of the purchase price to support Trailspace's independent gear reviews.
You May Like
Specs
Price
MSRP: $62.00
Historic Range: $29.93-$80.00
Reviewers Paid: $29.00-$60.00

Recently on Trailspace