Gerber Epic Knife

Top 50 in Fixed-Blade Knives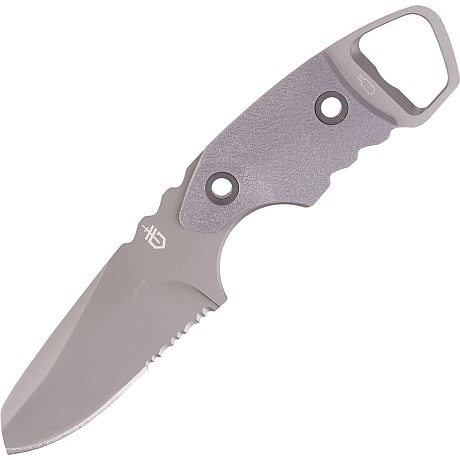 Specs
Price
MSRP: $43.00
Historic Range: $15.00-$55.00
Reviewers Paid: $25.00-$27.00

Reviews
3

reviews

5-star:

0

4-star:

3

3-star:

0

2-star:

0

1-star:

0
Excellent as a backup fixed blade when camping, or as an EMS boot knife. I've carried it for years without incident. Strong sheath clip affixes to boot, belt or pack. Can be inverted.
Pros
Fits well in hand
Serrations for cordage and thick clothing
Fixed blade
Secure sheath w/ reversible clip
Makes a good boot knife
Cons
Little short for tougher jobs
Takes practice to draw from sheath one handed
Bottle opener WTF?
I like it because it's a "small-ish" fixed blade (better/stronger than folder) and it doesn't have a pronounced pointed tip to poke yourself/others with. Sharpens up nicely and has serrations for added oomph when cutting thicker things.
What sold it for me was the sheath. I'm a volunteer EMS Medic and the fact I can securely carry it in my boot w/o being conspicuous is a huge deal. The extra long clip can be carried upright on a belt or in a pocket, or it can be inverted and it fits nicely in my Matterhorn S&R boots.
The bottle opener is just about the biggest waste of knife handle real-estate EVER. Twist off and pop top are the norm these days. Woulda been nice to have a blunt end as a hammering device.... Oh well.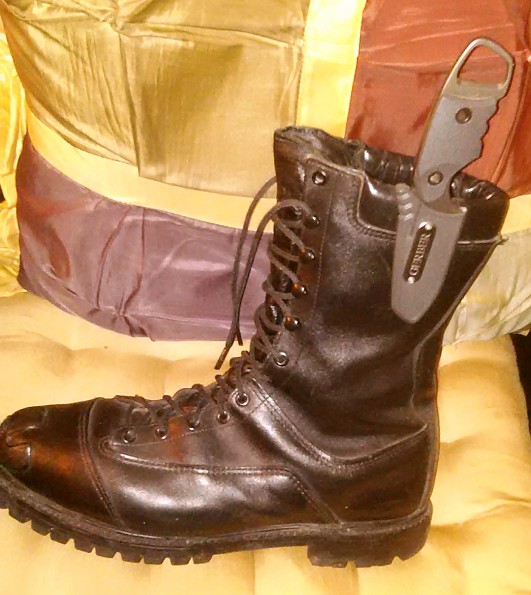 Experience
Had it for YEARS. If it can be cut, I've cut it. WAY better than my 511 "Cop tool." I carry in my other boots.
Source: bought it new
Price Paid: $25 or so

In my opinion, this is good knife for backpackers and river runners. Small and light enough that you'll hardly know you're carrying it, but big and tough enough to take some abuse if you're in a survival situation and have to sharpen and/or shape poles and such for an emergency shelter.
Pros
Good size
Light weight
Ingenious sheath
Cons
Could be a bit sharper out of the box
When hiking and backpacking I always carry a multi-tool. However when you just need to quickly cut some cord or spread peanut butter on a bagel a small sheath knife is much quicker and convenient. Which is why I recently purchased the Gerber Epic.
On first inspection it appears to be made well for the money. MSRP is $55. However you can buy it all day long for less than $30. It's a small knife with the blade being just under 3.5 inches and the overall length of about 7.25 inches. That ratio makes the knife heavy at the handle, more on that a little later.
The sheath is made from (I think glass impregnated) plastic. It's designed with a positive locking function to the knife. You will probably have to hold the sheath from moving when pushing the knife hard enough to "lock".
This is likely an ideal knife if you're kayaking or rafting as it won't get water logged like leather or cloth and there is a drain hole at the tip. The size, weight sheath make this ideal for hanging the knife upside down from a PFD or neck lanyard. It's not ideal for wearing at the hip unless it's on a heavy thick belt that will stand up to the pressure to push into he sheath until it locks into place.
Also, because the knife is handle heavy it will flop around on your hip belt unless its a thick belt. I personally will put it on my pack strap or hang it from a lanyard around my neck. Will try both and see what works best for me.
Out of the box the knife wasn't dull but not particularly sharp either. I did sharpen and hone it to a much keener edge. You will likely want a sharper blade as well.
It seems to be make from medium hard stainless steel. Which is both a pro and a con. A harder steel will keep a sharp edge longer but, it's harder to sharpen and takes much longer to sharpen. If you're likely to really abuse this knife spend more money on a better one. If not, this knife should give you years of good service.
Source: bought it new
Price Paid: $27

This is my around-the-house and around-town beat-it-up chore knife. I wear it on a side leg pocket on my Carhartt jeans, with the handle tucked under the hammer loop, and it stays put well. It's a quick-release sheath that takes a little getting used to, but once you're familiar with it it's easy to draw the blade and sheath it with one hand.
I've had it for about a year now, and I've used it for all manner of cutting, prying, and smashing things, as well as opening the occasional beer (that's a bottle opener on the pommel). It works well. The edge is starting to dull, and I'll probably sharpen it soon, but that's not bad considering the heavy use/abuse it gets.
The finish is wearing too, and the plastic scales are scratched up from being on my coveralls when I roll around under the cars doing maintenance on them, but that's just cosmetics and they don't matter on a tool like this IMO.
I haven't used this as a camping knife, but it would probably be everything one would need for car camping at an established campground. All-and-all it's a great tool for the price.
Price Paid: less than $20

You May Like
Recently on Trailspace