Gerber Sport Utility Pack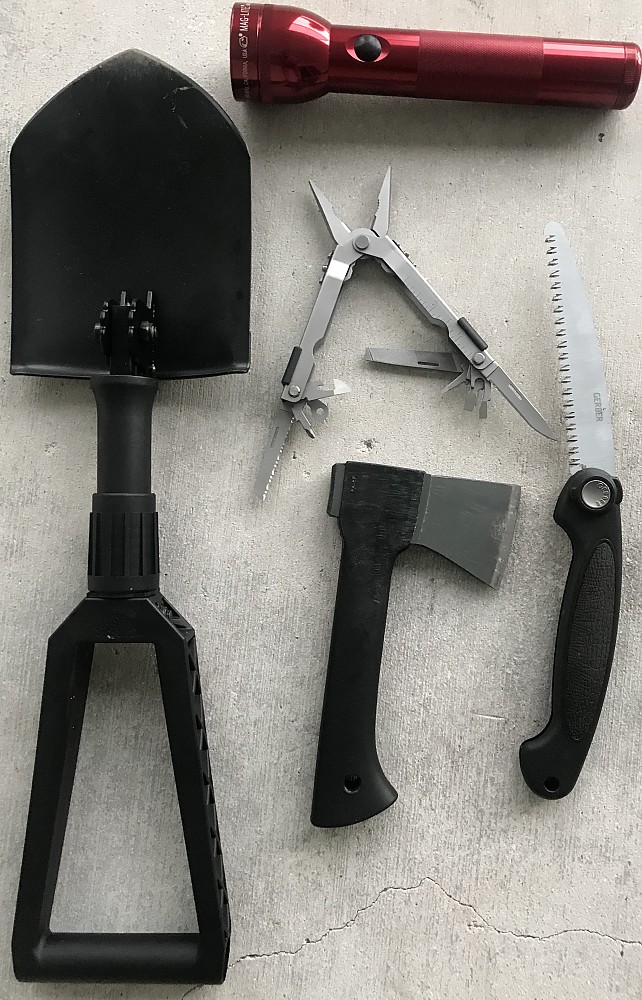 The Gerber Sport Utility Pack offers a convenient, compact case complete with most tools needed for outback excursions and car camping trips...small enough to toss in your trunk or liftgate, out of the way, but present when desired.

It's not often that you can fit a Folding Spade, Folding Saw, Folding Multi-Tool, Camp Hatchet, Flashlight, and a First Aid Pouch in a durable 12"x11"x3" Cordura case.
Pros
Renowned brands
Reliable tools
Serviceable
Durable
Reasonably compact
Easy to use
Cons
Skimped on the First Aid Pouch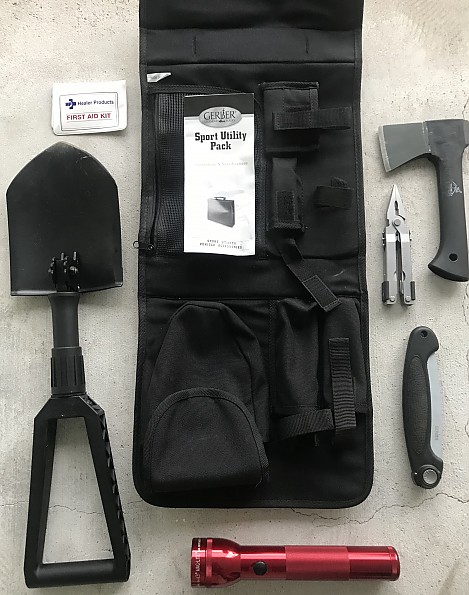 Gerber Sport Utility Pack
My oldest gave me this Gerber Sport Utility Pack as a Christmas gift back in 2010...and I have relied on this kit on every car camping trip since.
The quality of this combo pack is stellar. Gerber is known for quality hard goods and these are no exception. Though there are additional brand names, such as Fiskars Folding Spade (Fiskars Brand owns Gerber) and Mag-lite flashlight included in this kit. (It should be noted that newer models include different items.)
What I like about this Pack:
5 key tools take up minimal real estate
Convenient and secure carrying case
The tools are durable and function reliably 
The tools themselves are serviceable
Individual warranties are solid
What I would change if I could:
Upgrade the First Aid Pouch—there is room and the tools are sharp
Upgrade the Flashlight to LED (This request is rather unfair due to this kit's age.)
Include a replacement Sport Saw Blade

The Case:
The folding pack is constructed of a 600 denier Cordura material proven to be durable and tough. The individual pouches use hook-n-loop fabric to keep each tool secure in its holster. Folding to a minimal 12"x11"x3", this Pack can slide under a car seat or disappear in a trunk or liftgate storage area.
The Fiskars Folding Spade:
The Fins can certainly design creative useful tools and this folding spade is proof positive. It'll make short work of small digging jobs and the blade also locks into place at a 90 degree angle to function as a pick or hoe...perfect for trenching around a tent before a torrential downpour (if campgrounds allow). The deployment and folding of the spade is intuitive and quick. Made in Finland.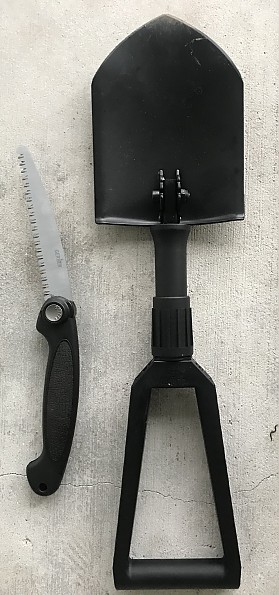 The Gerber Sport Saw:
Note the title...sport saw. The lightweight folding saw is designed to be primarily used by drawing or pulling across the branch to be sawn...not the push-pull method of more robust configurations. Neither the composite grip nor the blade are designed to handle those forces. I learned the hard way, snapping the blade even on a relatively small diameter branch.
Fortunately, swapping out blades is a quick and simple procedure. I was able to pick up several spare saw blades fairly cheap online. Since that time, I am more cautious and have not had further issue. The blade unfolds and locks into place, to fold, a simple push of the light gray button on the front pivot unlocks. Made in the USA.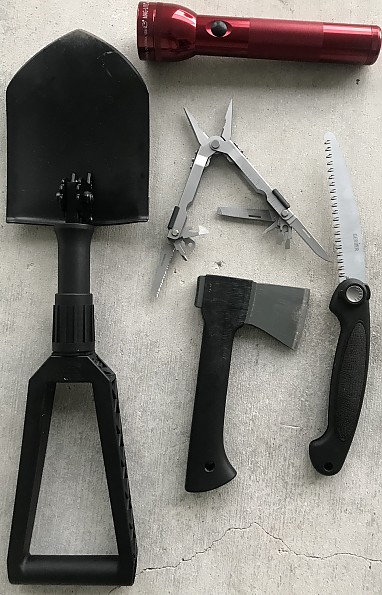 The Gerber Back Paxe:
I love this small, lightweight camp hatchet. From the factory this axe blade is sharp enough to shave with. Because of its minuscule size and weight, it has found itself a backpack stowaway on many multi-day jaunts. The blade cover detaches from the Pack, so I can use the head as an impact tool for tent/tarp stakes.
So impressed with this Back Paxe, that I have purchased four additional and gifted them to my adult children. The Paxe head maintains a sharp edge, but can be easily sharpened with a whetstone when dulled. Made in Finland.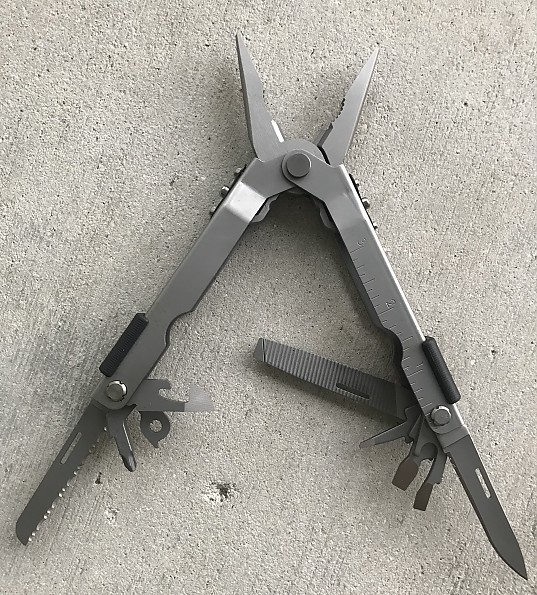 The Gerber Multi-Lock Tool:
Many iterations of this Multi-Lock Tool have transpired in the last decade, but this model still functions flawlessly. The pliers head "turtles" into the multi-tool body and locks into place for use when slid out. Push-button slide releases allow all attached tools to fold back into their protective housing/handle. Tools include: sheepsfoot and straight edge blade, Phillips and flat edge screwdrivers, bottle and can openers, pliers, wire cutter, scale, file and lanyard ring. Made in the USA.


The Mag-Lite Flashlight:
My Pack included a red Mag-Lite 2 (D) Cell battery flashlight with a Krypton bulb. This is an antiquated illumination system by today's standards but has dual function...illumination and impact tool if necessary (no need to expound on the later). Having relied upon a Mag-Lite D cell battery for the bulk of my career, I am quite comfortable with its function and serviceability. Made in the USA.
The First Aid Pouch:
I dinged this First Aid Pouch for being tiny, but I guess they didn't have to include it, so I should be grateful. It has a few essential items to assist with cuts from sharp objects...band-aids, wound wipes, iodine ointment, aspirin and instructions. I have included a more comprehensive First Aid Kit...as their is room in the mesh zipper pouch. Made in the USA.
Final Thoughts:
I have used each item in the Gerber Sport Utility Pack, over the years, either by choice or necessity...and have been thankful to possess these useful tools. As stated, a couple items are antiquated in comparison to today's offerings but they still function flawlessly and effectively. Personally, I wouldn't trade this Pack for anything.
Experience
I have used each item individually on countless occasions while camping over the past decade of ownership. Other than the aforementioned initial frustration of operator error with the lightweight Sport Saw, I have experienced no negatives with the Gerber Sport Utility Pack.
Source: received it as a personal gift

Your Review
You May Like